Toyota's newest small car comes as a bit of surprise late in 2020. It will replace the Aygo eventually but here's what you actually need to know about it.
Toyota has struggled to get a firm foothold of the entry-level market in the last decade while VW has taken the passenger car lead, its Polo and Polo Vivo generally the top 2 sellers in the car market. Since the phasing out of the beloved Tazz, Toyota has tried the likes of the Etios, which aside from the decent 1.5-litre engine, was not great to look at and not up to spec when it came to interior quality or features. The Aygo is a hit in Europe, but a bit small for our market where practicality and passenger space take somewhat of a priority in the budget sector.
In will step the new Agya, which will confuse many as the lettering seems too close to the outgoing Aygo, but it's definitely not the same car. The Agya is actually built on a Daihatsu platform, in a similar badge swapping strategy to the Toyota Starlet and Suzuki Baleno.
How big is it?
Measured bumper-to-bumper it is only 3 660 mm long, 1 600 mm across and stands 1 520 mm tall with a wheelbase of 2 455 mm. These dimensions make it 200 mm longer and 60 mm taller than Toyota's current smallest model the Aygo. It's still some way short of the Polo Vivo by 300 mm in length.
It is very lightweight, however as it tips the scales at just 835 kg meaning the 1.0-litre naturally aspirated 3-cylinder engine (50 kW and 89 Nm) should be adequate for city use. Acceleration isn't particularly impressive as 100 kph will take 14 seconds from a standstill start. Fuel consumption is claimed at 4.8L/100 km.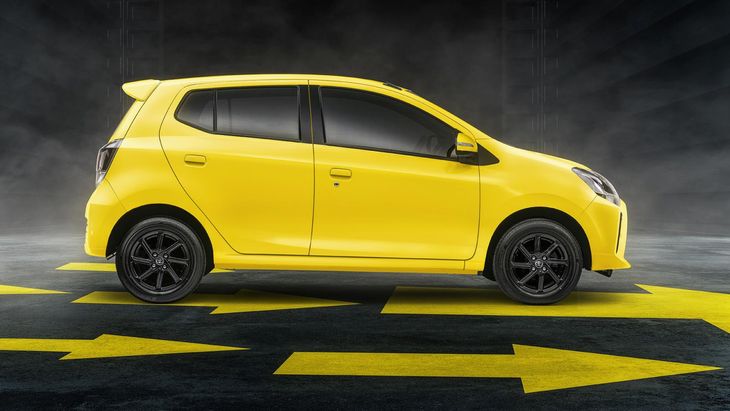 Does Toyota have a real player that can take on the sales success of the VW Polo Vivo here?
In terms of transmissions, Toyota has made a 5-speed manual and 4-speed auto available with the auto commanding a R14 000 premium over the manual.
The suspension setup is pretty standard for a hatchback with McPherson struts up front and a torsion beam rear axle. All models are specced with 14-inch alloy wheels with a full-size steel wheel as a spare.
What does it have inside?
For a vehicle squeezing in under R200k, the Agya appears to have most of the essentials. Airconditioning is standard in all models as are power steering and electric windows all round. The higher-spec models (with audio) are equipped with a USB and Aux. port while all models are Toyota Connect enabled. The base-spec cars do not come with a radio but do have 2 speakers installed if you wish to fit your own audio system. The higher-spec models come with a Toyota double din system, also with 2 speakers. Bluetooth is also only available on the top-spec models. Toyota dealers are offering an audio upgrade option that includes a touchscreen system equipped with Apple Carplay and Android Auto.
Safety features equipped on the Agya include ABS brakes with EBD support while 2 airbags are standard for the whole range.
Pricing and warranty
Toyota is offering a 3-year/100 000 km warranty and 2 services/20 000 km service plan.
Toyota Agya 1.0 5MT - R178 600
Toyota Agya 1.0 5MT with audio - R182 400
Toyota Agya 1.0 4AT - R192 500
Toyota Agya 1.0 4AT with audio - R196 300
Related content
New Land Cruiser bakkie is riot proof