Combining efficiency, style and comfort with a reasonably affordable pricetag is no easy task, but increasingly what South Africa's nine-to-fivers are looking for. Which compact automatic cars should you consider first?
Given the fact that an increasingly large segment of our population spend a great many hours every week stuck in traffic, the rise in popularity of compact automatic cars is easy to understand. These days the old arguments against small automatic cars (fuel economy, poor performance) have also largely been addressed by the efficiency of modern drivetrains.
In compiling this list of our five best compact automatics, we stuck to cars priced at under R300 000.
Hyundai Grand i10 1.25 Fluid Automatic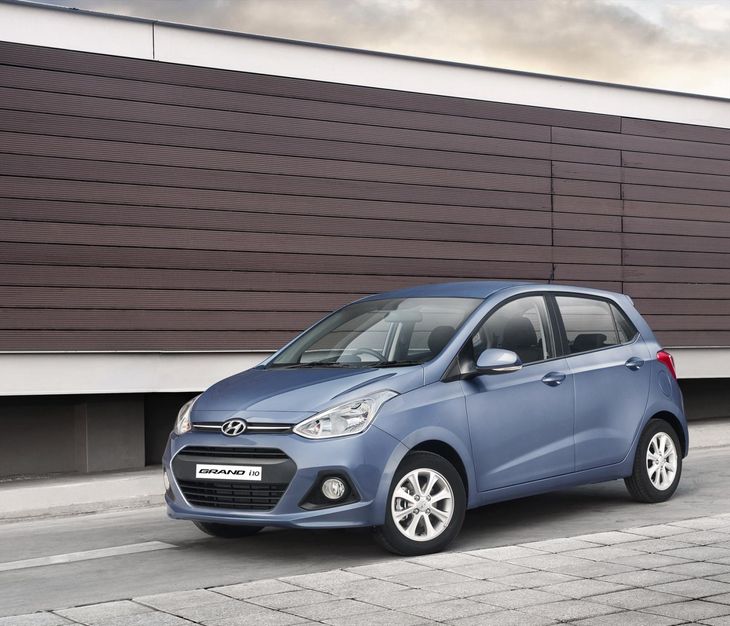 The Hyundai Grand i10 is surprisingly classy inside given its pricing
Hyundai's Grand i10 model is quietly doing brisk sales in the local market, and the automatic derivative has done well in South Africa, too.
Priced at below R200 000, the showroom appeal is strong, because the Grand i10 is not only a stylish product from the outside, but also inside, where the overall design and finish wouldn't look out of place on a more expensive car. Given its compact exterior it is also impressively spacious, and as we've come to expect from Hyundai, the features list is comprehensive. A radio/CD system with Bluetooth support and Aux and USB inputs is standard, as are air-conditioning, electric windows, two airbags and ABS. Best of all, you get a long warranty (five years/150 000 km). An extension of two years/50 000 km applies to the powertrain. This compensates to a very large extent for the lack of a standard service plan.
To drive, the Grand i10 provides no fireworks, but is nippy and refined enough for the daily drive. The fuel consumption figure of 6.9 litres/100 km looks high compared with its modern turbocharged rivals, but is probably more in line with what you'd achieve in the real world than those vehicles' claimed figures are.
Browse Hyundai Grand i10 specs here.
Ford Fiesta 1.0 EcoBoost Ambiente Powershift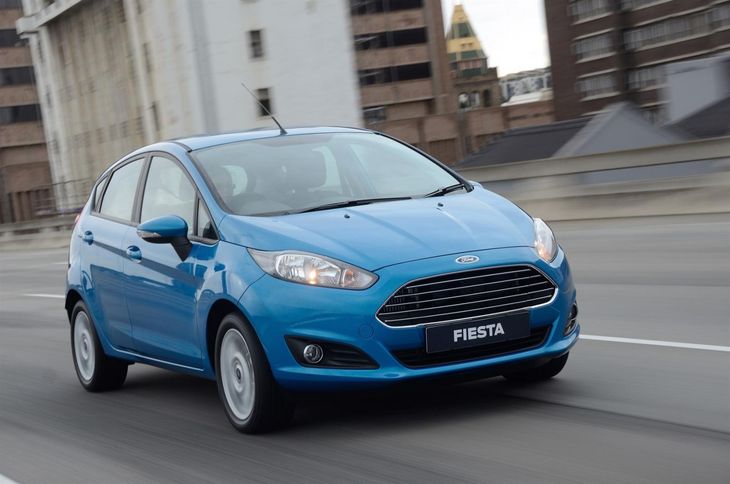 The Ford Fiesta may be ageing, but regular updates have kept it very much in the running.
The current Fiesta has been around for a while, but is ageing well with the previous facelift having given it a more upmarket exterior look. The award-winning EcoBoost engine continues to impress, too, offering an enviable blend of performance and fuel economy, though you'll struggle to achieve the claimed figure of 4,9 litres/100 km. The six-speed Powershift (dual-clutch) transmission is a perfect fit for a vehicle that is so spirited and fun to drive. As ever, the Fiesta arguably still leads the pack when it comes to offering a combination of ride and handling that will please those looking for comfort as well as those that demand some driving fun.
What does it lack? Well, inside Ford has been less successful at hiding the Fiesta's age, so the control interface does appear a tad outdated and cluttered. It also lacks a couple of nice-to-have features. And it's not the most spacious vehicle in this category, either. It is priced at R229 900 and comes with a four-years/120 000 km warranty and five-years/60 000 km service plan.
Read our review of the Fiesta Ambiente Powershift here.
Mazda2 1,5 Dynamic Automatic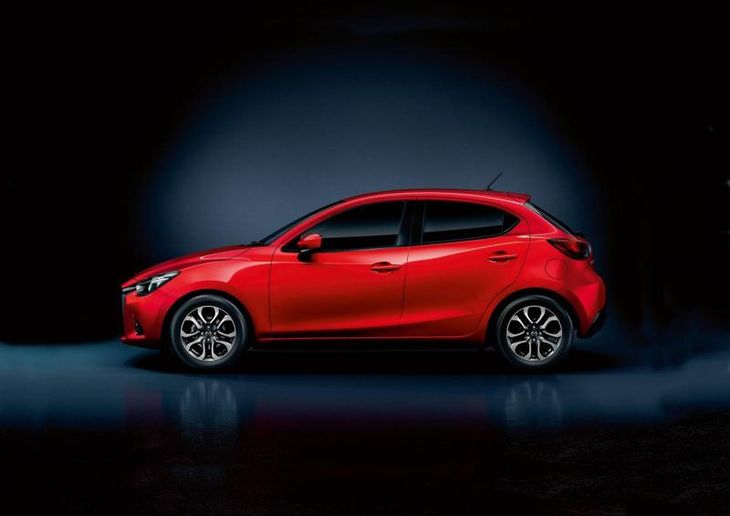 The Mazda2 is a stylish, welll-made offering that is also good to drive in automatic form.
If you're looking for a relatively affordable automatic hatchback that also boasts some pizazz, then look no further than Mazda's delightful "2". This particular derivative makes use of the brand's 1.5-litre petrol engine which delivers a strong 82 kW, resulting in nippy performance. The slick six-speed automatic transmission shines in this application, too. And while the 5.7 litres/100 km claimed consumption figure isn't the lowest in this category, it appears to be more realistic than the lower claims of some rivals.
For your money (R223 000) you get a vehicle with excellent interior quality, a dash of design flair and nimble road manners. What you don't get is a lot of space. It has comparatively little rear legroom compared with its segment rivals, but the boot is of a decent size.
This model is backed with Mazda's usual three-years/100 000 km warranty and three-years/unlimited km service plan.
Have a look at this video for our impressions of the Mazda2's cabin.
Suzuki Swift 1.2 GL Automatic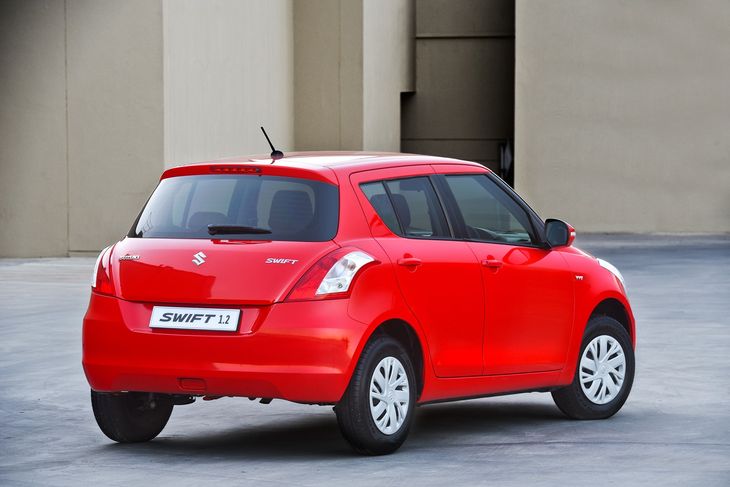 The Swift is highly rated by owners and offers excellent value for money.
We've sung the praise of Suzuki's Swift many times before, and we're doing so again here. Priced below R180 000, the 1.2 GL Auto offers excellent value for money, as it comes not only with a comprehensive specification list that includes dual airbags, ABS, electric windows, remote audio controls and a Bluetooth capable sound system with Aux and USB support, but also excellent reliability. It comes with Suzuki's usual 3-years/100 000 km warranty and 2 years/30 000 service plan.
If there is a caveat, it concerns the performance. There isn't terribly much power and it only has a slightly outdated four-speed automatic transmission, so performance is not exactly sizzling. That said, it's perfectly fine for daily city slogging.
The Swift's manual sibling was a finalist in the first-ever Cars.co.za Consumer Awards. Find out why here.
Audi A1 1.0T S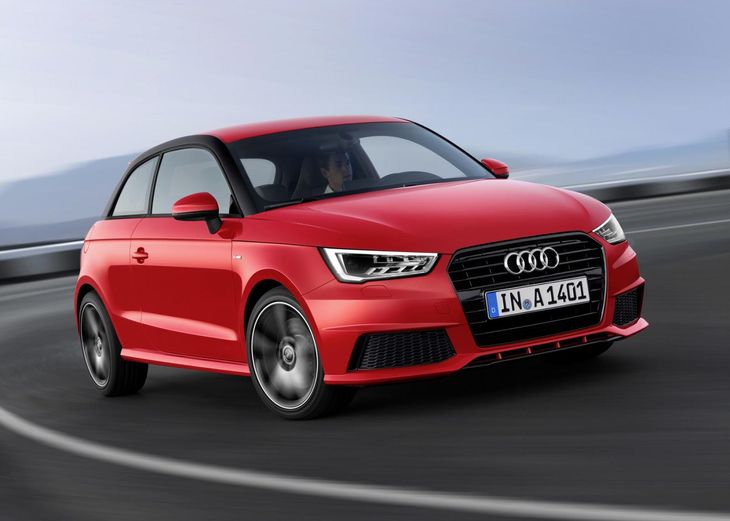 Want a premium compact automatic... then look no further than Audi's A1.
Sneaking in below the R300 000 barrier is a car that is perfect for those buyers that must simply have a premium badge for their new set of wheels. But a desirable badge isn't the only selling point for this small Audi…
Like all its siblings, the A1 boasts an impeccably well-made cabin that alone makes the extra outlay appear justified. And while you'll have to delve into Audi's vast optional extras list for the really tasty features, the standard specification provides a solid base to work from. There's no denying the A1 being a premium product, notwithstanding its entry level positioning.
Powered by the Volkswagen Group's 1.0-litre turbocharged three-cylinder petrol engine, the A1 is a responsive performer, due to not only the engine, but also the excellent seven-speed dual-clutch transmission. It is also superbly economical, with a claimed consumption figure of 4.4 litres/100 km.
It is backed with Audi's one-year/unlimited km warranty and five-years/100 000 km maintenance plan.