100 years of classic, cultured Bentleys meets a rather bold and futuristic concept. Also, where is the leather?
Bentley has revealed one of the most striking concepts cars ever built, with its new EXP 100 GT. Designed to celebrate the marque's centenary, EXP 100 GT also previews what Bentley expects its 2035 model range to look like.
The concept car might have the configuration of a traditional grand tourer, with four seats and a long bonnet, but it is absolutely massive in size and the styling details are exceptionally extravagant. At 5.8m in length and 2.4m across, it's a huge vehicle – but somehow Bentley has managed to keep kerb mass down t only 1 900 kg, which is remarkably low for a battery powered car of this size.
Perhaps the most notable styling element is the EXP 100 GT's nose, which features a pseudo-grille made up of 6 000 individual LEDs. Bentley's traditional flying-B bonnet ornament takes pride of place atop the long front section, but there is no engine below it.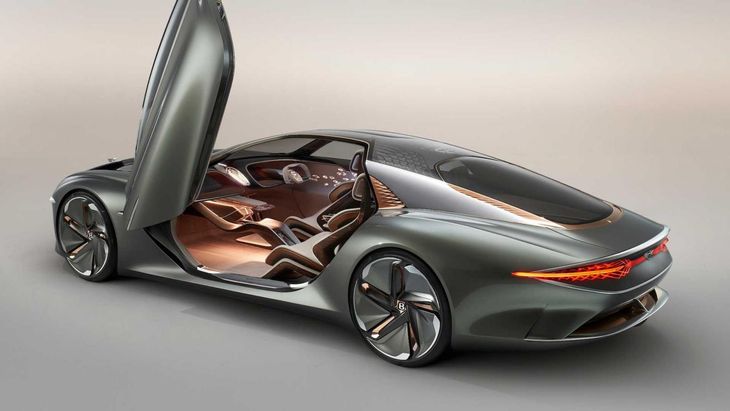 Bentley aims to keep the weight below 2-tonnes, a hard task for battery-powered cars.
Driving the EXP 100 GT along is a battery pack and electric motors which generate 1 500 Nm of torque. Without specific kWh ratings for the batteries, or an electric power output figure, that torque rating appears to be disingenuous.
Bentley claims a driving range of 700 km and startling performance. The EXP 100 GT will run 0-100 kph in 2.5 seconds and a top speed of 300 kph. Recharging the battery pack to 80% capacity requires only 15 minutes, but again – Bentley has not divulged exact charging capacity details.
The EXP 100 GT's cabin is a study in noble craftsmanship. Bentley values rarity and there now appears to be a feeling of sustainability about its future products too. The EXP 100 GT's cabin does not contain traditional animal hide, but instead, a leather-type material made from grape pulp (good news for local wine farmers perhaps?).
Full autonomous driving (or is that touring?) ability is controlled by a sophisticated artificial intelligence architecture, which monitors passenger biometrics and adjusts the car's cabin fragrance, ventilation, temperature, infotainment and even sun-shading accordingly.
How much of the EX 100 GT will go into production? Well, you'll have to wait until 2035 to find out.