How has it come that the faster we drive, the less we enjoy it?
So, Evo magazine and Autocar ­– benchmark publications, as well as TopGear (you can make up your own mind on that one), voted the Porsche 911 R as their über-most (not Uber) car of 2016.
Undeniably, the past 12 months was an exceptional period for the performance enthusiast. From the overhyped Ford Focus RS, the predictably underwhelming Audi RS3 and the underappreciated BMW M140i latecomer, to the tyre-shredding Mercedes-AMG C63S Coupe and the track-focused BMW M4 GTS. Topped, by a mountain of gold dust sprinkled over a dollop of Chantilly cream – the angelic goodness of the Audi R8 V10 Plus and McLaren 570S. And there were many more in between.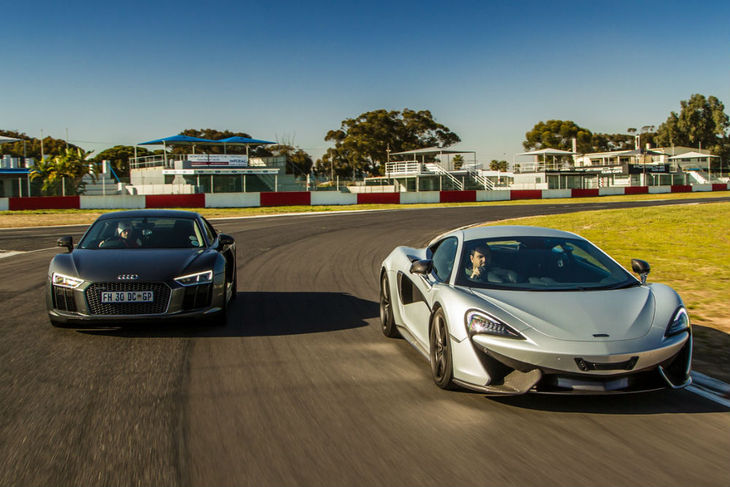 Cars.co.za compared the Audi R8 V10 Plus and McLaren 570S on track. Related links at bottom of article.
It's seemingly incidental that the 911 R and Golf GTI Clubsport S (which was Evo's runner-up and 3rd in TopGear respectively) are global limited-run sell-outs – more so in South Africa (according to Porsche the number that made it here was "more than one but less than ten", and 47 VW units of the Clubsport S).
But it also isn't.
That the 911 R romped away with more accolades than Cristiano Ronaldo came as little surprise: a 4.0-litre naturally aspirated flat-6 from the GT3 RS, manual gearbox with rear-wheel drive and a limited slip differential (the mechanical type, not the trippy tablet), more weight-saving measures with no option of either a radio or aircon, it's the lightest 911 and purest Porsche you can(not) buy. Call it the 991-generation GT3 you've always wanted.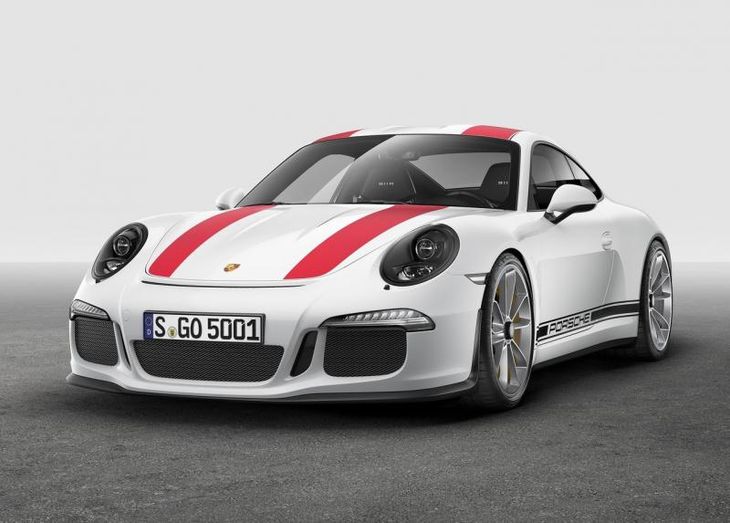 Porsche 911 R – a lightweight, naturally-aspirated analogue driving tool. The driver's driver's car.
Key to its existence is that the 911 R was designed as a road car, not a race car; was solely conceived to aid the pursuit of pleasure. The driver's driver's car. That's why unlike its more hardcore GT3 siblings, it doesn't have any wings, and you can drive over speed bumps without fear of disembowelment.
But the 911 R's true charm doesn't wink from beyond its 8 250 rpm redline, or that the controls are as crystal-like in communicating the car's behaviour as the mountain stream you're flying past on a Sunday morning blast. Neither is it Porsche's conveniently-timed generosity in allowing you to control the gearbox yourself when a three-pedal next-gen GT3 comes out later this year, or the performance-porn of weight-saving canvas door pulls and cloth seats. It's because the 911 R serves as a counterpoint to everything else out there, both intellectually and existentially. And the question one should be asking is not why it's here, but rather how we got here.
As humans, we seek to find joy in little things. But how many performance cars (that are available as new models today) just lets you jump in, turn the key and immediately go fast? Is it not bizarre that between a BMW M5's two M buttons there are 486 different programmable combinations? Have you ever sat at a traffic light and engage launch control in an AMG? There are more steps to go through than the space shuttle's pre-countdown sequence. And by which time the Hyundai Veloster Turbo next to you that thinks he's racing you has long disappeared. And tweeted about his victory. And the light has turned orange again.

The Ford Focus RS has a very specific target market, certainly, but is its drift mode function really justified?
Then there's Ford, who in the Focus RS thought that a drift button would broaden its appeal beyond the roads and onto the spotty faced-Internet (although one suspects that right now, crispy Kugas are trending more than even Ken Block).
To me, drift mode is a particular thing of disgust. Even McLaren – once a self-proclaimed maker of the finest sports cars in the world – has cottoned on to this. When you see the 650S replacement, the 720S, at Geneva next month, it will be the first McLaren fitted with a sideways-on-demand button. This from 537 kW nuclear bomb. What would that button conceivably need to do? And then people wonder why Force India is lapping McLaren in F1...
So too has Mercedes-AMG, who had its hand forced in the new E63 sedan, but at least going switchable AWD in an 850 Nm car was a necessary step to towards safety instead of Ford's one towards stupidity (or "hooliganism", ed.) in the Focus RS.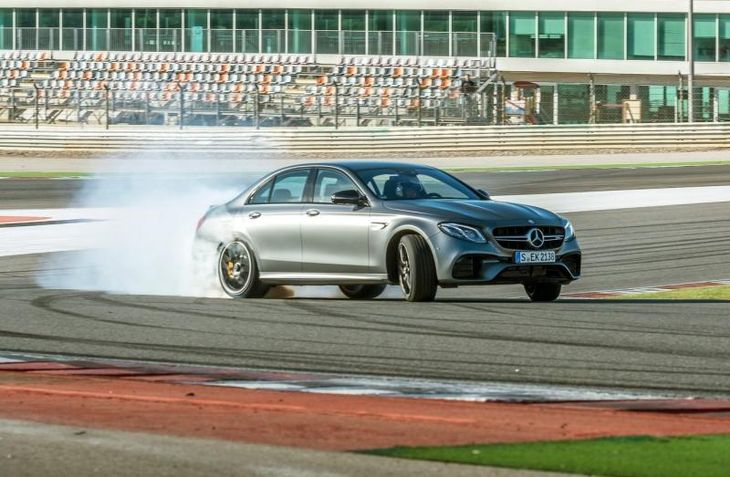 The Mercedes-AMG E63 S: an all wheel drive monster, but with computer-controlled Drift Mode.
The point is while cars are getting faster, they're also becoming less fun to drive, and that's because their grip levels have become so stratospherically high to cope with the speeds that they are capable of. The true joy of driving comes from pushing a car to – and when the circumstances allow – beyond their limits. Before traction and stability control, if in a RWD car, all you needed to do was flatten your right foot. Nowadays, you can't, because first, you'd have to mount your GoPro or set up a Facebook live session before pressing the button. And letting the car do all the work.
It's not just the fault of the manufacturers, though – they're only giving us what we want. Don't get me wrong: technology powers progress and fosters excellence – and must be celebrated for doing so. But in the continuous quest for everything superlative in the automotive world, sterility seems to be the default outcome of technological advancement. And from an enjoyment point of view, we are paralysed into a state where everything we want in our cars to make them better is only making them worse.
Which in the post-truth period of engine sounds being played through speakers, buttons to engage "maximum go-kart feel" (as found in contemporary Minis), SUVs badged as sports cars, and yesterday's idiots are tomorrow's presidents, marks why the naked 911 R isn't so much a car as it is a saturation point. A beacon of hope; and a call to sanity.
Related content
BMW M2 vs Mercedes-AMG A45 vs Audi RS3 vs Honda Civic Type-R: On-track analysis (Video)
Track Race: Audi RS3 vs Merc-AMG A45 vs Honda Civic Type R vs BMW M2 [Video]
Ford Focus RS (2016) Video Review
Ford Focus RS (2016) Review
Part 1: Audi R8 vs McLaren 570S with Drag Race
Part 2: Audi R8 vs McLaren 570S Track Race
Audi R8 V10 Plus (2016) Review
Mercedes-AMG E63 S 4Matic (2017) First Drive