South Africa has a brutally competitive double-cab bakkie market, so is there really room for a French option?
The South African bakkie market has 3 major players: Toyota, Ford and Isuzu. Nissan might achieve respectable overall volumes, but its leisure double-cab offering (the Navara) can't compete with the sales numbers that Hilux, Ranger and D-Max generate.
Beyond those models and Nissan's overall bakkie tally, the South African market is a scrap between peripheral players. We can credit Volkswagen as an exception of sorts, with the Amarok 3.0-litre turbodiesel V6 derivatives dominating the market for bakkies beyond R700 000 (earlier this year, the Wolfsburg-based brand's bakkie won its category of the Cars.co.za Consumer Awards for a 3rd consecutive year). By contrast, vehicles such as the Mitsubishi Triton, Fiat Fullback and Mazda BT-50 are almost forgotten.
That does beg the question: Could a keenly-priced double cab perhaps make more of an impression than a Triton or BT-50? A bakkie endowed with great diesel-engine technology, purposeful design and clever features. Something different. Something French.
Peugeot doesn't have to fake being a bakkie brand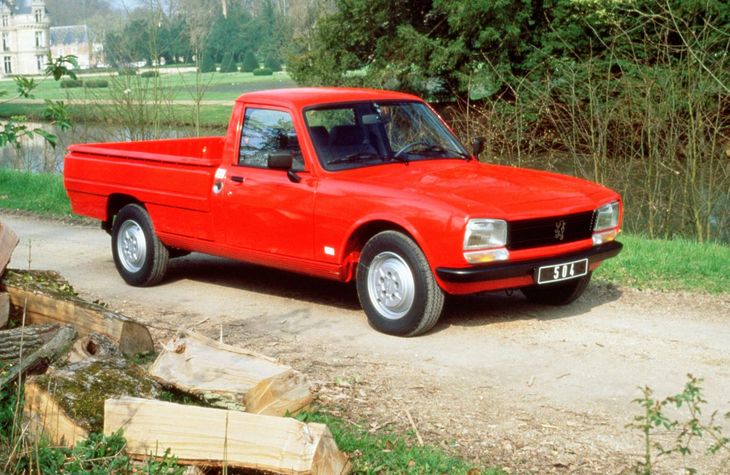 Peugeot's 504. Easily the best looking single-cab bakkie of the 1980s.​
One of the most significant surprises of the motoring year has been the reveal of Peugeot's Landtrek. The French company has a proud bakkie heritage, especially in Africa, but it has been so long since Peugeot sold a load-box vehicle, most bakkie fans have long forgotten about the legendary 404 single-cab.
The Landtrek has been confirmed for South Africa; it's scheduled to arrive in 2021. Could it possibly become a stronger alternative to Hilux, Ranger and D-Max, as well as either Triton or BT-50 have been?
Peugeot will be cautiously confident of its prospects, because the French brand does not have to fake any bakkie credentials. It can leverage the authentic workhorse heritage of its 404 and 504 bakkie models from yesteryear.
Global automotive product planners will undoubtedly have taken careful notice of Mercedes-Benz's X-Class misadventure – and Peugeot will be studying the mistakes that were made by the German marque in South Africa. If the world's oldest car company could fail that spectacularly at marketing a new double-cab bakkie, it serves as a warning to everyone else...
Has it got the right bits?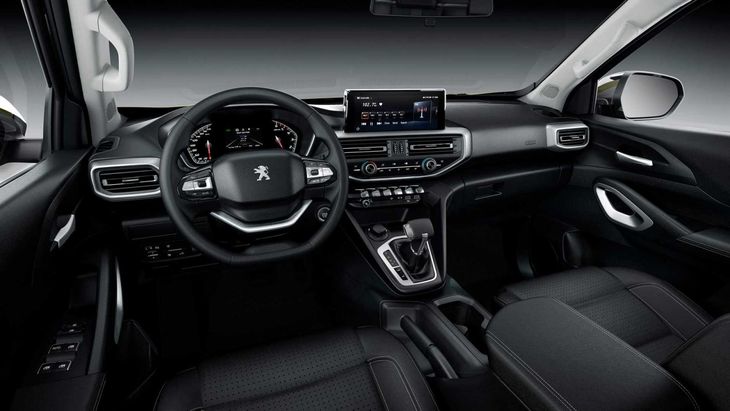 Crossover cabin design and ergonomics make the Landtrek more passenger-friendly inside.​
There is no hiding the fact that Peugeot's Landtrek is a joint-venture project, in partnership with China's Changan. Landtrek is the development twin of Changan's Kaicene F70, which was launched in China late last year.
Smart design has always been a symbol of French automotive excellence and Peugeot has done a stellar job with its Landtrek: it possesses a bold appearance without cloning any of the market leaders from Toyota or Ford. This design nous is even better inside...
Indeed, Peugeot has been brilliantly innovative with the Landtrek's cabin architecture and features. By borrowing components from the company's passenger vehicle parts-bin, Peugeot has managed to craft an outstanding cabin environment. Bakkies should look robust from the outside, yes, but customers appreciate them being much more car-like on the inside.
Peugeot has managed to gift the Landtrek a slick passenger-vehicle-like interior, replete with a 2-spoke steering wheel and 10-inch touchscreen infotainment system. The rear bench's seatback can also fold flat, creating a robust load surface rated for 100 kg of items.
This cabin could, at the very least, have the measure of its other bakkie competitors in terms of ergonomics and fluency of infotainment functions.
Peugeot is going to field a broad range of Landtreks, including single-cab derivatives and a variety of turbocharged engines. For the local market, Peugeot's strategy should follow that of Mitsubishi and Volkswagen; it will offer only double-cab derivatives.
And the engine?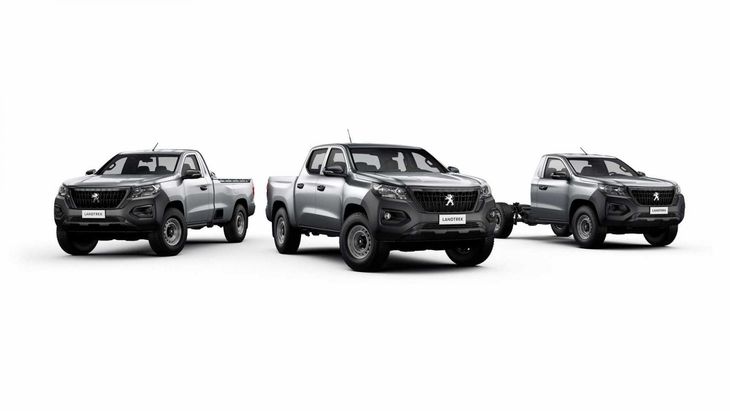 Peugeot is targeting the whole range, from single to double-cab and commercial use.
The Landtrek's 1.9-litre turbodiesel powerplant will be of particular interest. Supplied by Chinese powertrain company, Kunming Yunnei, its similarity in size and output to Isuzu's 1.9-litre turbodiesel, which is available in European D-Max bakkies, but not South Africa.
Although both the Landtrek and D-Max's 4-cylinder turbodiesels are marketed at 1.9-litre engines, the Peugeot bakkie has a 1.85-litre capacity, with a 92 mm of stroke, compared to the D-Max's 94 mm of piston depth.
The Kunming Yunnei engine produces 110 kW and 350 Nm. Those numbers should make the Landtrek a fair performer compared with the Hilux 2.4GD-6, yet lacking the potency of Ford's Ranger 2.0-litre single turbo, which is good for 132 kW and 420 Nm.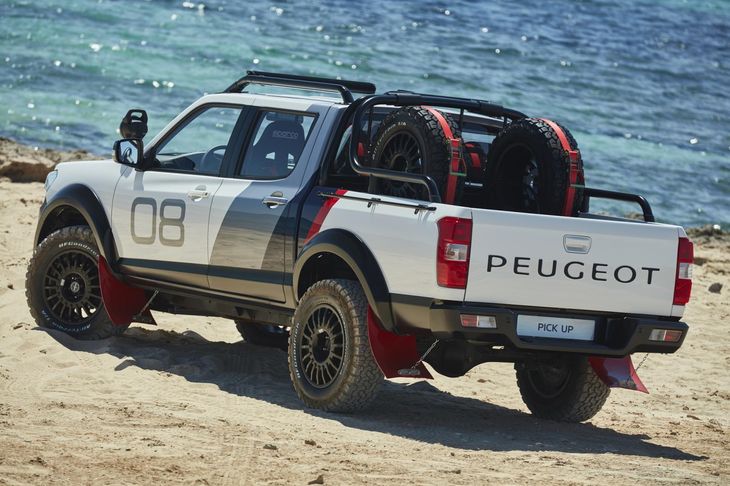 Landtrek will offer 40 accessory options. This 2017 prototype bakkie shows what might be on offer​.
Those who have had indifferent experiences with Chinese engines, mostly in terms of heavy fuel consumption for the relative power on offer, can take solace in the involvement of FEV with this 1.9-litre turbodiesel unit. Kunming Yunnei engineers have been developing the Landtrek's 1.9-litre turbodiesel in consultation with the German firm's engine specialists. FEV's involvement should bode well for the performance, efficiency and reliability of the Peugeot's powerplant.
Gearboxes could be an issue, though. Demand for automatic transmission double-cab bakkies are increasing in South Africa and the Landtrek is only available with a 6-speed manual gearbox, supplied by Getrag, for the moment.
Although the fitment of a low-range transfer case has been confirmed on 4x4 derivatives, there isn't clarity on the presence of a lockable rear differential – on either the 4x2 or 4x4 versions of the French bakkie.
Could it be built in Namibia?
The reasons that Hilux, Ranger and D-Max dominate the local market are scale and price. South Africa's department of trade and industry handsomely incentivises Toyota, Ford and Isuzu to build their bakkies domestically and source parts from local suppliers.
In a country with crippling unemployment, the investment made by these companies is significant. This somewhat justifies the import barrier duties applied to rival bakkies, which are sourced from overseas.
To illustrate how much import duties can influence sales and brand awareness, consider the position of Mitsubishi's Triton in South Africa versus its position in the Australian market. In Australia, Triton outsells D-Max. It is the 3rd-most popular bakkie, behind Hilux and Ranger. Mechanically there are no fundamental differences between the Australian- and SA-specification Tritons, but Mitsubishi is a more substantial business in Oz than SA.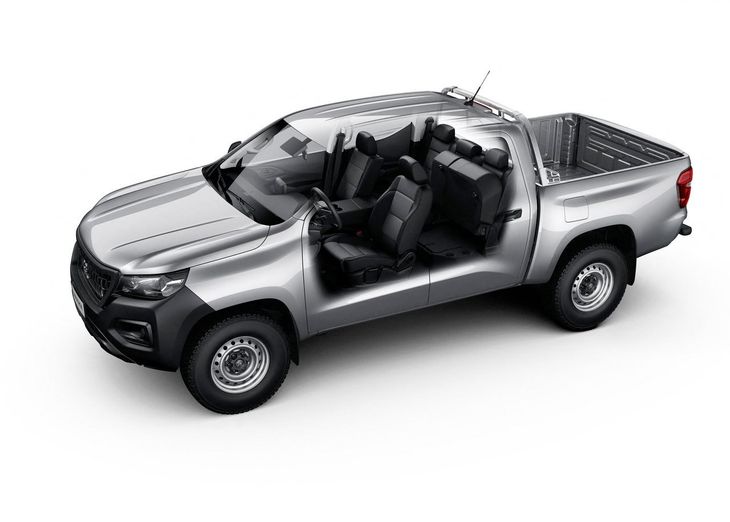 The rear seats fold down, as well as up in the Landtrek.
Expansive dealer networks and sustained high sales volumes have enabled Hilux and Ranger to use economies of scale with regards to minimising parts pricing. That has made their bakkies more attractive as ownership prospects, compared to Triton and other imported double-cabs. So where does this leave Peugeot, with its Landtrek launch strategy?
Peugeot does not have a local production- or assembly facility to enable the French firm to benefit from domestic production incentives. That means Landtrek will be exposed to exchange rate volatility and import tariffs. With the Rand currently at very weak levels against the Euro and Dollar, this could ruin any possible competitive pricing structure for Landtrek.
But Peugeot might have a backdoor solution. Although the firm has been very opaque about details, Peugeot has commissioned an assembly facility in neighbouring Namibia. Located in the port city of Walvis Bay, this Peugeot asset is configured for a peak throughput of 5 000 vehicles a year.
What Peugeot could choose to import nearly-complete (semi-knocked down) Landtreks to Walvis Bay, before simply tightening the last few bolts to complete assembly. These bakkies would then be shipped south or trucked over the border, into the South African market, without incurring punitive tariffs.
Those tariff savings could make Landtrek prices competitive in a manner that other imported bakkies have not been able to achieve in the local market. But there is an issue: stalled production at the Walvis Bay facility.
Peugeot's ambitions for its Namibian assembly facility is the subject of political friction. There appears to be disagreement over whether vehicles that are assembled in Walvis Bay should be free to be imported into the South African market without being subjected to import tariffs. In late 2019, the French firm threatened to disengage from its Walvis Bay assembly project if a resolution to the issue could not be found.
Peugeot's Landtrek has the technical formulation to be a great value double-cab bakkie in the South African market. Its exterior and interior design will successfully differentiate it in a competitive market.
The risk is that unless Landtrek can be launched in South Africa with a viable price structure, it will suffer the same indignity of poor sales that has befallen Triton and the (eventually quashed) X-Class.
Related content
New Peugeot Landtrek Bakkie Coming to SA
GWM P Series Bakkie - SA Details