The award-winning Volvo XC90 is undoubtedly an accomplished premium SUV, but is it good enough to impress on the quintessential South African long-haul trip: a visit to the Kruger National Park? Cars.co.za contributor Brett Hamilton finds out and, in doing so, reassesses his perception of the Volvo brand.
For Volvo, the XC90 remains an extremely important vehicle – and for a number of reasons. For a start, it replaced the archaic previous-gen XC90 in an increasingly discerning, competitive, lucrative and growing segment. And second, it was the first all-new Volvo to be launched under Chinese owners Geely. It offers a 'taste of things to come' and, as such, was always to undergo close scrutiny.
How has it fared? Well, the new Swede managed to surprise and impress and has garnered countless awards, including top honours in the Premium SUV segment of our own Cars.co.za Consumer Awards.
So, it's good. But the city-slick look of this XC90 T6 with optional R-Design package and 20-inch alloys got us wondering if it is good enough for one last test: A distinctly South African trip to Kruger National Park?
After spending a week in our largest national park, here are the Big 5 reasons why we'd suggest using the XC90 for your next visit to see some animals:
1. The cabin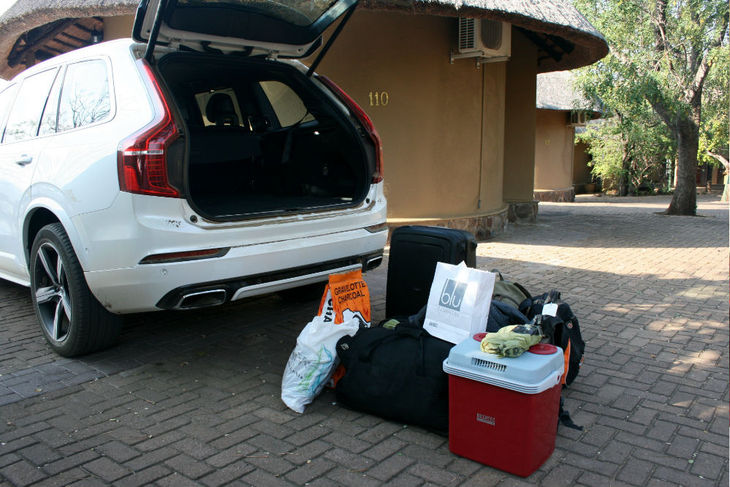 The XC90's cabin is spacious, and with the two rear seats folded away, the luggage space very capable of swallowing a Kruger trip's luggage.
Any comfortable long-distance trip requires a good interior. Previous Volvos always left me cold in execution and the tactile quality of finishes. It just never "felt" like other premium offerings. The XC90 changes that: In short, Volvo has ticked all the boxes in this department.
Our unit came fitted with the optional R-Design package (R54 000) which includes heated front seats, a head-up display, visual park assist, Bowers & Wilkins audio, blind-spot detection and keyless entry and go. But, even without these bells and whistles, the cabin is tastefully designed and very well finished with stark lines, sharp edges and neat stitching. The dark finishes best suited a trip such as ours and the soft-touch leather fitted to the dash, doors and arm rests ensured easy cleaning of dust.
The front seats are adjustable in all directions and angles and offer excellent comfort and, most importantly, support. And there are 7 seats in total (granted, those fold-away ones in the rear are best-suited for small children). But, my point is that the XC90, while appearing sleek and "compact" from the outside, is genuinely spacious on the inside. The luggage capacity is also impressive and managed to swallow all our luggage (with the parcel shelf in place).
2. The sound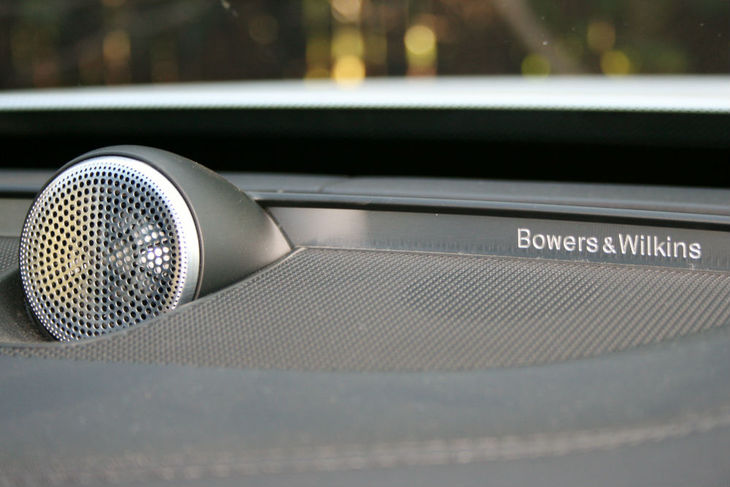 The optional 19-speaker Bowers & Wilkins audio system was a treat.
I'm a music guy and, while the radio is strictly silent in Kruger, the optional 19-speaker Bowers & Wilkins premium audio system was simply superb during our trip to Kruger Gate. The system makes use of seven 25 mm Nautilus tweeters, three 100 mm cones, four 80 mm cones, four 170 mm long-throw woofers, a single 250 mm sub-woofer and a 1 400W, 12-channel, Class D amp. The result is a balanced and crisp sound throughout the cabin.
The system also allows for numerous sound-play options, including Studio, Stadium and (my favourite) Concert Hall. In order to replicate the sound experience of Gothenburg's renowned Concert Hall in Sweden, the company took more than 800 individual measurements in the hall and, with some tech-magic, recreated the acoustics of the concert hall.
3. Driving it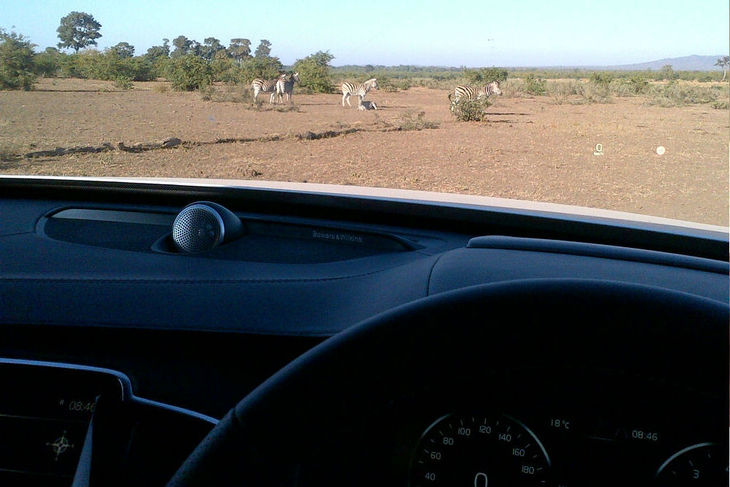 Our test unit's 20-inch wheels were not ideally suited to the gravel of the Kruger.
Another gripe I've had with older Volvos was a distinct wooden feel to the suspension damping, which meant that the cars' underpinnings provided too little feedback during enthusiastic driving jaunts. This also detracted from the Swedish marque's premium aspirations. The new XC90 makes use of the company's modular Scaleable Product Architecture (SPA),which greatly contributes to balanced road holding despite the XC90's large dimensions. Interestingly, the XC90 makes use of a transversely mounted composite leaf spring at the rear.
So, it has a lot going on mechanically and, for the most part, the XC90 impressed during the entire trip. Some mountain passes outside Kruger was easily matched with little body roll, secure handling and enough feedback to inspire confidence through tight bends.
At low speeds on gravel roads within the National Park, the Volvo's ride was comfortable. The 20-inch wheels and rims are far from ideal for such conditions, however, as the steering wheel danced a merry jig in my hands which the XC90 traversed rougher sections of road.
There are 4 driver modes to choose from, including a green option that includes start-stop – very handy when you prefer silence while game viewing.
4. The tech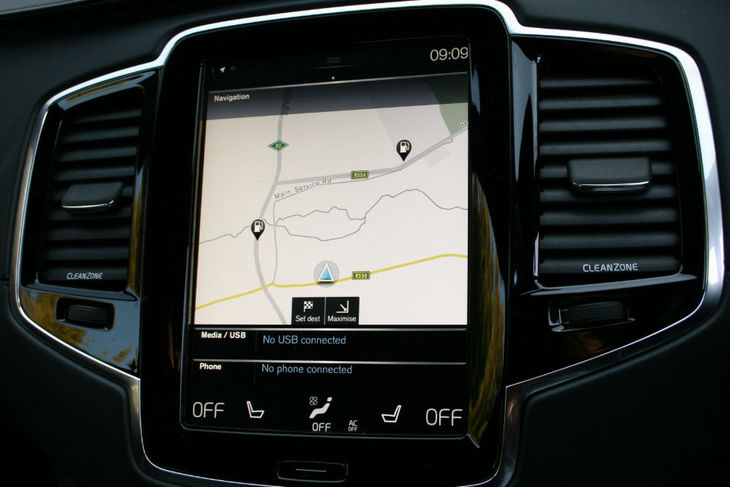 Sensus info-tainment system works like a tablet, and is a smart feature of the classy cabin.
A key element to ensure the uncluttered design of the dash is the inclusion of a 9-inch Sensus Connect touch-screen infotainment system. In terms of size and operation, the screen is very much like a tablet PC and allows for the easiest way to access the entertainment system, climate control and other vehicle settings that I've come across. The menus are intuitive and large enough for easy operation.
5. Safety tech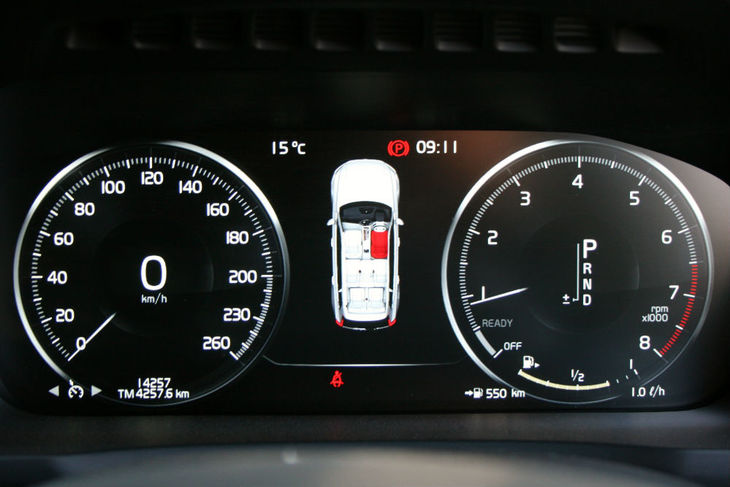 Numerous on-board safety systems are available, including pedestrian and cyclist detection. Note digital instrumentation display.
When embarking on a load journey, safety is of uppermost priority. And the XC90 delivers a long list of features, including: ABS with EBD, HAS, HDC, stability and traction control, 7 airbags, the IntelliSafe system (incorporating pedestrian and cyclist detection (not yet buffalo), run-off-road mitigation, autobrake at intersections, front collision warning with full autobrake, road-sign information and lane departure warning with driver alert control).
So, it is all good at the moment. However, if we'd change one thing …
... The engine
The XC90 range offers a wide selection of engine options, including a plug-in hybrid. Our unit was the T6, with its four-cylinder, 2,0-litre petrol engine that features turbo- and supercharging. The powerplant produces peak outputs of 235 kW and 400 N.m of torque, which means that it offers more than enough in-gear acceleration. In fact, overtaking at high speeds was never an issue. However, for long journeys I would have preferred a more frugal (Volvo claims 8.0 L/100 km and we managed an average consumption of 10.5 L/100 km) turbodiesel derivative.
Summary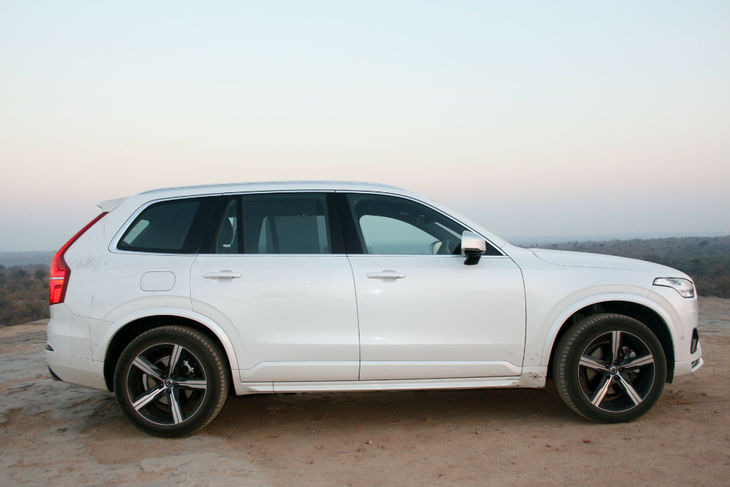 XC90 is not just a slick city runner, but a classy, luxurious cross-country tourer for the family.
The credentials of the XC90 are beyond reproach. It has managed to palm in more than enough awards to attest to that. After spending a week with the XC90 in a typical holiday environment for South Africa, it is also clear that the beauty of the XC90 is more than skin deep. Has it passed the Kruger test? For sure, but perhaps a turbodiesel derivative (shod with smaller rims and tyres) would have been better suited to the trip. But I quibble.
Search for a new/used Volvo XC90 on Cars.co.za
Related Content:
First Drive: Volvo XC90 T8 Twin Engine
Comparative Review: Volvo XC90 D5 Inscription vs Audi Q7 3.0 TDI (with video)
Opinion: Volvo XC90 vs The Hype