Tesla – the American electric car manufacturer announced last night that it has added South Africa to its order book for the upcoming Model 3 compact sedan.
The eagerly anticipated Model 3 is widely viewed to be the company's make-or-break model as it has to sell in significant volume. Tesla CEO, South African-born Elon Musk tweeted the message below at the launch event.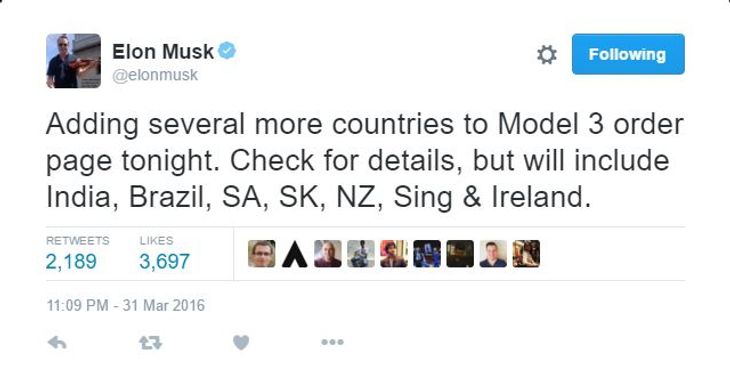 The Model 3 was launched in Los Angeles as a prototype model with sales set to begin in late 2017. It's a family car of similar size to the A4, 3 Series and C-Class. With an electric motor to power it, there's no need for a front grille to cool an engine, hence the unfamiliar front end design.
Despite being battery powered, Tesla claims the model 3 will manage at least 350 km per charge. It's quick, too, with a claimed 0-100 kph time of six seconds.
Safety has always been at the forefront of Tesla's philosophy and Musk has stated that the car will earn five stars in every modern test of safety.
Finding a place to charge the Model 3 will be easier than ever in the US as the number of charging stations will more than double before the car hits the road in 2017. In South Africa, the task is more difficult as our existing electric car charging stations are limited to BMW and Nissan dealerships. Perhaps Tesla will partner with current providers to expand the charging network beyond Johannesburg and Cape Town. The Model 3 is also equipped with Supercharging ability, a fast charging solution that charges the Model 3 within 30 minutes. Many of the Supercharging facilities in the US are solar powered as well, meaning the charge is absolutely free.
Not many details of the Model 3's interior are available but from initial images, it hosts a massive tablet infotainment system similar to what is used in the acclaimed Model S. The tablet controls all the car's functions and can be remotely updated by Tesla as software improvements or new systems are introduced.
The end of 2017 is still a long way off but we'll keep track of this to see how it develops. Tesla recently announced that it will open an office for its energy division in Cape Town, and in America it owns its dealerships. We're yet to see what the distribution model will be in South Africa.
Interested in reserving your Model 3? It will cost you $1 000 and can be done here.