Its predecessors attracted such a cult following that there is a considerable weight of expectation on the (broader) shoulders of the turbocharged Suzuki Swift Sport. Now that the newcomer has finally been made available in South Africa, we were keen to find out: Has the Swift Sport retained its verve, or grown up too much for its own good?
When it comes to determining what makes a great driver's car, or even a "fun-to-drive" car, there are various measurable yardsticks – peak power, or, more to the point: where in the rev range it's developed, 0-100 kph times, and even just plain old top speed, are some of them.
Judged against any of those measurables, the new Suzuki Swift Sport is hardly likely to induce sweaty-palmed excitement. But then, it's always been that way. The Swift Sport recipe is different and it's one that has yielded the previous 2 iterations of the little scorcher a cult following. A blend of throttle adjustability, chassis balance and a zingy, high-rev power delivery provides genuine sportscar-like thrills at a fraction of the price.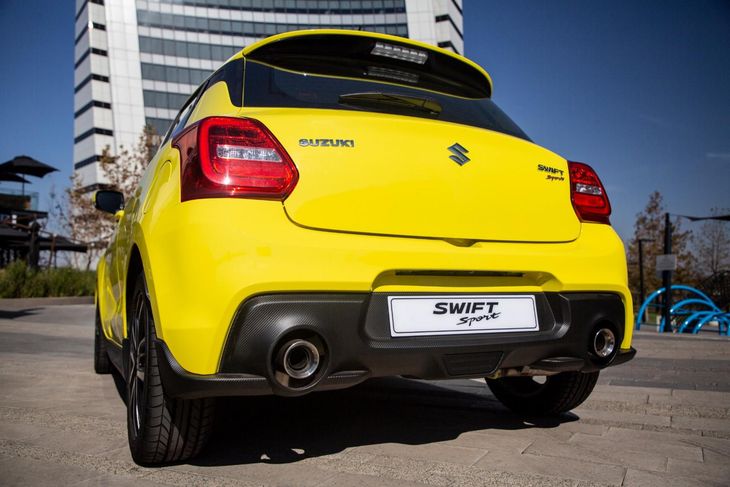 Twin large exhaust outlets and a faux carbonfibre diffuser make the Swift Sport easy to spot from behind.
This new model marks a departure from the norm for the um, swiftest of the Swifts, however. The main change is that it trades that zesty high-revving naturally aspirated powerplant for a grunty turbocharged one. That's a rather fundamental change, isn't it? Does it mean that the new, 3rd-generation car has matured into a refined, warm hatch, from the effervescent little "Jack Russell on wheels" it used to be?
We visited the Red Star Raceway in Gauteng to find out...
First... the facts
Firstly, let's get some of those aforementioned measurables out of the way. The new turbocharged 1.4-litre direct-injection "BoosterJet" engine delivers 103 kW at 5 500 rpm (only 3 kW more than before), and 230 Nm between 2 500 and 3 500 rpm - that's a 70 Nm jump in peak torque. Suzuki Auto SA claims a 0-100 kph time of 8 seconds and 205-kph top speed for the 3rd-gen Swift Sport. The newcomer is offered with either a 6-speed manual or 6-speed automatic (with paddle shifters) transmission and the performance figures quoted for them are identical.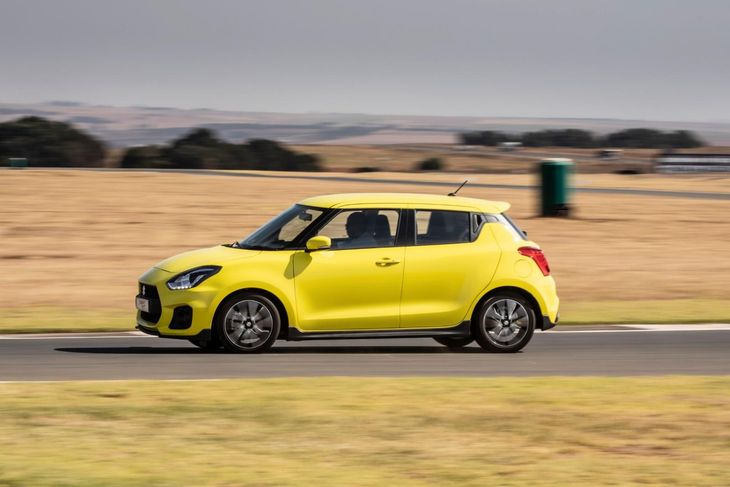 Significantly lighter than before and with far more torque, the Swift Sport is a delight on a tight, twisty track.
But there's a key figure we haven't mentioned yet: kerb weight. The new Swift Sport tips the scales at only 970 kg, that's a full 90 kg lighter than before. This gives it the new car an impressive power/weight ratio (106.2kW/tonne) and means that, theoretically at least, it should be able to trade punches with cars that offer more outright power... rivals such as the Opel Corsa GSi, Mini Cooper S and... yes, even the VW Polo GTI.
I was fortunate enough to be allocated a manual Swift Sport for the track session, and the instructor told us that we should aim to do the entire lap in 4th gear, because the power delivery was so linear and strong from low down. I had my doubts but nearly 10 laps later I must admit that it started to sound less like PR speak, and more like reality. The torque may start peaking at around 2 500 rpm, but there's a lot lower down as well, so the Swift Sport pulls very strongly out of slow corners and, yes, indeed, even in 4th gear. The newcomer certainly has sufficient grunt in reserve, but some enthusiasts will undoubtedly miss the wring-it-by-its-neck nature of its predecessor. This new engine makes it almost too easy to extract performance!
What about the handling?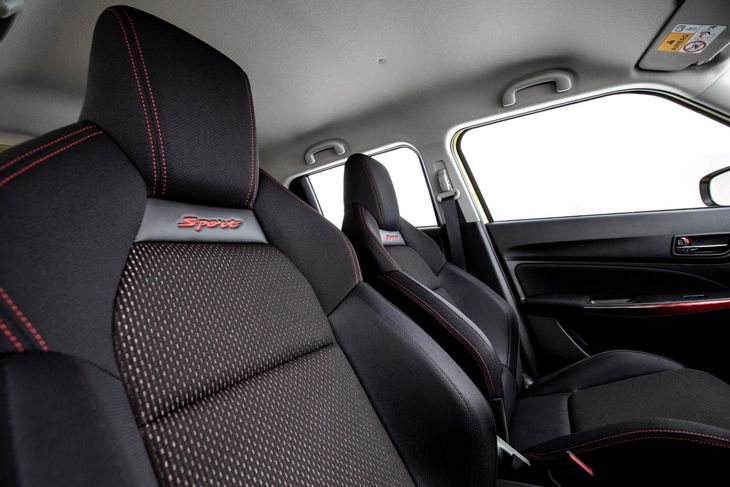 Grippy sports seats look the part and also provide sufficient lateral support in the twisties. Black/red theme carried throughout.
For the sake of testing the Swift Sport's transmission, I did start playing around with ratios other than 4th, however. This is a car that still offers a high degree of "chuckability" or, to put it another way: you (almost always) feel that you can carry almost silly speeds into corners and quell any understeer with a quick lift of your right foot from the throttle pedal. The gearshift action could perhaps be a little sharper – it feels slightly vague/rubbery as the lever slots in the gate, but overall this car quickly instils confidence in its abilities. Sadly I only got to drive the new 6-speed automatic during a gymkhana session, which is not really the best place to evaluate a transmission. Let's hope we get our hands on a test unit soon.
To create the Swift Sport, Suzuki's engineers didn't simply fit a turbocharged engine to the standard hatchback and leave it at that. The company again approached Monroe to develop shock absorbers specifically for the Sport derivative, which are claimed to counter body roll and deliver more progressive understeer in the corners. I can certainly vouch for the latter claim: it's been a while since I've driven on such a tight, twisty track and I regularly found myself entering corners way too fast and, while the front tyres certainly squealed in protest on occasions, it was all easy to correct.

LED lights are used front and rear and the Swift Sport has a slightly more protruding grille.
The Swift Sport also has thicker anti-roll bars, an integrated single-unit solution for the wheel hub and bearings, as well as increased spring and damper rates at the front. There is a unique trailing arm suspension at the rear, which is said to improve tracking between the front and rear wheels.
On a track (where we were advised to stick to 4th gear, remember?) hard braking was obviously not of tremendous importance, but we later also participated in a gymkhana session where we punished the thicker/bigger front ventilated discs and rear solid discs. The fastest gymkhana time was achieved by a driver in the 3rd and last group (there were numerous media representatives at the event), so it seems the brakes are up to the job.
Best bang-for-buck?
Suzuki has priced the newcomer at R315 900 (manual) and R335 900 (automatic), which includes of a 5-year/200 000km promotional warranty and 4-year/60 000km service plan. For your money, you're getting a fully-loaded vehicle, with standard features such as a touchscreen infotainment system (with integrated reverse-view camera display), Apple CarPlay/Android Auto, cruise control, climate control and a full suite of safety features.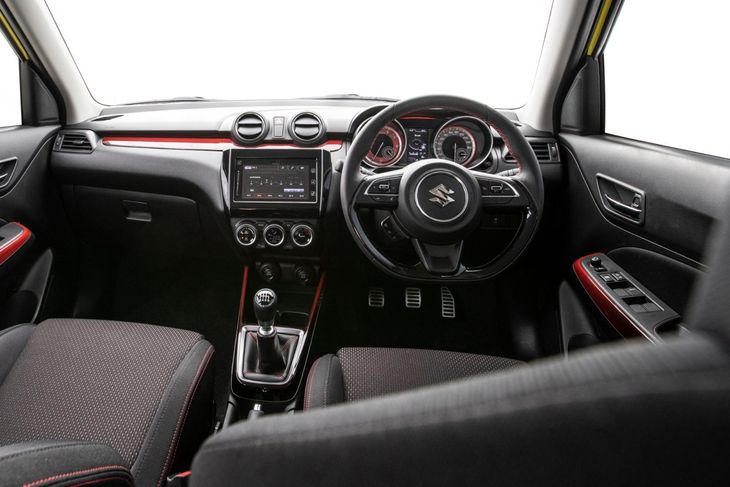 Black and red theme for the racy cabin, but note standard touch-screen and extra LCD display between dials.
Make of the exterior design what you will – I'm quite partial to it in the Champion Yellow colour finish – but, in terms of differentiating the Swift Sport from its lesser siblings, you get 16-inch alloy wheels, a "carbon-fibre" front splitter, side skirts and rear diffuser, a pair of blingy tailpipes, a different grille, LED front and taillamps, and a subtle wing spoiler.
Inside, there are grippy new seats, and subtle red accenting to remind you that you're seated in something special. Serious petrolheads will also appreciate the digital display that can be configured to display values such as boost- or oil pressure.
But none of those features really matter where we drove the car during the launch (on the track only), and while they do add to the showroom appeal of the car, and will for some help justify the price, the reality is this... those fripperies (gimmicks, even, if you were to be cynical) are representative of a car that Suzuki hopes will appeal to a wider audience than the circle of near-fanatical fans that its predecessors attracted.
Summary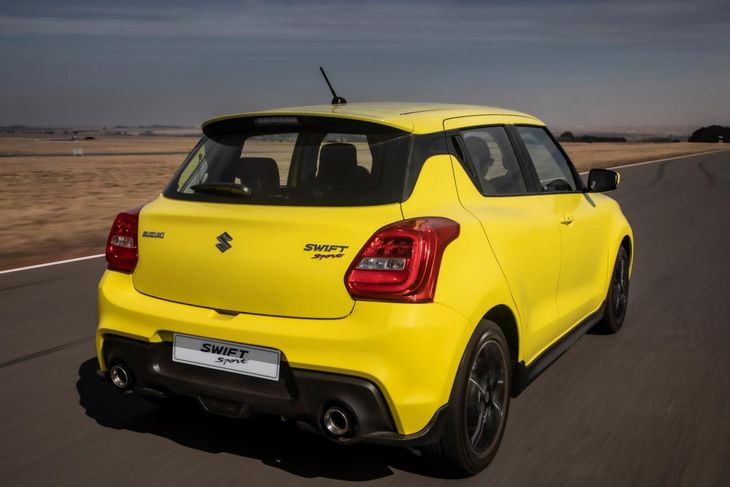 Different in character, but still fun, the new Swift Sport offers a compelling purchasing argument for any petrolhead.
Yes, guys (and gals) in other cars may beat you in traffic lights grands prix... in fact, it's highly likely that they will. Their cars will make crowd-pleasing farting noises while yours, unfortunately, doesn't have a particularly distinctive sound at all. If that matters, then this is not the car for you.
However... if finding joy in the simple act of driving a car briskly is what you're after, then you should give the Swift Sport a long, hard look. You know what I'm talking about... you're not driving to get from A to B, but you're out there just to enjoy your driving. That's where the ever-engaging Swift Sport beats anything in its price range. But now it also gets you from A to B in greater comfort and refinement than before when you need that.
Yes, so while some of the cheeky, pugnacious and "or-die-trying" character of its predecessors has been lost and, as a consequence, this 3rd-generation car might struggle to achieve the same fanatical following as previous Swift Sports, its priced and packaged in a way that makes it far less compromised as a package. And, all the while, it still retains a healthy dose of that "immeasurable" X-factor that previous models had.
Looking for a Suzuki Swift to buy?
Find one today on Cars.co.za by clicking here