The repackaged, next-generation Suzuki Swift has landed in South Africa. Suzuki's compact hatchback has formed the backbone of the Japanese company's global sales success, so a radical departure to a winning formula would probably be ill-advised. Does the new Swift still deliver?
The Suzuki Swift has been a popular hatchback for the brand and with around 6 million finding homes around the planet, success is critical for the new Swift. In South Africa alone, almost 20 000 units have been sold, making it the most popular model in Suzuki's portfolio. What's new, you may ask? The new Swift's dimensions have changed, it rides on an all-new platform and, crucially, Suzuki South Africa has adopted a revised product strategy for the newcomer.
Physically, it is 10 mm shorter, but 40 mm wider. Both tracks have been widened; the front by 40 mm and the rear by 35 mm. The entire wheelbase has been extended by 20 mm to 2 450 mm, making the new Swift almost as long as the Suzuki Ciaz sedan. These dimension changes result in improved interior space: Suzuki claims that rear passengers have a bit more headroom, front passengers benefit from more shoulder room and everyone sits a little lower down, giving the new Swift a sportier feel overall. The luggage capacity has been increased too, which was a criticism of the previous Swift – it simply didn't offer the same level of loading practicality as its rivals.
What's it like to drive?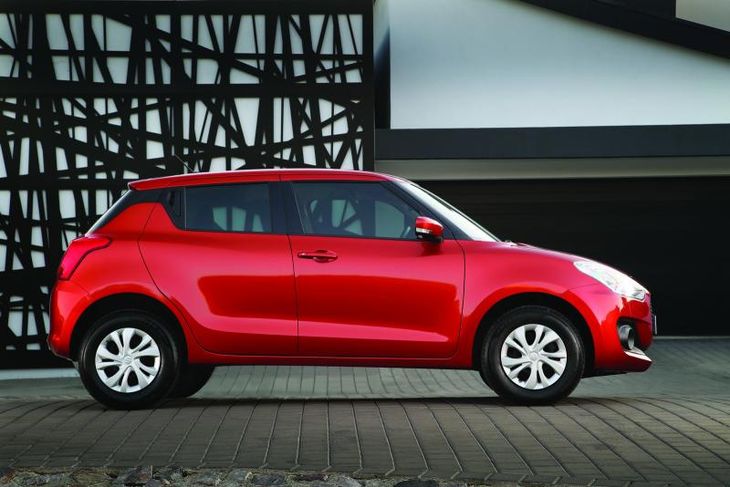 We're happy to report that the new Suzuki Swift still drives like the Swifts of before: lively, fun and comfortable
The Suzuki Swift of old was sure-footed and thoroughly entertaining to drive. There was enough suppleness to the ride quality to make it comfortable and refined, yet taut enough to keep the boy racers happy. When driven enthusiastically, the Suzuki Swift was an energetic and thrilling little car – it ably demonstrated that you don't need to buy a sportscar (or break the speed limit) to have fun behind the wheel. The key with the new Swift is weight and, like any other image-conscious millennial, it has been on a diet.
The engine has been carried over from the outgoing model... and that's not a bad thing: the peppy 1.2-litre offers up adequate power and torque (61 kW and 113 Nm) and the naturally aspirated powerplant drives the front wheels through a 5-speed manual gearbox. Through the launch route around Ballito, KwaZulu-Natal, we put the newcomer through its paces on some spectacular roads that winded their way through the sugarcane fields.
Our first impression is that the weight saving has contributed significantly to the handling and accelerative abilities of the new Swift. The steering is light and quick, yet offers just enough feel for reassurance. The clutch action is wonderfully light and gear changes require minimum effort. From behind the newcomer's steering wheel, you get the sensation you're piloting something agile, lively and – despite the engine's moderate outputs – effortless, which aids ease of use. With the light steering and compact size, the Swift is easy to park within the confines of a congested city.
However, it's when you decide to cut loose/press on that the new Suzuki Swift proudly carries on the tradition of being a fun-to-drive compact hatchback. Unfortunately, our launch units were still extremely new so the engines weren't as free-revving as vehicles with a few thousand clicks on them, but the little 1.2-litre motor still had plenty to give. We were impressed with the refinement of the powerplant and it's only as you approach the redline that the engine note becomes a touch harsh. When tackling some rural corners, the Swift behaves beautifully and offers up plenty of grip/road-holding. We're also particularly impressed by how little wind and road noise intrusion there was, especially if you consider how relatively little this car costs.
Standard features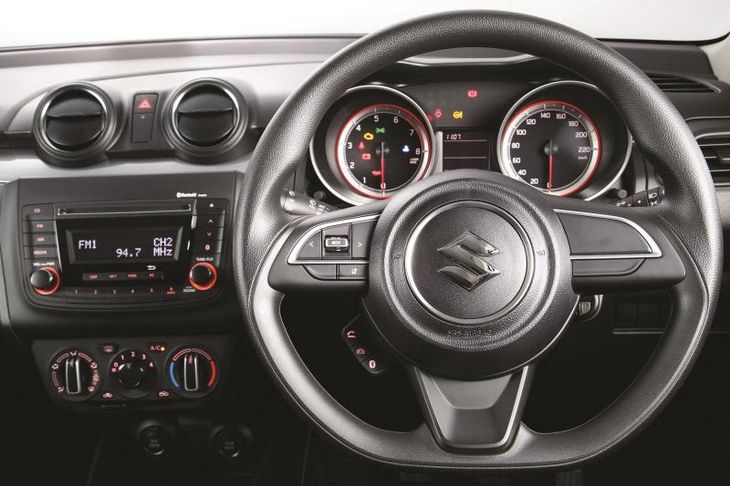 The cabin of the new Suzuki Swift is functional and ergonomically sound. It won't win any beauty or style awards however.
The cabin of the new Suzuki Swift is not cutting edge nor pretty, but everything is laid out in a functional manner. It feels well put together, but there are a couple of questionable plastics used on the dashboard, which, regrettably, adds a made-to-cost feel to an otherwise well-made cabin. Then again, we can't complain too loudly as this car admittedly sits tidily under the R200 000 barrier.
The new Suzuki Swift is available in 2 trim levels, with a potential luxury GLX model joining the ranks later in the year. Our launch unit was the GL, which covers the basics in terms of features. It comes equipped with air conditioning, all-round electric windows, power steering, a trip computer, adjustable steering wheel with audio controls, audio system with Bluetooth/USB connectivity and front fog lamps. In terms of safety, all Swift models offer a pair of front airbags, ABS with electronic brake-force distribution (EBD) and ISOFIX seat anchors.
In overseas markets, the new Swift comes with much more specification, such as a nifty touchscreen audio setup, keyless start and more safety features, therefore we were initially a little surprised when we saw how little the new Swift costs and how few features it has. However, offering a new Suzuki Swift with the smaller engine (1.2 as opposed to 1.4) makes sense. Previously the 1.2 derivative cannibalised the sales of its 1.4 equivalent and it's critical to offer great value for money in this segment. Suzuki South Africa could, of course, avail every available bell and whistle in the new Swift, but then the newcomer would compete with the new Volkswagen Polo and Ford Fiesta (both of which are popular, highly-rated cars) in terms of price. Not ideal.
Summary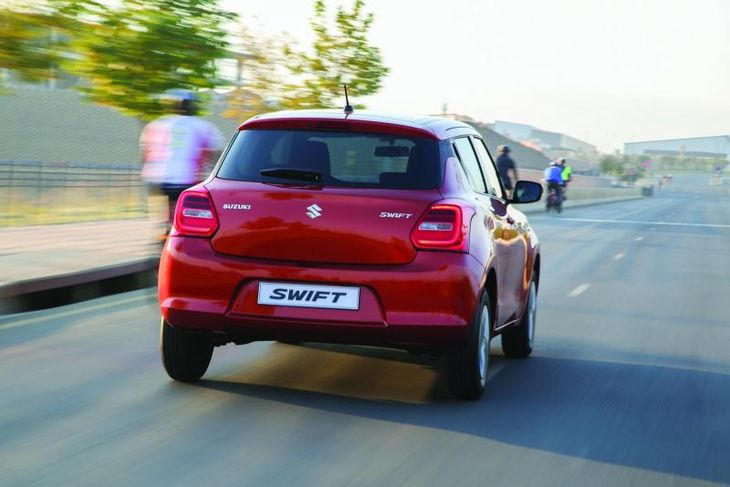 Suzuki has realised that it would be fatal to pitch the Swift against the Polo and Fiesta, so instead, its tackling the Vivo and Figo segments with a value-for-money offering
It's tactically astute to offer a budget-friendly Swift at this price point in the market. While we'd all love a touchscreen entertainment system and cruise control, they're not must-haves for a price-conscious customer. With rivals ranging from the new Volkswagen Polo Vivo, Ford Figo and Hyundai Grand i10, the Swift stands a realistic chance at its price point. The looks are pleasant, the operation is simple enough and the drive is involving and exciting. It's back-to-basics, honest affordable mobility solution from a brand which is becoming known for putting its customers first... After all, it bears mentioning that Suzuki South Africa is a two-time Cars.co.za Consumer Awards – powered by WesBank Brand of the Year, as determined by South African consumers.
As far as criticisms go, it's not the flashiest of cabins (the cars that we drove in India, from where the new Swift is sourced, felt slightly smarter), the luggage bay, although enlarged, is still not generous, we'd like some alloy wheels as standard, and some of the materials felt a little cost-price. All of which will hopefully be forgotten when you start driving the new Swift, because you're likely to appreciate the driver involvement (who said that cheap cars have to be dull and uninspiring?) and the real cherry on the cake is the claimed fuel consumption. While many manufacturers claim unrealistic numbers (many of which are probably generated in a lab), you really can achieve close to Suzuki's claimed figures, at least in our experience. In the Swift's case, it's claimed to consume 4.9 L/100 km and, after our day of charging around some delightful ribbon of tarmac with three adults, our little blue test unit had an amazing 5.3 L/100 km on the trip readout. Brilliant.
Suzuki Swift (2018) Price in South Africa
The new Suzuki Swift is available in six colours and is sold with a 5-year / 200 000 km mechanical warranty and a 2-year / 30 000 km service plan.

Suzuki Swift 1.2 GA Manual R159 900
Suzuki Swift 1.2 GL Manual R175 900
Suzuki Swift 1.2 GL AMT R189 900
Further Reading:
Suzuki Swift (2018) International Launch Drive [w/Video]
Suzuki Swift Sport (2018) features turbo power
Suzuki Swift 1.2 Hatchback Review
Suzuki previews Swift Sport, Extends Warranty (Updated)
New Suzuki Swift (2017) First Drive
Want to purchase a Swift?