Suzuki will soon introduce an all-new version of its Swift compact hatchback in South Africa. Suzuki fans can look forward to a restyled Swift that offers a more spacious and modern interior that will enhance the appeal of this popular hatchback. Cars.co.za journalist (and current Swift owner) Gero Lilleike, headed to India to sample the new Swift in the metal. This is what he discovered…
The Swift is Suzuki's best-selling model in South Africa – more than 18 200 units have found homes locally since the model was launched here a decade ago. Combining cute looks, affordability, an impressive ride/handling balance and low real-world fuel consumption, the Swift has proven itself to be an attractive proposition for buyers looking for a reliable daily runner. I, myself, purchased a Swift 1.2 GL back in 2014 for these very reasons and haven't had any reason to complain since.
The Suzuki brand has strengthened considerably in South Africa and sales in 2017 compared with 2016 grew by a staggering 57% with Suzuki's market share rising from 0.9% to 1.6%, which is a massive achievement. Suzuki has won the Cars.co.za Consumer Awards - powered by WesBank coveted Brand of the Year award 2 years in a row (2016/17 and 2017/18) and has snatched wins in the Budget Car and Compact Family Car categories of the #CarsAwards for the last 2 years running.
These achievements speak volumes of a brand that not only makes good, affordable cars but takes great pride in delivering excellent customer service at all levels. Suzuki is certainly on the rise and the imminent arrival of the new Swift will play an important role in maintaining the upward momentum of the Suzuki brand in 2018. The new Swift destined for South Africa will be built in India, while the Swift Sport, if it makes it to our market, will come from Japan.

You can read more about Suzuki's success in India and its rise in SA here!
Moving along Swift(ly)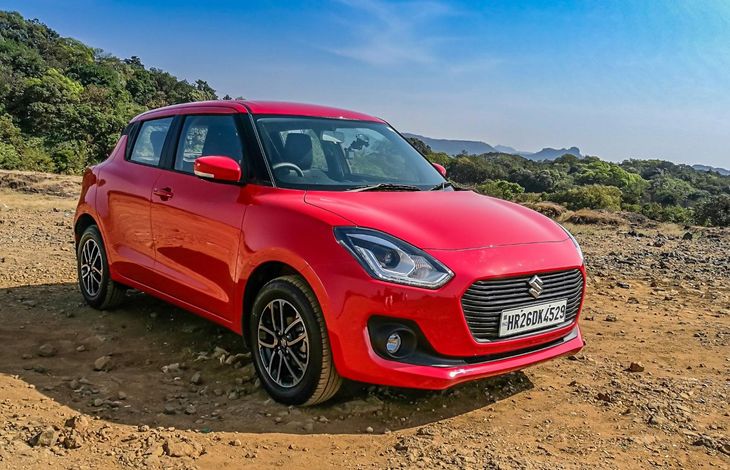 A slimmer, more refined design will boost the aesthetic appeal of the Swift in South Africa.
In terms of styling, the most obvious change to the new Swift can be seen from the outside. Whereas the outgoing Swift has a somewhat corpulent look, particularly when viewed from the rear, it successor has slimmed down and exudes a far better-proportioned shape. Nifty details include the refined grille design, newly shaped LED headlights with daytime running lights, 15-inch alloys, hidden rear door handles and a revised rear-end with distinctive taillights to round off a far more attractive-looking Swift.
The Swift is built on Suzuki's new lightweight Heartect platform, which also underpins the Baleno and Ignis models. Importantly, this new Swift is some 85 kg lighter than before, which, for a small car, makes a noticeable difference... Suzuki claims that the weight saving has resulted in at least a 10% improvement in acceleration.
Although the car is some 10 mm shorter, it's wheelbase has grown by 20 mm and it's also 40 mm wider and sits some 15 mm lower than the model it replaces.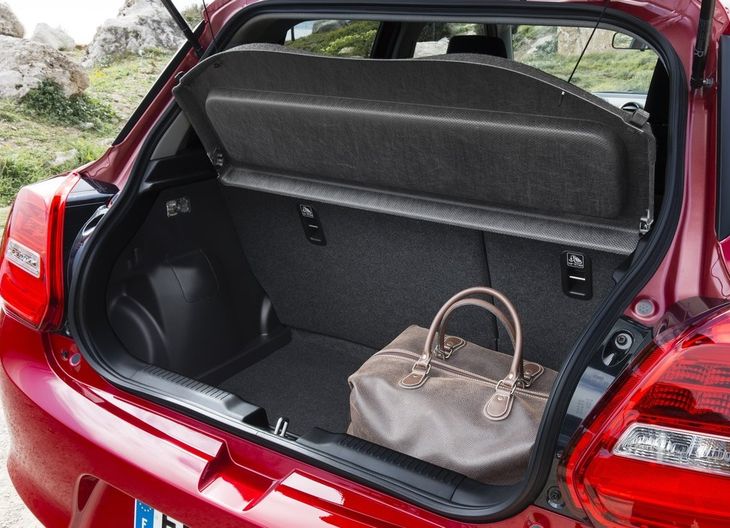 An enlarged luggage bay is welcomed in the new Swift and the 60:40 split rear seat improves practicality further.
For some compact hatchback buyers, the current Swift's comparatively small (210-litre) luggage space might have been a deal-breaker, but due to the new Swift's larger overall footprint, interior space has improved and you will be happy to know that the load bay is now 25% bigger, now offering 268 litres of space – no less than 58 litres more than before. The rear seats are split in a 60:40 configuration, further strengthening the Swift's practicality proposition. But if improved luggage/utility space is not enough of a gain, rear legroom has also been improved by some 17 mm, which should make aft passengers happy on those longer out-of-town road trips.
From the outside then, the new Swift certainly looks the part and more importantly, it has somewhat rectified the practical pitfalls that set it back previously. Let's step inside and take it for a drive then, shall we?
What's the new Swift like to drive?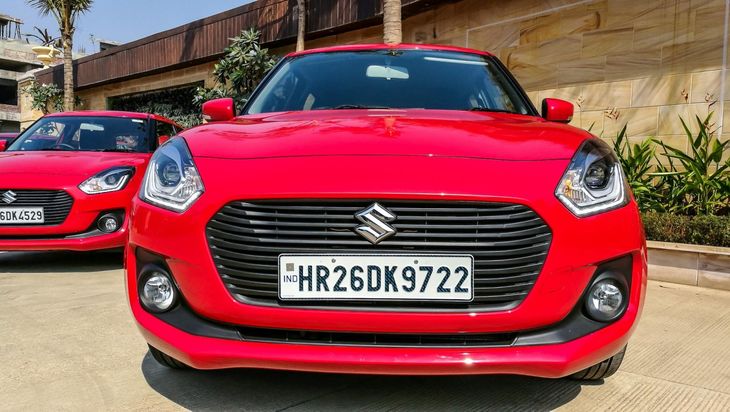 By virtue of being some 85 kg lighter, the new Swift feels perkier than the model it replaces, with its 61 kW 1.2-litre engine providing adequate performance.
For a person who is accustomed to the oft-infuriating Cape Town traffic, Indian traffic was nothing short of maniacal and chaotic! Many of the rules of the road seem to simply not apply to Indian road users and accidents are very common. In fact, India is one of the most accident-prone countries in the world and when you see how haphazardly some motorists drive in that country, it's easy to understand why. So when we learnt that we would be driving the new Swift far from the hustle and bustle of Mumbai, my heart was truly grateful. Our drive in the new Swift took place about 2 hours from Mumbai in the scenic mountains near Pune. Thank goodness!

As a current Swift owner, the changes inside this new Swift were immediately apparent. Although much of the surfaces in the Swift are made of hard but durable plastics, there are a few nice touches in the Swift's cabin. The new-look steering wheel is flat-bottomed with a contrasting plastic insert which matches the trim elements seen in the dashboard and doors. The shape and look of the instrument cluster have also an been improved and it actually looks sportier now, which will increase appeal for especially younger buyers. General perceived build quality is good and you will also notice the new ventilation dials mark a major improvement over those of the Swift's predecessor.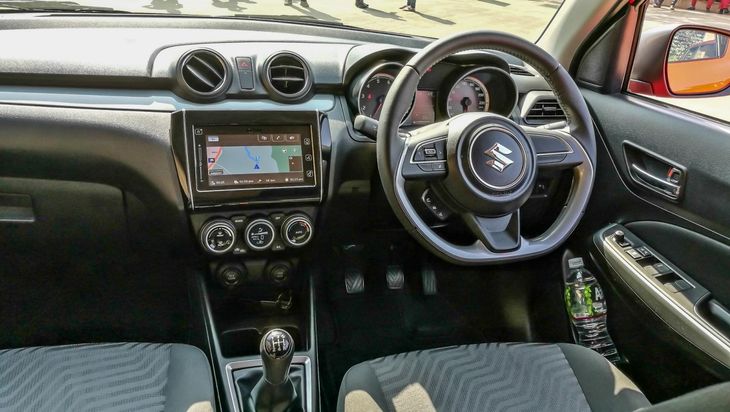 The Swift's interior has improved significantly and the inclusion of a touchscreen infotainment system with nav is a highlight. Let's hope it will be offered in SA.

The 7-inch touchscreen infotainment system lifts the interior look significantly and it's a major highlight of this new Swift. The unit came equipped with navigation, Bluetooth, Apple CarPlay and Android Auto functionality. It's an intuitive system that's pretty easy to use, but Suzuki SA has yet to confirm whether derivatives destined for our market will get it... We think that as more consumers demand better smartphone-interface technology in their vehicles, its inclusion would only make the proposition of buying the new Swift that much stronger. A reverse-view camera was another useful feature on the Swift that we drove in India.

The seats are far more comfortable and supportive too. Unlike the relatively flat seats of the outgoing Swift, the seats in the newcomer have more pronounced side bolstering, which hugs your hips and cosset you nicely while driving and provide extra support when threading the Swift through corners.
We drove the Indian-spec Swift 1.2, featuring the same, yet mildly optimised, naturally aspirated engine found in the current Swift, but with 61 kW and 113 Nm of torque on offer. It's also likely to be the only engine that will be offered in South Africa. It's a refined motor and although its outputs are average, it's suited to this leaner Swift.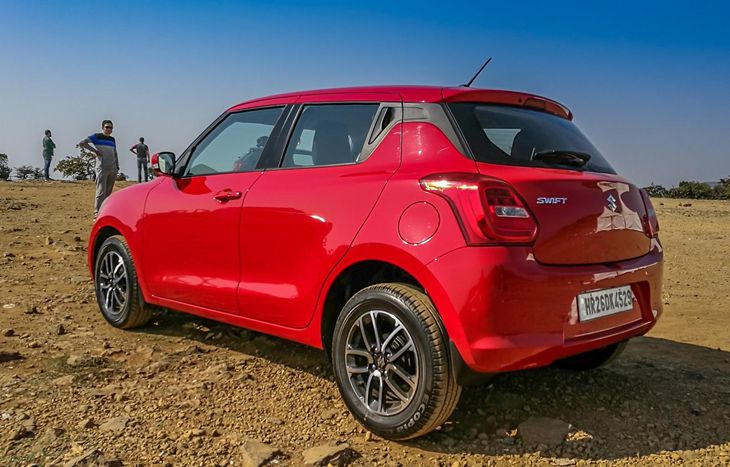 Ride quality and handling ability remain key strengths of the Swift making it difficult to ignore in this segment.

The steering feel is noticeably lighter than before and although it felt reasonably responsive, I got the impression that it was perhaps a little too light with a numbness at its centre. Having said that, it's not light enough to make the steering feel overly vague. Despite this, the new Swift is still a nimble handler and it maintains its composure well when coaxed into corners with gusto; as ever, it's actually quite fun to drive...

The Swift's gearbox is another highlight and the 5-speed shifter delivers smooth, effortless 'changes with a positive feel. This new Swift definitely feels perkier than its predecessor and the fact that it's some 85 kg lighter has made a big difference in aiding and improving acceleration/general performance.

General ride quality and overall on-road composure are 2 of the Swift's key strengths and this latest version has lifted that bar a few degrees higher. Speaking in general terms, Indian roads are in a worse state than South African routes and the Swift's ride quality is pliant and forgiving, even over rougher surfaces. If I had to put a number on it, I would say that the Swift's ride quality has improved by about 10%, which is significant, because the outgoing Swift was pretty good in this regard.
Final thoughts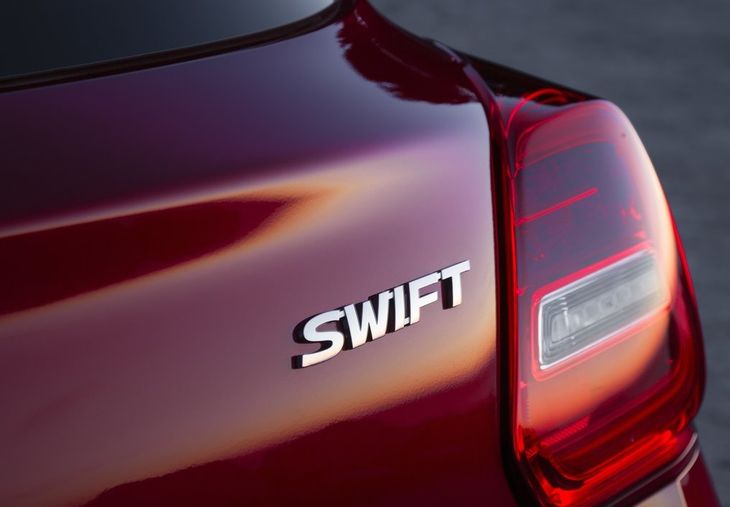 Provided that the new Swift's local pricing and specification is attractive, it should fly off Sukuki's showroom floors...
Overall, we came away suitably impressed with the higher levels of refinement offered by the new Swift and we have every reason to believe that it will be well received by critics and consumers alike and, therefore, will continue to sell strongly in South Africa. It appears to be a considerable improvement over its predecessor and not only is its styling more modern and attractive, but more importantly, it's more spacious and the larger luggage capacity in itself could generate conquest sales. Its engine performs adequately and should return good fuel consumption figures on a regular basis while also delivering improved performance thanks to the reduced kerb weight.

With that said, the new Swift's value offering will depend on the specification and pricing structure that Suzuki SA can deliver to our market. As it stands, the new Swift will arrive in South Africa in Q2, or latest, Q3 of 2018. As far as we know, Suzuki's 83 kW 1.0-litre turbocharged Boosterjet engine is not expected to make it to South Africa, but we certainly will, eventually. Also, Suzuki South Africa is still 'studying' the prospect of introducing the new 103 kW / 230 Nm 1.4-litre turbocharged Swift Sport to our market. Again, let's hope it comes…

In terms of positioning, the new Swift appears to be perfectly primed to take the fight to the popular Hyundai i20, Mazda2, Toyota Yaris and Opel Corsa. It will also surely look to steal sales from the latest Volkswagen Polo Vivo. Although it's not as premium an offering as the Polo (and, arguably, upcoming Ford Fiesta), it may even have enough clout to lure would-be entry-level Polo buyers into Suzuki's camp.
Buy a Suzuki Swift on Cars.co.za
Related Content
Winners of 2017/18 Cars.co.za Consumer Awards – powered by WesBank
New Suzuki Swift (2017) First Drive
Suzuki Dominates in India, Grows in SA
Suzuki Swift Sport (2018) features turbo power
Next Suzuki Swift Sport: Fast & Fun
Suzuki previews Swift Sport, Extends Warranty (Updated)
Suzuki Swift Sport (2016) Review
Suzuki Swift 1.2 Hatchback Review
Extended Test: Suzuki Swift 1.4 GLS [Video]