The Swift makes up 30% of Suzuki South Africa's new car sales and is, therefore, a very important model for the award-winning Japanese manufacturer. This all-new version displays renewed focus on what made the previous car so popular and should be a strong contender in the budget car/entry-level compact hatchback segment.
We Like: Build quality, fuel efficiency, spirited performance, agility, ride quality, spaciousness, warranty
We Don't Like: Lacks the character/flair of its predecessors, no particular "surprise-and-delight" features in the cabin
Alternatives
Volkswagen Polo Vivo 1.4 Trendline: Already one of the top-selling cars at this end of the market, the entry-level Polo Vivo holds inherent appeal because it's a previous-generation Polo, which was pitched at the upper end of the B-class segment. So there's a lot of quality evident in the design. Spec-wise it rivals the Swift quite closely, but lacks a multi-function steering wheel, front fog lamps and has smaller wheels. It's also not as frugal and lacks a standard service plan. Should be a star on resale, however!
Toyota Etios 1.5 Sprint: The Japanese brand's offering remains a popular one because of its combination of spaciousness, performance, affordability and, of course, that Toyota badge, which instils consumer confidence. It mostly matches the Suzuki's specification, but isn't as economical, fun to drive or as solidly put together.
Ford Figo 1.5 Ambiente: Recently updated and now a more stylish offering, the littlest Ford is now a more serious threat in this segment. It's more powerful than most of its rivals, but not necessarily more fun to drive, and at the same time also thirstier. Yet, there's a grown-up feel to the way it rides and it has a good warranty/service plan.
SERIOUS ABOUT BUYING?
Where does it fit in?

The Suzuki brand continues to gain traction in South Africa. Following back-to-back Brand of the Year victories in the annual Cars.co.za Consumer Awards – Powered by WesBank, increasing sales and an expanding dealership footprint, the Japanese marque is in a bullish mood for 2018 and the foreseeable future. Last year the outgoing Swift achieved its best local sales ever, and so much is expected of this all-new model. It is similarly positioned as the outgoing car, but significantly different in a number of important ways. The new Swift targets customers that may otherwise also consider the Volkswagen Polo Vivo, Toyota Etios and Ford Figo. Let's see how it goes...
How does it fare in terms of...
Value for Money?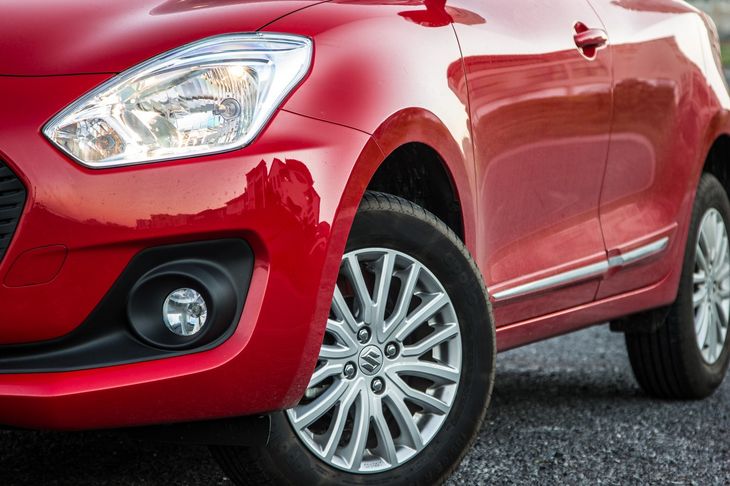 Front fog lamps are key giveaways that this is a GL-specification derivative. Alloy wheels are optional.
If a check-box list of desirable features exists for manufacturers of budget cars, then it appears Suzuki's engineers and product planners simply made sure to put a tick next to each item... and no more. Let's start with safety and security – here the Swift GL offers ABS with EBD, front fog lamps, dual front airbags, remote central locking and Isofix child seat mounting points at the rear. It doesn't feature an electronic stability control system, but few cars in this segment do.
In terms of comfort items, too, the Swift appears to have all bases covered, with air-conditioning, electric windows all-round (several key competitors only offer these at the front), power steering and electrically adjustable side mirrors. The sound system appears to be a pretty basic unit (no touchscreen interface), but USB, auxiliary audio and Bluetooth are supported, and this derivative also comes with a multi-function steering wheel.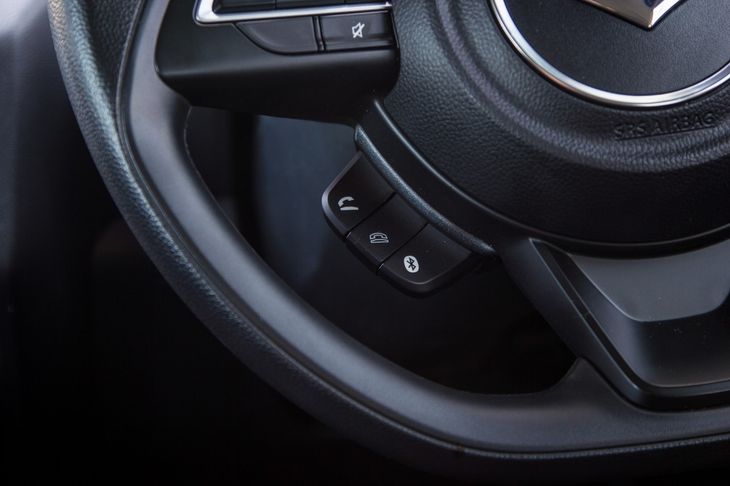 Swift GL features an audio system with Bluetooth support, and also neat telephony controls mounted to the steering wheel.
So, the new Swift GL has everything that you could rightfully expect from a budget car at this price (including more space in the rear courtesy of a wheelbase extension) and a significantly larger luggage bay than before. If you factor in the current promotional warranty (valid for 5 years or 200 000 km, whichever comes first) and a 2-year/30 000 km service plan, the purchasing proposition seems sweeter still.
Performance & Fuel Efficiency balance?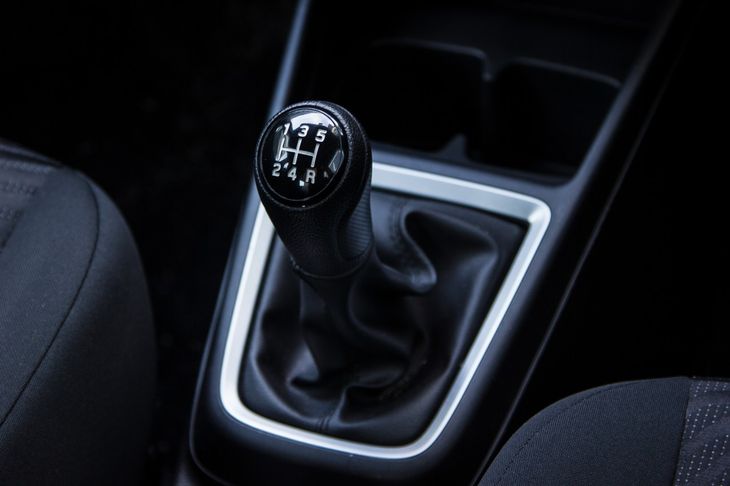 The 5-speed gearbox is precise and the clutch action light – the Swift 1.2 GL is a delight to drive.
Under the bonnet of the Swift you will find the same proven 1.2-litre naturally aspirated 4-cylinder engine that was used before. It is claimed to deliver 66 kW and 113 Nm of torque, with the latter figure looking particularly low compared with the competition. However, the new Swift is based on a far lighter platform than before (by almost 100 kg, in fact), and so that little engine doesn't have to work particularly hard during most drives. It's also willing to rev, which endows the Swift with a delightfully spirited character. The 5-speed 'box shifts slickly, too, so all of our testers rated the driving enjoyment the Suzuki offers as no less than class-leading.
Most impressively, and despite our er... enthusiastic test team's best efforts, the fuel consumption remained impressively low during our test period. The worst we recorded was 6.5 litres/100 km, but most economy-minded drivers could easily get that down to around 5.8 litres/100 km, possibly even lower (Suzuki claims 4.9 litres/100 km).
Ride & Handling?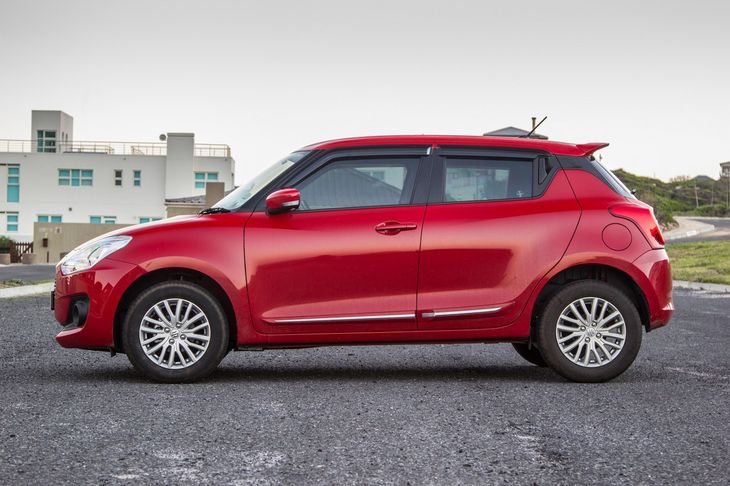 With a slightly longer wheelbase and wider track, the Swift is an agile and fun little hatch to drive.
It would have been a travesty if a car with such a delightful powertrain didn't have the dynamic ability to match it. Happily, the Swift excels in this department. The light new platform is also stiffer than before and interestingly, the Swift is shorter than the outgoing car, but has a 20-mm longer wheelbase and 40-mm wider track. That's a great base to work from when developing an agile little car, Suzuki's engineers have certainly delivered.
Composed and supple around town and on poor surfaces, yet responsive and keen to change direction, the Swift GL shows that the new Sport (sadly not yet confirmed for South Africa, but we remain hopeful) should be an absolutely cracking little hot hatch.
Design & Packaging?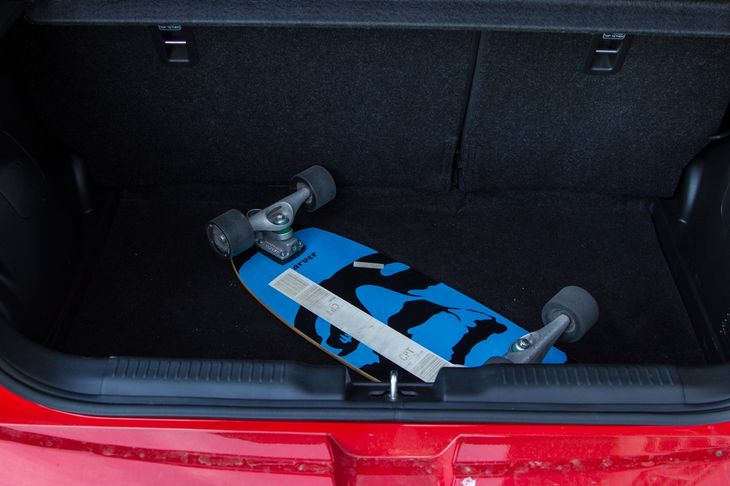 Boot space has been vastly improved compared with the previous model.
The one area where we feel Suzuki could have delivered a bit more is on the design front. Given some of its recent efforts (notably the Ignis and the upcoming new Jimny), the Swift is relatively bland even though it has some nice touches (hidden rear door handles and curves along the flanks). Our test car benefitted from the addition of optional alloy wheels, among other extras (such as window guards).
Inside, the biggest advantage of the redesign is improved spaciousness. Rear legroom is significantly better, but the luggage capacity (always the Achilles Heel of the previous car) has improved massively (it has grown to a very competitive 268 litres). The rear seatback splits and folds too.

Smart, comprehensive instrumentation for this GL model. Build quality impresses.
In front, the layout of the facia is simple, but effective. The instrumentation is of a neat chronograph-type finish and a comprehensive trip computer is included. The build quality is excellent, as we've come to expect from Suzuki. You'll also appreciate the variety of storage spaces on offer.
Pricing & Warranty
The Suzuki Swift 1.2 GL sells for R175 900 (August 2018) and is backed with an excellent 5-year/200 000 km promotional warranty (make sure whether this still applies when purchasing). Also included is a 2-year/30 000 km service plan. Services are scheduled at 15 000 km intervals.
Verdict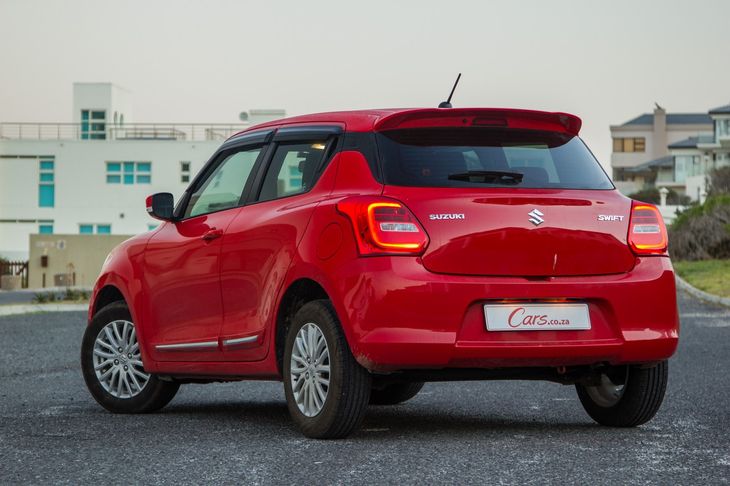 Perhaps the new Swift's best view – hidden rear door handles, LED detail in the tail lamps and curvy flanks are design highlights.
Given its price and purpose, as well as what it offers and how it delivers its performance (replete with oodles of driving fun), the new Suzuki Swift is a very hard car to fault. In GL specification it offers all the features you can reasonably expect, more space than before and a class-leading driving experience. We wish it displayed a little more flair on the design front, but we're happy to give it an enthusiastic double thumbs-up nonetheless.
Looking for a new / used Suzuki Swift to buy?
Find one on Cars.co.za to purchase today by clicking here