There's a tremendous demand for the 4th-generation Jimny and, having put the newcomer through its paces, we completely understand why that's the case... The Suzuki seems even better in every single facet that gave its predecessors legendary status in the off-roader community. It's still very singleminded in purpose, however.
We like: Chunky retro styling, class-unique off-road ability
We dislike: Middling road manners, impractical packaging
Fast facts
Price: R299 900
Engine: 1.5-litre, four-cylinder petrol
Gearbox: 5-speed manual
Power/Torque: 75 kW/130 Nm
Fuel economy: 6.3 L/100 km
Own a Suzuki? Tell us about your experience here.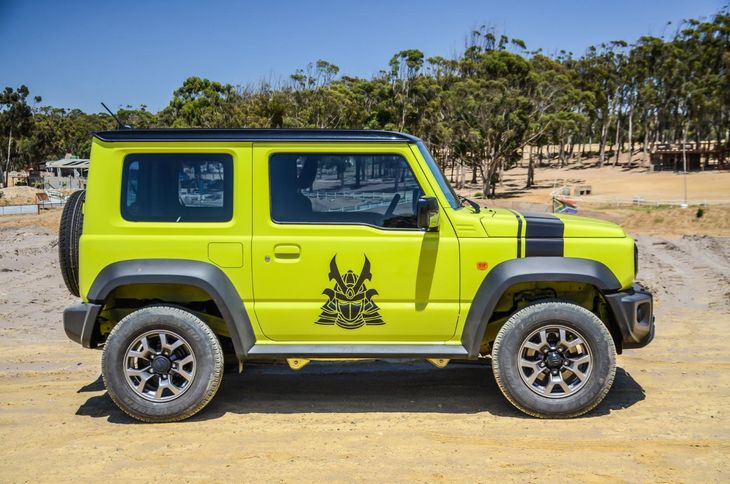 The new Jimny in its Kinetic Yellow hue complete with Samurai decals.
Where does it fit in?
What were you doing twenty years ago? At the very least you weren't quite as follically challenged and soft around the middle as many of us... perhaps you were still in high school, or maybe even little more than an amorous thought between your parents. In Suzuki's case, 1998 marked the launch of the rugged but cute 3rd-generation Jimny, a model that, remarkably, has only just been put out to pasture. Suzuki claims the latest iteration of its capable little SUV still has the rock-hopping capability of its predecessors, but adds a more refined motoring experience to the mix.
Although it occupies a space between uncompromising SUV and compact boutique crossover, the Jimny sits in a rare niche that leans more towards the former, offering more off-road ability than anything in its price range or segment. Only the likes of Fiat's ageing Panda Cross and Renault's recently updated Duster comes close to rivalling the Jimny's cutesy-tough package, although they couldn't dream of matching its off-road prowess.
What's good about it?
It looks like a box of fun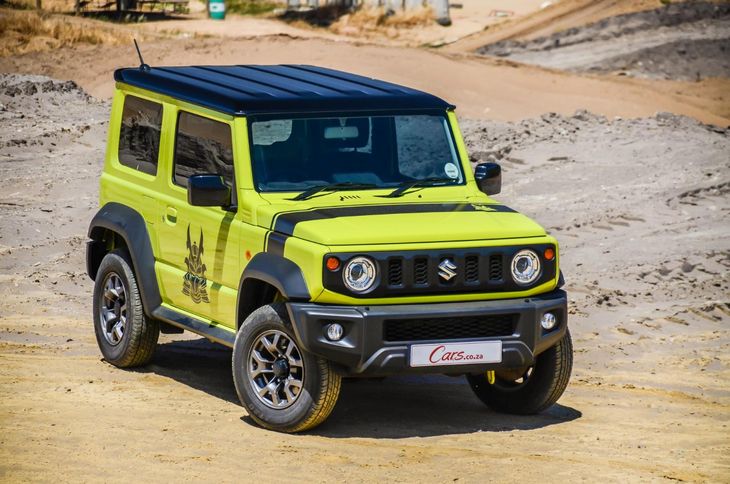 It still has that miniature toy car feel to it, but it's still as good as ever off-road.
The Jimny's boxy, retro frame will likely be its strongest drawcard, and with good reason. It has styling cues drawn from 3 generations of precursors – including the 1st car's bluff, rhomboid nose with round headlamps, the 2nd-generation SJ's clamshell bonnet and the 3rd generation's five-slot grille – that amount to a product that's both utilitarian and stylish.
According to Suzuki, the retina-searing Kinetic Yellow hue adorning this test unit is meant to aid visibility in the bush and can be supplemented with suitably retro decals, including the samurai shown here. With the GLX-specification's alloy wheels it treads a neat line between boutique town-goer and rugged off-roader, but the base-level GA has a certain charm as well; its simple finishes and steel wheels making it the automotive equivalent of the green Hunter Wellington boot.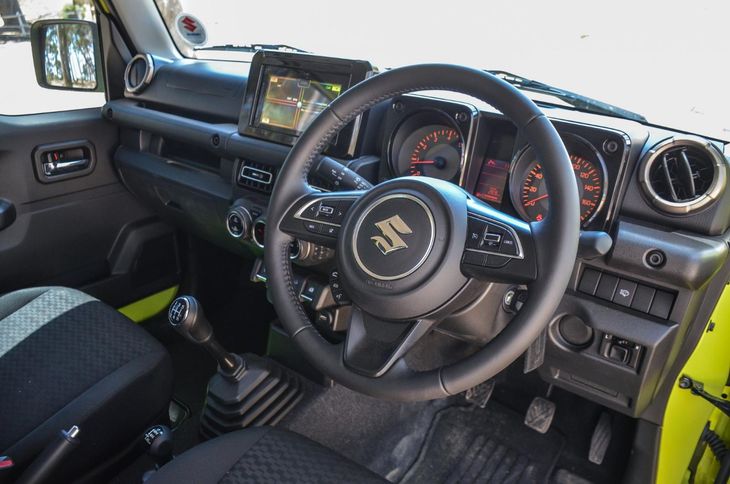 It's a similar story inside, where squared-off dial housings with rivet details and a tiered dashboard that, in the case of the GLX with its neat touchscreen infotainment system, manages to meld retro and modern. As is often the case with Suzuki's cars, the interior plastics are hard but the fit and finish feel pretty solid.
But in the Jimny's typical fashionable-but-functional approach a number of seemingly cosmetic touches actually have some practical merit. The squared-off wheel arches, with their plastic cladding, not only aid wheel travel, but makes for easier access when changing wheels and help protect the paintwork. Similarly, the high-mounted spare wheel not only looks the part, but is located away from points of the bodywork that would otherwise see it rubbing on the rocks when tackling steep obstacles.
Boldly goes where no light SUV would normally go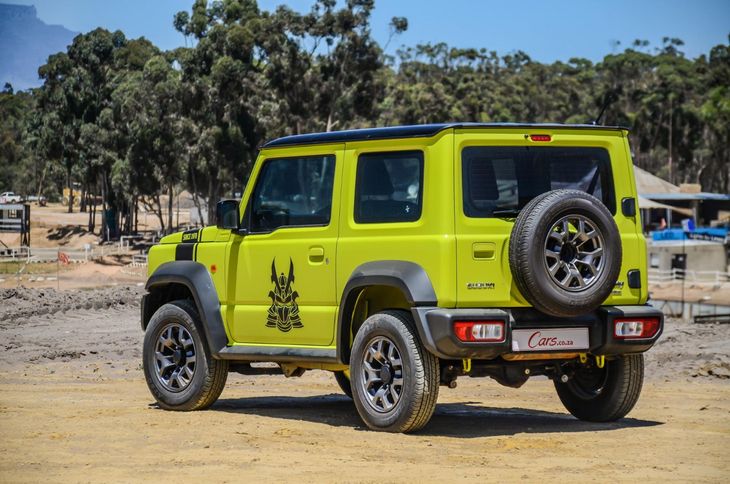 Raised wheel arches make it easier to change tyres and clean.
Those concerned that the Jimny's modernisation would come at the cost of its off-road ability have nothing to worry about; it remains an off-road giant-slayer. New underpinnings comprise a ladder chassis with an X-shaped cross member that joins the axles in an arrangement that improves body rigidity by as much as 50% over the previous model; improved rubber body mounts reduce body shudder when traversing rough terrain.
With 210 mm of ground clearance, angled bumpers that afford approach and departure angles of 37 and 49 degrees, respectively, and a kerb weight of just over 1 100 kg, the Jimny has all the requisites of a proper off-roader. Where tackling off-road obstacles in a heftier SUV would normally have you grimacing in anticipation of a concussive meeting of wheel and rock, or the scraping of the vehicle's undercarriage when traversing prone obstacles, the Jimny simply trundles over the rough stuff and doesn't need to be barrelled into uphills like larger SUVs.
Another area where the Jimny trumps larger SUVs is tight-spot manoeuvrability. Its 2 250 mm wheelbase may be marginally longer than before, but it still affords the Suzuki a turning circle of just 9.8 metres, allowing you to coast around tight obstacles without having to saw at the wheel.
Equal footing across the range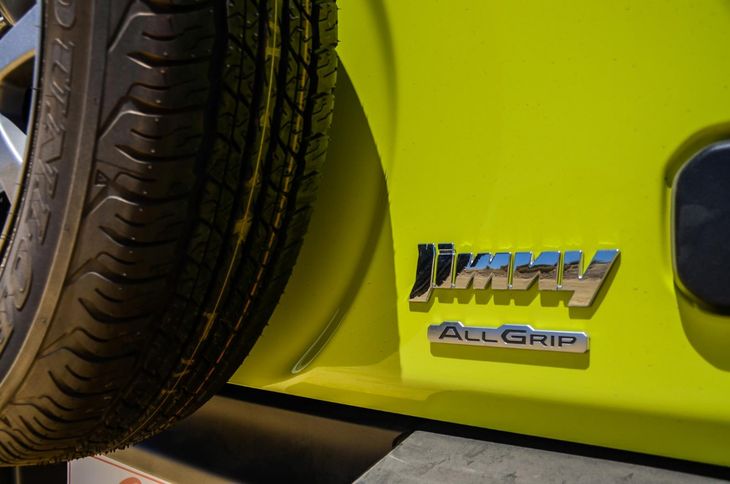 All Jimny models come with low range and all-wheel-drive.
Where opting for a lesser specification in an SUV usually sees off-roading features relegated to the options list, Suzuki has cleverly opted to include all of its terrain-tackling technology across the Jimny range. The AllGrip Pro 4-wheel drive system incorporates such features as a low-range transfer case and a stability control system that imitates the action of a mechanical limited-slip differential – pumping torque to whichever wheel has the most grip on its respective axle. By and large, the system works well and only misses a beat or 2 when the surface gets very muddy.
Where accessing 2H (rear-wheel drive), 4H (AWD high range) and 4L (AWD low range) required prodding a bank of buttons on the previous car's dash, the new Jimny returns to its roots by adopting a more traditional secondary lever that allows the transfer between 2H and 4H at up to 100 kph. On solid axles with an impressive degree of articulation, the Jimny does a good job at keeping its rubber on the ground, only cocking a wheel and hesitating slightly when confronted with particularly deep axle twisters.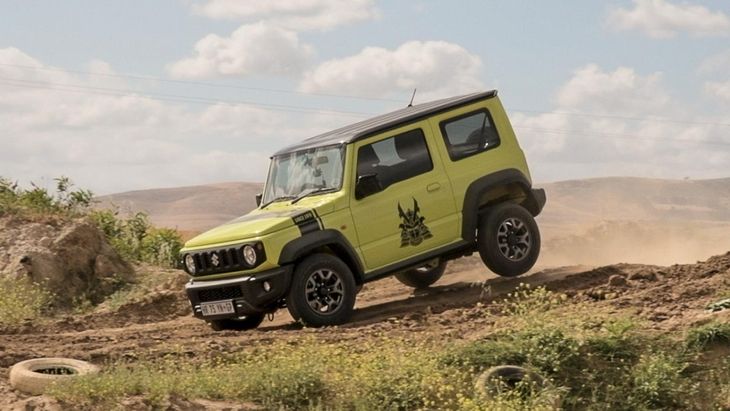 Armed with its AllGrip Pro 4-wheel drive system and a generous range of axle articulation, the Jimny is not averse to roughing it!
There's also hill descent control with a hill-hold function, which uses brake assistance to keep the Jimny's speed constant on steep downhill sections, just be aware that dropping into a steep slope in high range (4H) will set the Jimny rolling downhill at a rather brisk 10 kph. Stick it in low range and that speed drops to a more stable-feeling 5 kph.
What could be improved?
Better off- than on-road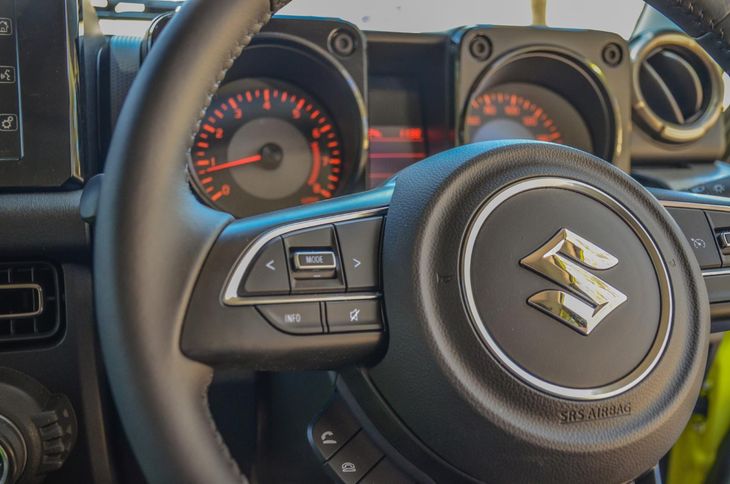 The materials used are far better than previous versions but still appear to be hard-wearing and retro-styled.
Much like its predecessor, the new Jimny isn't as settled on tarmac as it is on rough terrain. Although the overall driving experience has taken a step up over the previous car's: the ride no longer pogos over bumps or disconcertingly wafts around corners, and the steering feels more responsive, its road manners are still some way behind those of its contemporaries.
The 1.5-litre powertrain's 75 kW and 130 Nm is 22 kW and 20 Nm up on the previous 1.3-litre engine, but you still get the feeling that the gearing of the 5-speed 'box is on the off-road-low side. This is fine when nipping around town, but on the motorway with the rev counter's needle hovering around the 4 000 rpm mark at the national speed limit, longer journeys in the Jimny become tiresome, droning affairs that will have you yearning for a sixth gear. Those modest outputs and high-end breathlessness also means overtaking requires a good deal of forethought. That waif-like kerb weight, while useful off-road, often sees the bluff-sided Jimny bullied by even moderate crosswinds and mechanical refinement also trails that of its rivals, although the 1.5-litre engine feels as though it can withstand the punishment required to keep the Jimny honest at speed.
It's cute, but compromised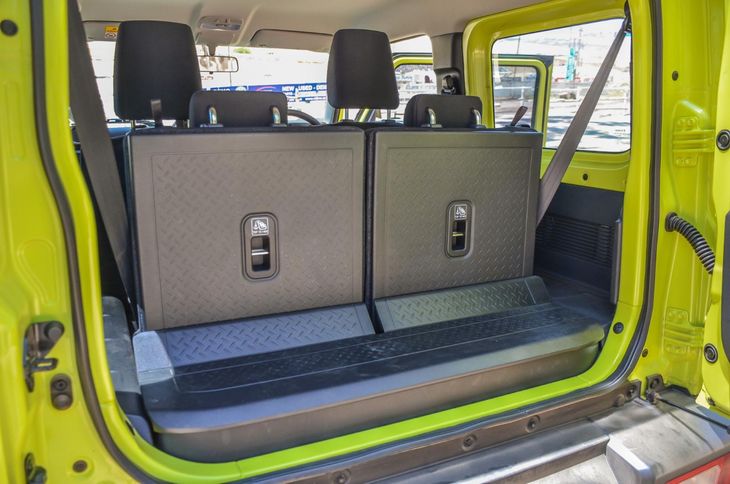 With the rear seats up, there isn't much room for more than a small bag or 2.
With its tight cabin and minute load bay, the Jimny is impractically packaged. Suzuki claims rear legroom has improved, but anyone over 1.75-metres tall is going to have a miserable time of it when seated back there. When they peer over their shoulders, aft occupants will also notice there's virtually nothing in luggage space. If you're single, one half of a young couple, or an empty nester, there's some usable room to pack things when the rear seatback is folded, but those looking for something practical and family friendly, the Jimny simply won't fit the bill.
Pricing and warranty
The Jimny range kicks off R264 900 for the GLA and tops out at R319 900 for the GLX automatic. The GA's service plan spans 2 years or 30 000 km, while the GLX gets a 4-year/60 000 km plan. A 5 year/200 000 km mechanical warranty is standard.
Verdict
The new Jimny has surpassed its predecessor in pretty much every measurable area, not to mention styling that's a touch more gender-neutral than before. It remains in a league of its own off-road, albeit at the cost of overall road manners and packaging that's less than that practical. But its competitive pricing and sheer appeal will ensure waiting lists are long and 2nd-hand values will hold strong…here's to the next 20 years of Jimny.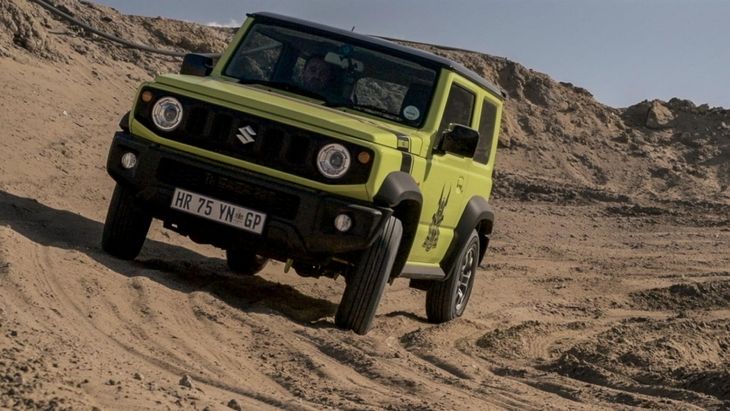 Alternatives (click on the names for specification details):
It's the only car out there with a skillset close to that of the Jimny, and it's almost as rugged and stylish. A recent overhaul has improved the cabin quality and there's more passenger and utility space on offer than in the Suzuki.
Its styling is an acquired taste, but the Cross has enough off-road ability for most and its pricing is competitive. The 2-cylinder engine is a weak performer, though.
Related content:
5 Moments that Defined the Suzuki Jimny
Next Land Rover Defender: Why the long wait?