Compared with its predecessor, Suzuki's 2nd-generation Ertiga is bigger, offers greater interior flexibility and it's superbly frugal. Like before, it challenges the strong-selling Toyota Avanza and Honda BR-V. If you're looking for an affordable 7-seater, the Ertiga could be the pick of the bunch.
We like: Interior space, ride comfort, long warranty, value for money, fuel economy
We don't like: Fiddly audio interface
Fast Facts
Price: R239 900 (May 2019, without options)
Engine: 1.5-litre 4-cylinder petrol
Gearbox: 5-speed manual
Fuel economy: 7.0 L/100 km (real world)
Power/Torque: 77 kW/138 Nm
Own a Suzuki? Tell us about your experience here.
SERIOUS ABOUT BUYING?
Where does it fit in?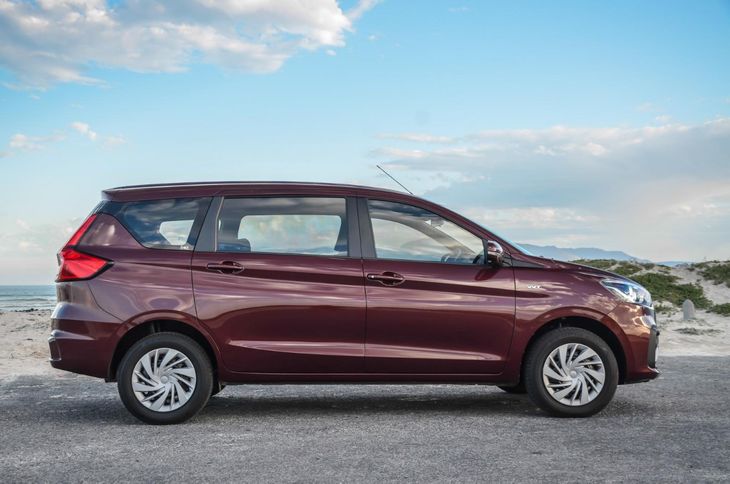 Longer and wider than the model it replaces, the Ertiga remains compact enough to be a comfortable city-traffic dodger.
Uber drivers and fleet operators aren't the only car buyers that have taken a liking to compact, affordable 7-seater vehicles – they make a great deal of sense for families shopping on a tight budget, too. The Toyota Avanza continues to be the biggest seller in the market (more than 4 000 were sold through Toyota's dealership network last year, and an additional 1 000 going into rental fleets). The BR-V, meanwhile, has quietly become Honda's top-seller. In the first 3 months of this year, the 1.5 Comfort CVT derivative was its best-selling offering. And Suzuki? Well, the rampant Japanese marque sold around 600 of its 1st-generation Ertigas last year, but hopes to do much better than that with this newcomer.
The 2nd-generation Ertiga has grown in size to offer not only more space, but greater seating/loading flexibility. Suzuki has also introduced its frugal new 1.5-litre engine, and the cabin offers more features as standard. And then there's that warranty...
How does it fare in terms of...
Design & Packaging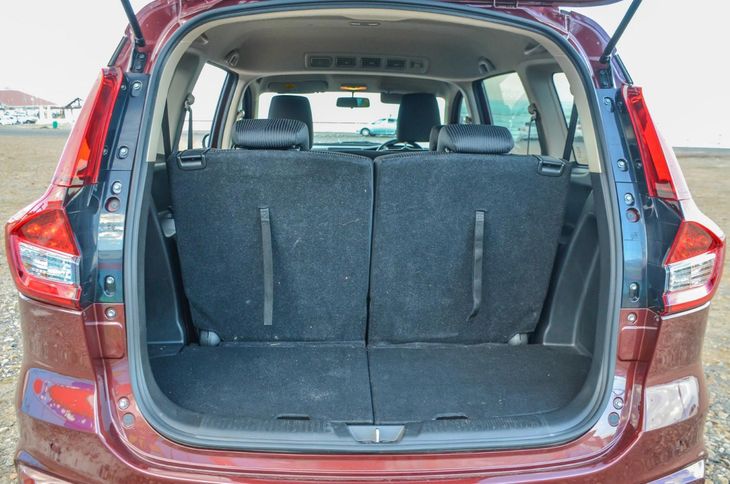 The Ertiga offers an impressively capacious load bay, even with the 3rd-row occupied.
Compared with its predecessor, the new Ertiga is a significant 130 mm longer and 40mm wider. Though the wheelbase has remain unchanged, the extra size is noticeable when parking a new Ertiga next to its predecessor. You'll also then notice the 5-mm higher roofline. It's not a design that's going to win any beauty contests, but that's not something that is stopping the Avanza, for example, in achieving massive sales...
Inside, the Ertiga is a more "grown-up" – and practical – car than before. The upholstery is now black (compared with a light beige previously), and the fascia design is modern and simple. The emphasis has been on practicality – there are drinks holders and storage spaces dotted throughout the cabin (even back to the 3rd row). When seated at the front, you'll appreciate the extra width, as well as a number of practical little touches, such as a mobile phone tray that can accommodate the larger devices of today, which is commendable. It's also worth pointing out that the ventilation system is piped to the front cupholders, so you could cool your drinks in situ if needed!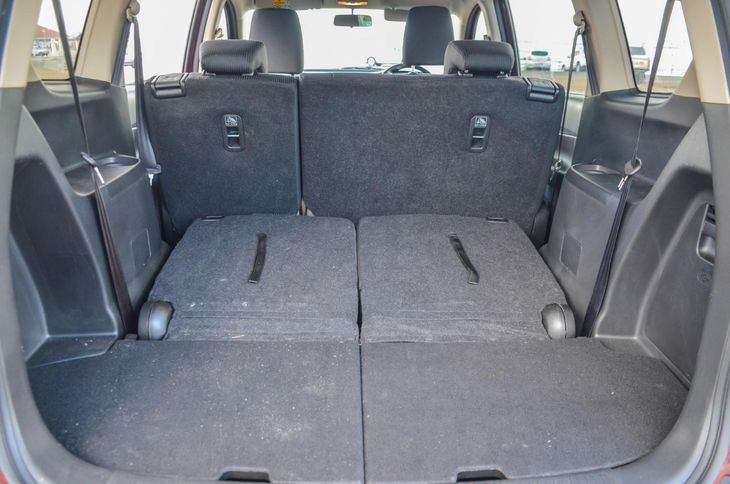 With the 3rd row of seats folded flat, the load area is massive! The spare wheel is mounted underneath the vehicle.
The 2nd-row's doors are elongated and open to almost 90 degrees, which aids practicality... as long as you remind the little ones to open them carefully when the Ertiga's parked in a confined parking space. There is generous headroom in the back, and passengers are availed with their own overhead ventilation outlets (with fan speed control). The middle row's seatback splits in a 60/40 configuration, can recline if required and the entire bench slides both fore and aft.
With the 2nd row moved slightly forward (but still allowing enough legroom to accommodate adults), space in the 3rd row is pretty decent, as a matter of fact (its 50/50-split backrest can also recline). With the smaller part of the 2nd row folded forward, as well as one of the 3rd-row seatbacks, we were still able to seat 5 occupants, with a surfboard accommodated inside the cabin. It's worth noting that the front passenger seat can also fold flat, allowing items of up to 2.82m in length to be accommodated if required.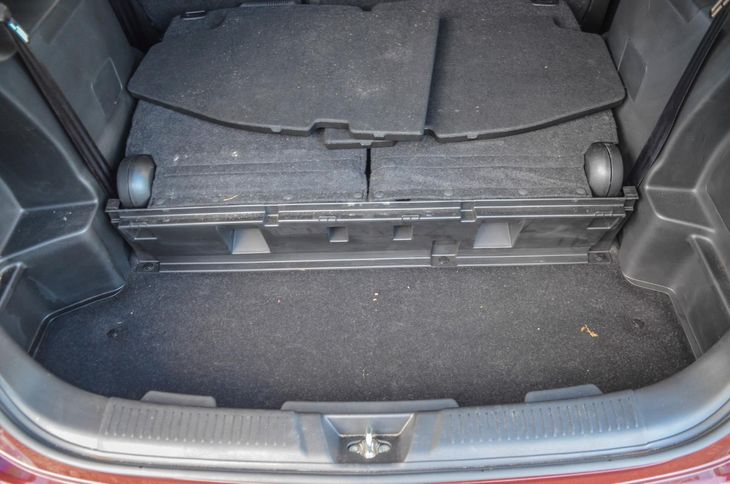 Some very helpful additional storage space is provided underneath removable panels in the load-bay floor.
But it's in the load bay where Suzuki has arguably worked its magic most. Even when the 3rd row is occupied, there's more than respectable packing space back there and, if you lift up the removable panels that double as the floor of the luggage area, you'll find a lot more space where you can store valuable items (it's a good thing too, as there is no parcel shelf).
Comfort & Features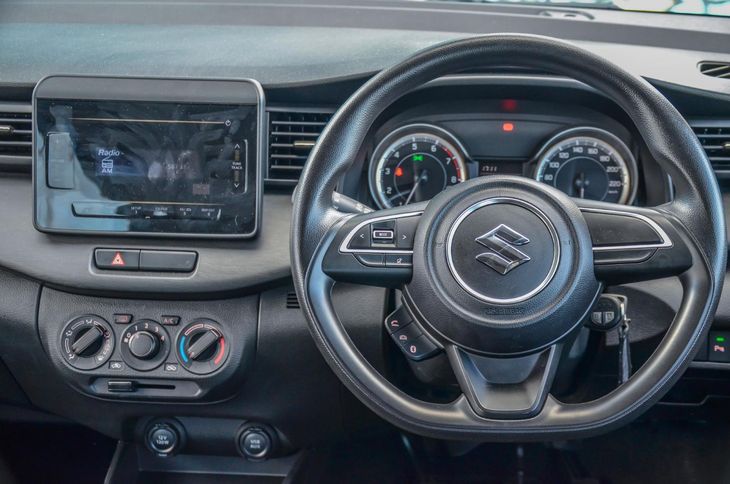 Facia design is modern and simple, but we're not convinced by the functionality of the audio system interface.
Suzuki points out that the world today is significantly different from when the 1st-generation Ertiga was launched. That's true, and connectivity is particularly high on the list of consumer demands. Consequently, this new Ertiga offers Bluetooth connectivity (with control buttons on the steering wheel), as well as USB support. Looking at the tablet-like design of the audio system interface, however, you may have expected more... In fact, we found the new system quite clumsy to use – it requires a lot of familiarisation, which, given its relative lack of functionality, is frustrating. The old car's small LCD screen/hard button set-up may not have appeared that stylish, but was infinitely simpler and faster to use.
And that's really our only criticism when it comes to the features fitted (or not fitted as standard) to this Ertiga, because in most respects it betters (or at least matches) what the competition offers, at a lower asking price. The list of standard features includes; air-conditioning, power steering, electric windows all-round, electric/folding mirrors and even rear park sensors as standard. A 12V power socket is provided for front and second-row occupants, but we'd have preferred the latter to be replaced by another USB outlet.
In terms of safety, the Ertiga GL offers dual front airbags and ABS with EBD. Sadly, there is no ESP (electronic stability control), but ISOfix child seat anchors are provided in the 2nd row. A security alarm is also standard.
Performance & Efficiency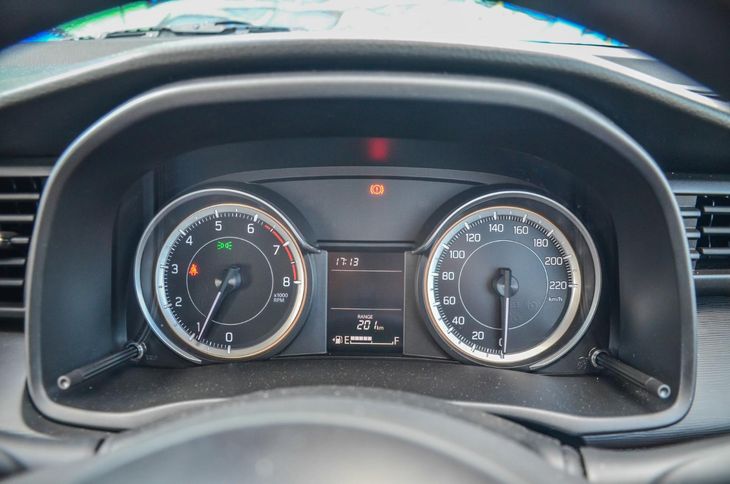 Instrumentation is simple, but a range-to-empty indicator is included.
The Ertiga is powered by Suzuki's new K15B 1.5-litre petrol engine. It develops a class-competitive 77 kW, which in typical Suzuki fashion, arrives at fairly high engine speeds (7 000 rpm). Peak torque is a claimed 138 Nm at 4 400 rpm which, again, is par for the course in this segment. But like all modern Suzukis, the Ertiga is light – despite growing in size and offering more features the newcomer is 6 kg lighter than before, and more powerful. Consequently, the Ertiga feels sprightly, even with a full complement of passengers on board. The 5-speed manual gearbox is also light and accurate, making it surprisingly enjoyable to drive this little family van.
Most impressively, it is very economical. Suzuki didn't release claimed consumption figures at the time of the Ertiga's launch, but we easily achieved a real-world consumption figure of 7L/100 km during an extensive 2 weeks of testing.
Ride & Handling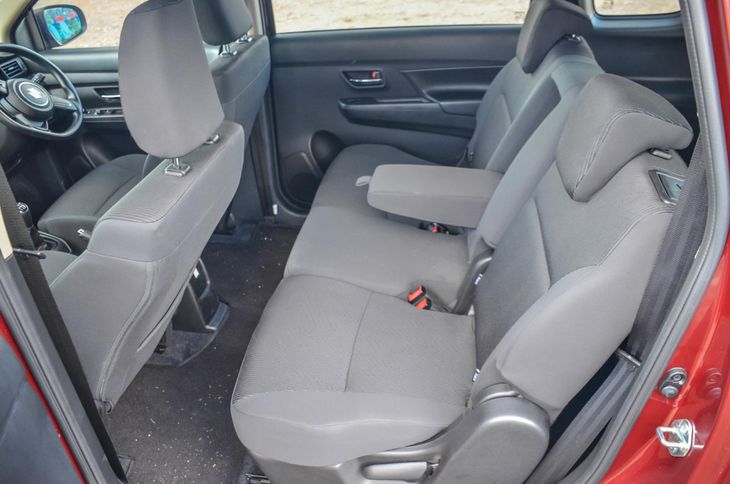 Impressive legroom on offer in the second row, which can slide fore/aft across a wider range than before.
With its greater width, the Ertiga feels more stable on the road than the vehicle it replaces, and also more so than, for example, the Avanza, which is well-known for being sensitive to cross-winds. We'd also rate the Ertiga's suspension as more supple than the Toyota's and consequently, the cabin feels like a more relaxed place. Double door seals and extensive noise-reducing material in the roof certainly contribute to the Suzuki's "refined" ambience inside.
Dynamism is not a requirement in this segment, but of importance is the turning circle. Although Suzuki's newcomer is larger than before, the turning circle has remained unchanged and with its light steering and standard rear park sensors (combined with good visibility out of the vehicle), the Ertiga is an easy car to steer and park around town. The supple suspension also deals very well with the speed humps that litter our towns and cities these days.
Pricing and warranty
The Ertiga 1.5 GL sells for R239 900 (May 2019) and the price includes a 4-years/60 000km service plan. At present the Ertiga is also sold with the brand's promotional 5-years/200 000km warranty, adding further peace of mind.
Verdict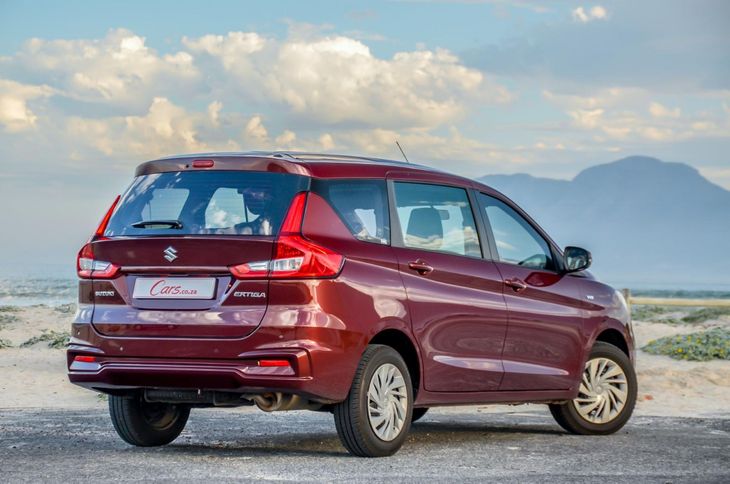 More spacious, more practical, well-equipped and very economical, the Ertiga ticks most low-cost family motoring boxes.
With the new Ertiga, Suzuki looks set to make inroads into a segment where it has not reached its full sales potential, at least not yet. Compared with its (more expensive) rivals, the Ertiga offers not only exceptional value for money, but is simply a product that is hard to beat in the areas where it matters most – space, practicality and comfort. That said, we would have preferred some additional safety features (particularly curtain airbags and ESP), even if that meant its pricetag would match those of the competition.
Nevertheless, this is an easy product to recommend. Suzuki continues to perform brilliantly in our Ownership Satisfaction Survey, following up its 2 previous Brand of the Year accolades with a second place (to Toyota), in this year's Cars.co.za Consumer Awards – powered by WesBank.
Looking to buy a new / used Suzuki Ertiga?
Find one on Cars.co.za by clicking here