Suzuki recently released a sedan variant of its Swift hatchback, which is historically the Japanese marque's top-selling model in South Africa. Now called Dzire, as opposed to the Swift Dzire, the 4-door has similar strengths to its sibling...
We like: Thrifty engine, rear legroom, comfortable drive, value for money
We don't like: Back seats don't fold down, lacks top-end shove
Are there any specials currently on this model? Find out here.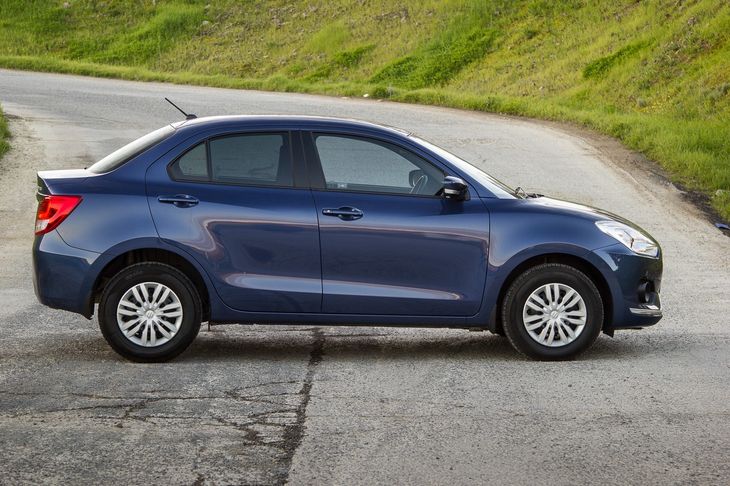 Sales of the booted Dzire will pale in comparison to the bubbly Swift, but its comfort and interior practicality are appealing.
Where does it fit in?
The Suzuki Dzire is the sedan version of the popular Swift. The 4-door version was launched at the same time as its hatchback sibling, but Suzuki has dropped "Swift" from the newcomer's name to make it a stand-alone model. While sales of the Dzire will always trail those of its hatchback sibling, we think there's definitely a case for a compact booted sedan. Think of the taxi and Uber market, which require cars with comfortable cabins, generous rear legroom and boot space.
What's good about it?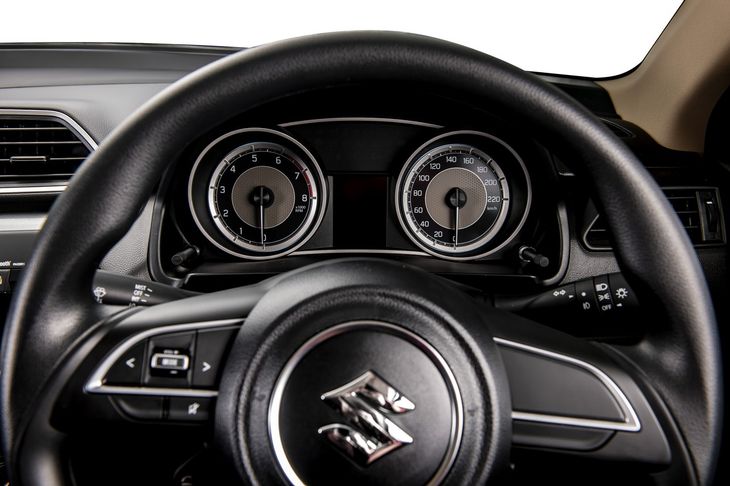 The Dzire's instrument cluster has an understated (almost retro) elegance to it. Note the combination of black and grey elements.
Abundant features
There are a few differences between the Swift and Dzire. Whereas the Swift has a red and sporty theme, the Dzire has silver accents. A new instrument cluster with a multi-information display is fitted and the Dzire GL derivative adds a tachometer, rear air vents, extra 12V socket, audio system with USB and Bluetooth support, steering wheel-mounted controls and electrically adjustable, colour-coded side mirrors. GL specification also includes a foldable rear armrest with integrated cup holders.
Fuel economy
The Suzuki Dzire is powered by the tried-and-tested 1.2-litre 4-cylinder naturally-aspirated petrol engine. It produces 61 kW and 113 Nm, which doesn't sound like much, but when you combine those outputs with a low kerb weight (of under 900 kg) and a snappy 5-speed manual gearbox, the Japanese sedan's performance is not as pedestrian as many might assume. Plus, the real ace up the Dzire's sleeve is excellent fuel economy... While Suzuki claims an average consumption figure of 4.9 L/100 km, which is usually optimistic, we found we could easily match the indicated figure. It's only when you really put your foot down that the readout will climb to the mid-5s.
Interior space
This new compact platform from Suzuki has a lot going for it. Not only does it promote a good driving experience (replete with a touch of dynamism, believe it or not), the low kerb weight means the engine doesn't need to work as hard and finally, there's the sedan's impressive space utilisation. For such a compact car, it's impressive to see how much room there is for both driver and passengers. Headroom is to be commended, but the biggest highlight is the rear legroom. The standard sit-behind-yourself test as a 1.9-m tall adult was passed with flying colours. Suzuki claims that the new Dzire's boot can hold 26% more luggage than before, and if you're used to the litres measurement benchmark, then the number you're looking for is 378. It's not the biggest in class, mind you, but there's enough space for 2 medium suitcases.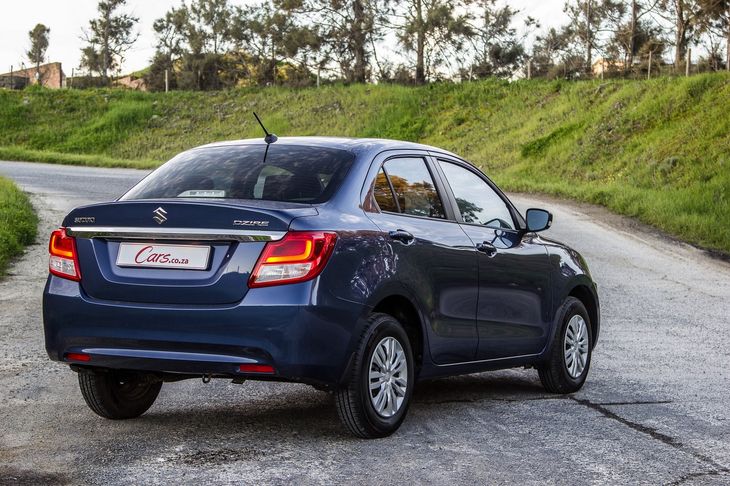 The Suzuki Dzire is a fresh-looking compact sedan that will appeal to those looking for generous space on a tight budget.
Value for money
As we find ourselves forking out more and more for petrol and vehicle insurance, it's refreshing to see a commendable value-for-money offering, particularly at the bottom end of the segment. We've encountered mere shells of cars with precious little specification and space, and yet the Suzuki Swift and its new booted Dzire sibling offer a lot for around R180 000. Let's not forget about the brand's commendable after-sales support. After all, Suzuki is a 2-time Brand-of-the-Year winner in the #CarsAwards.
What's not so good about it?
Back seats don't fold down
For a car that's angled towards cargo and passengers, we find it strange that the rear bench's seatback does not fold down to increase utility space. It's a minor gripe, but it's a gripe nonetheless.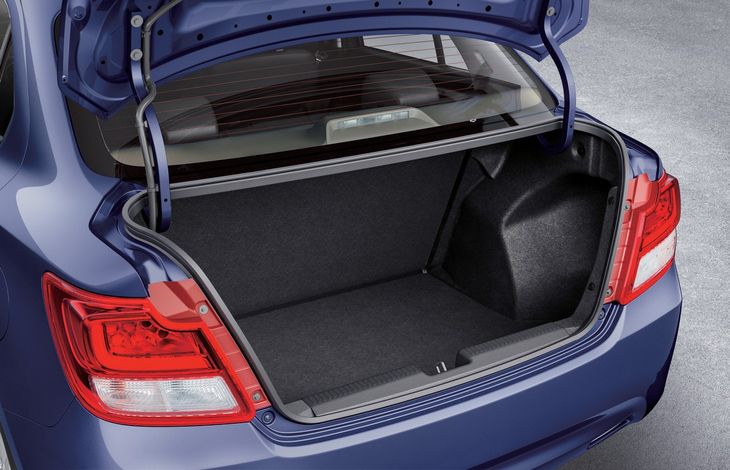 Spacious boot, but the Dzire's carrying capacity can't be increased, because the rear bench's seatback does not fold down.
Lacks top-end shove
We're impressed with the in-town performance of the Suzuki Dzire. It rides pretty well and can deliver a decent turn of pace when it's just the driver behind the wheel. However, what if the Dzire was required to complete longer journeys with 3 passengers and their luggage aboard? Would it have enough in-gear shove in reserve to comfortably perform the 80-120 kph overtaking test? Yes, it's possible, but you have to work that gearbox and engine hard, to the detriment of fuel economy.
Pricing & Warranty
The Suzuki Dzire 1.2 GL costs R177 900, which includes an impressive 5-year/200 000 km mechanical warranty and 2-year/30 000 km service plan.
Rivals to Consider
The segment's sales leader: The Toyota Etios 1.5 Sprint sedan is the segment leader, but it costs a bit more than the Swift (R184 400). You do get a more powerful engine, a bigger boot, as well as a larger fuel tank, but is it quite as well-made as the Suzuki?
Closest rival on price: The Honda Brio 1.2 Trend sedan is fractionally cheaper than the Suzuki (R175 700), but it loses out on many features such as Bluetooth connectivity. It also boasts a punchier engine than the Suzuki.
Compare these rivals to the Suzuki Dzire here
Verdict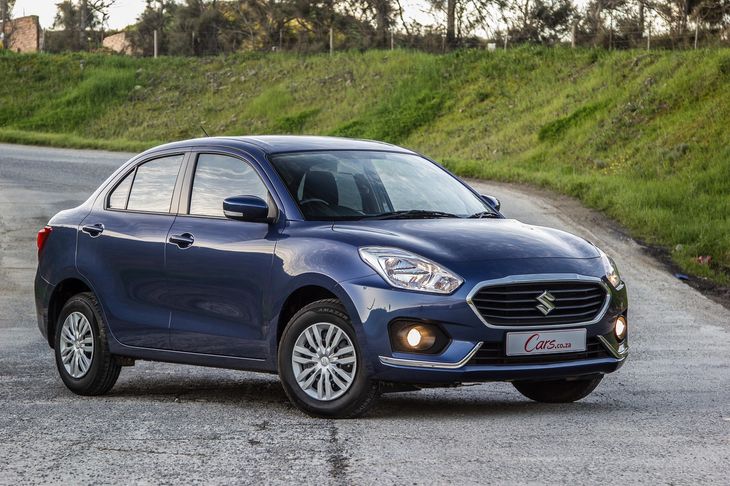 The Suzuki Dzire is a basic and simple way of getting from A to B. With its low price, generous space, and ease of use, the Dzire makes a great argument for simple motoring. Then there's Suzuki's great after-sales support and a long, comprehensive warranty thrown in to sweeten the deal. While it may lack top-end performance prowess, we can't fault the 1.2 GL's performance in and around town, where it's likely to spend most of its time. For those who want to add another vehicle into an e-hailing/ridesharing fleet and can't afford a bigger sedan, then we think the Dzire could be a worthy investment. The exceptional fuel economy is the clincher!
Related content:
Suzuki Swift (2018) Specs & Price
Most Fuel Efficient Budget Cars in SA
Interested in buying a Suzuki Swift / Dzire?