Judging by its spec sheet, the latest iteration of the Subaru WRX should have 'Scooby enthusiasts' drooling by virtue of its enhanced styling, impressive technology and generous array of interior features. However, does the ES Premium with its (automatic) Lineartronic CVT do the nameplate justice or is its performance too compromised to warrant consideration?
We Like: Macho styling, interior build quality, safety, handling, acceleration
We Don't Like: Thirsty, CVT dulls engagement, firm ride, pricey
Fast Facts
Price: R631 400 (October 2018)
Engine: 4-cylinder, 2.0-litre turbocharged Boxer
Power/Torque: 197 kW @ 5 600 rpm / 350 Nm @ 2400 - 5 200 rpm
Transmission: CVT
0-100 kph: 6.3 seconds
Top Speed: 240 kph
Boot Space: 460-litres
Serious About Buying?
Check out full specification details and finance estimates here.
Some Subaru dealers regularly offer specials: Have a look here.
What is it?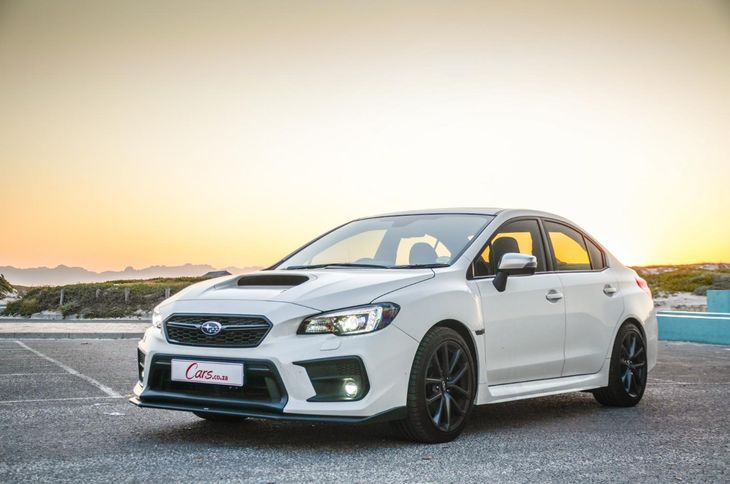 With sporty, rally-inspired looks, the WRX has visual appeal while still offering a practical cabin.
The latest Subaru WRX sports sedan draws inspiration from its rally roots (just as its celebrated predecessors did), but has donned "a suit and tie" to appeal to a wider audience, while retaining just enough of its boy-racer looks that droves of fans adore.
Visually, the updated WRX has a fair dose of "bad-ass" appeal; this latest iteration features an updated front-end that looks expressively menacing, especially with an STI-aping front splitter fitted. It also rides on stylish 18-inch wheels as standard, in this case dark, which contrasts nicely with the Crystal White Pearl body colour. At the rear, the carbon-fibre diffuser and the beefy quartet of exhaust ends give the WRX some added street cred.
We really like the look of this WRX, let's see how it performs overall in this test...
What's good?
Glut of standard interior features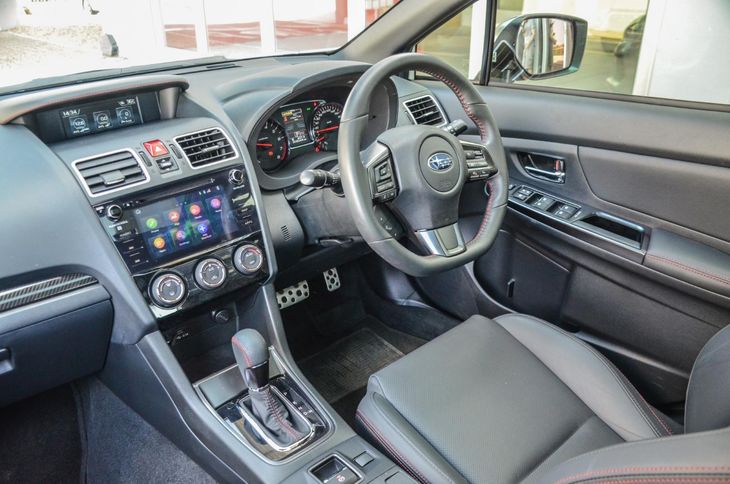 The WRX ES PRemium comes well-specced with a wide range of comfort and convenience features.
There's much to like about the WRX's cabin, which looks and feels solidly made. The leather sports seats strike an admirable balance between comfort and support, and they're complemented by aluminium pedals, a sunroof, dual-zone climate control, automatically activated headlights, rain-sensing wipers, a rake- and reach-adjustable multifunction steering wheel, electric windows and mirrors and a Harmon Kardon sound system, to name a few.
The 3.5-inch LCD multi-information display in the instrument cluster is flanked by sporty dials and we found the 7-inch touchscreen infotainment system (which includes navigation, Apple CarPlay and Android Auto compatibility, Bluetooth connectivity and voice-activated Siri Eyes Free) a pleasure to use. Furthermore, a strip-like digital panel, which displays information such as fuel economy, boost pressure, acceleration etc, is mounted on the dashboard.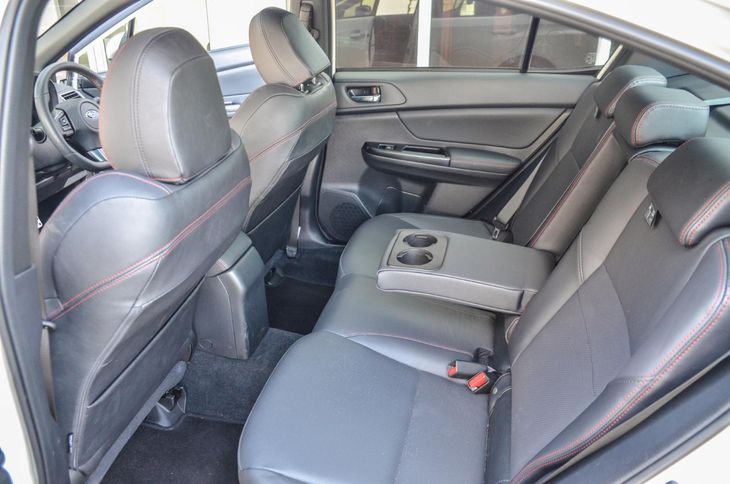 There's just enough space for rear passengers and the load bay is sizable at 460-litres.
Although we applaud the fact that there is ample storage spaces in the cabin, rear passenger space and comfort is average. The boot is said to offer 460 litres of capacity and you can fold the rear seats down for more space, should you need it. Front and rear passengers also have access to cupholders.
It goes without saying then, the WRX is well-equipped, well connected and relatively spacious.
Comprehensive safety technology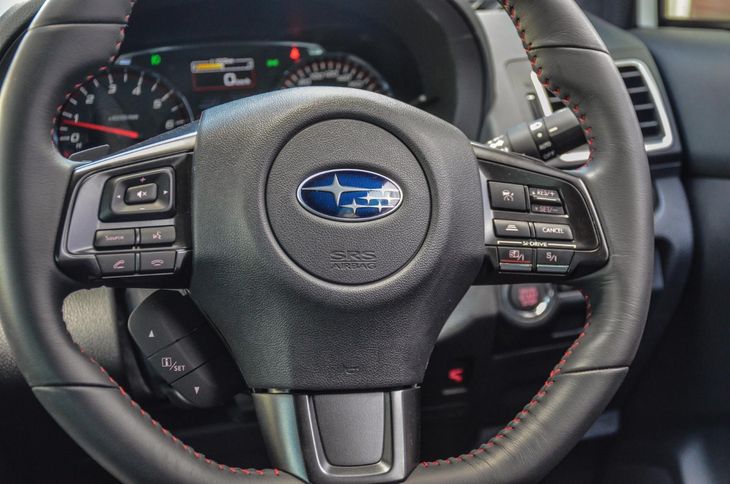 A full suite of safety features in the WRX ensures peace of mind while driving.
Safety is a major highlight of the WRX package and Subaru's Eyesight driver assist technology – underpinned by a set of dual cameras mounted in front of the rearview mirror scan the road and traffic ahead for potential danger – is impressive. Key active safety features include adaptive cruise control (a rarity at this price point, at least as a standard feature), lane-keep assist, blind-spot warning, pre-collision braking and pre-collision throttle management.

In terms of passive safety, the WRX is comprehensively equipped with 7 airbags, ABS with EBD, brake assist and electronic stability control with traction control. Isofix child seat mounts are also included.
Performance and Handling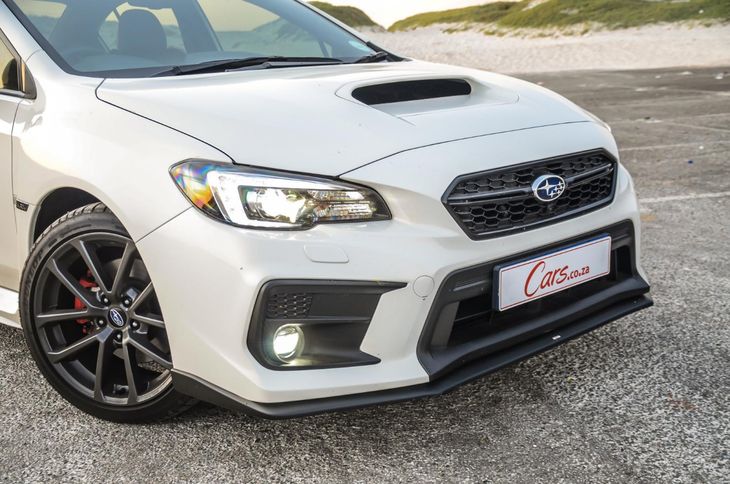 While the WRX is quick, it's not as powerful or engaging as some of the alternatives on offer.
At start-up, the WRX's 2.0-litre 4-cylinder Boxer (also known as flat, or horizontally opposed) engine barks to life and settles into a hearty thrum emitted by its big-bore tailpipes (although some might tire of the boomy exhaust after a while). With 197 kW and 350 Nm of torque on tap, this performance sedan is somewhat outgunned by most of its rivals, such as the Audi S3 sedan and Honda Civic Type R, both of which offer peak outputs of 228 kW and 400 Nm.
Nonetheless, the WRX is no slouch and while most of our testers disliked the sensation of driving the CVT (more on this below), it's still acceptably fast when going full tilt and it will probably run a VW Golf GTI close in a traffic light dice (the Subaru has a claimed 0 to 100 kph time of 6.3 seconds). There are 3 driving modes to choose from, including Intelligent (to enhance fuel economy), Sport and Sport Sharp, depending on your driving preference.
The WRX's suspension and electric power steering characteristics have been enhanced for this updated version and we were particularly impressed by the newcomer's outright handling ability. The steering is sharp, direct and responsive. And, of course, by virtue of Subaru's all-wheel-drive system, there's plenty of grip on offer – the WRX can be wielded through corners with supreme confidence. So, in terms of handling thrills, this WRX truly does its name justice.
But be warned, however, that the WRX's ride quality is firm and unforgiving. You will feel just about every bump you drive over...
What's not so Good?
CVT an acquired taste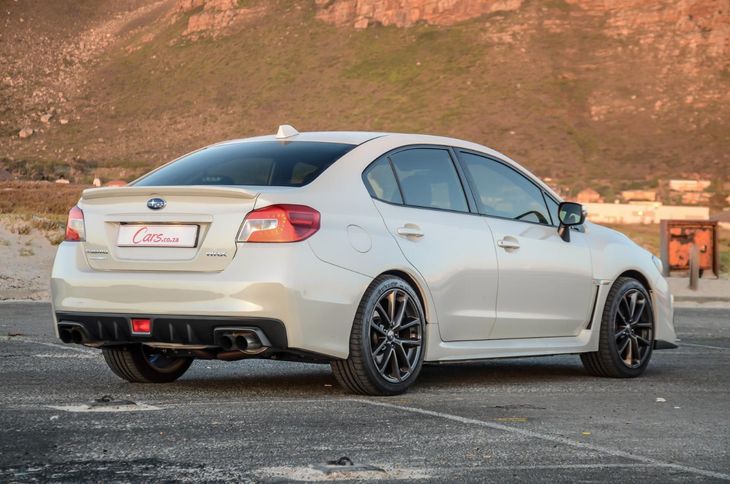 The CVT dulls driving engagement in the WRX. We think the manual version is the better bet.
While the CVT in the WRX is arguably one of the better examples of the continuously variable (gear-less) transmission currently on offer in our market and undoubtedly adds a degree of convenience to the driving experience in congested traffic/the daily commute, we feel it ultimately does the WRX a disservice by diminishing its fun-to-drive character. Simply put, the CVT dulls the instantaneous powertrain responses that performance aficionados so dearly crave.
In our experience, there is a fair amount of "delayed accelerative urge" when you apply the throttle pedal vigorously and, despite Subaru claiming improved efficiency with the CVT, we averaged just over 12.6 L/100 km during our test, which seems thirsty, especially taking the current fuel price crisis into account.

For more control and slightly better responsiveness, you can flick the CVT into manual mode and use the steering mounted paddle shifters to make the most from the rorty engine's performance characteristics; in fact, we found this method improves driving engagement markedly.
On the flipside, the CVT may make die-hard WRX enthusiasts cringe, but if you like the look and spec of the WRX and prioritise daily convenience over the ability to extract maximum engine performance instantaneously, then perhaps the traffic-friendlier automatic transmission is a worthwhile trade-off.
Price and Warranty
The Subaru WRX ES Premium CVT is priced from R631 400 while the manual WRX Premium is priced from R581 400. It's also backed by a 5-year/150 000 km warranty and a 3-year/75 000 km maintenance plan.

Buy a new or used Subaru WRX on Cars.co.za
Verdict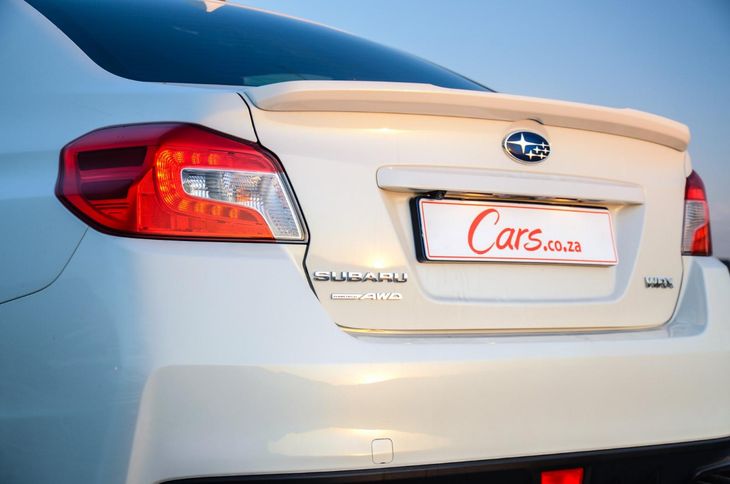 There's much to like in the WRX ES Premium, but if you want ultimate performance, the CVT doesn't deliver the goods...
We like the latest Subaru WRX and while the ES Premium Lineartronic (automatic) has much to offer in terms of kerb appeal, standard features, safety, handling and, to a degree, performance, its overall driving experience falls short of what we think most buyers would want from the WRX package. The fact that it can't match the driving excitement/engagement that may extract from the manual version (which does not come with the Eyesight technology) seems to suggest this derivative is targeted at performance-minded premium sedan buyers, as opposed to performance aficionados; yuppies, not boy racers.
Some may argue that because most performance vehicles are only expected to perform to the limit of their abilities now and again (as opposed to all the time), it's not too much of a compromise to sacrifice some let's call it "instantaneousness" for better general ease of use. They have a point, but the ES Premium Lineartronic's unforgiving ride quality and high fuel consumption will make this car difficult to live with on a daily basis anyway.
Besides that, more performance can be found for similar money in the Audi S3, Volkswagen Golf R or Honda Civic Type R, which is to say that this version of the WRX is quite pricey for the performance that it offers. Add these factors together and suddenly the case for buying the WRX CVT becomes weaker.
Alternatives (Click on the names for specification details)
The Audi S3 sedan is a strong alternative to the WRX and it offers more in way of performance with its 2.0-litre turbocharged petrol engine with 228 kW and 400 Nm of torque. It, however, uses a dual-clutch transmission to lay its power down at all 4 corners and is significantly quicker than the WRX with a claimed zero to 100kph sprint time of 4.6 seconds. The Audi S3 quattro is priced from R662 000.
The Golf R is a formidable performer in a compact body and it shares the same outputs with the Audi S3 with 228 kW and 400 Nm of torque developed from its 2.0-litre turbopetrol mill. It's also all-wheel drive and makes use of a dual clutch transmission that ensures brisk acceleration with Volkswagen claiming 4.8 seconds in the sprint from zero to 100 kph. The Golf R is priced from R667 700.
For a dose of front-wheel drive bad-assery, consider the Honda Civic Type R. It has all the wings to make you fly and just like all the alternatives listed above, it too offers 228 kW and 400 Nm from its 2.0-litre turbopetrol engine. However, it makes use of an excellent 6-speed manual transmission. Its ride is not as harsh as the WRX's and it will thump from zero to 100 kph in 5.8 seconds. The Civic Type R is priced from R648 300.
Related Content
Subaru Viziv Performance Concept previews next WRX
New Cars Headed for SA in 2018
2018/19 Cars.co.za Consumer Awards – powered by WesBank; Finalists