The Subaru Forester is an often-overlooked family car (compact SUV/crossover), but during a recent stint in our test fleet, the top-of-the-range Forester 2.0 XT swiftly reminded us why the model's a top-seller in some overseas markets. Here's why it is worthy of stronger consideration...
We like: Build quality, reputation for good reliability, tackles off-road hazards well
We don't like: Expensive, infotainment system is dated
Alternatives
Also from Japan, but with less power: The Toyota RAV4 2.5 AWD VX is just as spacious, but its petrol motor is comparatively down on power with 132 kW and 233 Nm of torque. Spec for spec it's nearly identical to the Forester and it's also more affordable (with pricing starting at R515 600).
If you want something more snob appeal: The Land Rover Discovery Sport offers a more modern interior experience (including a 7-seater configuration) and matches the Subaru for off-road talents as well. The price premium over the Forester might just be a bridge too far for some buyers.
Maybe you'd like something German: BMW X1 with the X-Line kit adds a touch of off-road appeal (if no extra ability on unsealed road surfaces) to the soft-roader. Compared with Subaru, the X1 is a better car dynamically, but it loses out if you want to venture beyond the school run tarmac.
Compare the Subaru Forester 2.0 XT with the Land Rover Discovery Sport Pure Si4 and BMW X1 sDrive20i xLine
What is it?
The Subaru Forester benefitted from a facelift in 2016, albeit a minor one. The usual new bumper and headlight treatment was introduced, as well as the obligatory new wheel designs. Dig a little deeper into the update and you'll find new steering-responsive headlamps and an upgraded touchscreen audio system. Beyond that, the cabin insulation has been improved to lower the levels of sound intrusion and some of the cabin surfaces have been upgraded to show less wear and tear over time.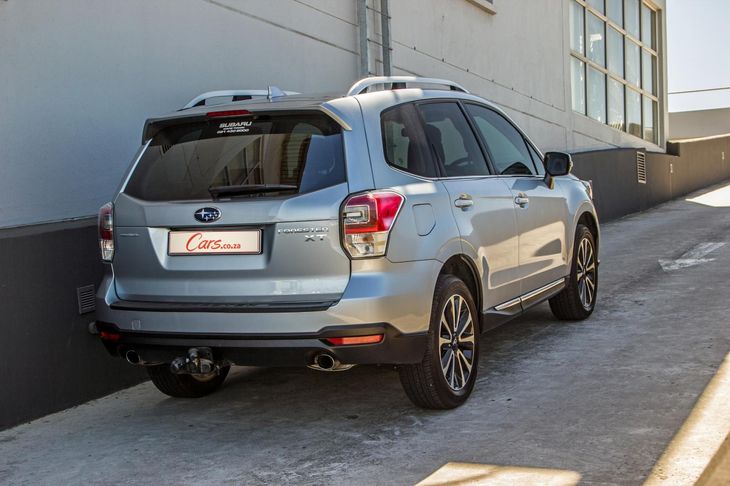 Subaru has retained the Forester's boxy but functional design.
What you have then, is a slightly more refined version of the Subaru Forester, but one that will appeal to existing and new customers alike. Here we have the range-topping 2.0 XT, which incorporates all the features that Subaru offers on its family car range.
How does it fare in terms of...
Practicality?
The Subaru Forester's forte is that it was built to be hard-wearing and mechanically reliable. It's designed to accommodate messy children, bounce down a rocky road, transport muddy dogs and then shake it off and do it all over again. It's not so flashy that it becomes (or is seen as) too precious to be used for its main purpose. Our XT model came equipped with rubber mats that are easy to clean. Rear passengers have plenty of leg- and shoulder room and the smartly-stitched leather trim of the seats add a premium touch to the cabin.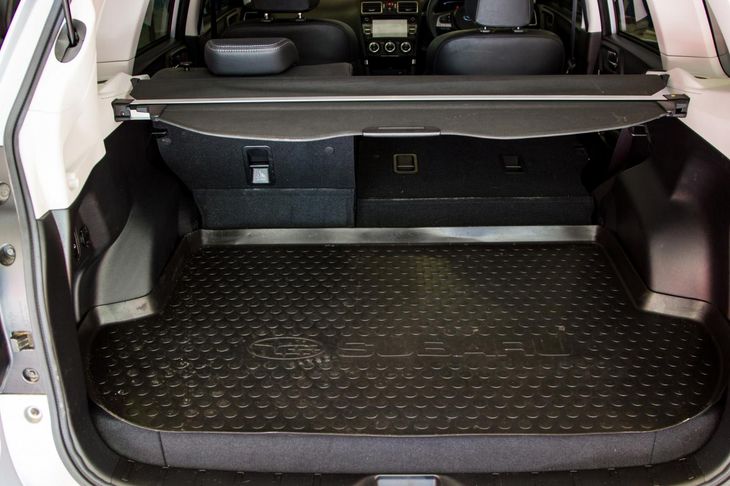 A hard-wearing rubber mat makes cleaning the boot of the Forester particularly easy.
Other examples of this thoughtful functionality are a pair of buttons in the luggage compartment that enables users to flip the rear seatbacks down in a 60:40 configuration. With the seats up, loading capacity is claimed to be 488 litres, but when they're lowered, utility space expands to a reported 1 557 litres, which is on par with the Forester's competition. The shape of the load bay is almost perfectly rectangular, which means that once something gets through the boot aperture, it will inevitably fit no matter how far forward you have to move it.
The tailgate is electrically operated, but it's painstakingly slow in operation. If you close it and start walking away from the car, you can actually get out of range of the key before the 'gate has finished closing. Another anomaly is the shopping hooks, which are positioned far too low to be of any real assistance in keeping your bags from shifting around while driving.
Ride comfort and handling?
The Forester follows a theme of "less fuss is better" with its ride and handling characteristics. Many modern SUVs have so-called "air springs" or electrically adjustable suspension that will adapt to almost every driving situation at the touch of a button. The Forester is old-school in this regard, however: there are no buttons with which to toggle the dampers' settings. The ride quality is on the firm side, but far from unpleasant. It's firm enough to not feel sloppy over speed bumps and during fast-ish cornering, while still coping well on rougher surfaces.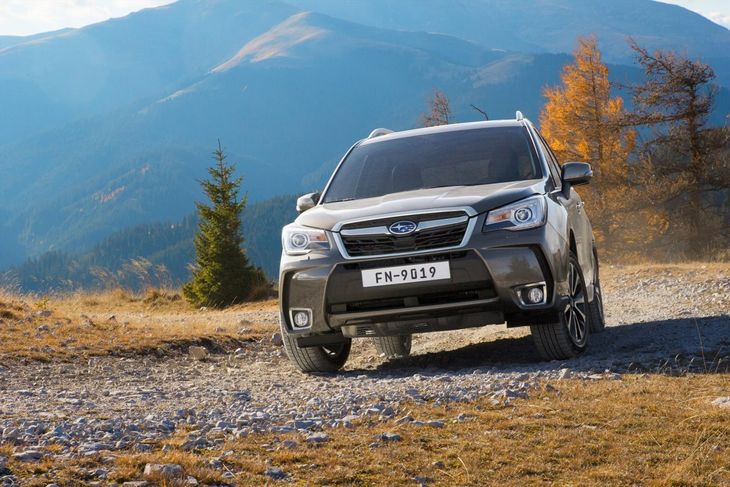 220 mm of ground clearance is best-in-class. A special off-road mode makes the Forester very capable.
Overall, the Forester's on-road demeanour feels solid and tight. There's an underlying belief that no matter how rugged the terrain is, the Forester will come out the other side unscathed. Obviously, without low-range, it has its off-road limitations, but with permanent all-wheel drive, 220 mm of ground clearance and an off-road specific driving mode, the Forester is more than capable of tackling a tough 4x4 trail. In fact, we feel that it would only really miss a 4L mode in conditions where pukka off-roaders would need to engage it anyway...
Engine efficiency?
When the Forester first arrived we were a bit worried about the impending fuel bill for the 2.0-litre turbopetrol boxer engine. Subaru's tend not to be particularly good at conserving fuel, at least in our experience and with 177 kW and 350 Nm of torque on tap, we weren't expecting this fleet-of-foot Scooby to be any different. There's no turbodiesel offering in the Forester range anymore because Subaru SA says the derivative didn't sell well enough, which is contrary to almost every other SUV on the market. As it turns out, we were surprised to find that, when driven respectfully and with an eye on fuel conservation, we saw the XT's average fuel consumption readout level out at 9.6 L/100 km, which is not far off the 8.7 L/100 km claim.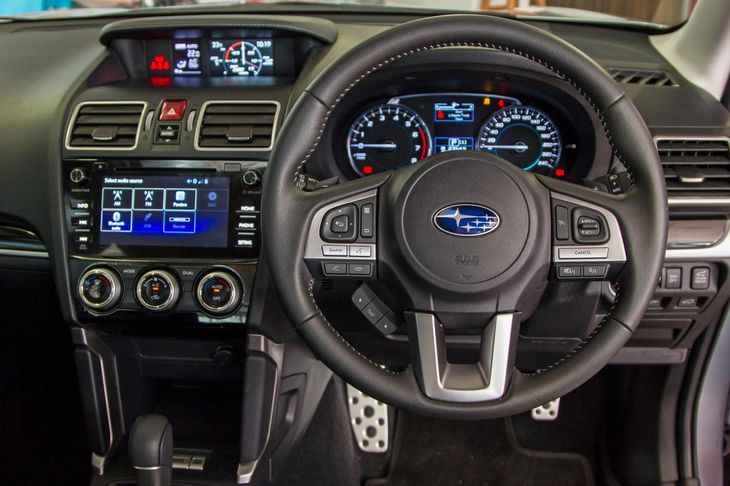 Interior build quality is excellent. Not a techie as most of its rivals.
With all that power/torque available, the Forester can certainly get a move on, but it's somewhat constrained by its CVT transmission. It would appear that the software that manages the engine-transmission calibration is easily confused when the 2.0 XT is hustled into action; almost as if the box does not know whether it wants to use the motor's high or low rev ranges. There is an upside: when driving in everyday conditions and at freeway speeds, the Forester is happy to potter at around 1 700 rpm to 2 500 rpm, which obviously helps efficiency.
Features and connectivity?
Subaru has tended to be a little behind the curve when it comes to in-car tech and gizmos, but the Forester has a big touchscreen allied with chunky buttons that cause next to no driver distraction. Bluetooth connectivity for phones and a USB port for media connections are standard features, plus there are built-in apps that allow for global radio station listening and a screen mirroring function for your smartphone. We couldn't get the screen mirroring to work as it just hung both the phone and infotainment system. The new Harmon Kardon audio system sounds impressively crisp and clear. There's no option for navigation, which is a bit of a let-down, so using your phone data to operate Google Maps is your best alternative.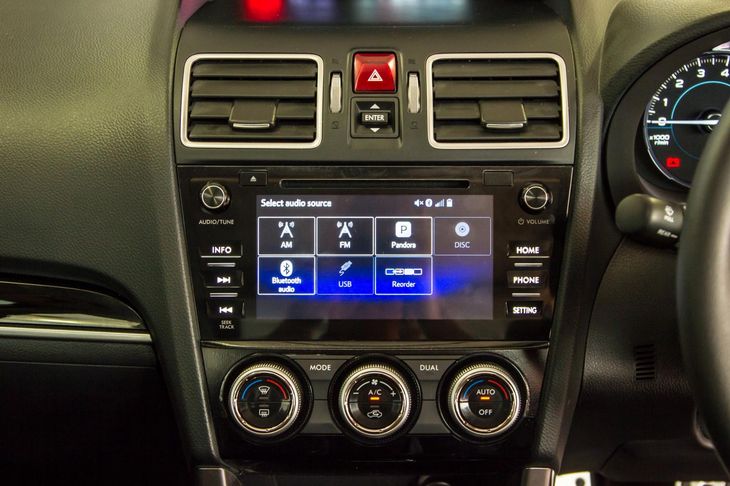 The touchscreen is easy to use, but a navigation function is sadly not available.
Pricing and warranty
The Subaru Forester 2.0 XT is priced from R597 000 and is sold with a 3-year/100 000 km warranty and a 3-year/75 000 km maintenance plan. Service intervals are 15 000 km apart.
Verdict
The Forester is not the newest family car you will find on the market. It doesn't come with high-end features such as adaptable suspension, eco modes or a fancy infotainment system. If you're interested in all of that stuff then there are a plethora of SUVs to choose from. But, if you want something rugged, both inside and out, the Forester ticks all the right boxes.
It feels solid from the moment you get in and ensconce yourself behind the steering wheel. The cabin is comfortable, well-made and especially quiet to drive on long journeys. You can make the Forester traverse even the roughest of dirt roads and its old-school, but reliable, suspension setup will take abuse all day long. The Forester feels like the car you save up to buy because you want to keep it for a long time. It is on the expensive side (at R597 000), but think of it as a purchase that will keep on delivering for many a year.
Related content
Subaru Forester updated (2016) – prices in South Africa
SUV Comparison: Ford Kuga vs Honda CR-V vs Subaru Forester
Subaru Forester VS Toyota Rav4: Practicality (Video)
Subaru Forester XT Vs Toyota Rav 4 Boot Race (Video)
Toyota Rav 4 VS Subaru Forester XT (Video)
Want to buy a Subaru Forester?