Lexus has developed a special blue paint treatment inspired by the wings of the American Morpho butterfly and it will feature for the first time in South Africa when the LC 500 Limited Edition model arrives on our shores in August 2018.
Based on 15 years of research, the new paint treatment, called Morphic Blue, incorporates 300 billion nano-structure pigment flakes that generate iridescence, giving the impression of the colour constantly changing with the light.
Interestingly, Lexus says that the blue hue is imparted by a light effect that's created by the texture of the liquid coating and that no materials in the coating are actually blue. No blue dyes or pigments have been added.
The paint itself undergoes an 8-month process that includes 12 production steps and 20 quality inspections. A total of 7 layers are applied and only 2 Morphic Blue LC 500's can be produced in a single day at the Motomachi factory in Japan, the home of the LC 500.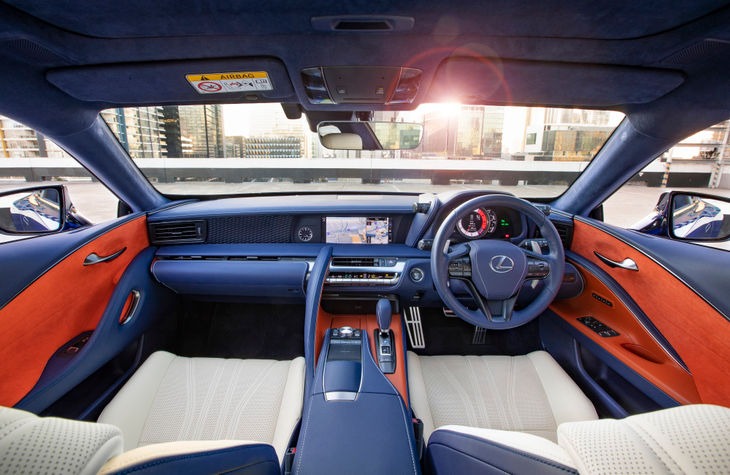 The interior of the LC 500 Limited Edition makes use of semi-aniline leather and Alcantara.
The body colour is matched with an interior featuring a Chrysalis Blue colour scheme that combines orange, blue and white. Semi-aniline leather and Alcantara also feature extensively inside this bespoke LC 500 Limited Edition.

The LC 500 Limited Edition is powered by a naturally aspirated 5.0-litre V8 engine with peak outputs of 351 kW and 540 Nm of torque and mated to a fast-shifting 10-speed automatic transmission.
Pricing for the LC 500 Limited Edition is yet to be announced, but we will keep informed as soon as more information becomes available.
Buy a new or used Lexus LC 500 on Cars.co.za
Related Content
Lexus LC 500 (2017) Launch Review