Volkswagen is embarking on a major rollout of SUVs and there will many new products coming from the Wolfsburg manufacturer. Slotting in under the Volkswagen T-Roc comes an even smaller SUV, called the T-Cross. Here it is, undergoing testing in the snow.
Picture credit: S. Baldauf/SB-Medien​
VW's goal of launching 19 new SUV products looks on course as yet another prototype has been spotted testing in Europe. Our photographers tell us that this is the Volkswagen T-Cross, which is based on the Polo and rides on the MQB platform.
At first glance, it looks a little bigger than a Polo, but we'll need to see a production version in the flesh to see if this is true. Much like the Volkswagen T-Roc, we can expect the T-Cross to have the same level of customisation and personalisation options, such as vibrant colour schemes and two-tone paint finishes. In terms of engines, expect the entire arsenal of VW Group compact powertrains to be thrown in this direction. We predict they'll all be turbocharged petrol and diesel engines, and don't rule out the new Polo GTI's 2.0-litre motor making an appearance at some stage. Given its testing in the snow, we wouldn't be surprised to see an all-wheel-drive version too.
The Volkswagen T-Cross is based on the T-Cross Breeze Concept from 2016, but that was a convertible, so you're going to have to try picture a watered-down version of its front end on a non-convertible body.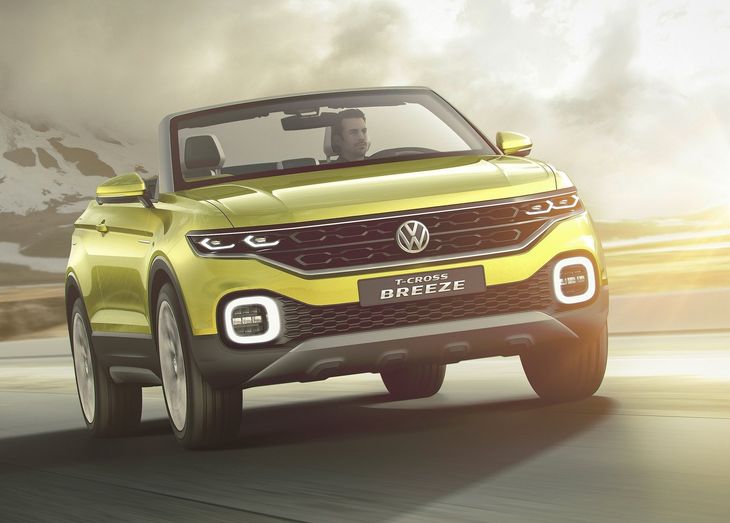 Volkswagen T-Cross Breeze Concept. Expect the production T-Cross to have a similar front end to this concept
Related content:
6 Rivals 2018 Volkswagen Polo Needs to Beat
Preview: 2018 VW Polo vs 2018 Ford Fiesta
Ford Fiesta (2018) International Launch Review
Volkswagen Polo 1.0 R-Line (2017) Quick Review (w/Video)
Volkswagen T-Roc (2018) International Launch Review
Volkswagen Officially Unveils T-Roc Compact SUV
Want to buy a Volkswagen Polo?