A few weeks ago, a Ford insider confirmed that a high-performance Raptor for the new F-150 pickup was on the way and now our spy photographers have spied a Raptor prototype undergoing testing.
Picture credit: S. Baldauf/SB-Medien. We have paid for these photos and at the photographer's request, have watermarked them.​
Ford revealed its new F-150 pickup in the 'States recently and while you may be disappointed that we don't get these full-size bakkies in South Africa, there's some solace in knowing that the burly F-150 may point to what's coming in the next Ford Ranger. Also, there may very well be features offered in the F-150 that we will see in the Ranger here in South Africa.
The latest news, however, pertains to the performance offroader, the F-150 Raptor, which was previously 'confirmed' as a 2021 model in a report by Motor1. With these latest spy shots, it's now confirmed that an F-150 Raptor is in development and it's significant because the F-150 Raptor will be launched well-ahead of the next-generation Ranger Raptor and it may point to technology that will similarly find its way into the next-generation Ranger Raptor, particularly in terms of suspension development. As with the F-150, styling cues such as the new headlight, grille and bumper design are likely to be carried over to the Raptor, albeit in a more aggressive form.
Also, the new F-150 features, among many other features, a new 8.0- or top-spec12.0-inch infotainment screen (with SYNC4) and an optional 12.3-inch digital instrument cluster which we hope will feature in the new forthcoming Ranger.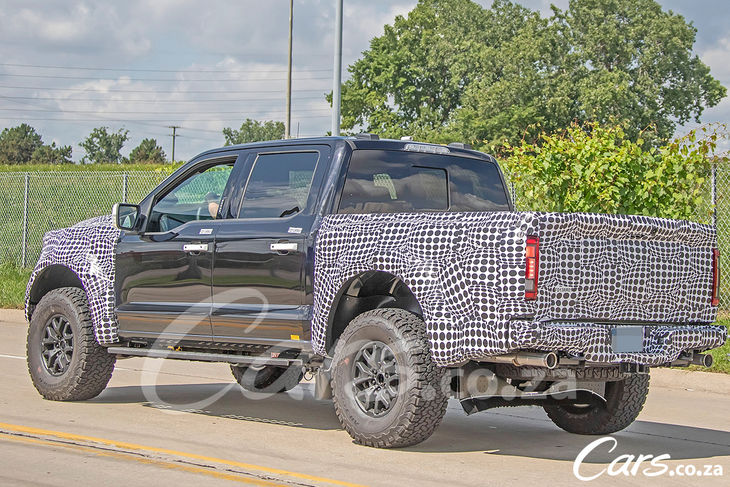 This F-150 Raptor prototype foregoes its previous rear leaf-spring suspension and features a coil spring suspension instead.
Nonetheless, these latest spy images show the Raptor prototype wearing a wide body kit with much of the front and rear design being hidden under camouflage. Our spy photographers also managed to take photographs underneath the prototype (not shown here), revealing a disguised coil spring in with the shocks moved ahead of the rear axle on the prototype. The Fox shocks appear to be identical to the current F-150 Raptor. Interestingly, with the coil spring suspension setup present and the rear leaf-spring suspension now gone, it has also been revealed that the exhaust system routing is different to the current Raptor, which had to bypass the leaf-spring suspension, and now takes a more direct route while also improving the prototype's ground clearance.
Powertrain details have yet to be confirmed and there is no current indication if the Raptor will forge on with its 336 kW 3.5-litre V6 engine.
A report from Australia earlier this year suggested that the next Ranger will feature a 3.0-litre V6 engine with no less than 186 kW and 600 Nm while the Ranger Raptor could employ the same engine but with higher outputs, which will be welcome improvements over the current Ranger Raptor.
We will keep you updated as soon as more details become available in the coming weeks and months.
Buy a Ford Ranger Raptor on Cars.co.za
Related Content
Ford Ranger Raptor To Gain V6 Diesel
Thai Ford Ranger Raptor Mod Looks Boss