The first pictures of the next-generation Honda Civic Type R have emerged. Here's what we can expect from this high-performance vehicle.
Picture credit: S. Baldauf/SB-Medien. We have paid for these photos and at the photographer's request, have watermarked them.
The hot hatch world is constantly evolving and there's a constant stream of new models being released. Right now at the time of publishing (end of May 2020), we already have the Volkswagen Golf 8 GTI revealed, a new Golf 8 R due for imminent reveal as well as a facelifted version of the Hyundai i30N about to break cover.
Locally, we're expecting the RenaultSport Megane Trophy and Volkswagen Golf TCR to land on our shores in the next few months. In order to keep pace with such a fast-moving segment, Honda is already working on the next-generation Honda Civic Type R. What you see here is a heavily disguised prototype, which Honda tried to disguise as a BMW.
Despite the heavy camouflage, the shape is clear and we get some idea of the proportions. The rear wing is present but mounted differently. Both the headlights and taillights are of a new design too. In terms of performance, the jury is still out as to what engine will be found under the bonnet of the next-generation Honda Civic Type R. Some pundits have suggested that it will continue to use the 2.0-litre turbocharged 4-cylinder motor, but likely tuned for a bit more power as well as efficiency. The current outputs of 228 kW and 400 Nm are impressive, but will the front wheels be able to cope with more power?
The current versions all use a manual transmission and despite the market all moving towards automatics, Honda may introduce a dual-clutch transmission as an option. There's also talk of electrification. Imagine how fast a VTEC motor would be with electrification?
Watch this space! As always, we'll keep you posted if we hear of any news regarding the 2022 Honda Civic Type R.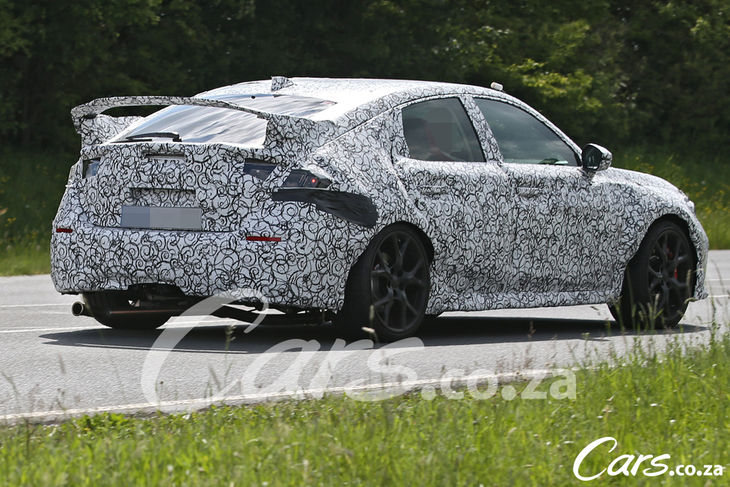 Further Reading
Honda Civic Type R Limited Edition Announced
2020 Honda Civic Type R Revealed