Volkswagen is putting the finishing touches on its Golf 8 family. We've seen most of range already, but this new Golf 8 R station wagon caught our photographer's eye.
Picture credit: S. Baldauf/SB-Medien. We have paid for these photos and at the photographer's request, have watermarked them.​
It's good to see the station wagon is not yet dead. BMW confirmed it would be making a Touring version of its soon-to-be-revealed M3 and it looks like Volkswagen will making an R version of its Golf 8 station wagon. Volkswagen has tried to hide its new Golf 8 R Variant in the Alltrack body, but we can see the blue brakes and quad exhausts - signs this is an R.
Volkswagen calls its station wagons Variant and much like the 8 R hatchback, will come to market with all-wheel drive, a quick-shifting dual-clutch gearbox as well as an enhanced version of the 2.0-litre turbocharged 4-cylinder motor. While official outputs are yet to be confirmed, some leaks have suggested as much as 245 kW of power will be on offer. Expect 0-100 kph in about 4.5 seconds.
Typically station wagons do not make their way to our market, as customers prefer SUVs or conventional hatchbacks, so it's unlikely the Volkswagen Golf 8 R Variant will be seen in South African showrooms.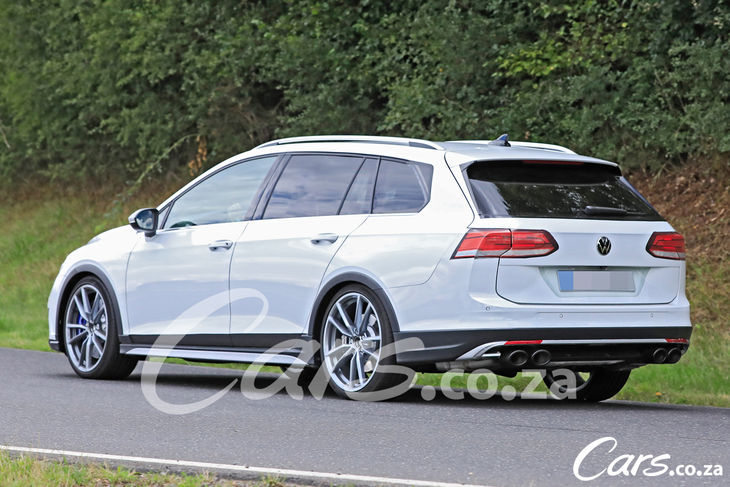 There's no mistaking those big wheels, quad exhausts and blue brakes for anything other than an R
Further Reading
Spy Shots: Volkswagen Golf 8 R (Video)
Volkswagen Golf 8 GTI (2020) International Launch Review
2021 Volkswagen Golf R Leaked Again
World's First Volkswagen Golf 8 GTI Race Car