Mercedes-Benz is working on an even more hardcore G-Class which will replace the 4x4 Squared.
Picture credit: S. Baldauf/SB-Medien. We have paid for these photos and at the photographer's request, have watermarked them.
UPDATE: We first reported this story back in May 2020 and showed some grainy photos of the new Mercedes-Benz G500 4x4 Squared. Now this model has been spotted undergoing dynamic testing at the Nurburgring. The photos are much clearer, showing lots of interesting details and a lot of the camouflage has been removed. We can see model-specific daytime running lights and the vehicle sits far higher than a standard G-Class.
Remember the Mercedes-Benz G500 4x4 Squared? That short-wheelbase offroad specialist with tremendous ground clearance? Sadly it never made its way to South Africa as it was never offered in right-hand drive, but chances are very few would have been sold as the asking price back in 2015 was something in the region of €226,100 which at today's exchange rate is around R4.3 million.
What you see here is likely the replacement for that vehicle and it appears our spy photographers climbed some trees to get these photos. As if the Mercedes-Benz G-Class didn't need even more offroad ability thanks to its tri-differential setup and decent ground clearance, this prototype looks ready to take on the toughest of terrain. Thanks to portal axles, 450 mm of clearance was available on the predecessor and it looks a lot like the new one is boasting similar levels of height.
Expect a full firebreathing turbocharged V8 petrol engine under that bonnet and 375 kW / 700 Nm (or even more) should be possible. There should be the 9-Speed transmission too. What we like the most so far is that Mercedes-Benz is giving this G-Class a proper offroad kit, comprising roof rack, ladder, spare wheel as well as 2 powerful spotlights.
With the Land Rover Defender expected to start hitting the roads in the next few months, it will be interesting to see if this is Mercedes-Benz's answer to the British newcomer. Expect to see more photos and information regarding this G-Class in the coming months.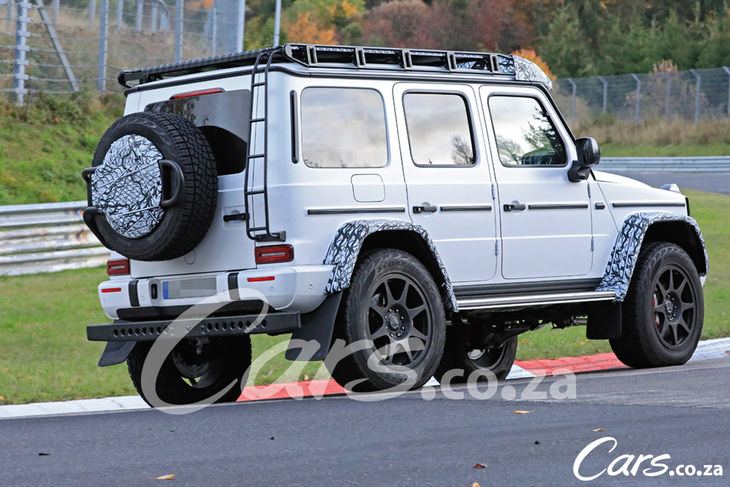 The new Mercedes-Benz G-Class 4x4 Squared has been spotted.
Further Reading
Mercedes-Benz G-Class (2021) Review [w/video]
Near Production Mercedes-Benz G 500 4×4² Detailed
Merc G63 Double-cab with 588 kW
New Mercedes-Benz G-Class Shown
Mercedes-Benz G-Class (2016) First Drive