This is the all-new 2021 Mercedes-Benz C-Class which is busy undergoing some testing. Importantly, our spy photographers managed to snap a pic of the interior and it's a revelation.
Picture credit: S. Baldauf/SB-Medien
The Mercedes-Benz C-Class is Stuttgart's most important product as it garners around 20% of its global sales. It's an important model in South Africa too, with many sales locally, but vitally, the Mercedes-Benz facility in East London produces this car and is a key employer in the region.
The updated Audi A4 and all-new BMW 3 Series must have surely ruffled more than a few feathers in Merc's offices and it's therefore vital that the replacement C-Class can at the very least match what its German rivals can offer. Our spy photographers managed to bag the usual drive-by shots, but luckily, we got a photo of the all-new interior and what a massive step up it is.
It's quite unlike the MBUX skateboard-shaped digital dashboard currently offered in the G-Class, A-Class and others. This is a vertical-orientated display that stretches almost the entire height of the dashboard. We assume that it'll be responsible for controlling the vast majority of functions such as entertainment and climate control.
The new Mercedes-Benz will be tagged as a 2021 model year vehicle and estimates suggest we'll see the car revealed towards the end of next year. The prediction for powertrains is a fascinating one. Despite fossil fuels being touted as being phased out, we think there'll be a full complement of petrol, diesel, hybrid, plug-in hybrid and even a fully electric model. For us, we're just hoping South Africa gets the rights to continue assembling this vitally important model.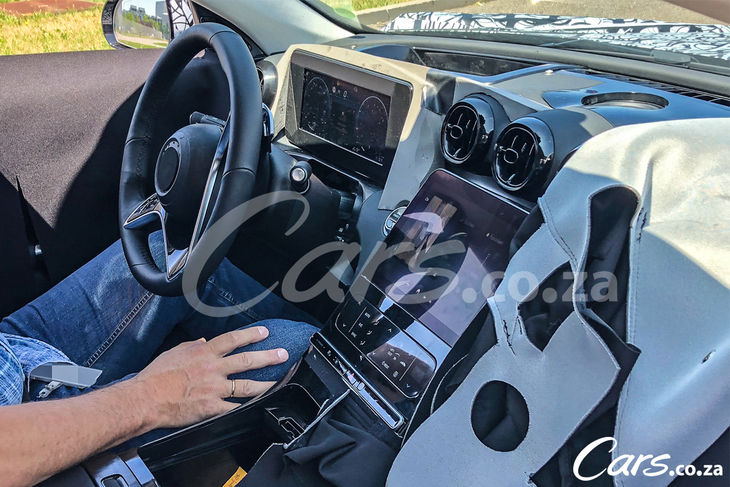 Further Reading
New Mercedes-Benz C-Class Spied [Video]
Mercedes-Benz C-Class (2018) Launch Review