Mercedes-AMG is putting the finishing touches on its electrified AMG GT 4-door supercar. Here's what we know so far.
Picture credit: S. Baldauf/SB-Medien. We have paid for these photos and at the photographer's request, have watermarked them.​
Towards the end of May 2019, we ran a story that suggested Mercedes-AMG was going to electrify its 4.0-litre biturbo V8 motor. Now we're seeing the prototypes on the road. Our spy photographer said the car you see here arrived at the Nurburgring this week and will be taking to the famous circuit for dynamic testing.
Badged as the GT73e, this 4-door supercar is rumoured to be packing 600 kW and will have a sprint time of under 3 seconds to 100 kph. The key is the 4.0-litre biturbo V8 petrol motor, but with the assistance of an electric motor. Critically though, it should be able to run on pure electric power to circumvent the emission and congestion laws of most modern European countries. This is not a new recipe and we've seen this tech before in things like the McLaren P1.
We have had considerable experience with the AMG GT63 S already and its outputs of 470 kW and 900 Nm were very impressive, so we can only begin to imagine just how fast this electrified AMG will be! Expect to see a reveal of the GT73e before the end of 2020 and it will go up against the Porsche Panamera Sport Turismo e-hybrid.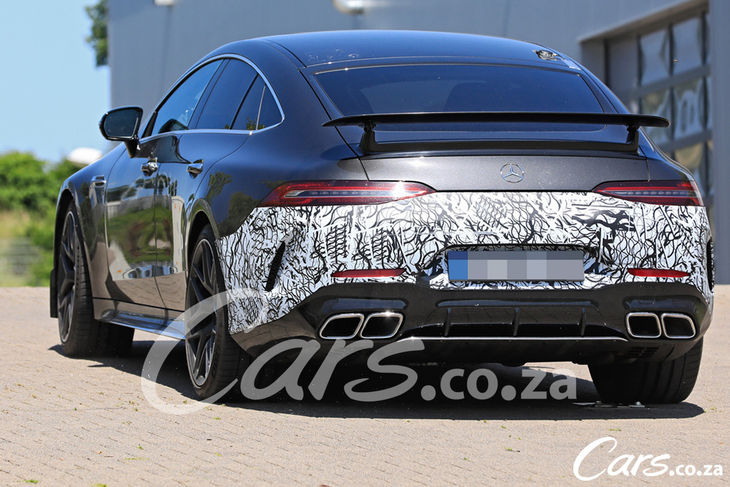 That camouflaged rear bumper is hiding something...
Further Reading
Mercedes-AMG Planning Flagship 73 Model
Mercedes-AMGs Coming to SA in 2020
Full reveal: Mercedes-AMG GT Black Series
Mercedes-AMG GT 63 S Review - Is this really a supercar?