With the new Audi Q8 having just been revealed, attention has now turned to Audi's RS division. Would it be keen on producing an RSQ8? The answer is yes, and it has been spied undergoing testing.
These photos show the new Audi RSQ8 being put through its paces. There's very little disguise on the prototypes, giving us a good look at the wider body, more aggressive bumpers, monstrous exhausts and huge alloy wheels. Lurking behind those wheels will be large brakes and we'd guess right away that the new Audi RSQ8 will feature ceramics. As for final styling cues, we can look to the 2017 Q8 Sport Concept and 2017 Q8 Concept for inspiration.
In terms of engine, we'd speculate that it will be the same 4.0-litre twin-turbocharged petrol V8 motor as the one found in the new Lamborghini Urus, however, it's likely to be slightly down on power, giving its more premium sibling the edge. In the Urus, it puts out 478 kW and 850 Nm through an eight-speed automatic gearbox to all four wheels. We'd guess that the RSQ8 will push out at most 450 kW, to avoid upsetting the Italians. Still, it'll be able to blitz to 100 kph in under 4 seconds, making it one very quick luxurious SUV. In terms of rivals, you're looking at the BMW X6 M and Mercedes-AMG GLE 63 S.
The Audi Q8 is scheduled to arrive in SA before the end of 2018, but it will be some time before the RSQ8 lands here. We estimate that it could be in SA towards the end of 2019.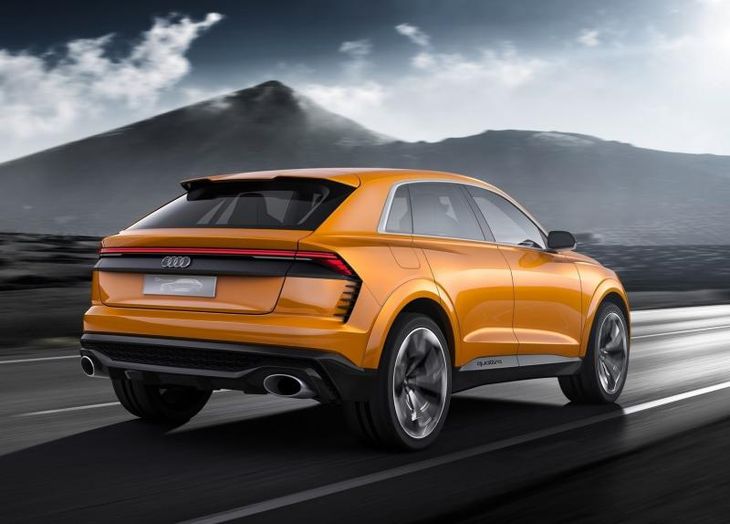 The 2017 Audi Q8 Sport Concept. Could some of these styling cues make their way onto the production version of the Audi RSQ8?
Further Reading
Flagship Audi Q8 Revealed [w/video]
Audi Q8 Concept Revealed in Detroit