Volkswagen Commercial Vehicles will showcase 2 special edition Amaroks at the upcoming Frankfurt Motor Show, and they look great…
The Frankfurt Motor Show is almost upon us and although there are numerous vehicles of interest expected to be shown in the metal, a special edition Amarok, or two, makes for fine eye candy.
The introduction of the Amarok V6 in South Africa earlier this year has left local bakkie fans frothing for the new Amarok. Despite its lofty price tag or whether you are are a Hilux, Ranger or Navara fan, or any bakkie for that matter, the allure of the Amarok V6 is strong.
Take a moment to feast your eyes on 2 special Edition Amaroks that will be shown at the upcoming Frankfurt Motor Show.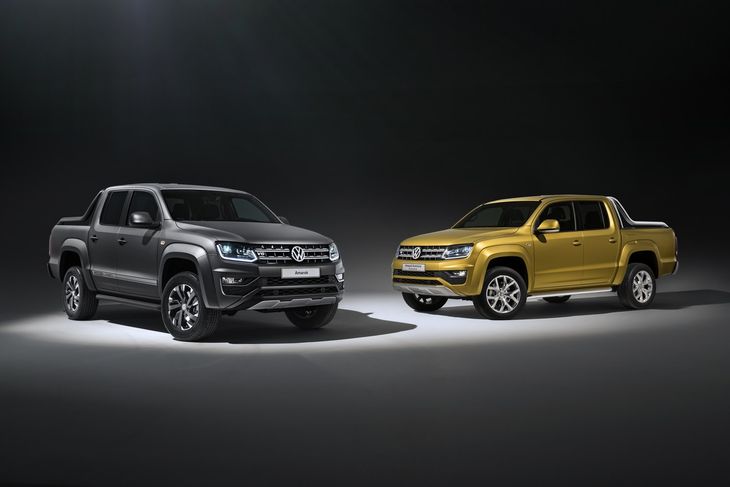 These good-looking Amarok A6's will be shown in Frankfurt and sold in Germany, but don't expect to see them in SA.
The first is called the Amarok Aventura Exclusive concept and it features Turmeric Yellow Metallic paintwork with chrome accents and rides on 19-inch alloy wheels. Other features include bi-xenon headlights, aluminium skid plates and a cargo cover. On the inside, the special edition model is fitted with black leather seats with Curcuma Yellow contrast stitching. The steering wheel is wrapped in leather too and a black roof liner further defines the interior ambiance. An infotainment system with navigation is also fitted.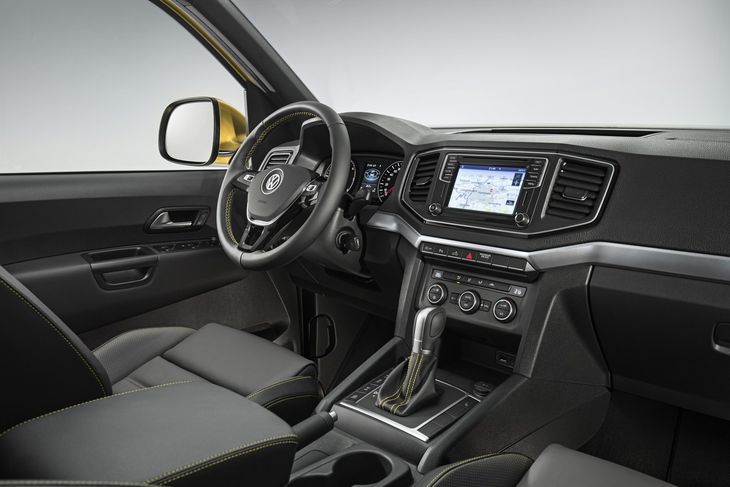 The Amarok Aventura Exclusive's interior features subtle details to lift what is already an attractive interior.
Under the bonnet is a 3.0-litre TDI V6 engine that produces 190 kW and it's paired with Volkswagen's 8-speed automatic transmission and all-wheel drive system.
The second Amarok to be shown is the Amarok Dark Label featuring a Indium grey matte exterior colour with a striking black bar over the load bay. This model rides on 18-inch wheels and the grille has been revised to feature lacquered chrome accents. Inside, the model follows the execution of the Amarok Comfortline but adds a black roof liner and Dark Label embroidered floor mats.
The Amarok Dark Label is powered by two versions of the 3.0-litre V6 engine. The first offers 120 kW and a 6-speed transmission while the second offers 150 kW with either a 6-speed manual or 8-speed automatic transmission.

The 2 models will be sold in Germany and sadly, we are not likely to see them in South Africa. Bring them Volkswagen…
We will be attending the Frankfurt Motor Show next week, so stay tuned to our social channels (Facebook, Twitter and Instagram) for more details.

Watch our video review of the Volkswagen Amarok V6 below!
Find a new or used Amarok on Cars.co.za
Related Content
Volkswagen Amarok 3.0 V6 TDI Highline Plus (2017) Review [with Video]
Double-cab bakkies are the new SUVs
Volkswagen Amarok 3.0 V6 TDI (2017) First Drive
Volkswagen Amarok (2017) Specs & Pricing
VW Amarok 3.0 V6 TDI: 5 Things We've Learnt
Most Powerful Double-Cab Bakkies in SA
6 Most Fuel-Efficient Double-Cab Bakkies in SA
Nissan Navara (2017) First Drive
Ford Ranger Fx4 (2017) – a Raptor Kit with a Warranty
Toyota Hilux vs Ford Ranger vs Isuzu KB vs Volkswagen Amarok (2016) Comparative Review