Cars.co.za's SentiMETAL brand has launched a very limited series of prints, each paying tribute to uniquely South African cars. There are currently around 20 iconic cars to choose from, and more are being added weekly.
The rise in interest in cars unique to South Africa is not only noticeable in the prices these cars demand these days, but was also very obvious at the recent Concours South Africa, for example, where a large selection of SA Specials vied for the overall trophy, including our very own Opel Kadett GSi Superboss.
"We have a very rich automotive heritage, and it's important that we not only protect it, but also celebrate it," says Cars.co.za Consumer Experience Manager, Hannes Oosthuizen."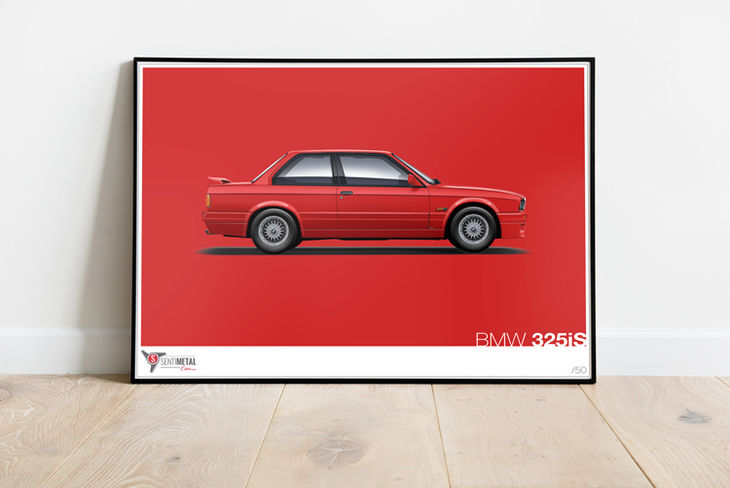 The first print to be released features the iconic BMW 325iS (E30) "Gusheshe".
The prints feature such icons as the BMW 325iS (popularly known as the "Gusheshe"), BMW 333i, 530 MLE, Opel Kadett Superboss, Alfa GTV6 3.0, Ford Sierra XR-8, Chevrolet Firenza Can-Am, Caracal, Fiat 131 Racing, Ford Capri Perana and many more. "We've gone for bright, strong colours and simple design, to put the focus on the machines," says Oosthuizen. "Artist Wayne Batty's drawings are simply phenomenal in their detail."
SentiMETAL will only be printing 50 of each of these prints (in both sizes), and each will be individually numbered. "Ultimately, we may end up producing around 30 of these Editions, because that's more or less the number of cars worthy of poster status," says Oosthuizen. "Imagine what an office or mancave would look like with all 30 of these colourful prints!"
To order your print, go here. Nationwide shipping is free. Order 3 or more prints and you get an automatic 20% discount.
You may also be interested in;
New SentiMETAL print launched featuring 9 SA specials
SentiMETAL OutRun - Bastille Day (Gallery)