Renault has introduced a budget-friendly, flexible mini-SUV that is purported to give you that "off-roader lifestyle", but with enough room to accommodate up to 7 occupants. We headed to KwaZulu-Natal to try out the new Triber at its local media launch.
What is it?
Having skimmed through all the Indian literature on the Triber, which was launched there in 2019, I didn't find this newcomer as easy to categorise as I expected. It is built in India, has 7 seats, a slightly raised suspension (182 mm of ground clearance) and a higher driving position. Now after that, you'd think Avanza, Ertiga, BR-V etc. But no, this is comparatively shorter, but equally practical and feels better suited to family use than the airport shuttles or UberX vehicles that so many travellers find themselves sentenced to.
The seats can be removed, so the rear row can be popped out without any tools, all of which opens up 625 litres of luggage space. Renault claims there are 100 combinations of seat positions for the Triber, so it should easily be able to accommodate whatever object/s you need to fit in it...
Is it a raised Kwid?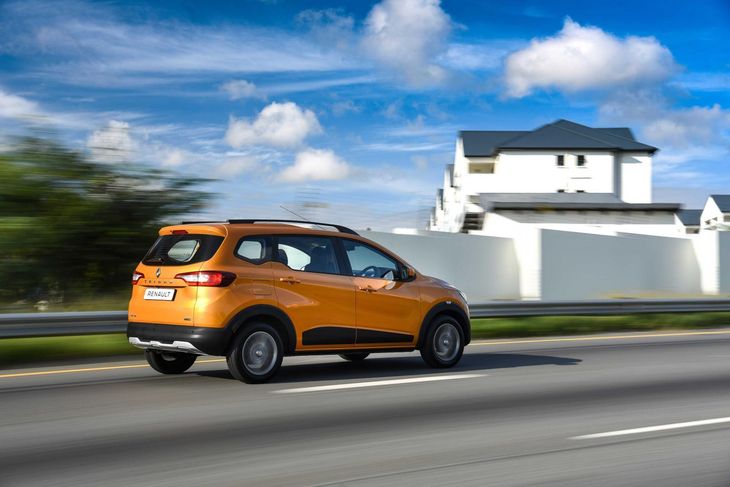 At 3.99 metres in length, it's still a small, hatchback-sized car but it offers 7 seats.
Renault South Africa went to great lengths to explain that the Triber is not built on the Kwid platform but its own, specially designed platform. It is, however, built in the same factory as the Kwid in India. It doesn't drive, handle or ride like a Kwid so for the most part, the firm's claim is believable.
What engine does it have?
There's a 3-cylinder, naturally aspirated 1.0-litre petrol engine under the bonnet. The chassis has actually been designed to use a tiny 3-pot engine so that it allocates more of its 3.99-metre length to accommodating passengers and hauling detritus. It produces 52 kW and 96 Nm, which is not nearly enough to propel it with any zeal when fully loaded. I know this because it couldn't propel me and 1 passenger up a hill without necessitating frantic shifts through the gears; it felt as if I was starring in a Fast and Furious movie.
There is apparently a turbo unit on the way, which is possibly due in Mzansi by the end of the year. The current engine will eventually get you to where you want to go, but bear in mind it won't do it quickly. The 5-speed manual is the only gearbox on offer, with an AMT (automated manual) coming mid-way through 2020. The ratios of the manual 'box are not convincing and make it difficult to drive the Triber smoothly – 1st gear requires a lot of clutch-riding to get moving and 3rd gear is too long (drops the revs too low).
What is it like to drive?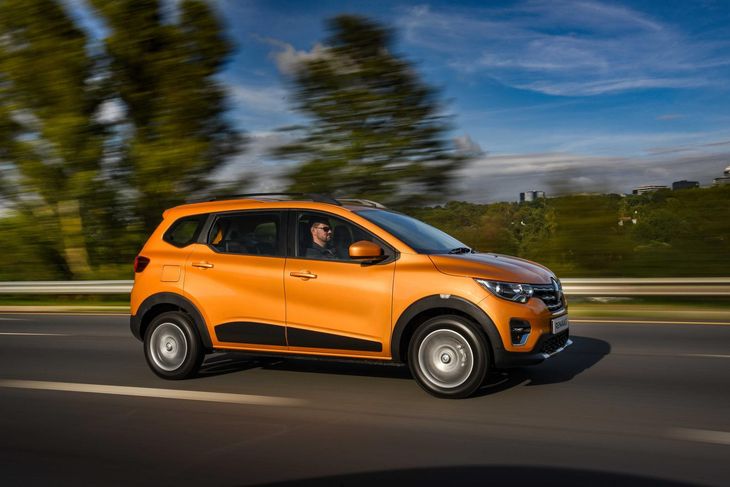 The Triber's small engine tries hard to move it around, but ultimately it looks oomph.
As I mentioned above, it's nicer to drive than a Kwid, for what it's worth. It rides quite well over bumpy road surfaces and doesn't shake and rattle like it's all about to fall apart. There's noticeable body roll when cornering, but it is not disconcerting and feels similar to some of the aforementioned competitors. The steering could be a lot more communicative... at slow speeds, it's overly light and vague. At higher speeds, it weights up a bit more and that makes it easier to place the Renault on the freeway.
Speaking of freeways, we did drive the Triber at cruising speeds and unlike the Kwid, it feels capable at the national speed limit. One discerns some wind and engine roar at about 120 kph, but it's stable enough in terms of general road-holding.
What's it like inside?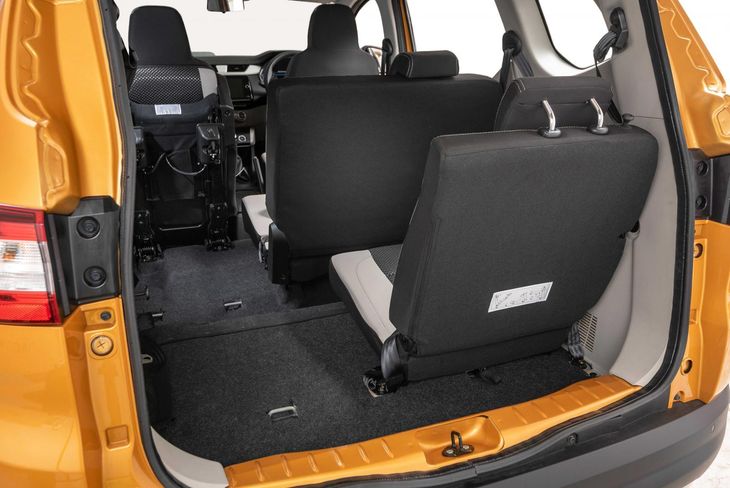 The rear row of seats can quickly be removed making it very adaptable.
At this price point (the Triber's asking prince is under R200k), the Renault's extremely well appointed. The Dynamique and Prestige derivatives come equipped with a modern hi-res touchscreen that is compatible with Android Auto and Apple Carplay. There's a digital instrument cluster and electric windows and -mirrors. There's only 1 USB port up front and a solitary 12V socket in the rear. Air-conditioning is available in all 3 rows of seats, which is certainly a must-have at the height of summer. It's effective at providing refreshing ventilation, but does cause a bit of drag on that already-overworked engine. There's even an air-conditioned centre console and similarly cooled glove box.
As for the materials, as expected at this price point, it's all coarse plastic. But, the panels seem quite sturdy and the fit and finish pretty good. The armrests on the doors have some soft cloth and that's about the only bit of soft material in the cabin (aside from the seat stuffing).
As for the seats, they are reasonable. I'd prefer a bit more side support around the thighs and back, but they were comfortable enough over the 300-km route we drove.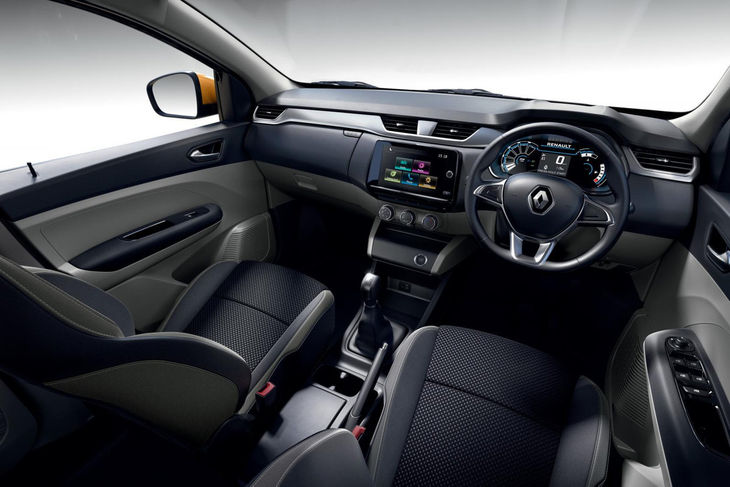 There is a lot of kit in the Triber for a price that's very keen.
Practicality is where the Triber really excels, however. Renault expects that most owners will lop out the rear row of seats and run the Triber as a 5-seater (with a comparatively humungous load bay) for most of its life. The 6th and 7th seat can be installed individually as and when required. The 2nd row folds and tumbles forward, but requires fettling by hand tools if you want to remove them entirely. There's good head- and legroom in the rear (for both the 2nd and 3rd rows), which makes the Triber a very usable 7-seater.
How safe is it?
That will be a big question on a lot of prospective buyers' minds. Two airbags are standard in the Expression and Dynamique derivatives, while the Prestige gets side airbags for a grand total of 4 'bags. ABS with EBD is standard, but there isn't any stability control. Rear park distance control is fitted and the Prestige version features a reverse camera.
No official crash testing has been done on the Triber yet, but Renault SA says that will happen later this month with the results to be published at a later date. Renault is expecting a much better Global NCAP rating than the Kwid received, so we'll reserve judgement for now.
Summary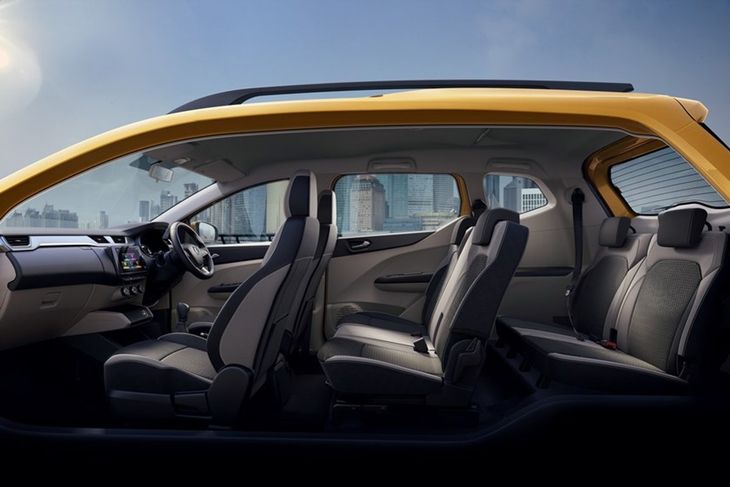 Expect the Triber to sell well, even with its underpowered engine.
The Triber is priced extremely keenly and offers an exceptional amount of space, practicality and equipment. It feels more like a family mini-SUV than the Suzuki Ertiga, Toyota Avanza and Honda BR-V. A lot of that is down its styling, choice of exterior colour and small-on-the-outside, big-on-the-inside feel.
The drivetrain lets the package down due to its lack of power and torque, muddled gear ratios and tricky clutch operation. It's certainly going to suffer in Gauteng where the altitude will rob further power from it. A turbocharged motor is on the cards, but that could only arrive around the end of the year.
The Triber's road manners are decent, it's stable at speed and rides bumps well. The steering could be more communicative at low speed but that's expected in this segment.
It shines in the practicality departments with flexible seating, air-conditioning outlets for all 3 rows and loads of hidey-holes in the cabin for storage.
I suspect that, like the Kwid, the Triber will find many homes in SA due to its keen price, modern features and sheer value for money. I'd still wait for the turbo though.
Pricing
Renault Triber Expression 1.0-litre ENERGY - R164 900
Renault Triber Dynamique 1.0-litre ENERGY - R174 900
Renault Triber Prestige 1.0-litre ENERGY - R189 900
In terms of after-sales service, the Triber comes with a 2-year/ 30 000 km service plan and a 5-year/150 000 km mechanical warranty. Services take place at 15 000 km intervals.
Related Content
Renault Triber in SA (2020) Specs & Price
Datsun Go 1.2 Lux CVT (2020) Review