If you're shopping for a new family vehicle on a tight budget and looking for a model that can occasionally seat 7 occupants, Renault's new Triber is likely to be of particular interest to you... It seems to offer impressive value for money, but is the newcomer really up to the task?
We like: Good space utilisation, cabin flexibility, standard features
We don't like: Drivetrain (lack of power and gearing)
Fast Facts
Price: R189 900 (April 2020, no options)
Engine: 1.0-litre 3-cylinder
Gearbox: 5-speed manual
Fuel economy: 5.5 L/100 km (claimed)
Power/Torque: 52 kW/96 Nm

Own a Renault? Tell us about your experience here.
SERIOUS ABOUT BUYING?
Where does it fit in?
​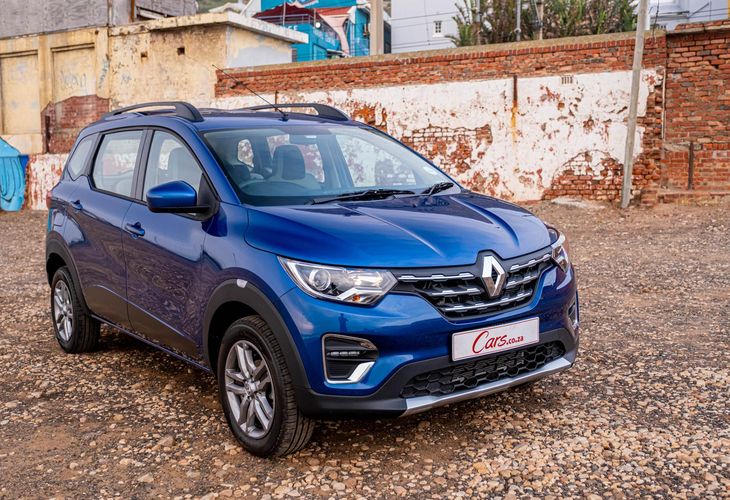 Boasting quasi-SUV styling and neat 15-inch alloy wheels, the Triber manages to look more expensive than it really is.
Affordability is more important than ever in the South African new-vehicle market, which is why the arrival of a sub-R200k 7-seater is bound to garner quite a bit of attention. When said 7-seater also boasts attractive looks and a long warranty, success is just about guaranteed... So, upon the Renault Triber's arrival in Mzansi, it ticks a great many of the necessary boxes straight off the bat. It's aimed at families that need a compact, yet practical, runabout that won't break the bank to buy and run. Its only main rival in the market is the Datsun Go+, which offers more traditional station wagon-esque styling, but if you can stretch your budget or get a good deal on your trade-in, you may also want to consider vehicles such as Suzuki's Ertiga, the Honda BR-V and Toyota Avanza.
Own a Renault? Please tell us about your experience here.
How it fares in terms of...
Design & Packaging
​Renault has packaged the Triber cleverly. From the success of its Captur and Duster models, it knows that a strong SUV-theme does well in the showroom, and so the Triber doesn't look like just another humdrum 7-seater people-mover. In fact, it looks a fair deal more expensive than it really is, which is a major boon in a cutthroat marketplace. With its black plastic cladding, roof rails (with a 50-kg carrying capacity), LED daytime running lights and 15-inch alloys, the Triber looks suitably smart.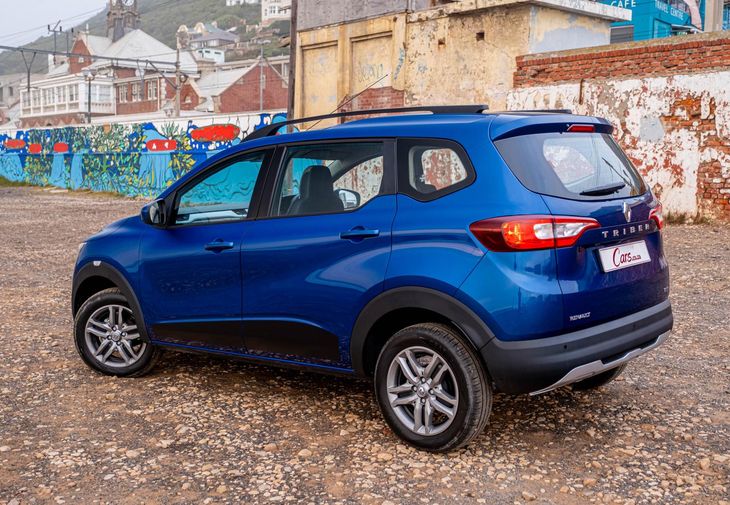 The Triber is no longer than a compact hatchback, yet it offers genuine 7-seater capability.
It's a compact little thing, too. It's a smidge under 4 metres in length but inside, Renault's designers have squeezed in not only an attractively finished dual-tone fascia, but genuine 7-seater capability. With a 1.8-metre driver and a passenger of similar height seated behind them, there's still sufficient space for a pair of average-sized adults or teenagers in the 3rd row. Of course, with all 7 seats taken, luggage capacity becomes negligible, but that also applies to larger, costlier 7-seaters. The fact that the 2nd row of seats can slide (to adjust legroom), as well as recline, is a major boon.
Renault expects most owners to use the Triber as a 5-seater most of the time. For this reason, the rear seats can be folded down – or removed entirely. In fact, Renault claims up to 100 possible configurations inside, although we're unsure how it managed to calculate that lofty number. Still, the Triber is indeed a cleverly-packaged car and it offers some smart touches that are particularly surprising at this price level – such as separate air-con ventilation outlets for the 2nd and 3rd rows of seats. With the lattermost row removed, a massive 625 litres of utility space is available.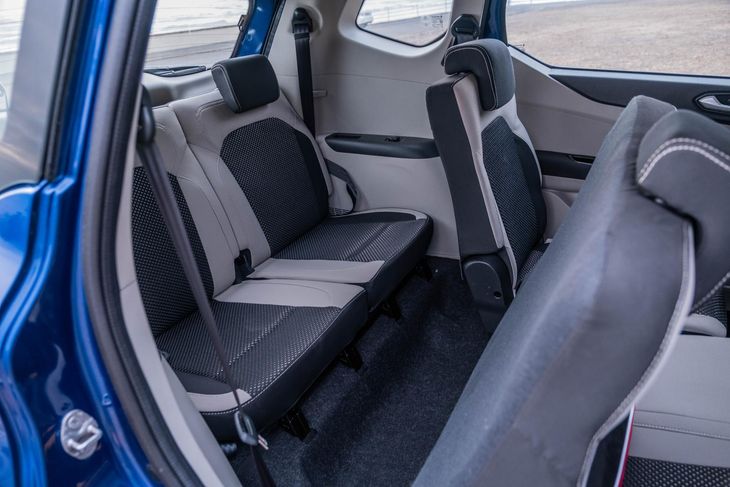 The rear seats are suitable for teenagers or adults of average height, especially if the 2nd row is adjusted forward.
At this price point, the Triber 1.0 Prestige is extremely well appointed. It comes equipped with a touchscreen infotainment system compatible with Android Auto and Apple Carplay, a digital instrument cluster and electric windows and -mirrors. An air-conditioned centre console and cooled glove box are provided, but charging options are limited to 1 USB port up front and a 12V socket in the rear.
Another useful storage space is a "secret" drawer underneath the driver's seat. But, perhaps most impressively, the standard features list extends to include "luxury car" items such as keyless entry and -start, as well as a reverse-view camera.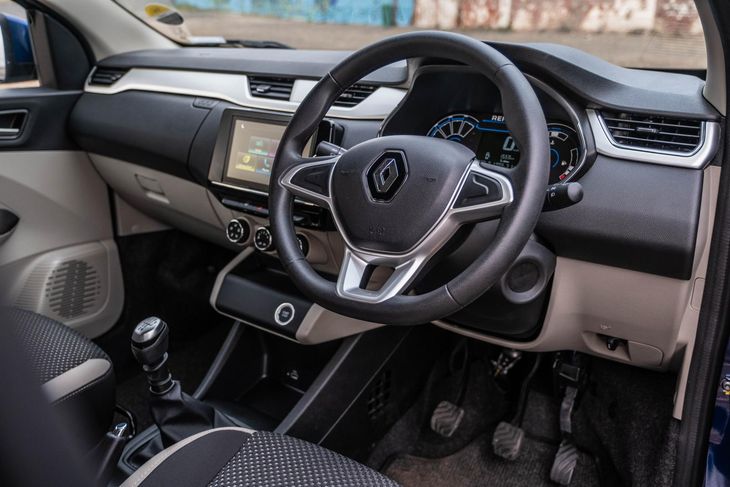 The dual-tone fascia makes the Triber's cockpit look less utilitarian and the touchscreen infotainment system is right up to date.
Overall, then, the Triber has an impressive cabin given the model's price positioning... the interior panels and fittings may be of the hard-plastic variety, but Renault has added some classy touches, such as metallic-look accents and part-LED instrumentation to elevate the newcomer's cabin from humdrum to something... interesting.
Performance & Efficiency
​The Triber is powered by a naturally aspirated 1.0-litre 3-cylinder engine – that's right, there is no turbocharger under the bonnet. The quoted power and torque figures are 52 kW and 96 Nm respectively, and these alone should set some alarm bells ringing, particularly if you intend to regularly drive the Renault with a full complement of passengers on board, and especially so at altitude (which applies to South Africa's biggest car market). The 96 Nm of torque is developed at a fairly high 3 500 rpm (max power is at 6 250 rpm!), so it's an engine that you need to "keep on the boil".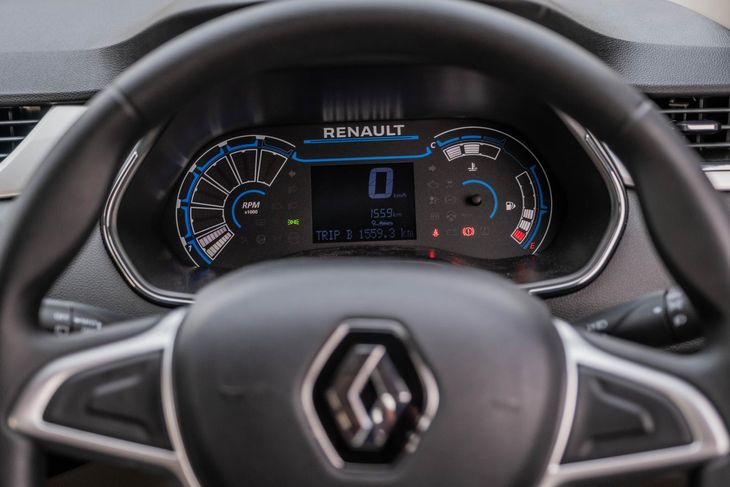 Alas, when attempting quick overtaking manoeuvres, you're likely to stare at the Triber's neat digital instrument cluster in frustration...
Sadly, the Renault's gearing is not particularly well-suited to South African driving conditions (it probably reflects the lower average vehicle speeds of its home market – India). Throttle and clutch modulation is tricky; far too much concentration is required to achieve smooth progress. When it's loaded with passengers and tasked to ascend steep hills (of which there are many in Cape Town), the Triber needs to be geared down rather often. In fact, "riding the clutch" is something you may end up doing quite often in this car, and we can't say that it felt particularly at ease doing that.
The engine is, however, better suited to cruising on the freeway, where it is impressively quiet; it allows the Triber to keep up with fast-flowing traffic quite easily. Fuel economy is also good – Renault claims a combined cycle consumption figure of 5.5 L/100 km, but in reality, you're looking at around 7.0 L/100 km, which is still a good result.
Ride & Handling
​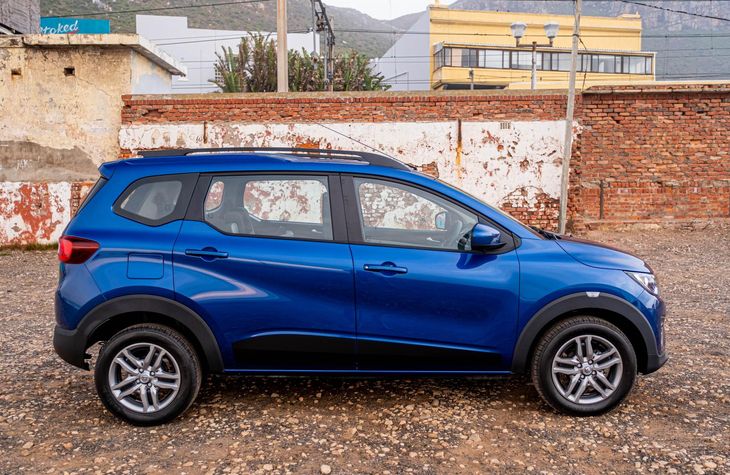 The Triber's pliant suspension belies the newcomer's budget price. It also traverses uneven/unsealed roads with confidence.
The Triber doesn't share its underpinnings with the Kwid budget hatchback, as you might expect; it's built on its own platform. By virtue of a claimed ground clearance of 182 mm, the Renault's a capable pavement climber or gravel-road traverser, and with a wheelbase of 2 636 mm, there's substantially more metal between the axles than in a Kwid! This is immediately apparent when you drive the Triber over a variety of road surfaces. It rides on bumpy roads and its build integrity seems good, too, given the absence of rattles we discerned when travelling on poor surfaces.
Speaking of freeways, we did drive the Triber at cruising speeds and unlike the Kwid, it feels capable at the national speed limit. One discerns some wind and engine roar at about 120 kph, but the newcomer offers satisfactory performance in terms of its general road-holding.
Price and warranty (April 2020)
The flagship Renault Triber, the 1.0 Prestige, costs R189 900, which includes a lengthy 5-years/150 000 km warranty and a 2-years/30 000 km service plan. Services are scheduled for every 15 000 km/12 months.
Verdict
​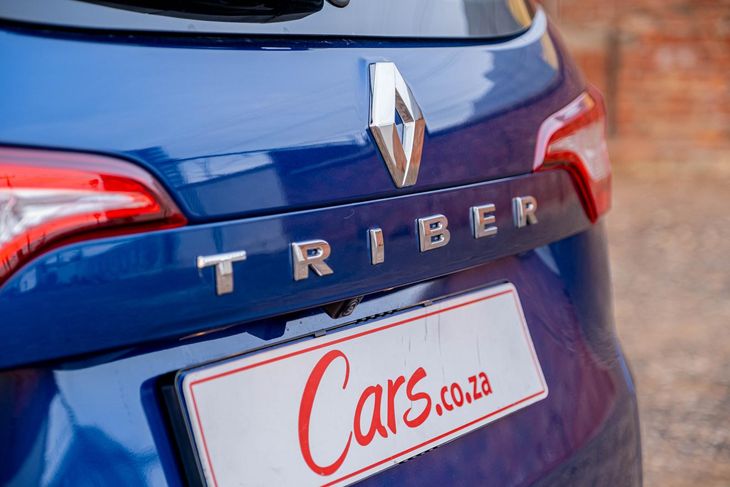 The Triber offers plenty of value as an affordable people-mover, but its iffy powertrain impedes it from being a balanced package.
There is a lot to like about the Triber, not least its value proposition. The cabin is a genuinely good place to occupy and is packed with clever, practical features, in addition to being just plain practical and spacious. It also rides better than we anticipated; from behind the 'wheel, it feels like a bigger, more sophisticated car on the road than, for example, the aforementioned Kwid. And although crash testing has not yet been conducted on this model, the car "feels" more substantial overall, in addition to offering a quartet of airbags and ABS as standard.
It's a pity the iffy drivetrain diminishes the package. During the Triber's extended stay with the team, the usual "acclimatisation" didn't occur, and we continued to lurch and stall our way through Cape Town traffic, cursing the lack of torque, poorly-spaced gear ratios and sticky clutch. We can only imagine that it will be worse at altitude. A rumoured turbopetrol version can't come soon enough...
Looking to buy a new/used Renault Triber?
Find one on Cars.co.za by clicking here