There's a slightly revised flagship version of Renault's popular Sandero Stepway on the market now. Should it be on your shortlist?
We like: Standard specification, spaciousness, ride, warranty & service plan
We don't like: Drivetrain refinement, perceived quality
Are there any specials currently on this model? Find out here.
Why should you care?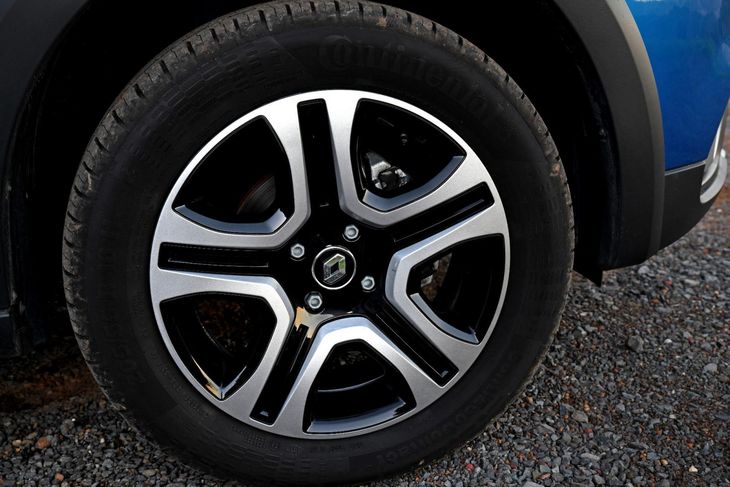 New 2-tone wheels are a unique feature of this new Stepway Plus derivative.
Renault has replaced its previous flagship Sandero, the popular Stepway Dynamique, with this new Plus-badged model. In recent years the Sandero Stepway has established itself as one of the best-selling compact crossovers in the market, undoubtedly as a result of its combination of smart looks, great features and a decent warranty/service plan package. But the market is considerably more competitive these days, with the likes of Suzuki and Volkswagen having pushed attractive rivals into contention with the Ignis and Polo Vivo Maxx, respectively. Can the new flagship Sandero Stepway still compete effectively?
Renault believes that style is quite an important factor in the Stepway's ongoing success and consequently this new Plus version focuses on bringing more individualisation to the party – it gets different 2-tone wheels and is offered in 2 exclusive colours, namely Dune Beige and Cosmos Blue. You can also specify it with leather (R10k option) and metallic paint (R2 500).
What's good about it?
Standard Features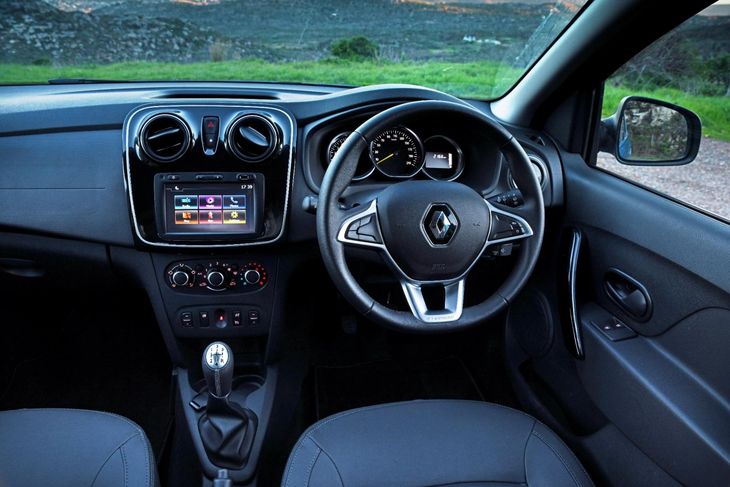 Looks good, doesn't it? Neatly detailed cabin and generous standard features package give the Stepway lots of showroom appeal.
As before, the Sandero Stepway really does offer an extensive suite of features. Consequently, its appeal on the showroom floor is exceptional. You get electric windows all-round, front and side airbags (the latter not a given in this segment), air-conditioning, remote audio controls and such rarities as rear park assist, cruise control and a very comprehensive infotainment system with a 7-inch touchscreen that also incorporates navigation and a rear-view camera display.
Renault deserves applause for fitting such a "budget" offering with an exceptional array of safety features, including ESP, hill start assist and rear Isofix child seat mounts.
Appealing Design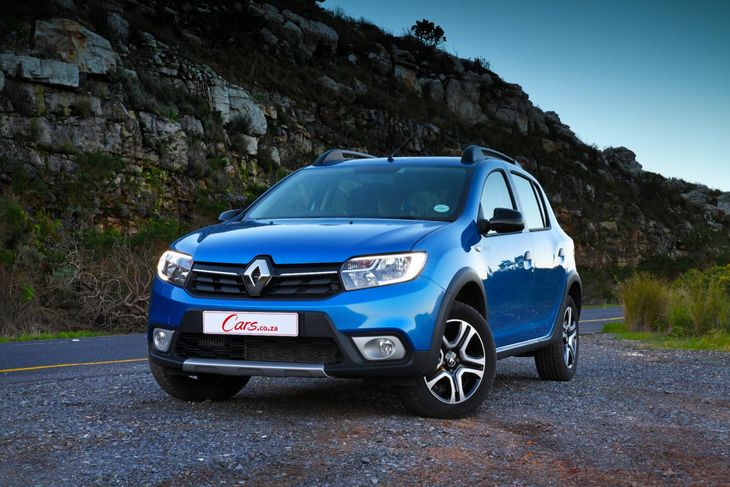 The Stepway's neat design make it look considerably more expensive than it really is.
The Sandero Stepway remains a good-looking car, and its appeal has been enhanced by the addition of the striking 2-tone 16-inch wheels. With its neat roof rails, all-round black plastic cladding, slightly raised ground clearance and attractive head/tail lamp detailing, it's certainly one of the prettier offerings in this segment. In fact, we think it looks more expensive than its pricing suggests.
Step inside and you're also likely to enjoy the leather-wrapped steering wheel and upmarket detailing (satin-silver rimmed instrumentation and gloss black plastic finishes). Our test unit also had the smart optional leather upholstery and the recent addition of a centre front armrest will be appreciated by many.
Comfort & Practicality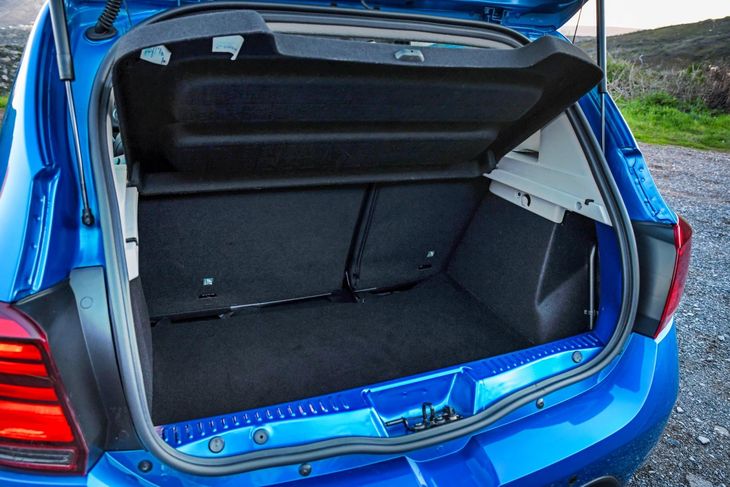 Class-leading boot space and split/fold rear seats add to the Stepway's class-leading levels of practicality.
Buying a budget vehicle often means that you're getting a very small car, but the Sandero Stepway isn't. Space for occupants is good front and rear and the boot is the largest in this segment at 292L. The rear seatbacks are split 60:40 and can fold forward, should you like to transport bulkier loads.
The ride set-up of the Sandero Stepway is such that it handles the inconsistent quality of South Africa's road infrastructure rather well. The extra clearance (190 mm+) and generously "sidewalled" tyres further boost the confidence levels when the going gets a bit rough.
Warranty & Service Plan
Renault is not generally highly rated for after-sales service (including in our very own Cars.co.za Ownership Satisfaction Survey), and so the inclusion of a 5-years/150 000km warranty and 2-years/30 000km service plan will provide some peace of mind.
Please do tell us what you think of your current car by completing our Ownership survey here.
What's not good enough?
"Plasticky" feel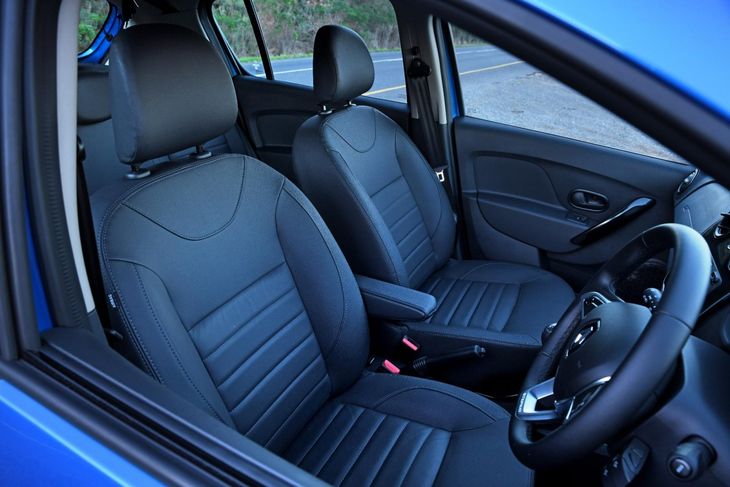 Optional leather upholstery looks the part, but some of the plastics feel cheap.
Compared with some of its newer rivals (particularly the Ignis and Vivo Maxx), the Sandero Stepway can feel a bit "thin" in places. The cabin makes a great first impression and the touch points are generally good, but prolonged exposure highlights a few places where the plastics don't feel quite as solid as we'd like them to be. We also experienced a few more creaks and groans from the cabin fittings than we have with the rivals.
Drivetrain refinement

The small 66kW engine delivers good performance, provided you stir the 'box.
The little turbocharged 0.9-litre engine underneath the bonnet delivers an appealing blend of power and efficiency on paper, which mostly translates to the reality experienced on the road. With 66kW of power and 135Nm of torque (the latter figure from 2 500rpm), the Stepway doesn't generally feel lethargic around town, provided you stir the 5-speed 'box, and with a claimed consumption figure of 5.4L/100km, it also promises good efficiency. In reality, we achieved closer to 6.5L/100km, which is still impressive.
If you do happen to stray out of its optimal powerband, there is still some turbolag to contend with, but for the most part prolonged experience will soon see drivers adapt their driving styles. What's less impressive is the refinement of the drivetrain. We struggled with clutch modulation and smooth power delivery during out test, which made the Stepway a more frustrating drive than its rivals.
Rivals to Consider
Click on the names of the rivals for detailed specification
Slightly cheaper than the Renault, but lacking many of its features, the Toyota is the one to choose if you're looking for a crossover-flavoured hatchback, but prioritise peace-of-mind in terms of after-sales service and back-up. As a product, the Toyota can't match the Renault, but as an ownership proposition it is arguably the safer choice.
About R15 000 more expensive than the Renault, the Vivo Maxx offers a more powerful and refined 1.6L engine as well as a more "premium"-feeling cabin and ride experience. It lacks several of the Renault's features, of course, and is also not as economical.
Slightly cheaper than the Renault, the little Ignis looks almost comical next to the Renault, but is more spacious inside than you'd think, has a good mix of standard features (though not as comprehensive as the Stepway) and is very economical in the real world. Of course, Suzuki has been voted Brand of the Year in our Cars.co.za Consumer Awards - Powered by WesBank, by actual owners for 2 years running, so ownership should be a no-fuss, stress-free experience.
Verdict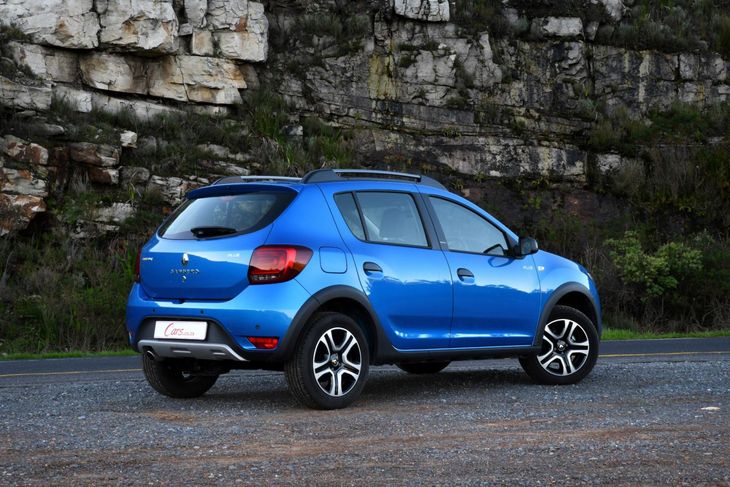 The competition may be heating up, but the Sandero Stepway continues to offer great value for money.
The Sandero Stepway Plus is cleverly positioned in the market and comes with very impressive showroom appeal. There is no rival product that appears to offer as much for the same price. Attractive to look at, spacious and comfortable to be in, and loaded with features, the Stepway's value for money factor is very hard to beat. There are concerns, however – the drivetrain could do with extra refinement and, perhaps most importantly, Renault needs to improve on its service levels at dealership level. Nevertheless, a 5-years/150 000 warranty will undoubtedly be enough of a sweetener for many consumers.
Looking to buy a new / used Renault Sandero Stepway?
Find one on Cars.co.za today by clicking here.