Renault's fast-selling budget offering, the Sandero, has been facelifted and the range rejigged to focus more on the popular Stepway derivative. We drive it.
In many ways the sales success of the Renault Sandero was predictable. Originally launched in 2009 and offering great value for money through its practical packaging, big-car features and good warranty, the first-generation (and locally built) Sandero sold briskly.
If anything, the second-generation car (imported from Romania), has been doing even better. Since its launch in 2014 more than 17 000 have been sold, with a significant percentage opting for the crossover-inspired Stepway derivative.
Now, Renault South Africa has introduced a mildly facelifted version, and also took the opportunity to rejig the model line-up to be more in tune with current trends. Consequently, the previous higher-specification Sandero (called the Dynamique) has been dropped in favour of an additional Stepway derivative in Expression trim.
Read about the revised line-up and pricing here
Small, but stylish upgrades

Look closely and you'll notice a stylish new rear light signature.
For the launch drive, we were offered the popular flagship Stepway model (Dynamique), which is priced at R189 900. The pre-facelift car was hardly in need of aesthetic attention, being one of the better-looking budget offerings on the market, but the changes have certainly given the Renault a more upmarket look and feel, and also brings it into line with some of the newer models in the Renault arsenal. Tweaks to the grille, bumper and lights have been subtle, but very effective.
You'll have to step inside to be able to differentiate the 2 Stepway derivatives. The Dynamique adds a smart leather-wrapped steering wheel, an armrest between the front seats and the neat 7-inch touch screen that we've already experienced in the Duster and Kwid, among others. These additions, along with subtle trim changes contribute to a cabin ambience that can hardly be described as "budget".
Lots of features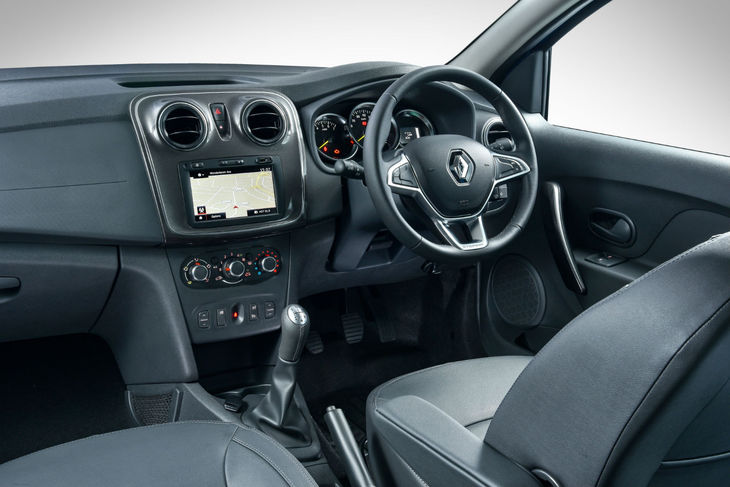 Subtle trim revisions, a smart new steering wheel and standard 7-inch touch screen on the Stepway Dynamique lift the cabin beyond its budget origins.
As far as standard features go, the Renault Sandero continues to be a market leader with the French brand going for a full-house offering where the only optional (cost) extra is metallic paint (R2 500) and, on the flagship model at least, leather upholstery (R10 000).
In addition to the Sandero Expression's front electric windows, remote central locking, remote audio controls, Bluetooth connectivity and music streaming, as well a comprehensive safety package (ABS + EBD, EBA, ESP, dual front airbags, Isofix, hill start assist), the Dynamique adds side airbags, cruise control, rear park assist, rear electric windows, electric mirrors, and the aforementioned touchscreen etc.
As opposed to the situation in the Duster, the touchscreen is conveniently positioned higher and is consequently easier to use. The controls for the front windows have also moved to the (more obvious) door panels. A comprehensive trip computer is included, too.
Comfortable on "real" roads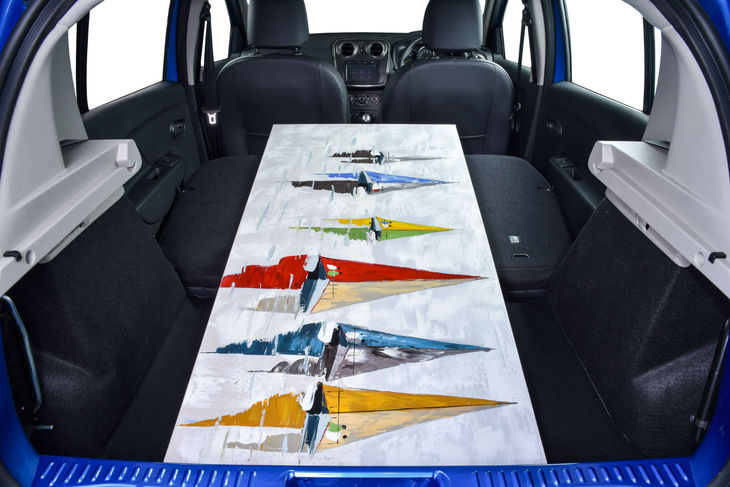 With its relatively big boot (for this segment) and 60/40 split/fold rear seats, the Sandero remains one of the more practical offerings in this segment.
One of the main benefits of the turbocharged 0.9-litre engine under the bonnet is its combination of torque and efficiency. Compared with its naturally-aspirated rivals, the Sandero Stepway has excellent torque (135 Nm), with the maximum being available at 2 500 rpm. It is also very efficient, with a claimed consumption figure of only 5.4L/100 km (for Stepway models).
I still encountered some lag on my drive (in Gauteng), which coupled with a somewhat tricky clutch, did make for a couple of slow and "lurchy" getaways during the early phases of the drive, but one soon gets used to the delivery characteristics, and once in the meat of the power band, the Sandero is not only powerful enough but also refined.
Besides its good looks, features, space and efficiency, one of the biggest attractions of the Stepway package remains its ride quality on roads of… shall we say… varying quality. The extra ground clearance, comfort-tuned suspension and plump tyres combine to make the Stepway feel very comfortable on roads where driving normal passenger cars would lead to gritted teeth.
Summary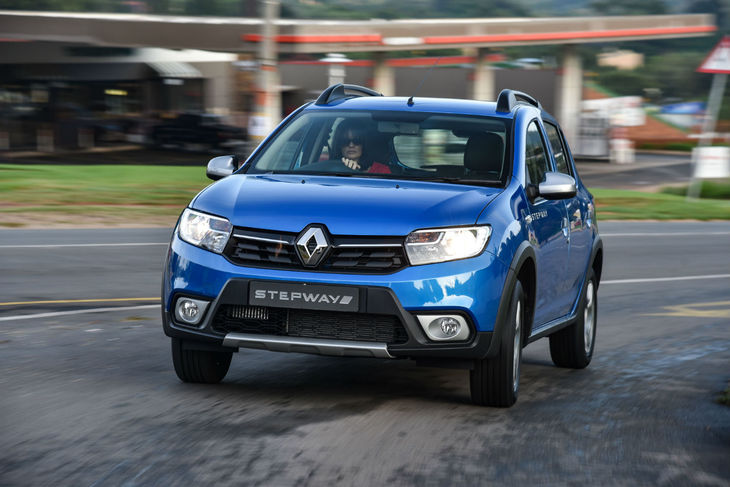 With its greater ground clearance, soft suspension and plump tyres, the Sandero Stepway copes very well with South African road conditions.
With a strong warranty (5-years/150 000 km) and standard service plan to support what is, in many ways, a class-leading offering, the Sandero Stepway Dynamique is likely to continue to sell up a storm. If you're in the market for a budget car, the inclusion of air-conditioning as standard on the Expression model (priced just below R160 000) makes it a very strong contender. And if you want some crossover style, then you now have two excellent Stepway offering to choose from, with your selection largely dictated by budget. Either way, you'll be stepping into a very good vehicle.
Renault Sandero & Stepway Pricing in South Africa
All prices include VAT.

Renault Sandero Expression 66 kW Turbo – R159 900
Renault Sandero Stepway Expression 66 kW Turbo – R174 900
Renault Sandero Stepway Dynamique – R189 900

Prices include a 5-year/150 000 km warranty and 2-year/30 000 km service plan. Service intervals are set at 15 000 km.
You may also be interested in;
Renault Sandero (2017) specs & pricing in SA
Cars.co.za Consumer Awards - Powered by Wesbank, segment winners
Renault Kwid (2016) video review
Interested in buying a new/used Renault Sandero?