The Renault Kwid has received a mild update and features a number of detail upgrades, as well as improved specification. However, more than 3 years since its local introduction, which was not without controversy (we might add), does the Indian-built budget car still represent a good-value proposition to buyers looking for their first "new, out-of-box" car?
We like: Cute looks, generous standard spec, useful ground clearance
We don't like: Questionable safety record, underpowered when loaded with people, easily unsettled by strong winds
Fast Facts
Price: R164 900 (March 2020, no options)
Engine: 1.0-litre 3-cylinder naturally-aspirated petrol
Gearbox: 5-speed manual
Fuel economy: 4.7 L/100 km (claimed)
Power/Torque: 50 kW/91 Nm
Own a Renault? Tell us about your experience here.
SERIOUS ABOUT BUYING?
Where does it fit in?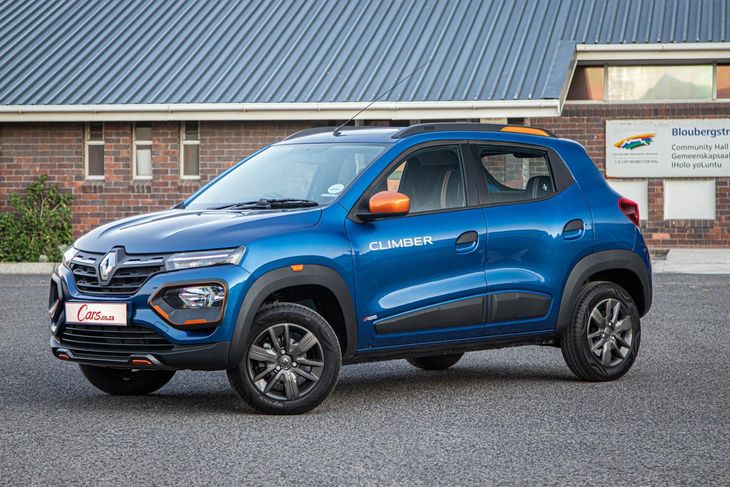 The baby SUV looks are apparent in the new-look Kwid. Daytime running lights are a fresh and modern touch.
When the Kwid landed in South Africa towards the end of 2016, it represented great value for money. Yes, if felt cheaply-made and its driving manners left a lot to be desired, but for R119 900, you could get a brand new Kwid equipped with an array of modern convenience features, plus it came with a year's free insurance. Its arrival also stirred up a fair degree of controversy (in the motoring- and general media), because the (then) newcomer lacked ABS and airbags. When the Kwid was first crash-tested by Global NCAP in 2016, it received a 0-star adult occupant safety rating. When the organisation tested the Renault again (after it had been equipped with a driver's airbag), it received a 1-star rating.
Fast forward to 2020 and we again find ourselves behind the 'wheel of the Renault Kwid, tested here in updated and range-topping Climber guise. Pricing for the upgraded range starts from R144 900 and goes up all the way to R174 900 for the most expensive version, the Climber Auto. To Renault's credit, the Kwid's standard safety specification has been increased across the board: all derivatives now feature anti-lock brakes (ABS) and 2 front airbags.
Own a Renault? Please tell us about your experience here.
How it fares in terms of...
Design & Packaging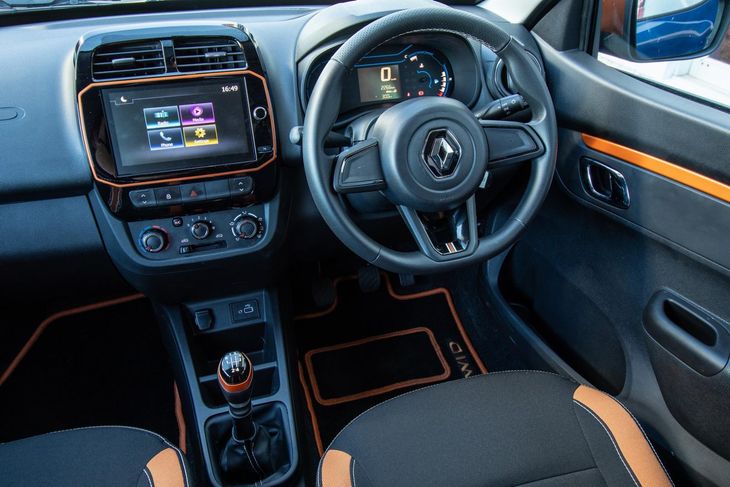 The cabin of the Kwid Climber is basic. Materials feel cheap but reasonably durable.
In Climber guise, the Kwid features some visual upgrades, the most noticeable of which is the orange exterior detailing, which looks striking in combination with the blue paintwork. Kudos are due to Renault's designers here: the Kwid looks fresh and modern, mainly thanks to the narrow LED daytime running lights. Another notable change is the upgrade from a 13- to 14-inch alloy wheels – the larger tyres should facilitate better road holding by virtue of their bigger contact patches on the road. Renault claims there are some changes to the handling, but more on that later. In terms of luggage space, the Kwid offers 279 to 620 litres, the latter figure is claimed for when the rear bench is folded down.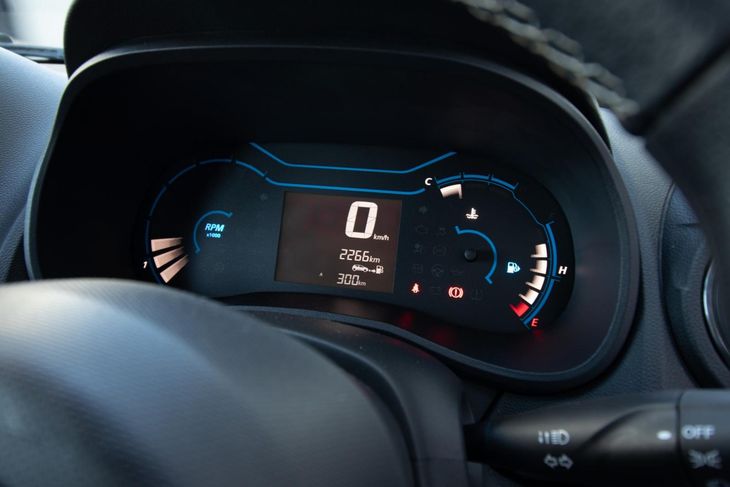 The semi-digital dashboard of the new Renault Kwid Climber
The Kwid's cabin is a "mixed bag": the Climber's trims and upholstery are brightly accented and the vents, plus heating-, ventilation and aircon knobs, have chrome-look finishes. However, the position of the driver's seat is unnaturally high by default (in keeping with the crossover vibe, we guess), which doesn't suit tall front occupants. Plus, the steering column is not adjustable (not even for rake), which means not everyone will be able to find their ideal driving position.
At the same time, the Kwid comes equipped with a generous array of standard features – some of the tech in this Climber isn't standard in cars costing double the price! A reverse-view camera and touchscreen infotainment system with Apple CarPlay/Android Auto compatibility are real nice-to-haves, plus there are electric windows all round and one of the most potent air conditioners we've encountered in this segment. The analogue dashboard has been replaced by a semi-digital setup; its layout looks a little strange the first few times you see it. One annoyance was the fuel icon, which stays on permanently irrespective of whether the Kwid's tank is full or not. When you do run low, it starts flashing.
Performance & Efficiency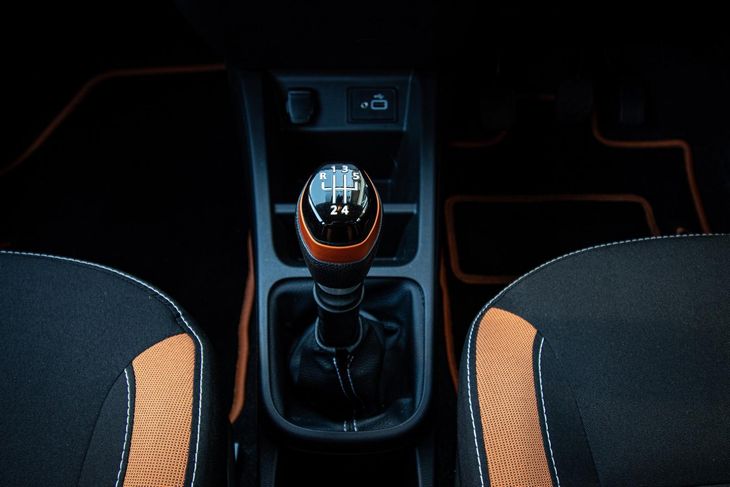 The 5-speed manual gearbox is not the slickest of operators, which is annoying as you'll need to work the 'box often.
Speaking of fuel, the Renault Kwid boasts a tiny 28-litre fuel tank, which, in our opinion, is a tad too small. The French car's rivals, by comparison, offer tank capacities of 30 to 35 litres. The small tank size should usually not be too big of a concern for the purposes of pottering around town, however, and it turns out the Kwid's pretty frugal: it had an indicated average fuel consumption of 5.9 L/100 km over the 2-week test period.
Now, if you've checked the brochure, you'll see the French carmaker claims an average consumption of 4.7 L/100 km for this derivative, which we think is a tad optimistic. We will attribute our heavier-than-expected fuel economy to the plucky Renault being obligated to punch its way through the notorious Cape South Easter during its tenure, as well as having additional passengers on board on more than one occasion.

We hope you like orange! The Kwid Climber comes with a plethora of orange-coloured accents, both on the seats and interior trims.
The Kwid is powered by a 1.0-litre naturally-aspirated 3-cylinder petrol engine that produces 50 kW and 91 Nm. Those outputs really don't sound like much, but when you factor in the Kwid's low kerb weight of 758 kg, the French car doesn't actually need all that much grunt to get up to 60 kph.
Things go awry when you add passengers into the mix, however. The Kwid performs adequately (at best) when it has just the driver on board, but the car really struggles when it needs to transport 4 adults, let alone their baggage. As a result, you need to work the gearbox extensively to achieve any credible forward momentum; climbing steep hills when fully laden is a laborious affair for the Renault. Also, you'd imagine its gearbox would be light and easy to use – after all, it's a city car. Alas, it isn't. It is a quirky little shifter with an odd clutch that bites in the strangest of positions. It was a challenge to drive the Kwid smoothly in traffic, but we suppose matters would improve with proper familiarisation.
Ride & Handling

The Renault Kwid's wheels have been upgraded from 13-inch to 14-inch units. High profile tyres help soak up the road imperfections.
Remember when we mentioned the pre-facelift Kwid's uninspired/iffy road manners earlier in the review? Well, Renault claims its budget car's ride and handling have been improved through the introduction of a new rear axle. Can you feel the difference, though? We'd say no – besides, we'd have to drive the newcomer and the previous-gen model back to back to feel the difference, if there is any. Despite the supposed handling upgrade, the Kwid continues to feel unwieldy and even nervous on the road. Its body style/shape means it has a higher centre of gravity and body-roll is plentiful. Apart from the steering wheel being non-adjustable, the tiller doesn't offer much in the way of feel or directness. You'll be working the 'wheel constantly to try to keep the Kwid in a straight line, it struggles to track straight and true. It does boast a useful ground clearance of 180 mm, which is handy for climbing pavements or traversing potholes...
We discovered the Renault's Achilles' Heel one particularly blustery afternoon when the South Easter (an infamous wind in the Western Cape) was gusting severely. It was blatantly noticeable how the Kwid battled when it drove into a headwind; when you're behind the wheel of a low-powered car with the aerodynamic properties of a shoebox (not technically, but you get our point) forward momentum is a challenge. Things got worse when the wind gusted in from the side. It's very alarming when the Kwid gets buffeted laterally and it's draining to maintain the car's stability. Interestingly, things improved when there were passengers in the car, their extra weight seemed to help keep the Kwid planted.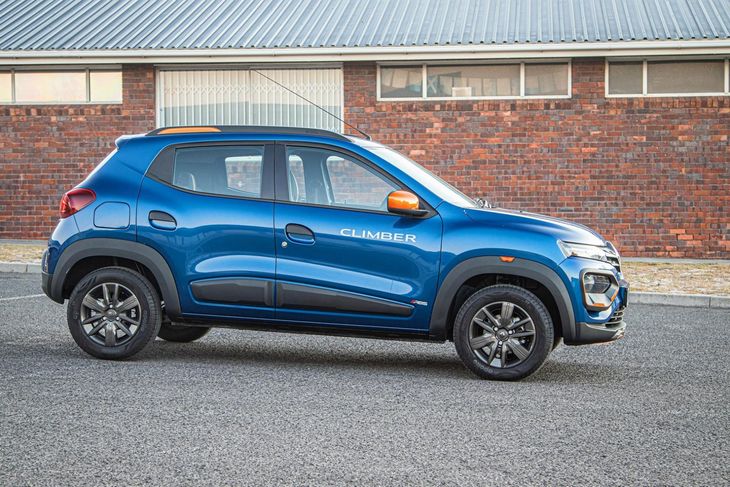 The Renault Kwid is more baby SUV than city hatchback.
Price and Warranty (March 2020)
The Renault Kwid range starts from R144 900, with this Kwid Climber manual retailing for R164 900. The vehicle comes with a 5-year/150 000 km warranty, 2-year/30 000 km warranty and 1 year's insurance included.
Verdict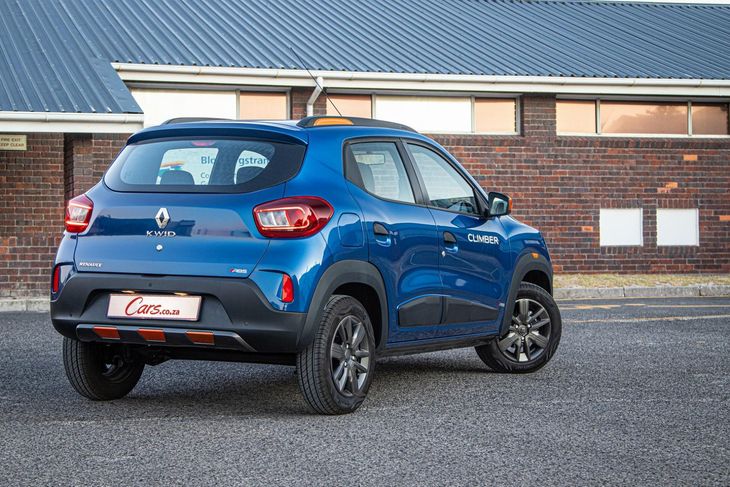 The Renault Kwid has improved somewhat, but the arrival of the new Hyundai Atos makes competition at this price-point tight.
With every new iteration, the Kwid improves incrementally. The first derivatives were crude, but at R119 900, cheap and cheerful, especially with a year's free insurance as part of the deal. For those who'd otherwise rely on lifts, public transport or driving an unsafe or unreliable clunker, the Kwid offered the prospect of attainable new-car ownership. The revised, better-specced model again offers good value (also with 1 year's insurance included), but at R165k (for the Climber derivative) the competition is tight. The decision to add 2 airbags and ABS across the range ups the safety ante, but until we see a more recent crash-test report, the jury's still out on the Kwid's structural integrity.
Should you seriously consider Renault's newcomer? The Kwid's positives barely outweigh the negatives, especially if you need to do the A-B shuffle over short distances – the lack of a strong crash structure is a big red flag for us. Also, the Climber's driving dynamics are a tad alarming, especially at the national speed limit. Factor in a crosswind at 120 kph and the vehicle's relative light mass makes it susceptible to lateral movements, which can be very disconcerting.
Because of this, we were reluctant to drive the Kwid faster than at 90 kph in windy conditions. In the confines of the urban scenario where speeds don't go into 3 digits, we really enjoyed the diminutive Renault's generous specification, but the package is let down by a rough engine, poor dynamics and an awkward driver's position. If you want a brand-new budget car (as opposed to trawling for low-mileage demo cars), then we'd heartily suggest the new Hyundai Atos, which offers a smoother engine, more overall refinement and Hyundai's 7-year warranty. It's all very well to offer a cheap car for the masses, but Hyundai manages to make its little Atos feel more upmarket for a lower price than this Kwid.
Looking to buy a new/used Renault Kwid?
Find one on Cars.co.za by clicking here
Further Reading
Dacia Concept Previews Electric Kwid
Renault Kwid (2019) Launch Review
New Renault Kwid in SA (2019) Specs & Price
Suzuki's S-Presso is a Shot at Kwid