The Duster regains one of its USPs with the introduction of the 4x4 derivative of the thoroughly-revised range.
Renault launched the "new" Duster in October 2018 as a 4x2 model only. It promised a 4x4 version would be added early in 2019 and here it is: the newcomer adds some proper off-road cred to the compact family car segment.
Where does it fit in?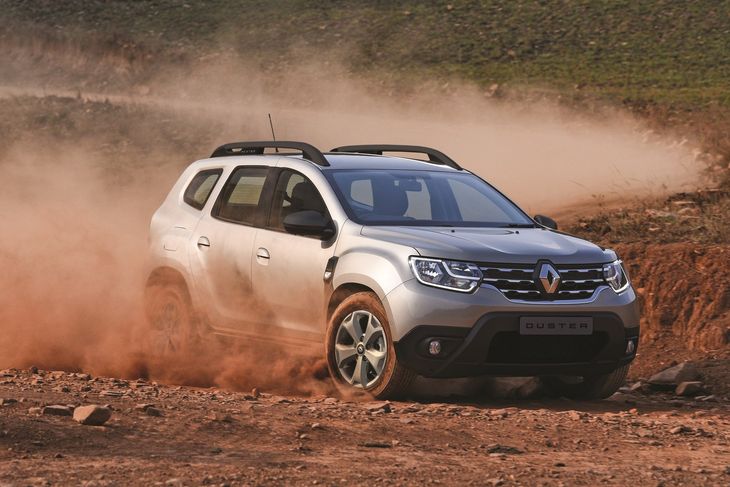 The Duster cuts a unique hole for itself as a capable 4x4 in a segment full of road-biased SUVs.
The Duster offers a rough and tumble, value for money set of wheels in quite a chic and design-conscious segment. Most of its competitors focus on design and modern infotainment systems or a practical car to ferry the kids around in with just enough ground clearance to skim a curb at the local flea market parking lot.
Renault's Duster is more off-road biased with an adventurous spirit for the type of owner that wants to explore a bit further than a dirt parking lot.
Own a Renault? Tell us about your experience here.
Can the 4x4 go 4x4ing?
It's a capable off-roader with a few modern gizmos to keep traction on slippery terrain and decent approach (30 degrees) and departure (34 degrees) angles to tackle tougher terrain. The drive mode selector behind the gear lever allows you to select between 4x2, which operates the front wheels, Auto, that apportions torque to the rear wheels when required and then Locked, which keeps it in a 50/50 4-wheel-drive setup.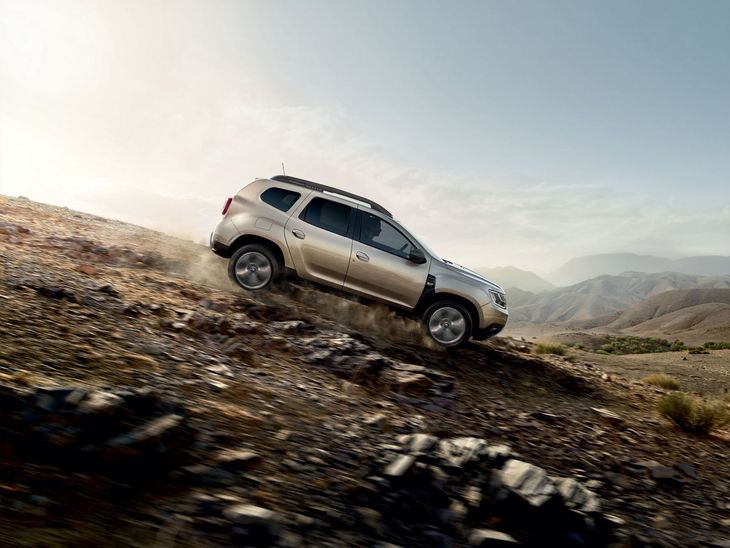 Fitted with hill-descent control and 210 mm of ground clearance, it can handle a bit of hard work.
A small, impromptu off-road course was laid out for us to test this system along with the Hill Descent Control. Small it may have been but it highlighted the traction control's ability to apportion drive adequately and keep the Duster moving forward when things get steep or one or more wheels end up in the air.
The Duster 4x4 is only available as a manual, so your 4x4 game has to be quite sharp as you work the left hand and left leg to keep the small diesel on the boil.
The Duster has a softer ride than its competitors and as a result, rides much better on the rough stuff. There's a fair amount of roll in the corners but after a solid 50 km of dirt tracking around Hartebeestpoort, the extra cushioning was most welcome. It feels stable through the steering too when hitting 60-100 kph on gravel, and would take some wild steering swinging to unsettle it.
Manual only?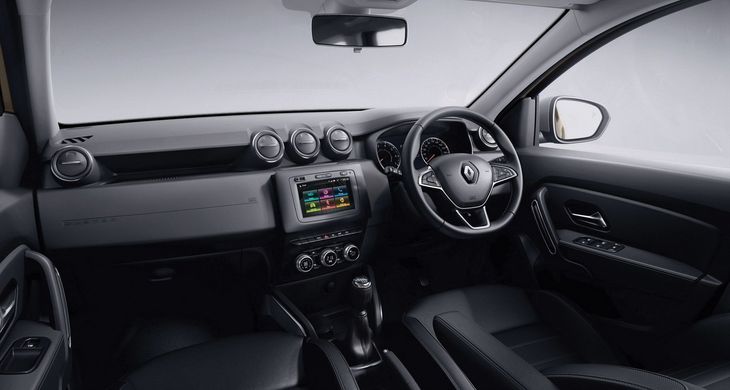 The 4x4 is currently only available in manual and Dynamique trim.
Yes, the choice is an interesting one considering that Renault has sold more new Dusters with an auto (EDC) 'box than a manual so far. The choice was made as it gave Renault a keener price to enter the market at and it is able to use the higher powered diesel engine. The 1.5-litre turbodiesel is good for 80 kW and 260 Nm of torque, 14 kW and 50 Nm more than the 2WD manual model.
I would say there's just enough power and torque there to suffice. It's not going to get you through deep Kalahari sand with its 80 kW but it's light and the short wheelbase bobs and rocks its way over tricky obstacles.
Any other changes?
Renault SA has sneakily introduced Apple Carplay and Android Auto to its infotainment system. Apparently, it was introduced in the Duster during December 2018 and is standard fitment across the range now. Unfortunately, cars sold before December aren't afforded the kit and can't even have it retro-fitted at a dealership.
What are its rivals?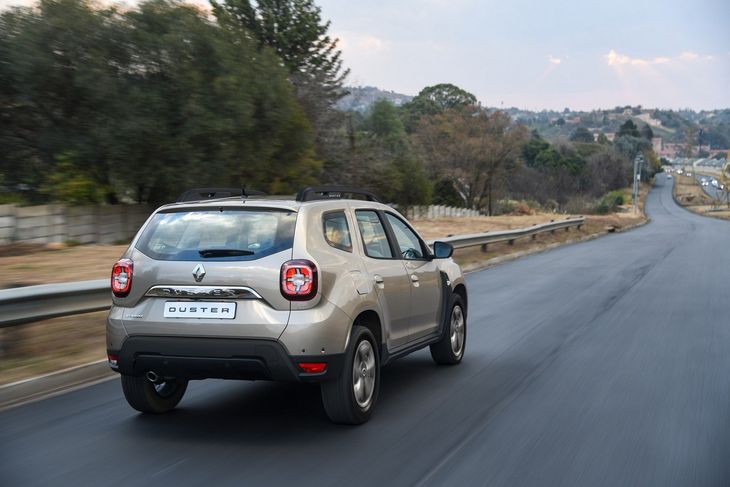 The Duster feels ready for an adventure.
There aren't many pukka off-roaders at this price point; the Suzuki Jimny offers more in terms of off-roading kit (it has a low-range transfer case), but then again it could probably fit in the Duster's load bay. The rest of the competition is limited to 4x2 models with raised ride heights. At R330k, you could look at the Ford Ecosport or push up to something like a Mazda CX-3, Hyundai Creta/Kona or a Nissan Qashqai.
Summary
The 4x4 model adds that much-needed versatility to the Duster range. The car makes more sense as an off-roader than a 2-wheel-drive city slicker. Its suspension is more in tune with a gravel road too. While the manual only option baffles a little, it probably won't deter the intrepid explorer looking for adequate off-roading credentials in a package that's not too nice that you fear to get it scratched or muddy at every opportunity.
Pricing
As mentioned earlier, Renault has tried to make the 4x4 option an enticing offer so it hits the market at R327 900. It sold with a 3yr/45 000 km service plan and a 5-yr/150 000 km warranty.
1.6 Expression 4X2 R255 900
1.5 dCi Dynamique 4x2 R288 900
1.5 dCi Dynamique EDC 4x2 R322 900
1.5 dCi Dynamique 4x4 R327 900
1.5dCi Prestige EDC 4x2 R340 900
Related content:
Renault Duster Oroch Double Cab (2017) First Drive
Renault Duster 1.5 dCi Prestige EDC (2018) Review