The thoroughly-revised Renault Duster has been in South Africa since late-2018, but the compact family car range was recently completed through the introduction of a 4WD version. We've now had the chance to put it through its paces and see if it continues to offer credible off-road capability at a good price. Should you buy one? Read on...
We like: Surprisingly nimble on the rough stuff, plenty of features, generous load bay, light on fuel.
We don't like: No automatic option for the 4WD
Fast Facts
Price: R327 900 (April 2019, without options)
Engine: 1.5-litre inline-4 turbodiesel
Gearbox: 6-speed manual
Fuel economy: 5.2 L/100 km (claimed)
Power/Torque: 80 kW/260 Nm
Own a Renault? Tell us about your experience here.
SERIOUS ABOUT BUYING?
Where does it fit in?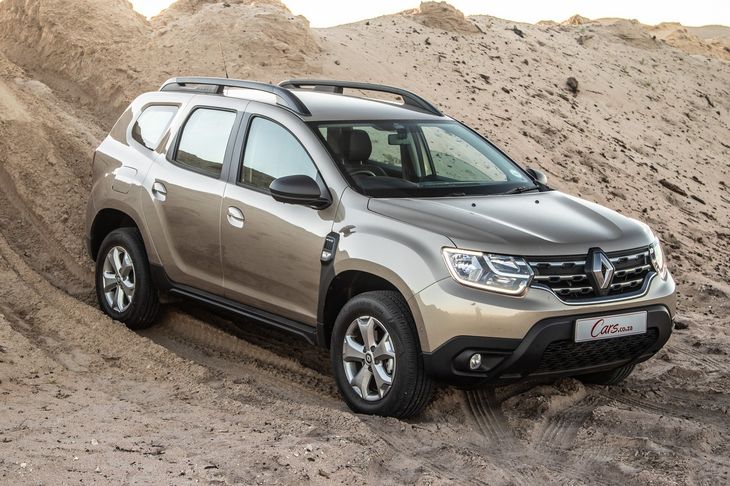 The Renault Duster has remained true to its roots, but the 2nd-generation model looks notably more modern and upmarket.
With the launch of the 1.5dCi Dynamique 4WD derivative, the new Renault Duster portfolio is finally complete. The French firm's project strategy is smart – there's a Duster for virtually every need, and the best part of this derivative's price point is that it sits well below R350k. The range offers a choice of petrol or diesel, 2WD or 4WD and a dual-clutch (auto) transmission or manual gearbox. However, you cannot opt for an automatic 4WD, as the off-roader is manual only. How does the standalone 4WD version fare and critically, should this be the Duster you spend your money on?
How does it fare in terms of...
4x4 Capability?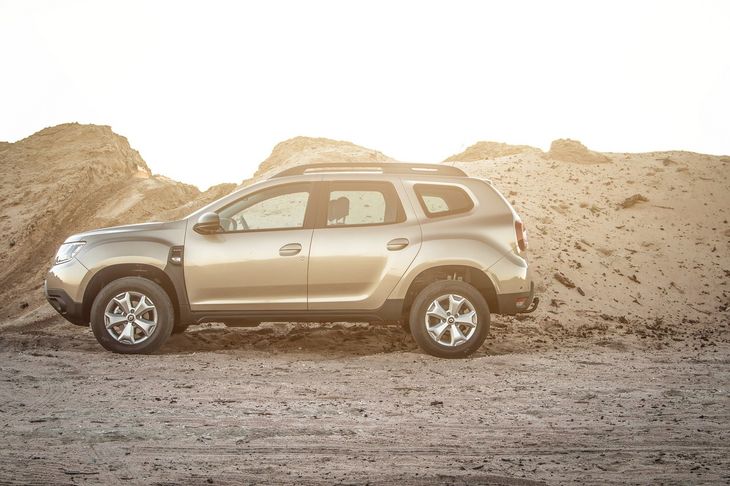 The SUV-aping black side cladding is less overt than before, but the ride height (230 mm) suits the 4WD's purpose to a tee.
Right, straight into the meat of things. If you're buying a 4x4 version of a vehicle, you'll probably want to drive it on some rough, unsealed surfaces (and come out the other side intact). The Renault Duster 4WD features a transmission mode selector, which switches the vehicle from a front-wheel-biased 2WD mode to a Lock Mode, in which the vehicle's torque is distributed equally between the fore and aft axles. Between 2WD and Lock, there's an Auto mode that will send some power to the rear axle when wheel-slip is detected. To aid the 1.5dCi Dynamique 4WD's off-road ability, the 2nd-from-the-top derivative offers 210 mm of ground clearance, an approach angle of 30 degrees and a departure angle of 34 degrees.
We're fortunate enough to have an array of road surfaces located in close proximity to the Cars.co.za office, so we had ample opportunity to test it on a variety of terrains. First up, some gravel driving at speed. With the Duster set to Auto, we set off and could feel the system working as grip levels were maintained; not once did the 2WD show any signs of instability. Next up, soft sand. This is where things got tricky and we had to take the Renault's standard road tyres into consideration. We also didn't deflate them, which would have helped increase the footprint and, in turn, grip.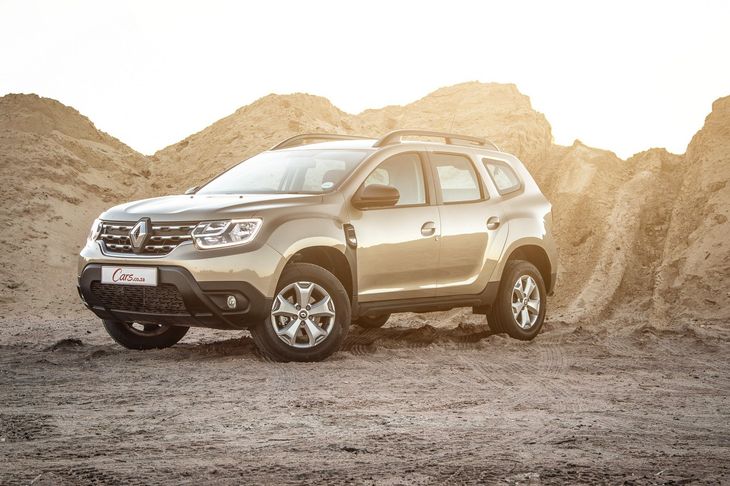 In case you were wondering, the test unit traversed the steep soft-sand decline (directly behind it) without too much fuss.
Despite the tricky soft sand, the Duster maintained its composure in 4WD Lock mode, but you have to work that 6-speed manual transmission hard – if you change up to soon and fall out of the torque plateau, the sand will swiftly stymie momentum. You'll also need to disable the traction control, otherwise, progress will falter. We feel that a low-range transmission would be needed for those really challenging beach dune missions, but that would hike up the price considerably and ruin the Renault's value-for-money proposition. However, the 1st gear feels very short; it could double up as a low-range replacement. As these photos attest, we also had a chance to test the hill-descent control, which works just fine. In summary, the 1.5dCi Dynamique 4WD performed admirably on easy- to medium-difficulty terrain, which should be more than enough for the target market.
Day-to-day comfort?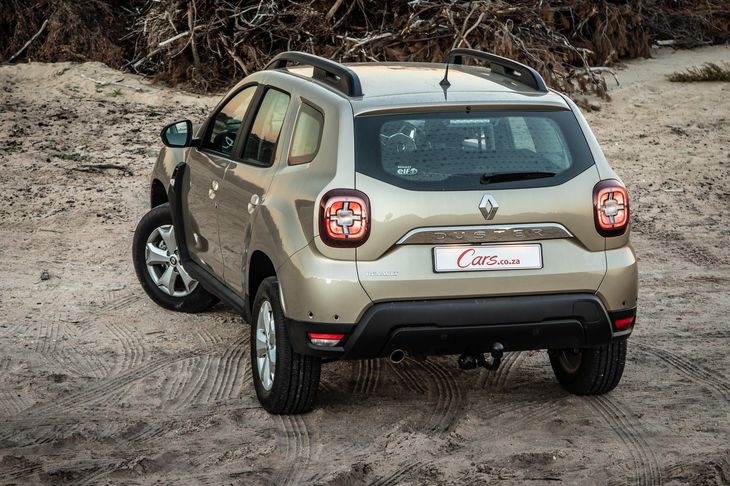 A few onlookers have remarked that the Duster's new taillight clusters are a little reminiscent of those on the Jeep Renegade...
Despite this derivative's impressive 4x4 ability, almost all Renault Dusters will fulfil that "urban lifestyle" dual role: they'll be used to commute to the office from Monday to Friday and make longer journeys at the weekend. We know it's capable of handling dirt, but can it deal with on-road traffic?
Well, yes, of course it can, but you're going to have to get used to changing gears often. The aforementioned torque plateau (where maximum pulling power is available) isn't very long, which means you'll be changing cogs regularly. With 1st gear being so short, you'll find yourself scrambling for 2nd (and 3rd) within a few seconds of pulling away from standstill. In bumper-to-bumper traffic, we found that the 1st gear was perfect to idle along at a snail's pace. The Duster's 1.5-litre turbodiesel is not the most refined powerplant around, but at this price we're not going to complain.
Power delivery is smooth and you're likely to find yourself driving at between 1 000 and 3 000 rpm most of the time. There's really no need to rev the engine beyond this, as it performs best at lower revolutions. Drive gently and don't use all the throttle, and you may come oh-so-close to that claimed fuel economy figure (5.2 L/100 km). After our thorough evaluation, the Duster went home with a respectable average of 5.6 L/100 km.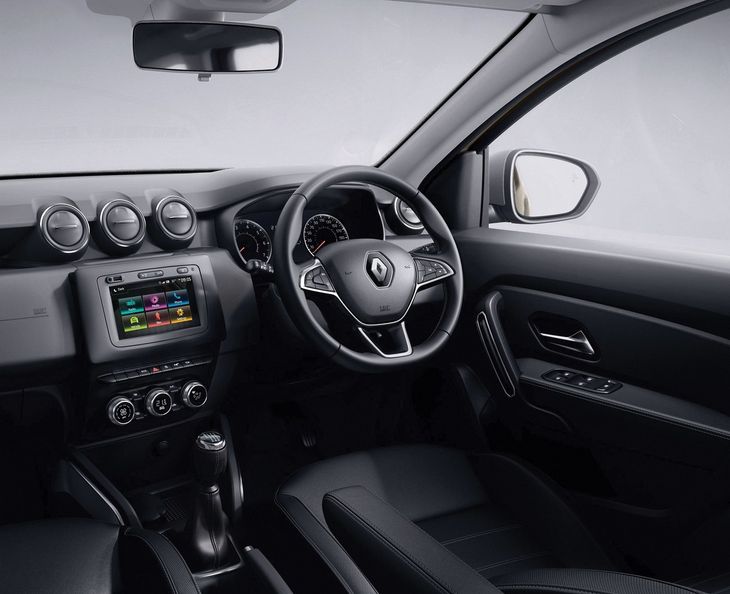 The sporty 3-spoke steering wheel would not look out of place on any of Renault's compact-car offerings.
On the open road though, we found the short-geared Duster less involving to drive (as we expected), but there's plenty of overtaking ability available thanks to the responsive turbodiesel engine. The ride quality of the Duster is commendable, courtesy of the 16-inch alloy wheels being wrapped in high-profile 215/65R rubber (it helps to soak up road imperfections). The suspension is very softly-sprung and, therefore, the 1.5dCi Dynamique 4WD is prone to exhibit body roll when cornering, but when you're tackling some rutted roads, you'll appreciate the pliant ride. Finally, the Renault's steering setup is featherlight and a little vague, but because the tiller requires minimum effort to wield, inner-city parking manoeuvres are a cinch.
Standard specification?
Renault's never skimped on standard features, especially on Dynamique-spec derivatives, which is to be lauded considering the 4WD's price tag. The infotainment system boasts satellite navigation, Bluetooth connectivity and smartphone-mirroring compatibility. There's cruise control (with speed limiter), auto aircon, blind-spot warning and automatic-activated headlights. A reverse-view camera and parking sensors are fitted too.
Speaking of cameras, Renault has equipped its Duster with a few of them, giving you a clear view of the front, rear and sides, which are useful when you're parallel parking and want to mind the kerb. There's also a dedicated 4x4 menu, which displays a compass and the Duster's pitch/roll angles in real time. Integral safety equipment is fair at this price point: ABS with EBD and EBA, plus stability control, are standard. There are also 2 airbags.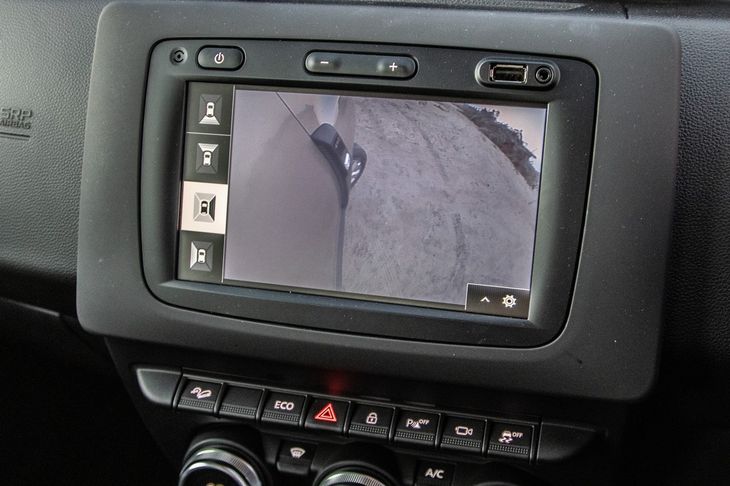 The infotainment system's touchscreen is now better-positioned and the side camera is helpful when parking... and off-roading!
As ever, the cabin of the Duster is spacious. Rear legroom is about on par for the segment, but taller passengers in the rear will appreciate the generous headroom. The load bay is rated at 414 litres; should you wish for more space, the rear bench can be folded down in a 60/40 split.
Price and after-sales support
The Renault Duster model range comes standard with a 5-year/150 000 km mechanical warranty and a 6-year anti-corrosion warranty. Services are required at 15 000-km intervals, and a standard 3-year/45 000 km service plan applies. Prices for the range start at R255 900 and go up to R340 900, with this new 4x4 derivative listed at R327 900. Metallic paint and leather seats are available for an extra R2 522 and R10 088 respectively.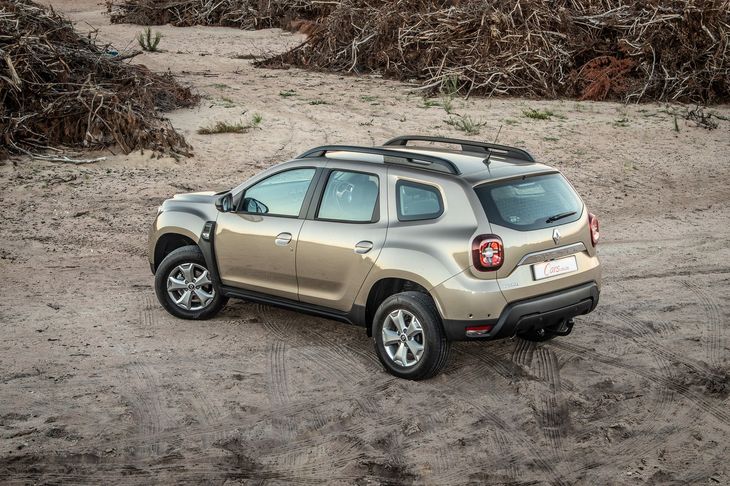 Verdict
The Renault Duster has always been marketed as a budget-oriented (read: cheap and cheerful) offering in the compact family car segment, but this new version represents a big step up in terms of quality and features. The cabin feels a bit more upmarket and looks modern. We're glad to see the infotainment screen has been repositioned – previously it sat quite low down and was awkward to use. There's still a slight "built-to-a-cost" air about the Duster, but at this price point (well under R350k), we're prepared "to cut (the 4WD) some slack" as it more than makes up for it in other areas.
Should you buy the 4x4 version of the 2nd-generation Duster, however? This is the question we find ourselves asking and we have to suggest that unless you're dead-set on regularly heading off on gravel adventures, then it's unlikely that is the ideal Duster for you. If you're reading this and not bothered by the 4x4 capabilities, then we think the 4x2 EDC (auto) is a more refined option for a bit less money. Plus, it still retains that good ground clearance, so you can still venture off the beaten track... to some extent. However, given South Africa's love for the great outdoors and road trips, there will be many customers who will be interested in whether the 4WD can handle the rough stuff and the answer is yes, it most certainly can!
Looking to buy a new / used Renault Duster?
Find one on Cars.co.za by clicking here
Alternatives (click on the names for specification details)
Similarly priced and with a diverse line-up of derivatives to match, the Ford EcoSport also offers a modicum of ruggedness. It is also available in petrol or diesel guises, with a choice of a manual or automatic transmission. There's no 4x4 version to compete directly with the test unit, however.
Suzuki's compact family car offering is the spacious Vitara. It has just the single naturally-aspirated engine for now, with a turbocharged motor due in SA soon. It's a good all-rounder, but can't match the Duster 4WD's off-road prowess.
If you want a Suzuki with excellent off-road capability, then the Jimny is your port of call. It's exceptional on the rough stuff and works really well as a city car. However, there's virtually no luggage space and the fuel tank is frustratingly small.
Related content:
Renault Duster Oroch Double Cab (2017) First Drive
Renault Duster 1.5 dCi Prestige EDC (2018) Review