The Renault Duster was missing one key element from its line up. The lack of an automatic transmission was a big one, but finally, Renault has answered the call for a clutch-less option. We went for a quick drive in the Renault Duster EDC to see what it's like.
We like: Ease of use, good powertrain combination, generous specification as standard, spacious
We don't like: Feels cheap in places, gearbox doesn't like bad traffic situations
Alternatives:
The award-winner: The Suzuki Vitara is a 2016/17 #CarsAwards champion that excels in terms of practicality and build quality, but its 1.6-litre engine is frugal, not punchy.
The popular choice: A revised replacement for the Ford Ecosport is imminent. It offers commendable driving manners but suffers from a cheap-feeling interior.
An MPV that became-SUV It may look like an off-roader, but the Honda BRV is essentially a Mobilio on stilts. It's the only vehicle here that can transport 7 occupants, however.
Only other turbodiesel automatic compact family car: top-of-the-range Hyundai Creta is spacious and reasonably equipped, but, comparatively, a lot more expensive.
Compare the specs of the Renault Duster with those of its Suzuki Vitara and Ford Ecosport rivals
Compare the specs of the Renault Duster with those of its Honda BRV and Hyundai Creta rivals

Visually the Renault Duster EDC is the same as its siblings.
Click here to compare the Renault Duster to its rivals
Facts & Figures
Price: R299 900 (November 2017)
Engine: 1.5-litre 4-cylinder turbodiesel
Transmission: 6-speed dual clutch
Power: 80 kW
Torque: 250 Nm
Fuel consumption: 4.8 L/100 km (claimed)
0-100 kph: 11.9 sec
Top speed: 169 kph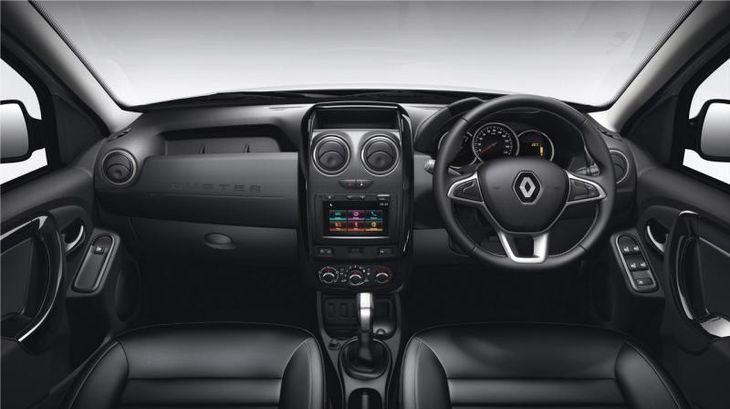 The Duster's infotainment screen displays a comprehensive menu, but it is placed a little too low for our liking.
What is it?
The Duster is a typical "honest vehicle" – it doesn't pretend to be what it isn't. It doesn't have aspirations of appealing to the upper crust, it doesn't claim to punch above its weight (unless you're looking for the 4x4 capability of the flagship model) and its value proposition is strong. Although the next generation Duster is due in the local market in 2018, we are enamoured with the current iteration, of which we've tested numerous versions: front- and all-wheel drive, petrol and diesel; we even did an extended test with the 4x4. The range offers a variety of options, but the one thing that was lacking was an automatic derivative. Now, finally, one has arrived – its equipped with an electronic dual-clutch transmission sourced from Getrag.
The Good
The smooth-shifting 'box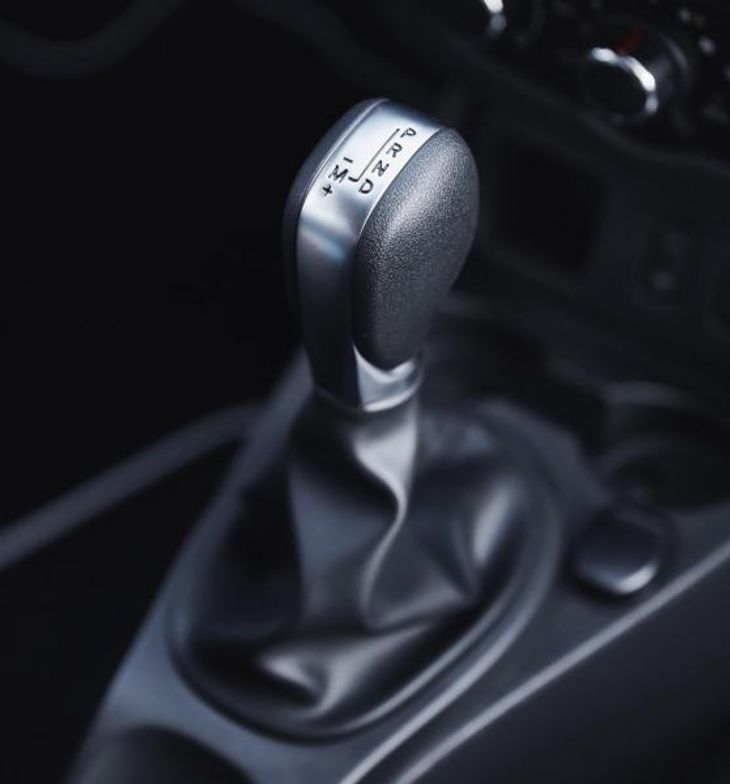 The 6-speed EDC transmission works well and provides smooth upshifts.
We were delighted to find that the Duster comes with an EDC, as opposed to the old-school, torque-converter automatic because dual-clutch 'boxes tend to offer quicker, smoother shifts and better efficiency. The tried-and-trusted powerplant and new transmission generally work well together. In free-flowing traffic and on the open road, upshifts are smooth and effortless, while downshifts are mostly unobtrusive. We say mostly as the final downshift from 2nd to 1st, when coming to a halt, always resulted in a tiny thud. We also noticed some jerkiness in bumper-to-bumper traffic. These are quirks we'd accept at this price point. You can, of course, switch the gearbox into a manual mode and swap cogs yourself in a sequential mode.
Value for money
One of the reasons we like the Duster (and probably the biggest reason it sells so well in the South African market), is that the plucky Renault, despite its advanced years, offers outstanding value for money. When you compare the range's derivatives directly against their rivals, it's hard to argue against the French car's bang-for-buck factor. There are very few compact family cars/baby SUVs with this much spec, features and safety under R300 000. The flagship 4x4's price tag does break through the R300k barrier, however.
With this 1.5 dCi Dynamique EDC derivative, you get satellite navigation, Bluetooth connectivity, cruise control, speed limiter, front fog lights, rear park distance control, aux/USB inputs, as well as remote steering wheel controls for radio/phone. With its thrifty 1.5-litre turbodiesel engine, you'll also be saving money at the pumps as it consumes very little fuel. Renault claims a fuel consumption figure of 4.8 L/100km.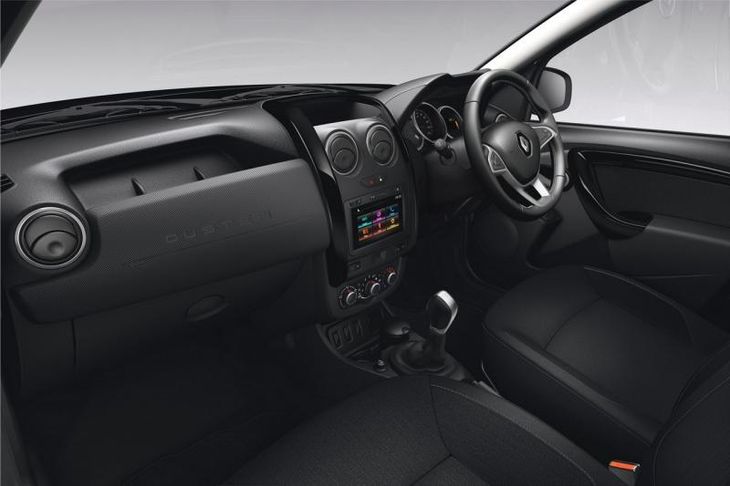 Although sturdy enough, the Duster's interior does have some cheap-feeling plastic finishing dotted around the cabin.
Practicality
It may look compact, but there's plenty of room in the Renault Duster. The Duster's spare wheel is cleverly located underneath the car, freeing up crucial space in the luggage bay. Renault claims the Duster can hold up to 475 litres of cargo with the rear seats up and 1 636 litres with the seats folded down. At the front, there are numerous little practical touches and places to put keys and coffee cups. The front passenger will enjoy the recess above the glove compartment and its an ideal spot to place that roadtrip-special bag of biltong.
The Not So Good
Build quality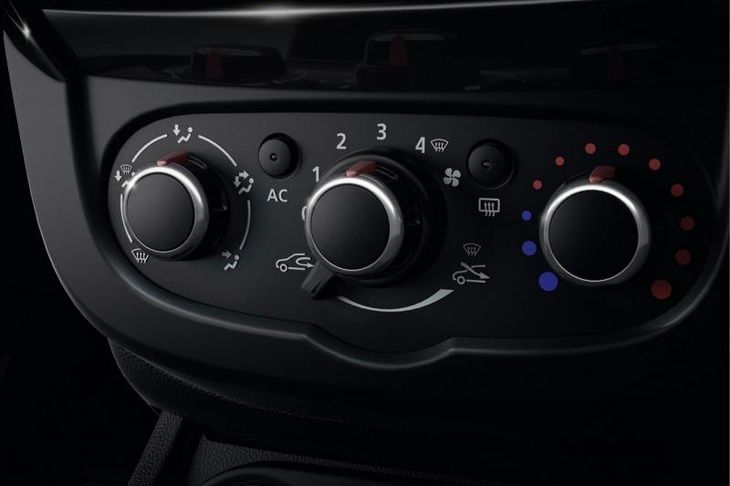 A basic air conditioning system does duty in the Renault Duster.
We adore the Duster for offering low-cost motoring for the masses, but while we can forgive it for ergonomic issues (such as awkwardly placed switches and the location of the touchscreen) we find it hard to defend some of its rudimentary interior finishes. There are some cheap-feeling plastics in various parts of the cabin and the fascia doesn't feel very sturdy, but the surfaces will probably be able to withstand the onslaught of children (and their grubby hands). The cloth upholstery feels durable enough, but you can get leather as an option.
Price and after-sales support
The Renault Duster costs R299 900 and it comes with a 5-year/150 000km mechanical warranty, a 3-year/45 000km service plan (with service intervals at 15 000km intervals) and a 6-year anti-corrosion warranty. The only two options available are metallic paint (R2 500) and leather seats (R10 000).
Verdict
Finally, the Duster range (a fixture of the South African market since 2013) is complete... it only needed an automatic model and Renault has closed the loop. To use that awful cliche (if you absolutely must – ed), there is now a Duster for everyone. We were impressed with the powertrain, despite the minor roughness in bumper-to-bumper traffic. It still rides and drives like a Duster, and space abounds in both the luggage bay and cabin. The engine may be getting on a bit, but it's still a capable motor. It's only when you're really pressing on that the rough turbodiesel clatter overwhelms the cabin. As for the ride quality, the Renault Duster is fairly refined (at the price point) and the car feels as well-sorted as a product of its age should.
With Dynamique spec, you get more than a fair number of mod cons and safety features for your money. The Duster has not lost any of its easy-to-live-with charm. As of now (November 2017) this derivative represents the best Duster in the range; consider the 4x4 only if you're looking to venture off the beaten track, but we warned: you're bound to miss the auto!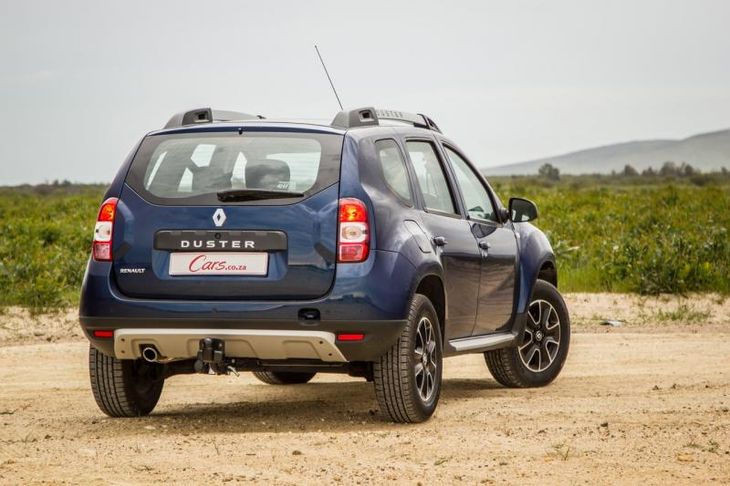 The Renault Duster range is now complete, thanks to the addition of an automatic transmission.
Related Content
New Renault Duster Coming in 2018
Renault Duster updated in South Africa

Renault Duster Oroch Double Cab First Drive

Renault Duster 1.5 dCI 4WD in-depth review

Extended Test: Renault Duster 1.5 dCi Dynamique 4WD [With Video]
Want to buy a Renault Duster?