The Renault Captur is a compact crossover based on the Renault Clio that offers a bit more space, a higher ride and an automatic gearbox option. It jumps into a segment that's relatively new but dominated by the Ford Ecosport. Renault hopes to steal sales with its good looks, perky engine and strong standard specification offering. We spent some time getting to know the new Captur 1.2 automatic to see how it's likely to stack up against the competition.
Capturing the market
Renault has found success with Clio and Duster by offering smart style with impressive spec at a tough to beat price. It seems to reapply the same philosophy to the new Captur, as the compact crossover is a good-looker with generous proportions. Spec levels are also exceptionally good and the price appears very competitive for an automatic model.
Turbo engine with a dual-clutch
Renault has opted to slot two different turbo engines in the Captur, the entry models are equipped with the same 0.9-Litre turbo from the Clio. This top model makes use of a 1.2-Litre turbo with power claimed at 88 kW and torque at 190 Nm. It's ample for a hatch/crossover and whether you just want to potter along in traffic or race the traffic to get to work on time the engine is more than capable of coping. The automated dual-clutch gearbox used in tandem with the engine isn't as good though, it often finds itself confused as to what gear it wants to be in. Areas where yielding occurs like traffic circles or slip-ways can be annoying and jolty as the gearbox hunts around for a gear. In straight line acceleration the 'box is fine and when knocked into manual mode shifts quickly.
Economy though is extremely good and Renault claim a figure of 5.4L/100km. Not quite as good as the three-cylinder entry units, but in all likelihood you'll achieve better fuel consumption in this 1.2-Litre than in the smaller engine, due to not having to push it as hard to move about.
Good value interior
The specification is impressive no matter what Captur you buy and the only options on this top model you can still add on are leather upholstery and heated front seats. The interior design is smart and modern and all models are standard with the seven-inch touchscreen that controls media and navigation duties. The screen seems to be faster and more sensitive to touch now, making it a pleasure to navigate through menus.
Renault does know how to make a grey interior and the Captur seems a bit devoid of colour apart from the touchscreen that offers up a bit of visual interaction. The exterior is vibrant and shouts to be looked at, but the interior doesn't quite match up. The fit and finish is a bit questionable as our unit acquired a few rattles whilst in our hands and the gear shift button feels like a flimsy afterthought. Overall though you get good value as the spec is exceptional. Navigation is standard across the range as are Bluetooth, USB and Aux connectivity. Cruise control, steering wheel controls and climate control also make it as standard fare.
Space is a strong export of the Captur, it has a two-stage boot that can either hold 377-Litres or in its largest configuration cope with 455-Litres. The seats fold flat too and it has sufficient storage places around to keep even the most cluttered of lifestyles happy.
Ride and Drive
The larger engine Captur handles our diversified road surfaces adequately and darts around impressively for a vehicle of this nature. Bumps and road surface changes are dealt with easily and the suspension seems well set up as it settles back to norm after jolts quickly. The steering is light, but responsive and you'll be confident with it at freeway and back road speeds. The pedals can take some getting used to, the brake pedal especially can be quite snatchy. The throttle on the other hand has a lot of travel and you need to press it a long way to get it to respond.
Safety
As we've come to expect from Renault, safety is a key priority within the brand's products. All safety systems available are standard throughout the Captur range and encompasses both active and passive safety features. There's ABS, EBD with brake assist, stability control and four airbags as a base. ISOFIX anchor points are available as are rear parking sensors.
Verdict
The Renault Captur is a welcome entrant to the compact crossover segment, it certainly rivals the competition for looks and gives them a run for their money in the specification department. It rides and handles very well and is more spacious and practical than you'd expect from something based on a Clio chassis. The interior is nicely designed but some of the fit and finish leaves a bit to be desired. Thankfully that doesn't detract too much from the overall package and we're almost certain they'll sell well in SA.
Renault Captur Pricing
There are three models in the Captur range starting with the 66 kW Expression at
R219 900
. The upgraded specification Dynamique hit in at
R239 900
. Our test unit here is the 88 kw Dynamique and costs
R279 900
.
Team Opinions
The Renault Captur offers a lot of car for not a lot of money. Combining Euro chic looks with a small capacity engine, the Captur's drive is not unpleasant although the auto gearbox isn't as good as an equivalent DSG/S tronic. All in all, it's another valiant budget-beating offering from Renault.
-David Taylor
With such good looks, excellent standard features and an attractive price the Captur can only succeed. Families that need usable space may still have to go the Duster route, though, as the Captur is not quite as spacious inside as I had thought. -Hannes Oosthuizen
We Like: Style, space, practicality and standard specification
We Don't Like: Jittery dual-clutch 'box and interior fit
Also consider: Nissan Juke, Ford Ecosport, Peugeot 2008
Compare the Captur to the Juke manual and Ecosport here
Renault Captur Specs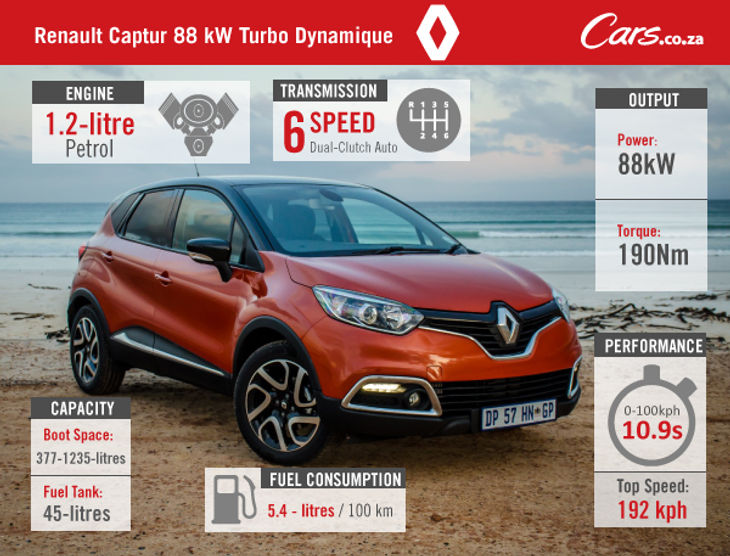 Renault Captur Buying Advice: Pricing and Rivals