Renault has launched its Alaskan medium-size bakkie in Europe and the South African market can expect the newcomer to arrive on local soil in the second half of 2018. We attended the bakkie's international test drive event in Ljubljana, Slovenia to put the Alaskan through its paces...
"What? Renault's building a bakkie? Are they crazy! It will never be as good as the Ranger, Hilux, Navara, Amarok or any other bakkie for that matter. Stop die lorrie, hier kom groot... konsternasie!"

That was – and probably still is – the general sentiment when the Renault Alaskan creeps into conversation around the braai on a Saturday afternoon with a brandy and coke in hand. Am I wrong? I think not. Comment threads on social media are rife with insults hurled at a bakkie that, until now, had not been driven or tested by any South African motoring journalist. And let's not forget... South Africans are a bakkie-mad bunch, and fiercely brand loyal. So, the Alaskan certainly has a huge mountain to climb.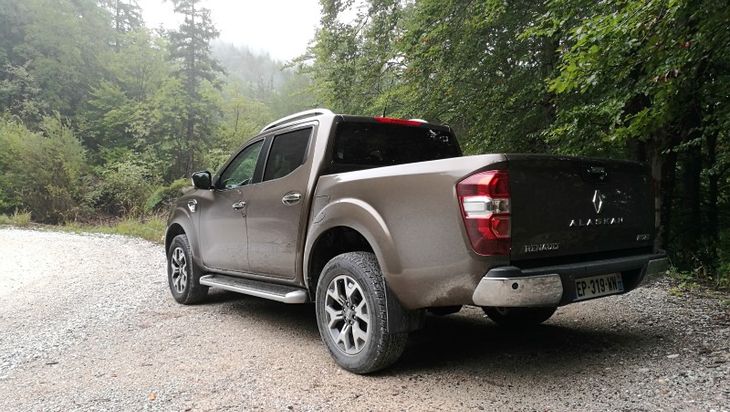 The Alaskan is coming to South Africa in 2018 and we think it has the potential to upset the 'popular' local bakkie establishment.
Like many cars, the Navara-based Alaskan first appeared in concept guise (in September 2015). That was also the moment when consumer doubt and scepticism spread faster than wildfire and much of that doubt still persists to this day. If you are an Alaskan sceptic reading these words, then I must ask you: "What if you are wrong?" More importantly, what if I told you that the Alaskan is as good (if not better) than most of the bakkies currently on sale in South Africa? What would your response be? Would you believe me?
For context, bear in mind that the Alaskan only went on sale in Latin America towards the end of 2016 and has recorded strong sales there ever since. Now, the Alaskan has arrived in Europe where the pick-up market has grown by as much as 51% since 2009 and Renault is a leading brand in the Light Commercial Vehicle (LCV) segment, which all bodes well for the Alaskan. Only time will reveal how the European market will respond to the newcomer.
As part of the Alaskan's arrival in Europe, Renault hosted a month-long international test drive event in scenic Slovenia and we joined members of the motoring media and bloggers from all over the world to finally drive and experience the new Alaskan in the metal. This is what we discovered...
First impressions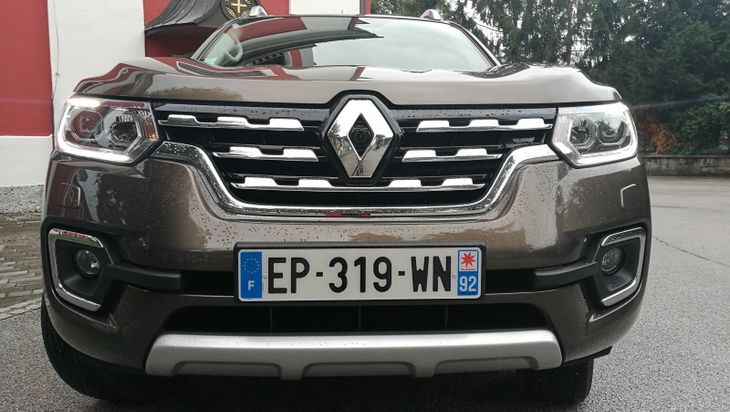 The Renault Alaskan has a powerful face with familiar Renault C-shaped design cues seen in the headlight and fog light design.
Design strength
Although Navara genes are clearly evident in the design of the Alaskan, don't be fooled into thinking that the Alaskan is merely a Navara wearing a Renault badge. In fact, the Alaskan is more boldly styled (and far more handsome, in terms of exterior design) than many of its rivals
Wearing its large Renault logo with pride, complemented with a striking grille with chrome accents and a powerfully sculpted bonnet, the Alaskan exudes strength in its design and adopts a muscular stance.

In addition to this, the Alaskan features Renault's signature C-shaped lighting signature seen in both the LED daytime running lights and C-shaped fog light surrounds. The flared wheel arches further add to its exterior appeal and attractive 16- or 18-inch diamond-cut alloy wheels can be fitted.

This is indeed a Renault and the Alaskan is, in our opinion, one of the best-looking bakkies out there. Don't agree with us? Share your opinion in the comment section below.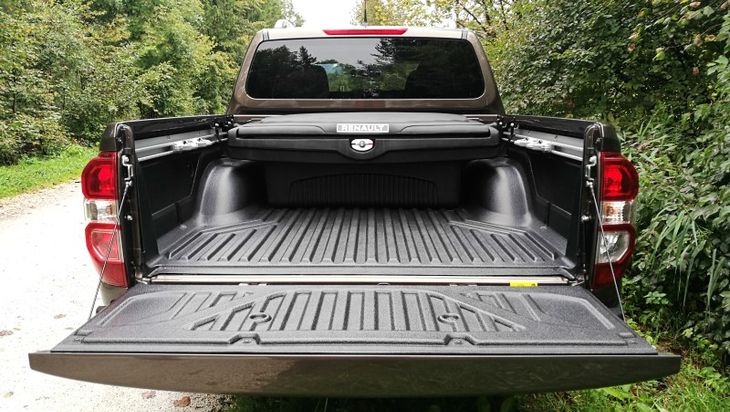 The Alaskan has a practical load bay with a nifty tie-down system. A handy load box is a great option too.
In terms of practicality, the Alaskan's load bay is fitted with a C-channel tie-down system that comprises fixed rails with 4 sliding hooks that allow you to effectively tie-down all types of cargo. The tailgate can withstand weights of up to 500 kg and the Alaskan has an unbraked towing capacity of 3 500 kg.
Interior execution and comfort
Stepping inside, the Alaskan's interior is distinctly Navara-esque in design, and unashamedly so. Some critics will be quick to lambaste the Alaskan for this fact, but the reality is that the Alaskan's cabin is robust with good to excellent build quality.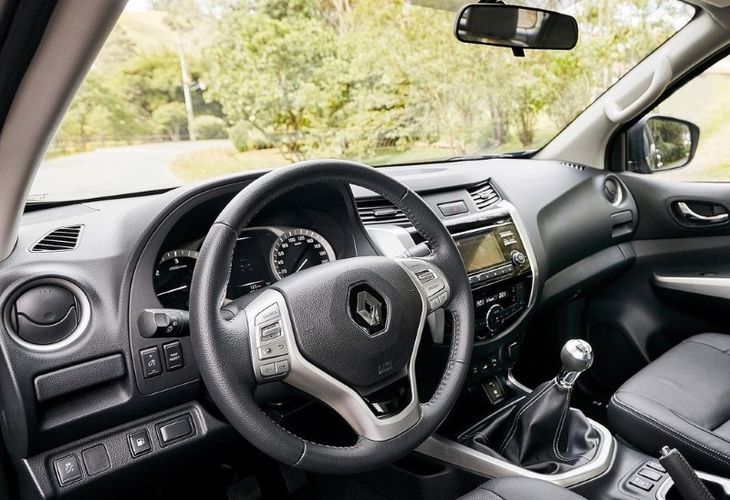 Solid build quality and a comprehensively-equipped interior are hallmarks of the Renault Alaskan.
Indeed, it's a solidly-made cabin and the hard-wearing dashboard feels like it's built to last a lifetime. It's worth mentioning that the quality of the switchgear and overall fit and finish is good too and although the materials are by no means extravagant, the cabin has a fair degree of "premiumness" to it.
The Alaskan we drove was well-specced and came equipped with a 7-inch touchscreen infotainment system with a CD player, Bluetooth capability and satellite navigation, but fitted with only a solitary USB- and auxiliary audio port.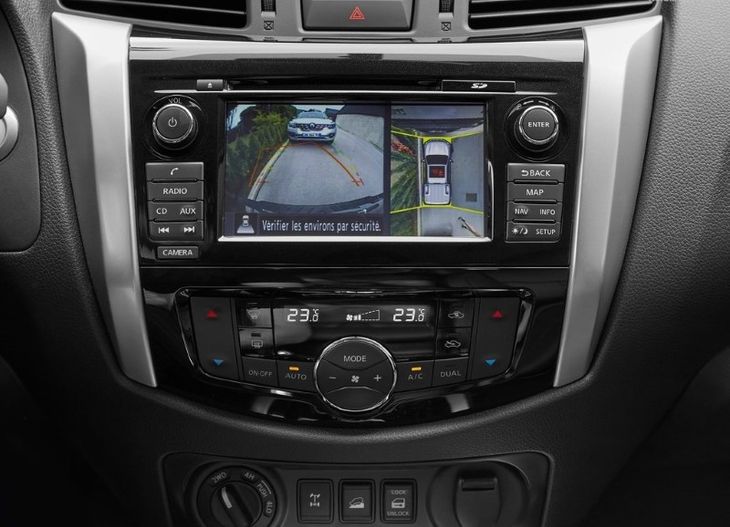 The 7-inch touchscreen is good and features a useful 360-degree camera for ease of manoeuvrability.

Another cool feature is the 360-degree camera display that works using 4 external cameras that provide an all-around view of the vehicle's surroundings, which is very useful in avoiding obstacles while off-roading or when parking the Alaskan in your driveway.

Rear park distance control will also give the driver audible alerts while parking and this feature is bolstered with a rear-view camera with guidelines to make parking easier.
The driver can access vehicle information using a 5-inch 3D TFT colour display, which provides information such as fuel economy, navigational instructions, driver-aid settings, compass and USB device controls.

The steering wheel, which is just about identical to that found in the Navara, is adjustable for rake only and features mounted controls for the audio, Bluetooth and cruise control. Our test unit was equipped with leather upholstery and the NASA-inspired seats were particularly comfortable; they should provide high levels of comfort on longer journeys. Both the driver and passenger have the luxury of heated seats and the driver's seat is electrically height-adjustable with 8-way power adjustment.
Other notable features include automatic dual-zone climate control with independent air conditioning for front and rear passengers and ample storage space including a centre console and storage bins underneath the rear seats and in the doors. We also liked the electrically retractable sunroof, which bathed the cabin with light.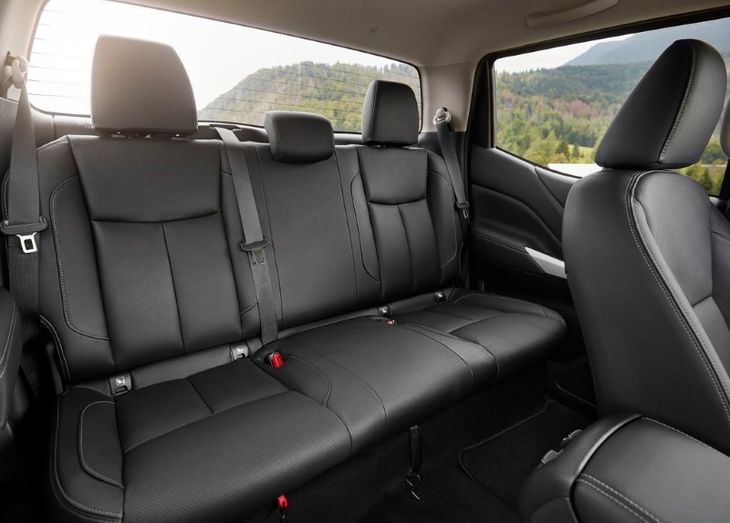 A comfortable space to occupy on a journey to your favorite fishing spot on the river.
Rear passenger comfort is good with sufficient leg-, knee-, shoulder- and headroom and it must be noted that the cabin is well insulated; noise, vibration, and harshness (NVH) levels are kept to a minimum, even at speed. Based on our first exposure to Renault's double-cab, the Alaskan's interior is on par with rival offerings, and in some cases, is noticeably better.
Performance and ride comfort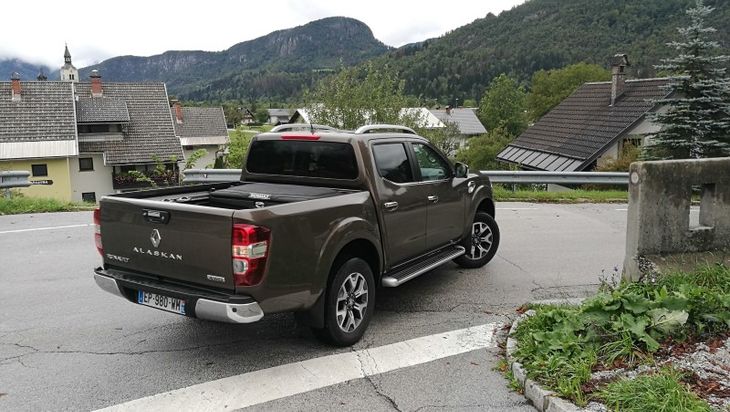 Ride quality and refinement are key strengths of the Alaskan. Fuel economy is good too...
Our test drive started at Labjhiana airport where we hopped into the high-powered Alaskan 190 DCi 4x4 fitted with a 7-speed automatic transmission.

As its name suggests, the Renault-tuned, 4-cylinder 2.3-litre twin-turbodiesel engine offers peak outputs of 140 kW at 3 600 rpm and 450 Nm of torque at 2 000 rpm. A 120 kW version with a single turbocharger is also offered, but it was not available for the test drive.
In Slovenia, like most countries in Europe, you drive on the right-hand side and it took a few minutes to feel confident behind the wheel of the left-hand drive Alaskan. The first major highlight of Alaskan was its engine refinement, which quickly became apparent as we set off on the freeway towards the picturesque town of Bled. Engine noise at highway speed is noticeably muted and remains relatively constant, even when you mash the pedal.
In comparison, the Navara's engine is much noisier overall, especially as the revs climb. Renault has really done a sterling job in terms of refinement in the Alaskan and it appears to be superior to its rivals in this regard, including Hilux and Ranger.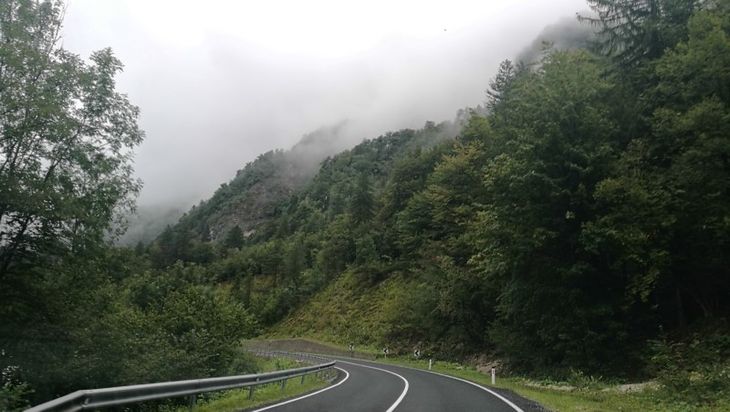 Slovenian roads are much like South African roads. The Alaskan will be right at home here.
We were also particularly impressed by the way in which the Alaskan transferred its power to the asphalt. Not only was it responsive to throttle inputs, but we also found the transmission to be smooth, unobtrusive and well-matched to the engine's performance characteristics.

You don't really notice how quickly the Alaskan gathers pace under harder acceleration and this may very well be due to the combination of engine refinement and the suspension setup. Much like the Navara, and unlike conventional leaf spring suspension setups found on most bakkies, the Alaskan also adopts a 5-link rear coil suspension that's said to alleviate the intrusions of road noise and vibrations to the cabin while enhancing overall ride and handling.

Our experience in the Alaskan is congruent with this claim and we found it to offer good ride comfort on tar and dirt roads alike. Perhaps the enhanced ride comfort was aided by the 100 kg of sand loaded in a lockable storage bin in the load bay to serve as ballast, but either way, we came away impressed with the Alaskan's ride comfort on different surfaces.

Its ride comfort is even more encouraging considering that Slovenian roads are quite similar to South African roads. In terms of fuel consumption, Renault claims a figure of 6.3 L/100 km and during our test drive, the Alaskan easily returned a respectable 9.6 L/100 km, which is fair.

After driving over 200 km, we were suitably impressed with the Alaskan's overall engine performance, refinement and comfortable ride quality on both tar and gravel.

How good is it off-road?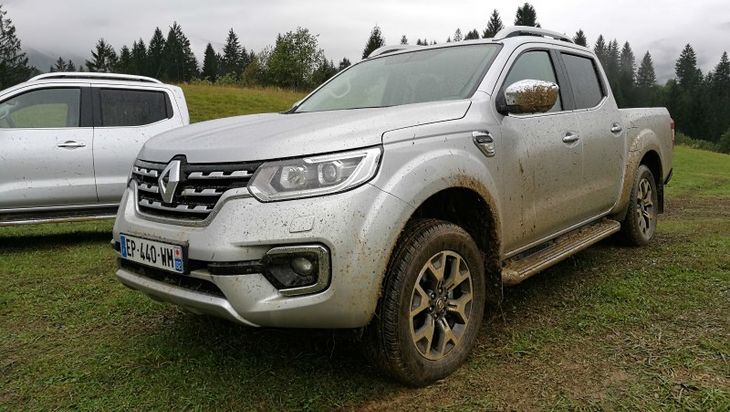 There's only one way to test a bakkie!

Most bakkie aficionados are probably more curious about the Alaskan's off-road ability and Renault made sure to demonstrate that its bakkie's more than capable of tackling the rough stuff. To do this, the Alaskan was put to the test on a 4x4 obstacle course on an out-of-season ski resort. The combination of excessive rain, mud and slippery grass provided a stern challenge and to make things even more difficult, the Alaskan was fitted with road tyres, which would make the task of completing the course even more demanding.


Off-roading in the Alaskan is made easy with 3 driving modes that can be quickly activated using a dial. 2WD is used under normal driving conditions with power sent to the rear wheels. In more demanding terrain, high-ratio 4-wheel drive (4H) can be engaged "on the fly" at speeds up to 60 kph and you can remain in 4H at speeds up to 100 kph, making it ideal for optimum traction on gravel or in slippery conditions.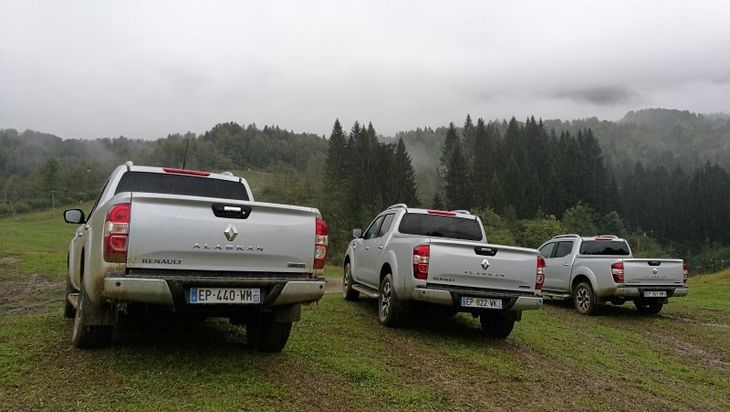 The Alaskan conquered rain and mud in Slovenia. What will it conquer in South Africa?
When things get seriously slippery, you can engage low-ratio 4-wheel drive (4LO) to maximise traction in severe terrain. This mode is activated while stationary and uses a supplementary torque transfer box to enhance traction. Further offroad assistance is offered in the form of an electronic limited-slip differential that provides increased stability by monitoring and braking individual wheels as required. In addition to this, a mechanically-controlled, self-locking rear differential directs power equally to the rear wheels, providing maximum traction when traversing tough obstacles. Hill Descent Control and Hill Start Assist provide further reassurance.
Despite the challenging conditions, the Alaskan completed the course with confidence, clambering over logs, punching up steep inclines and declines and it even successfully navigated a section of river, all in the pouring rain and with enough mud to keep every pig in the world happy.
The standard capability of just about any bakkie is pretty good these days and most bakkies would have, or should, complete a course like this with relative ease. The Alaskan did it with road tyres, which makes a strong case for its capability.
Safety Features
The Alsakan is equipped with comprehensive safety features which include ABS with EBD, electronic stability program (ESP), emergency brake assist (EBA), traction control system (TCS) and active emergency braking (AEB) with audible and visual alerts. A total of 7 airbags and rear ISOfix child-seat mounting points are standard.
Renault Alaskan – Availability and Pricing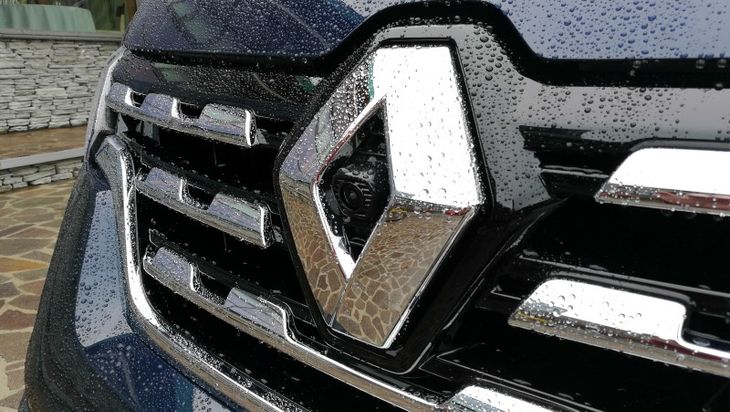 If the South African economy plays ball, the arrival of the Alaskan has the potential to upset the bakkie apple-cart in the local market.
A spokesperson from Renault South Africa has confirmed that the Alaskan will be introduced locally in the second half of 2018. At this stage, local Alaskan specification is yet to be confirmed and it's not yet clear if both engine options will be offered in South Africa.
However, we can speculate that the range-topping 140 kW version will be offered in 7-speed automatic guise. High-spec automatic double cab bakkies constitute the majority of sales in the leisure double cab segment in South Africa and a flagship Alaskan automatic would, theoretically, make strong business sense. In addition to this, Renault will, in all likelihood, offer a mid-spec Alaskan which may very well be powered by the 120 kW Renault-tuned 2.3-litre turbodiesel engine with both a 7-speed automatic and 6-speed manual transmission on offer.

Like many manufacturers in South Africa, Renault is at the mercy of the exchange rate and the potential success of the Alaskan will depend on its price point in relation to its rivals. Renault SA has indicated that pricing will likely be similar to that of the Nissan Navara, which means that pricing may start from about R520 000 for the entry-level Alaskan and going up to approximately R600 000 for the top-spec automatic version. We expect that the bakkie will be offered with a 5-year/150 000 km warranty and a competitive service plan to boot.
Based on our experience in Slovenia, the Alaskan is a strong product that is superior to many double-cab products currently on sale in South Africa. We'd even go so far to say the Alaskan eclipses its Navara cousin in terms of its overall product execution.... it arguably has more road presence, and somehow its power delivery, engine refinement and even ride quality seem superior by comparison, which is quite an achievement, because the bakkies' underpinnings are the same. Also, the Alaskan's infotainment system is far better and it appears to be a robust offroad offering. If Renault SA can introduce the Alaskan with comprehensive specification and attractive pricing, it should, in theory, be well-received.
Perhaps the Alaskan's greatest challenge is to overcome the way in which it is perceived in the minds of typically stubborn brand-loyal consumers who may find it difficult to justify spending their money on the Alaskan. The Alaskan's performance speaks for itself and we can't wait for it to arrive on local soil so that we can put it to the test against all of its rivals. We believe the Alaskan has the ability to shatter and redefine public perception. Furthermore, we wouldn't be at all surprised if the Renault Alaskan becomes a finalist in the Leisure Double Cab category of the Cars.co.za Consumer Awards – powered by WesBank – in 2018/2019.

Watch this space, the Alaskan is coming for you! Enjoy the braai...
Related Content
Renault Alaskan Officially Revealed
Nissan Navara 2.3D 4x4 LE (2017) Review
Why Navara shakes up the double-cab market
6 Most Fuel-Efficient Double-Cab Bakkies in SA
Mercedes-Benz X-Class: Finally Revealed
Mercedes-Benz X-Class: Off-road demo & video wrap
X-Class & rival double cabs it needs to beat [with Video]
2016 Toyota Hilux vs Ford Ranger – Offroad & Review

In-Depth Comparison: New Hilux vs Ranger vs KB vs Amarok (video)
Want to buy a Renault?