From the naturally aspirated free-revving era to the turbocharged generation, the ST nameplate has spawned some incredible Ford performance models over the years. We look back on some of the best STs that the Blue Oval has produced (thus far) and discuss what we can expect from the forthcoming Focus ST.
Contrary to popular belief, fast Fords have been around a lot longer than their VW counterparts, but when the Blue Oval began rolling out ST (Sport Technology) models, it launched a direct assault on the hot hatch segment – a hotly contested space where models keep getting better, faster and way more powerful. The ST moniker, however, hasn't exclusively comprised hot hatches... Oh no, we've seen some of its bigger offerings such as the Territory SUV and Mondeo compact sedan bear ST badging too. In South Africa, however, the most popular ST models have naturally all stemmed from the hot hatch persuasion, the result of which has delivered a direct assault on the 3-letter (GTI) thoroughbreds from Wolfsburg. And, in anticipation of a local launch of the Ford Focus ST Mk4, I've compiled a list of the best ST offerings (so far) and ranked them accordingly.
5. Racing Stripes – Ford Fiesta ST150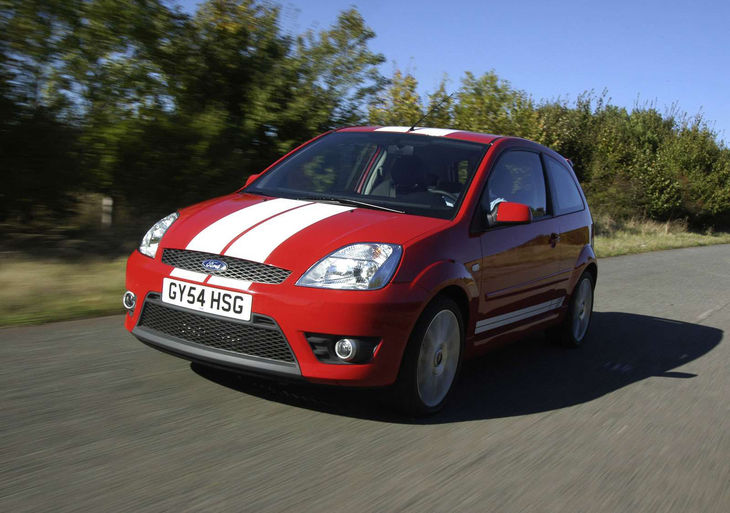 Armed with a naturally aspirated 110 kW/190 Nm 2.0-litre mill, the Fiesta ST made no bones about what it was designed for - taking the challenge to the Clio RS, Peugeot 206 GTI and Mini Cooper S. The ST150's Zetec engine (a broadly employed Ford motor at the time) underwent myriad changes to liberate extra ponies from under the bonnet, such as a less-restrictive exhaust system and a lighter flywheel for sharper throttle responses. The result culminated in a pretty nippy machine capable of an 8.3 second 0-100 kph sprint time. Available in a choice of several bright hues festooned with racing stripes, the Fiesta was visually rousing, but despite its squat and stocky appearance, it didn't conjure as much interest from the local audience as it did in Europe. As a result, it lived in the shadow of its brawnier Focus ST225 sibling.
4. Hamstrung Hammer – Ford Mondeo ST220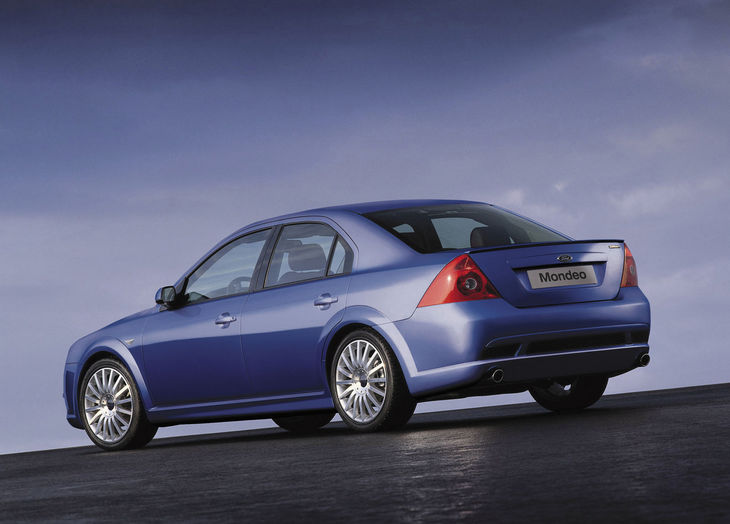 The Mk3 Ford Mondeo's tenure in South Africa didn't last particularly long, but we were at least treated to a string of models, the most influential of which was the ST220. Featuring a subtly styled body kit, twin exhaust tailpipes and 18-inch alloy wheels, the Mondeo had stealth feel to it. The visual treatment was backed by a naturally aspirated 3.0-litre V6 good for 166 kW and 280 Nm of torque (respectable numbers for the time) that enabled it to accelerate to 100 kph from standstill in under 8 seconds (7.5 secs).
It didn't stop there… The interior space was also crafted with performance in mind – it featured Recaro sports seats, with ST garnishing/"trinketry" scattered throughout the cabin. Despite its lowered ride height, sportier damper rates and spunky engine, the ST220 was ultimately let down by a front-wheel-drive configuration that hampered its dynamics, as well as its chances of challenging the BMW 3 Series for sports sedan bragging rights.
3. Beast on a Leash – Ford Focus ST Mk3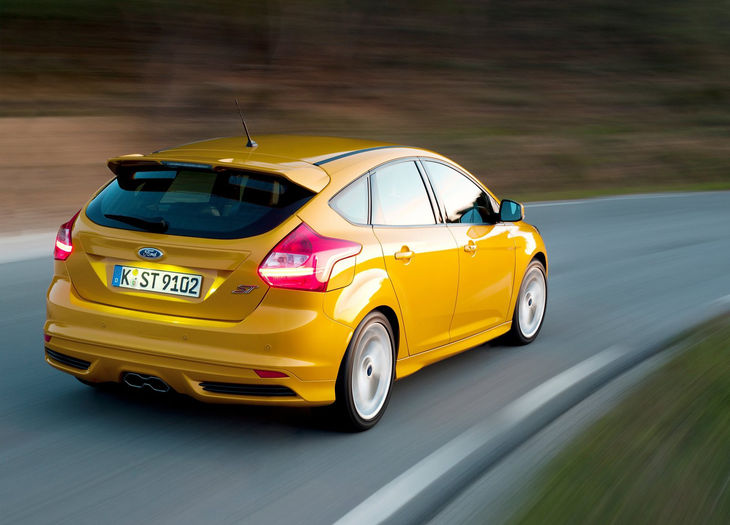 Ford's ever-improving go-faster formula continued with the Mk3 Focus ST, in which a smaller, greener and more powerful 2.0-litre 4-pot EcoBoost engine replaced the thirsty force-fed 2.5-litre 5-cylinder of its forebear. Employing such innovations as recalibrated electric power steering and stiffer suspension, it was easily the sharpest Focus ST produced up to that point. While it possessed an entertaining chassis with a good handling balance in the bends, the lack of a dedicated LSD made it incredibly difficult to tame, especially with 184 kW directed through the front wheels.
Its trump card, however, was its propensity to please and an ability to adapt to every situation thanks to its frugal and pragmatic tendencies. Could it have done with a bit more spice? Of course. It may have lacked the effervescence of some of its more focused rivals – the Megane RS and Honda Civic Type R – but more power and zip may have resulted in a pseudo-RS and that would have defeated its role in the hot-hatch foodchain.
2. Snap, Crackle, Pop – Ford Focus ST225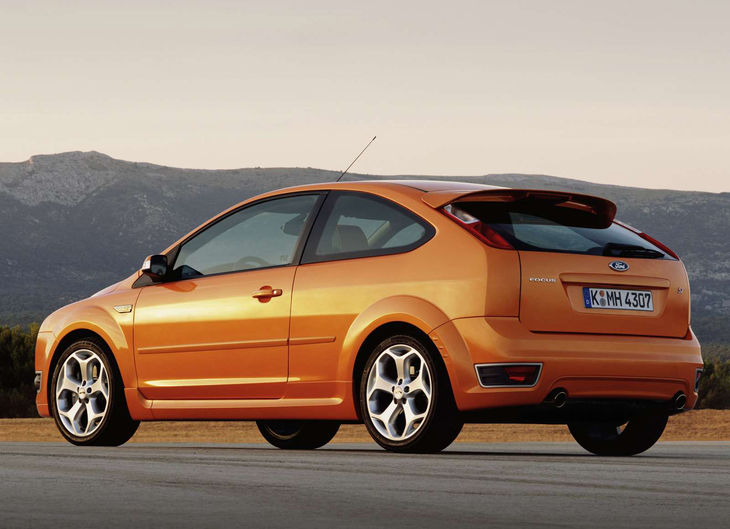 While the ST170 is widely considered as the genesis for the contemporary ST recipe, it was only when Ford introduced the ST225 in 2006 that enthusiasts really began to take note of the Blue Oval's foray into the hot hatch space. In terms of engine configurations, it tore up the script by introducing a fire-breathing 166 kW/320 Nm 2.5-litre 5-pot turbo mill. With the ST225, the company went all out to make this a complete success; as a consequence, everything from the Focus' interior and exterior to the underpinnings underwent a performance makeover.
ST badges featured heavily in its composition, while sporty seats, a collection of gauges (including for boost) and optional racing stripes formed the crux of the ST225's appeal. Its most notable feature was its fiery 5-cylinder soundtrack, replete with crackles, pops and impressive pyrotechnics!
1. Furiously Fast – Ford Fiesta ST200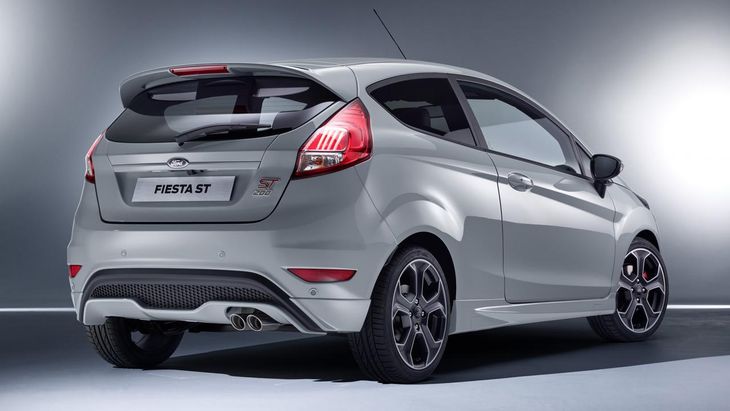 The 6th-generation Ford Fiesta ST knocked it out of the park as far as dynamics, power and visual impact were concerned, but it was only when Ford South Africa announced it would be bringing the limited-edition ST200 to our shores that its rivals began to take note.
With power and torque outputs more in line with that of its rivals the Volkswagen Polo GTI and Clio RS, the ST200 took all the awesomeness of the base ST and made it even better. For starters, its 1.6-litre turbocharged 4-cylinder powerplant received a software upgrade to boost peak power from 134 kW to 149 kW, with a further 11 kW available for up to 20 seconds on overboost. The underpinnings also received upgraded springs and stiffer damper rates. Together with the electronic limited-slip differential, the ST200 was everything the standard ST should have been – faster, sharper and more responsive in terms of handling, it was also more fun to drive, with hilariously entertaining lift-off oversteer.
Preview: Mean Machine – Ford Focus ST Mk4
It's clear that Ford is looking to tackle the latest iterations of the Renault Megan RS, Volkswagen Golf GTI and Honda Civic Type R head on with the all-new Focus ST. It's expected to pack 12 per cent more power and 17 per cent more torque, making it the most lethal Focus ST of all time.
It will use a detuned version of the 2.3-litre EcoBoost 4-cylinder engine found in the current Focus RS, with maximum power and torque figures standing at 206 kW and 420 Nm respectively. Other high-tech trick additions include anti-lag (originally developed for the Ford GT supercar), which keeps the throttle plate open at all times for improved spool-up, as well as an e-differential to marshal power/torque and keep things tidy. There will also be a host of other go-faster bits available in the form of a Performance Pack that includes continuously controlled damping, selectable drive modes, rev matching and a gearshift indicator for added boy racer kudos.
But before I rile up too much excitement, Ford SA has been tight-lipped about the next ST's inclusion to the local car market. After the premature death of the Fiesta ST lineage locally, the local branch of the Blue Oval has only said that the Focus ST is "under consideration" for our market.
Related content:
Ranked: 5 Best Golf GTIs... So Far