Mercedes-Benz revealed its range-topping X-Class derivative – the X350d 4Matic V6 at the 2018 Geneva Show and when it arrives in South Africa, hopefully before the end of year, it will face off against the Volkswagen Amarok V6. Which one would you buy?
The arrival of the Mercedes-Benz X-Class in South Africa (due in Q3 2018) is expected to draw lots of attention, but it's also likely to shift pricing parameters for top-end double-cab bakkies. Granted, Mercedes-Benz has not revealed local pricing for its X-Class, but seeing that the X-Class is being punted as high-end luxury bakkie as opposed to a get-down-and-dirty workhorse, we can speculate that pricing will arrive in the top end of the spectrum. It is a Benz, after all... So, if bakkies, widely regarded as the cause of the downfall of station wagons/MPVs, will soon threaten unibodied SUVs, luxury car buyers will have interesting (let alone tough!) decisions to make.

The range-topping Volkswagen Amarok V6 3.0 TDI V6 4Motion is priced at R784 400 (March 2018), which for many, is eye-wateringly expensive. If we had to hazard a guess, we think the equivalent Mercedes-Benz X 350d 4Matic will be priced well over R900k before options and may even breach the R1 million mark when fully specced. If this pricing scenario does play out, the VW Amarok V6 might just be a bargain when compared to its X-Class V6 rival.
But let's take a look how these 2 luxo-bakkies stack up on paper.
Engine Outputs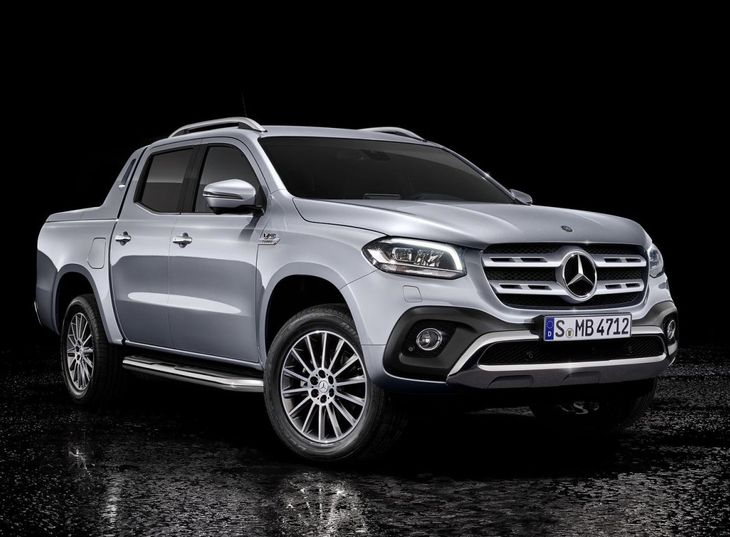 The Mercedes-Benz X 350d V6 4Matic is powered by a turbocharged 3.0-litre diesel engine with 190 kW and 550 Nm of torque. Peak torque arrives at between 1 400 rpm and 3 200 rpm and a 7G-Tronic Plus automatic transmission transfers power to all four wheels. This derivative is said to sprint from 0 to 100 kph in 7.9 seconds.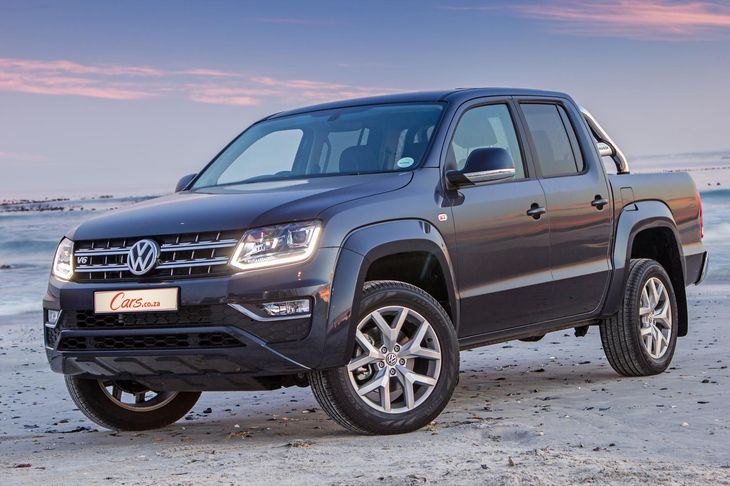 In comparison, the Volkswagen Amarok V6 is powered by a turbocharged 3.0-litre V6 engine with outputs of 165 kW and 550 Nm of torque available from 1 400 rpm to 1 750 rpm. A temporary overboost function further increases outputs to 180 kW and 580 Nm for 10 seconds.
The Amarok V6 is claimed to accelerate from 0 to 100 kph in 8.0 seconds using an 8-speed automatic transmission to drive the 4Motion permanent AWD system.
Off-road Credentials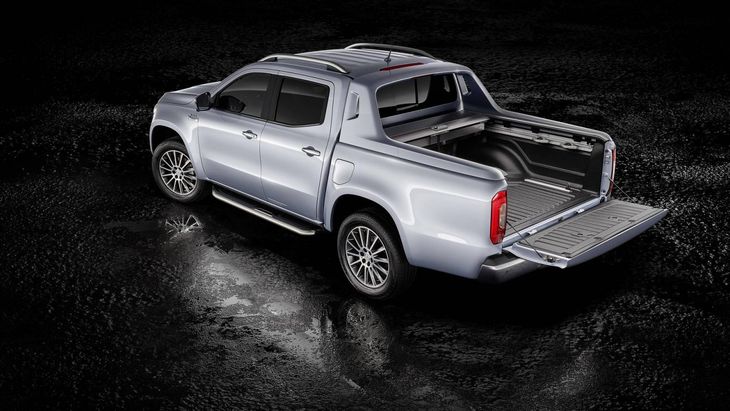 Equipped with a low-range transfer case and 5 driving modes (Comfort, Eco, Sport, Manual, Offroad), the X350d V6 4Matic will offer flexibility over various terrain with a ground clearance of 220 mm and wading depth of 600 mm. Also, 3 gearbox modes, including 4MAT (for on-road use), 4H and 4L can be selected depending on terrain.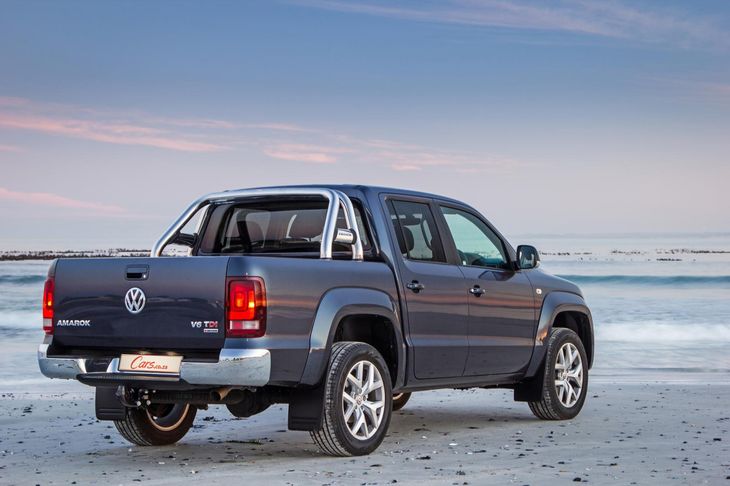 As for the Amarok V6, under normal running conditions the Torsen differential distributes power in a 40:60 front-to-rear split, but can vary it as the situation demands. And because 1st gear is set-up for off-roading and towing specifically, the Amarok doesn't need a low-range transfer 'box. The Amarok boasts a ground clearance of 239 mm and can wade in water at a depth of 500 mm.
We will have to wait until the X-Class V6 arrives so that we can test them head-to-head to determine which one is more capable offroad.
Interior design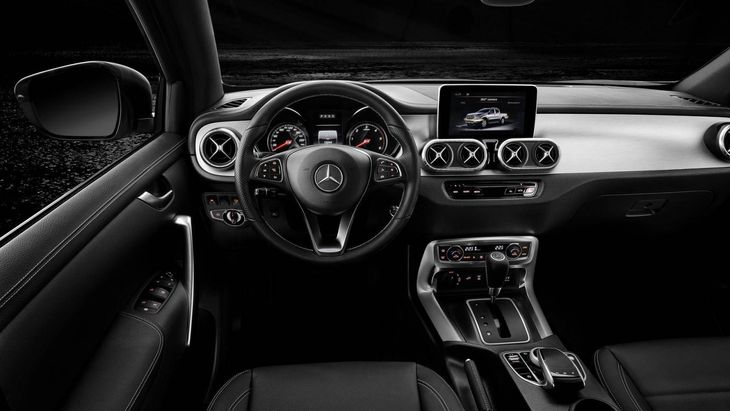 Both cabins are decisively upmarket in look and feel and your choice will depend on your preference. The Mercedes-Benz features a large multimedia system, which can be operated using the Command dial in the centre console and the Stuttgart-based brand's bakkie is perhaps more sportily styled than the Amarok. A number of assistance and safety features offered on other products in Mercedes-Benz's lineup will make its way into the X-Class and many of these features will probably appear on the options list when the X-Class V6 makes landfall locally. Exact specification for our market has yet to be confirmed.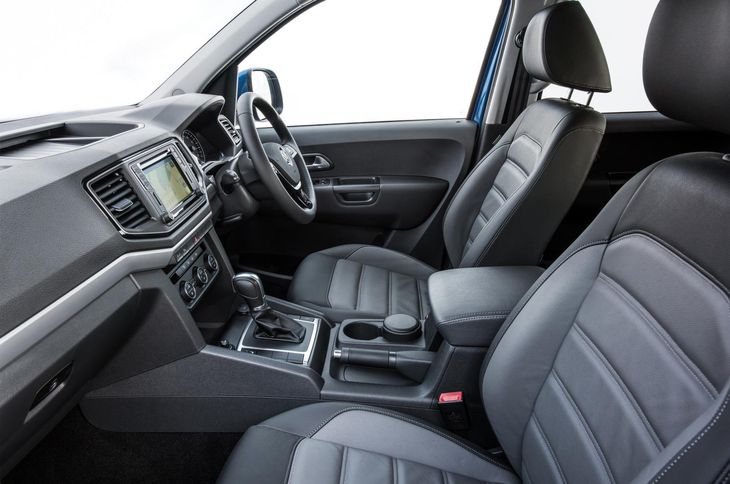 The Amarok's interior design is more SUV-like, with a refined look and feel. A host of comfort features are offered on the Amarok V6 Extreme derivative with a 6.33-inch Discover Media satellite navigation system fitted as standard. Attractive features on this top-of-the-range derivative include Nappa leather upholstery, multifunction steering wheel with shift paddles and climate control air conditioning.

See specification for the VW Amarok 3.0 TDI V6 4Motion Extreme here
Predictions
Many buyers will find the allure of a Mercedes-badged bakkie difficult to resist and will likely pay the price just to own one, that is, after all, the allure of the Three-Pointed Star badge. The X-Class should be well-received by local buyers and will likely outsell the Navara on which it is based and quite possibly the Amarok too. It's unlikely, however, that the X-Class will match the huge sales of the Toyota Hilux and Ford Ranger.
However, depending on local pricing of the X-Class, Amarok V6 sales might be boosted when its X-Class V6 rival arrives as it may be perceived as the more affordable option of the two. Which one of these powerful luxury bakkies would you prefer to buy?
Buy a new or used Volkswagen Amarok on Cars.co.za
Related Content
Mercedes-Benz X-Class V6 Engine Details Announced Ahead of Geneva Reveal
Mercedes-Benz X-Class: Reality vs Concept
6 Most Fuel-Efficient Double-Cab Bakkies in SA
Mercedes-Benz X-Class: Finally Revealed
Mercedes-Benz X-Class: Off-road demo & video wrap
X-Class & rival double cabs it needs to beat [with Video]
2016 Toyota Hilux vs Ford Ranger – Offroad & Review

In-Depth Comparison: New Hilux vs Ranger vs KB vs Amarok (video)