It's the perfect time to review Mercedes-Benz' new G-Class, seeing as the iconic off-roader turns 40 this month. But, in its latest iteration, and particularly G63 Edition 1 guise, does its off-roading credentials even matter?
We like: Spectacular looks and sound. Thumping acceleration. Build quality. Character.
We don't like: Vague steering, ride quality (on some surfaces), fuel consumption
Fast Facts
Price: R3 086 653 (February 2019, without options)
Engine: 4.0-litre V8 twin-turbo
Gearbox: 9-speed automatic
Fuel economy: 13.1 L/100 km (claimed)
Power/Torque: 430 kW/850 Nm
Own a Mercedes-Benz? Tell us about your experience here.
SERIOUS ABOUT BUYING?
Where does it fit in?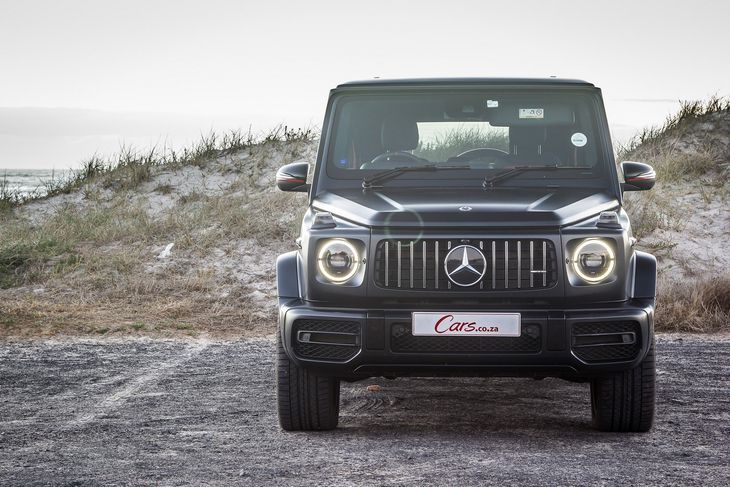 More broad-shouldered than before, and with slightly higher ground clearance, the G63 has oodles of road presence.
Exactly 40 years ago, this month (February 2019), Mercedes-Benz unveiled (what was then called) the Gelandewagen. Built to be extremely tough, capable off-road and fit for a wide range of purposes, the G has evolved into an automotive icon – indestructible... anti-conformist... even gangsta?
To its credit, Mercedes-Benz has remained largely true to the spirit of the original in terms of engineering – the G-Class may now be a fancy, blingy SUV, but at its core, it's still capable of driving down mountains. Nevertheless, the full-fat AMG G63 is by far and away the most popular G-Class derivative... It's a vehicle for people that like to be seen (and heard) and who are decidedly unlikely to ever engage its 3 diff locks. So, is the new G63 Edition 1 just an attention-grabber, or does it actually compete with other luxury SUVs on refinement, luxury etc. too? Does it even matter?
What's good about it?
Spectacular looks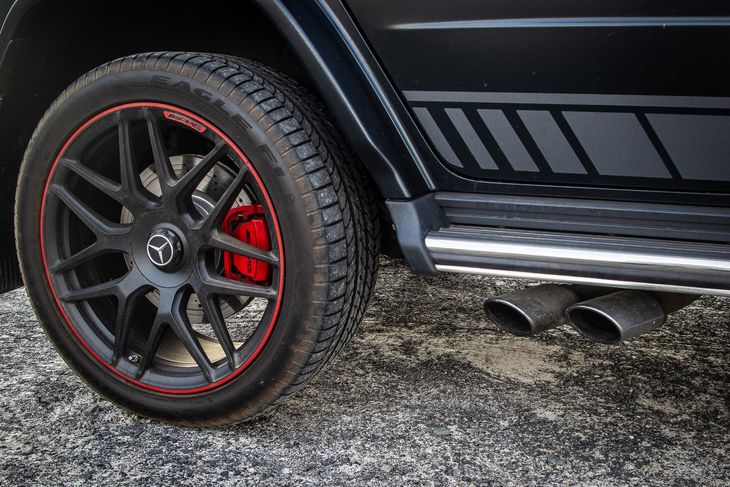 Side-mounted exhausts emit a loverly burble at idle and ferocious roar under acceleration.
Much like that other enduring German icon, the Porsche 911, the Mercedes-Benz G-Class' primary appeal is its appearance and the impression (if not undiluted awe) it instils in onlookers. Mercedes-Benz was definitely aware of that and tasked its designers to keep the G's visual identity, even when logic dictates they shouldn't have... Overall, the new G-Class is wider, longer and higher than before, but it retains its predecessors' signature elements – note the indicators sitting proud on the front fenders, the near vertical (but slightly more tilted) front windscreen, the exposed door hinges and rear barn door. Crikey, they've even ensured the solid doors are as hard to shut at first attempt as its predecessor's – that's attention to detail!
There's a very robust, metallic feel and sound to working the door handles and doors of the G63. They create an impression of incredible solidity, but some passengers may struggle to close the doors properly – they do require a hefty thud. Hoist yourself up into the driver's seat and it's quite clear that while Mercedes-Benz stuck to the retro rulebook outside, the same didn't apply inside. Here everything is high-tech and the finishes and trim also help to create a very modern ambience. The cabin and its various fixtures feel as solid as you'd hope (particularly given the price).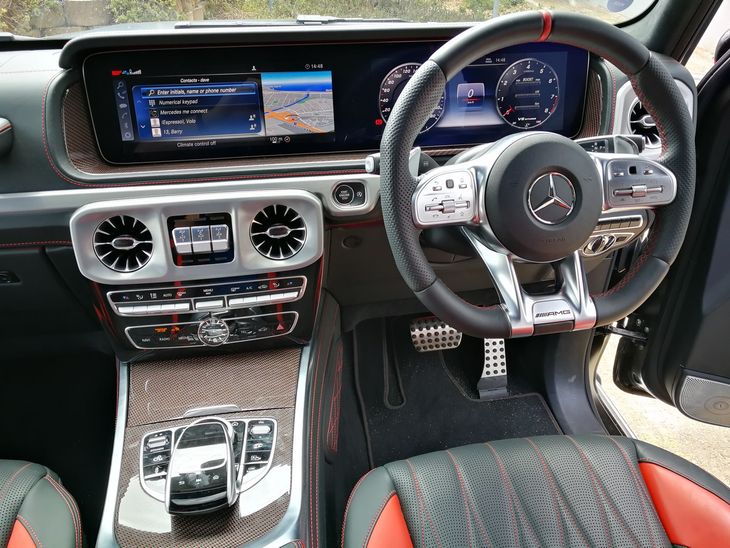 Very modern cabin dominated by vast digital displays and lots of shiny trim. Test unit featured an awesome Burmester sound system.
The cabin is dominated by expansive digital displays with crystal clear high-resolution graphics and numerous display options. You can also change the hue of the cabin lighting and toggle between several instrumentation layouts. Fitted on the centre console is Mercedes' Comand control interface we've come to know and love, and these days it's a very intuitive system. The G-Class does, however, lack Mercedes' latest MBUX control interface.
The extra width is immediately noticeable if you've been in the G's predecessor – elbow and shoulder room is now pretty generous – and rear legroom has grown appreciably. The load bay is of a decent size, too. Spec-wise, at this price level, you'd hope the G63 Edition 1 would have virtually all the available features as standard, and it does. We particularly like the active front seats that grip you a little tighter in the bends and can perform a variety of massaging functions. Even the rear seats of our test unit were heated. In terms of safety specification, the G63 is also bang up- to-date, but we felt that the lane-keep assist function was overly intrusive... often jerking the car too violently and giving the driver a skrik.
Muscular engine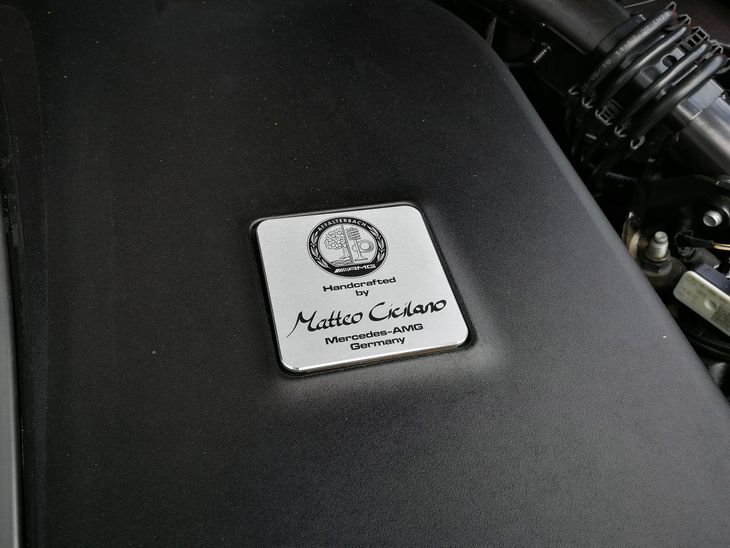 Not much to see here, except for the signature of the (Italian sounding) engine builder.
The G63 is powered by Mercedes-AMG's well-known 4.0-litre twin-turbo engine which, in this application, delivers a stonking 430 kW (at 6 000 rpm) and 850 Nm of torque from 2 500 to 3 500 rpm. It is mated with the marque's 9-speed automatic transmission that duly impressed with its immediacy and slickness during the G63 Edition 1's tenure in our test fleet. At this point, it's worth noting the G63's kerb weight (around 2.5 tonnes) and the fact that it retains the brick-like aerodynamics (at face-value, anyway) of its predecessor. It's worth pointing these facts out because they provide such great context for the figure that follows – the G63's ability to blast to from standstill to 100 kph in only 4.5 seconds!
It's a unique experience – you're perched in a high-and-mighty seating position and, when you plant the throttle pedal, the G63 squats before catapulting down the road, accompanied by the most delicious roar (remember to make sure that the appropriate exhaust mode has been selected). Childish? Yeah, quite possibly, but if you've got this much to spend on a vehicle, surely you'd want it to "move you"? Top speed is rated at 220 kph.
What's not so good about it?
Ride & Handling still compromised

Striking 22-inch wheels are part of the Edition 1 package, but probably have a negative impact on the ride quality of the G63.
To be fair, the fact that the G63 can't handle and steer as well (on the road) as a Range Rover or Bentley Bentayga should come as no surprise. In essence, the G63 is still a vehicle that was developed to blast up and down mountains and that inherent off-road ability comes at a cost of some on-road refinement. It no longer uses a solid axle at the front (now independent) and there's a new electrically assisted rack-and-pinion steering system, too, so there are tangible improvements compared with its predecessor, but nevertheless, and within the context of its same-price rivals, the G63's steering remains rather imprecise.
Furthermore, the ride deteriorates quite markedly on poor surfaces, displaying a mixture of clumsiness and harshness that's perhaps unbecoming of a R3-million vehicle. Fiddling with the settings of the AMG Ride Control system does little to improve matters, but at least there are options and Comfort is, indeed, somewhat better than the sportier settings). Of course, the massive 22-inch wheels (wrapped in low-profile tyres) fitted to this test unit also play a part in the ride quality's lack of pliancy. Still, we don't think any of these issues are dealbreakers. Most owners will just make the most of the explosive straight-line performance, savour the sound, and... back off the throttle/throw out the proverbial anchors for the corners.
Atrocious fuel consumption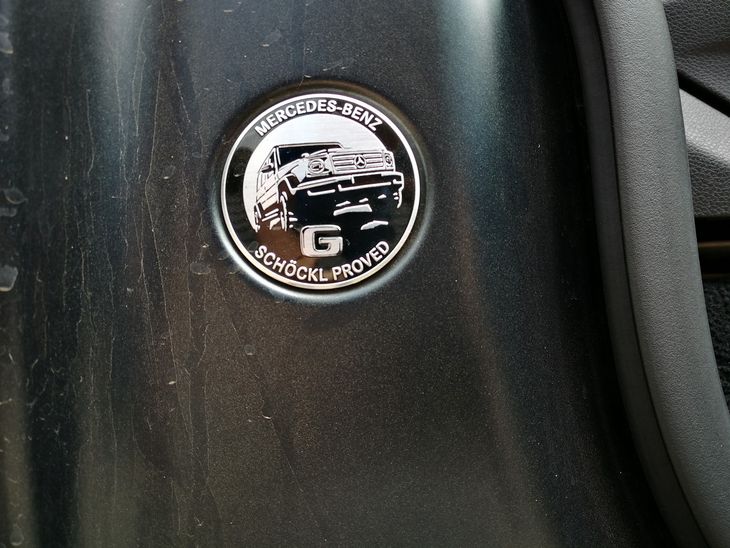 The new G-Class may be lighter and more refined than before but it can still do "Schockl"...
While that brutish twin-turbo 4.0-litre V8 engine certainly endows the G63 with plenty of muscle (not least an addictive soundtrack), the Affalterbach-fettled motor chugs through that 100-litre fuel tank at a dizzy rate, even though Mercedes-Benz has made the new G-Class approximately 200 kg lighter than its predecessor. The German marque claims a combined cycle figure of 13.1L/100 km, but you're unlikely to ever see that figure, especially if you're going to be enjoying the burly Benz's full performance and raucous sound. Expect a best figure of around 17L/100 km...
Pricing & Warranty
The G63 Edition 1 version (as tested here) costs an eye-watering R3 086 653 (without options, Feb 2019), but if you'd like your G63 to look ever-so-slightly more conservative, you can opt for the standard car for R300 000 less. A 2-year/unlimited km warranty is included, as is a 6-year/100 000 km maintenance plan.
Verdict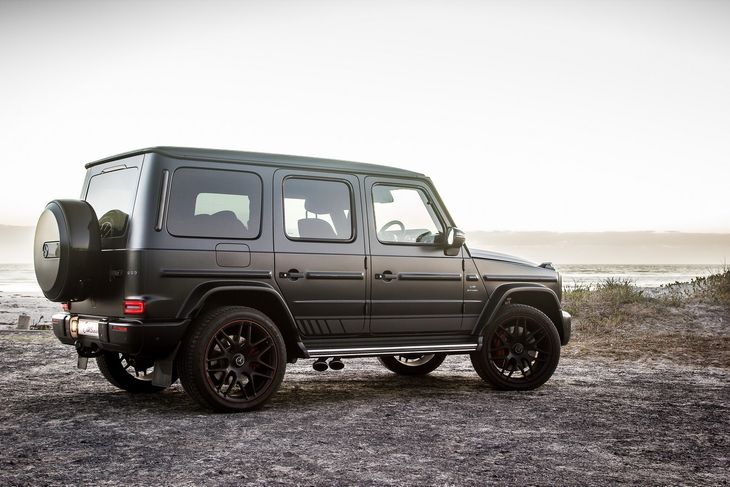 The G63 makes little sense and is a pure indulgence purchase. But as far as those go... it drips with desirability.
There is no logical reason to buy a vehicle such as the Mercedes-AMG G63 Edition 1. A flagship Range Rover will be more comfortable... more spacious... and likely every bit as good off-road on its equally unsuitable rubber. The same goes for the Bentley Bentayga.
And yet... a massive slice of the G63's appeal comes from knowing that it was born to "flatten" obscure Austrian mountains and that more utilitarian versions are good enough for military use by some armies... Perhaps this knowledge creates enough of a feel-good factor to erase the pangs of guilt you may feel for depleting the world's fossil fuel reserves faster than necessary while at the wheel of your Teutonic behemoth or moments of regret (if only fleeting ones) that you've pulverised yet another hot hatch in a robot-to-robot drag race. Because, ultimately, this is a big toy, one that cannot be judged as a normal consumer product, but purely by how hard it plucks at your heartstrings. Only you will know the answer to that.
Interested in buying a Mercedes-Benz G-Class?
Find one today on Cars.co.za by clicking here