Few cars epitomise the 1980s in the same manner as the Ferrari

Testarossa

. And few cars adorned as many bedroom walls as this iconic

Prancing Horse

. One such bedroom wall was in

a little-known town of

Umzinto

on the K

wa

Z

ulu-

N

atal

South Coast.

Said poster

belonged

to a young man with big dreams

named Vijay Maharaj. Like many youngsters

of the era

, Vijay lusted after the star car from Miami Vice.
Words by Sudhir Matai; Images by Justin Pinto
Decades later, business success brought with it the opportunity to own a Testarossa, but initial impressions let him down and Vijay settled for the less recognisable Ferrari 348, a baby Testarossa, if you will. Nevertheless, the yearning remained and Maharaj decided that one day he would own the car that he glanced at daily as a teenager. The search continued and Vijay eventually found this pristine 1985 Testarossa seven years ago, which he duly bought.
"The car required very little work, and is the same condition now as when I bought it," explains the owner. "We've replaced the clutch and touched up the spoiler but that's it."
Launched in 1984, Testarossa was the successor to the 512BB and became Ferrari's halo model. Those instantly recognisable straked air intakes along the flanks cooled a 4.9-litre flat-12 engine that produced just over 280 kW of power. That power level is comparable to a modern hyper hatch, but it was plenty of grunt for the time. Incidentally, the name was derived from the red cam covers that adorned a Ferrari racecar of the same name, in Italian testa = head and rossa = red. That power output in a slippery, Pininfarina-designed shape gave a claimed top speed of 290 kph.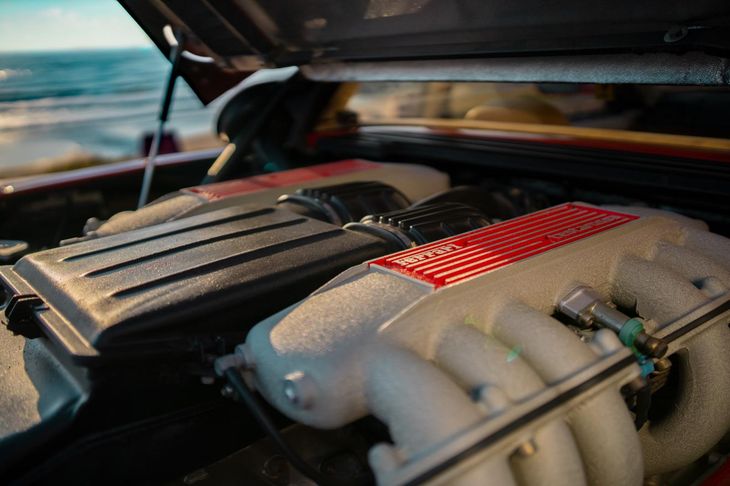 The name Testarossa is Italian for "red head"... as in the red cam covers on top of the flat-12 engine.
Since buying the car of his childhood dreams Maharaj has bought several other Ferraris, some of which can be seen in the video, but the Testarossa still maintains a special place in his heart. It's a car that he uses and isn't afraid to drive.
"We had the most memorable drive down to Cape Town a few years ago. We took five cars including the Testarossa and we covered 2 000 km on the way to Cape Town. It really is a great car to cruise in. It doesn't like traffic or being driven slowly, it's for the open road. On the trip I watched and heard the car while it was being driven by my son and it was lovely to see it on the move, you only really appreciate the noise it makes when you are outside."
1985 Ferrari Testarossa: Fast Facts
Engine: 4.9L flat-12
Power: 287 kW at 6 300 rpm
Torque: 490 Nm at 4 500 rpm
Top speed: 290 kph
0-100kph: 5.3 sec
Number produced: around 7 200 units
Design: Pininfarina
You may also be interested in;
SentiMETAL Ep.6: Mercedes-Benz 190 SL
SentiMETAL Ep.5: Opel Kadett Superboss
SentiMETAL Ep.3: Nissan Skyline GT-R "Hakosuka"
SentiMETAL Ep.2: Porsche 911 (930) Turbo "Widowmaker"