The 478-kW 911 Turbo S was recently unveiled and will hopefully land in South Africa in May, but Porsche is already availing Sport Design and Lightweight packages for its newcomer.
Powered by a state-of-the-art twin-turbocharged 3.8-litre flat-6 engine that develops peak outputs 478 kW and 800 Nm, the all-wheel-driven 911 Turbo S offers nothing less than meteoric performance: It is said to dispatch the 0-to-100 kph dash in a mere 2.7 seconds and achieve a maximum speed of 330 kph.
Cars.co.za recently reported that the Turbo S would arrive on the local market in 2 months' time (ideally, of course) and that the coupe version would cost R3 542 000, with its cabriolet sibling retailing for R3 716 000.
Meanwhile, Porsche's Exclusive Manufactur division has been rolling out purposeful-looking optional accoutrements for the Turbo S, which can be seen in detail on the Lava Orange example of the Turbo S Cabriolet shown here.
The Sport Design Package adds a beefier front splitter with distinctive side fins, more elaborate side skirts, and a reshaped rear spoiler with upturned edges. Compare the details of the orange car with images of the red Turbo S Coupe (specified with a sport exhaust) to note the subtle aesthetic differences between them…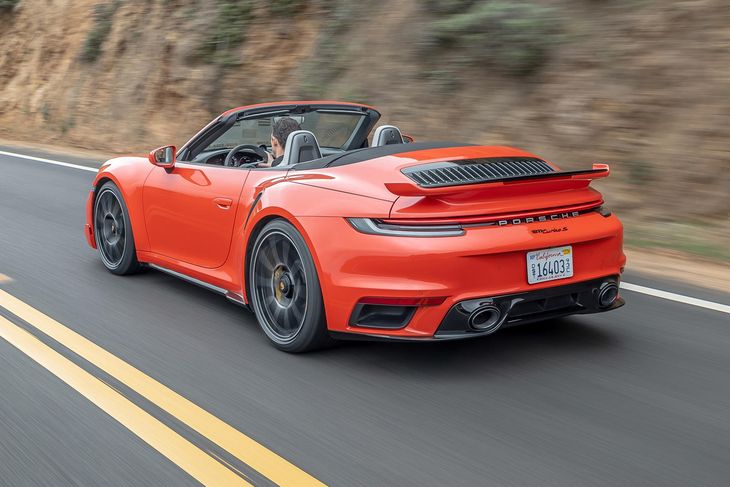 For buyers who have specified the sport exhaust, which substitutes the standard car's quad rectangular pipes with two large-bore oval ends, the Sport Design Package also includes a redesigned, colour-coded rear apron. In the case of the orange cabriolet, however, that part is finished in optional gloss black, as are the centre of its front splitter, the lower trims of side skirts and the inner, extending part of its active rear wing.
It's been reported that the Sport Design catalogue will include bespoke tail-light clusters, additional gloss-black accents, dark-silver 10-spoke alloy wheels (see below), as well as a lightweight carbon-fibre roof (for coupe versions).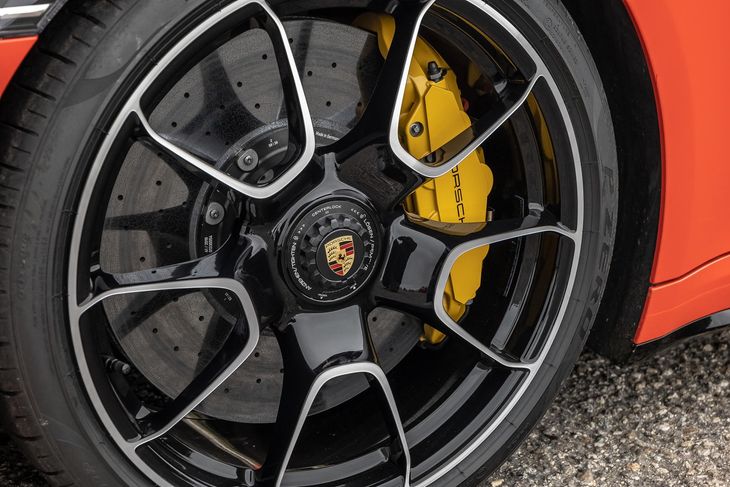 The new Lightweight Package meanwhile, is exclusively available for the coupe and said to result in a kerb weight reduction of 30 kg and, as far as we can deduce, a much more cacophonous cabin~
The revisions include the removal of the Turbo S' rear seats – as well as a wad of interior sound-deadening material – and the installation of a pair of lightweight bucket front seats and slimmer acoustic glass. The PASM sport suspension and aforementioned sport exhaust come included as part of the package, however.
Related content:
Porsche 911 Turbo S: Price in SA [w/video]
Porsche 911 Carrera S (2019) Launch Review
Manual 911 is lighter but slower...