Do small changes to Porsches always yield big results? We drive the new Macan in Mallorca, Spain to find out.
Platform engineering and Porsche are strange bedfellows. For decades, the brand's iconic 2-door sportscars selfishly commanded the substantial technical talents at Porsche headquarters. However, the brand's decision to add SUVs to its product portfolio necessitated shared platforms with Volkswagen (VW) and Audi, which proved brilliantly profitable, but also problematic. There's nothing even remotely like a 911 within Audi or VW's online car configurator, but what's the difference between a radically overequipped Audi Q5 and a Porsche Macan?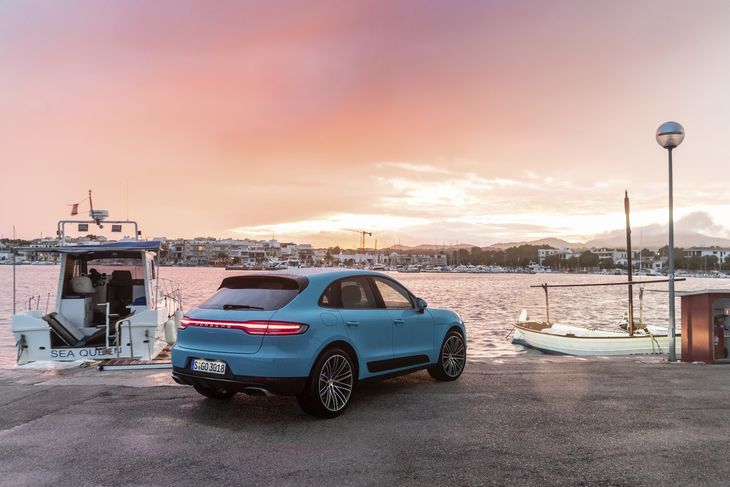 The Macan and the Audi Q5 may sit on the same chassis, but Porsche dials in small changes to make it feel different.
I spent a few days on the Balearic Island to find out if Porsche's latest shared-platform SUV product incorporates enough of the Zuffenhausen-based brand's distinctive DNA. Launched in 2014, the Macan has been tremendously successful for Porsche, providing both performance family car and gravel traveller all in one for those customers who live in the most crowded of cities – with parking limits that will cramp Cayennes.
The late-2018 Macan product upgrade is partly a digitisation of the SUV's cabin, but also features some deeper mechanical engineering improvements. It's the kind of detail you'd easily miss, but also the calibre of componentry that makes Porsche platform-shared vehicles so different from their Audi and Volkswagen counterparts. A great shared structure is one thing, but the dynamic contact points – suspension, steering, brakes – are what combine to deliver the differentiated Porsche driving experience.
Like a 2/3rds Cayenne
Styling changes mostly entail interpretations of the Cayenne's 4-point LED headlights and horizontal strip tailgate lighting. There are 4 new colours and 5 switchblade options, to allow for greater customer car individualisation. I'm not one to obsess about colour palette merits, but a hue that you should strongly consider is Miami Blue. On the Macan's tighter dimensions and more balanced proportions, this vivid disco azure hue just works.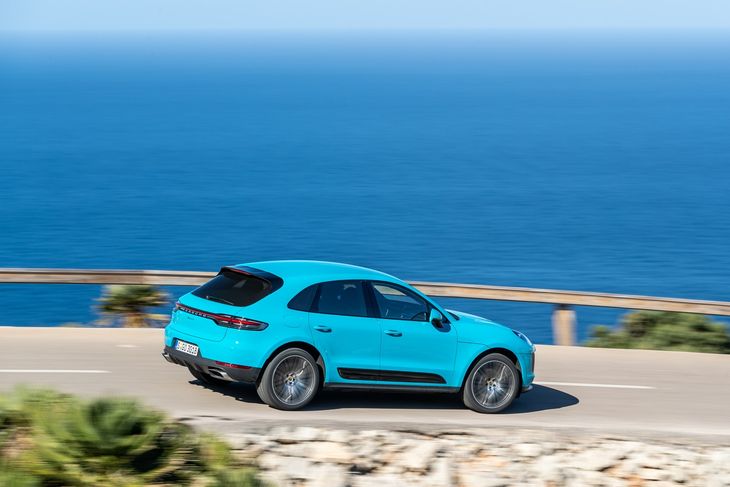 Blue against more blue, a similar colour has been used on Porsches before, any guesses which one?
If you are one of those Weissach-obsessed Porschephiles, the Miami Blue colour scheme might trigger a vague familiarity within your Porsche subconscious… Think about it for a bit. A bit more. No? Still struggling to draw the similarity? Porsche's legendary 993 Carrera RS featured a colour code called Riviera Blue and if you are in the ridiculously privileged position to own one of those air-cooled road racing classics, and require a new family SUV to colour match, then a Miami Blue Macan will do quite nicely.
I mentioned digitisation and Porsche's heavily committed to making the new Macan partner your smartphone. The infotainment screen has grown from 7.2- to 10.9-inches, features touch functionality and a wealth of apps managed via Porsche Connect. It's the kind of thing that has become a must-have in a world where smartphones have embedded their presence in every possible aspect of our lives. The improved digitation will prove greatly useful as a convenience and life-admiration tool for most customers, but I take comfort in the fact that Porsche remains a brand that hasn't been lulled into the foolishness of attempting to replace all cabin functions with touchscreen menu functionality.
Aviation cockpit style plastic push buttons still frame the centre console and provide direct sources of input when you are focusing on the road and need to jab at adaptive damper settings or climate control functions. I can't be bothered to flip through 2nd- and 3rd-level digital menu functions to control cabin temperature or make simple adjustments and my hope is that Porsche may long continue its tradition of having "analogue" override controls for most of its cabin functions. That said, there's voice control for mastering most communication and infotainment.
Small, but considered improvements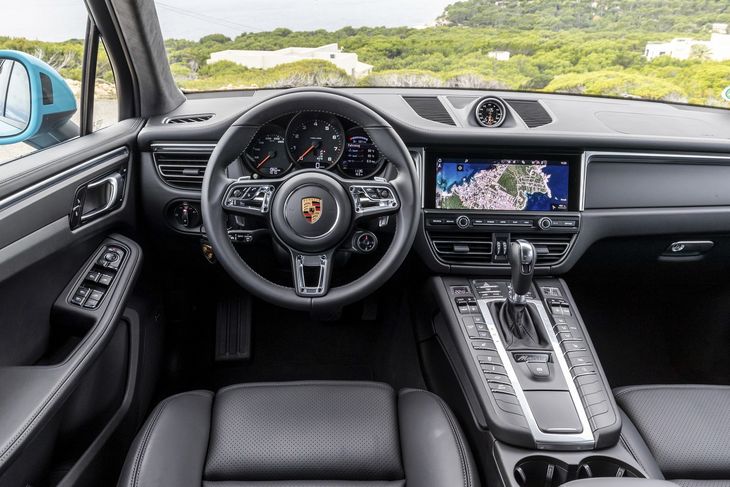 Porsche still maintains an analogue approach to setting changes. Buttons anyone?
Mechanically, not much has changed. The engines remain similar in configuration, with software upgrades and some improved boost geometry. The Macan's 2.0-litre is good for 185 kW and 370 Nm, while the Macan S features the 3.0-litre V6, with peak outputs of 260 kW and 480 Nm. As with all Porsches, they do feel a touch livelier than those official dynamometer figures suggest.
Both engines engage Macan's all-wheel-drive configuration through Porsche's renowned 7-speed PDK transmission, and if you require the utmost throttle response urgency, there's an optional Sport Chrono package, which trims a few 10ths off the benchmark acceleration times.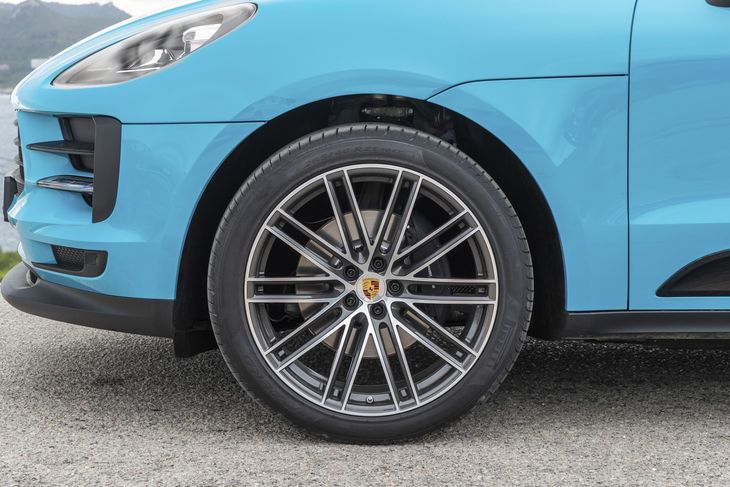 Narrower front tyres at the front and optional air suspension setup make the Macan nimble and plush.
Similar to Porsche's 3rd-generation Cayenne, the Macan now rolls on asymmetric tyres, which are narrowed on the front axle than the rear, thereby improving turn-in nimbleness by a fraction. There's optional torque vectoring too and if you invest in the brilliantly adaptable air-suspension system, expect the very best combination of ride quality and weight-transfer mitigation under severe braking and high-load cornering. The Macan's most sophisticated suspension arrangement has been redesigned to feature an improved hydraulic circuit in the twin-chamber air system, all of which produces quicker reactions to peak load inputs.
An excellent example of Porsche's dedicated component evolution is the transition from steel to aluminium front axle springs, which of course reduces the Macan's kerb weight. Tiny details, but combined, they compound to deliver that discerning Porsche driving experience.
So, how well does it go?
Mallorca's mountain passes and country lanes are typical European technical driving fare: impossibly narrow and although excellently surfaced, littered with off-camber corners and absolutely no shoulder to provide a margin of error if you do get it wrong. It's probably not the ideal place I'd want to drive a large SUV in a hurry, but also a choice environment to learn how the Macan manages to be a 5-seater Porsche with 500-litres of luggage space and 182 mm of ground clearance, which can be driven with confidence on these unforgiving roads.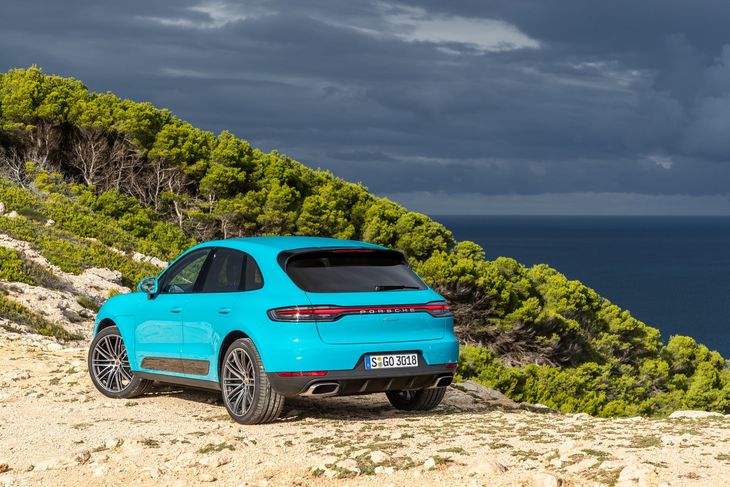 Mallorca has some extremely narrow roads – not ideal for an SUV – but the 182 mm of ride height provides a commanding view.
Having said that, there's absolutely no anxiety in being tasked with driving the Macan (and its S sibling) with urgency on challenging roads. Porsches have always featured near-perfect driving cabin ergonomics, and despite its SUV ride height and more commanding field of view, the pedal spacing, steering and seat adjustment allow for a terrific driving position which is uncannily more akin to a GT car than gravel traveller.
Between the Macan and Macan S, the most obvious difference is the V6's surging urge. With Sport Plus the throttle and gearshift calibration is sufficiently aggressive to yield a 0-100 kph time of 5.1 sec, with Porsche's 4-cylinder Macan trailing that by 1.4 seconds. There's a 27 kph difference in top speed too, with the Macan S peaking at 254 kph and its sibling reaching maximum velocity a 227 kph.
The great mitigating factor between these two Macan derivatives is weight distribution and the general excellence of Porsche's latest generation PDK, which is so alert and intuitive in its shifting that the 4-cylinder engine rarely falls into any lag. The 2.0-litre Macan is also 70 kg lighter than its V6-engined sibling and crucially most of that weight advantage has been shaved-off above the front axle, which means the 4-cylinder car stands on its nose less during aggressive braking and turns in with a touch more crispness.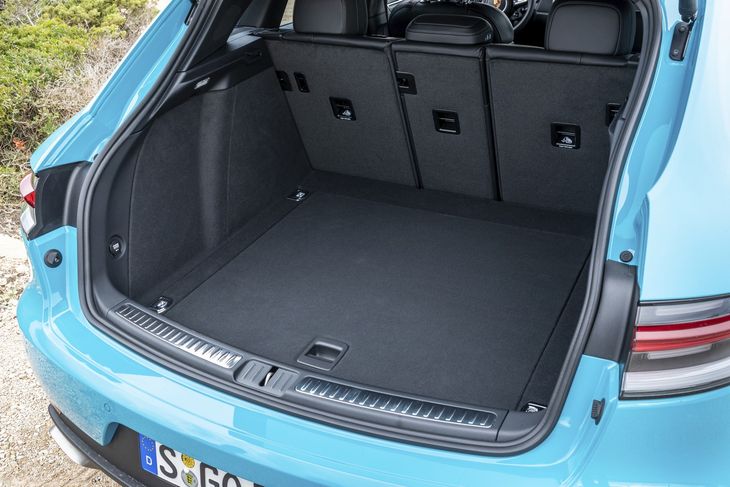 500 litres of luggage space that can get to 100 kph in 5.1 seconds with the Macan S.
In their class, these new Macans retain their fabled driving prowess, but they'll appeal to very different customers. Those who want zero-panic overtaking urge will find a compelling performance SUV solution in Macan S, but I regard the 2,0-litre Macan one of the best downsize-engined vehicles I've ever driven. It's spread of dynamics – throttle response, steering response, braking – are a touch more accessible most of the time.
Two features of the new Macan illustrate Porsche's ability to blend tradition with convention. There's an off-road app, which allows you to trace a segment of off-road driving and share it on social media. Not really my kind of thing, but it's a novel feature all the same. Then there's an optional GT-specific steering wheel, borrowed from the 911, which at 360 mm is a touch smaller in diameter than a standard Macan tiller and works that much quicker through the hands when you are managing more than a rotation of lock on fabulously challenging roads.
The Macan might share its platform with other vehicles in the Volkswagen Group, but it's the garnish of Porsche-specific components that endows this refreshed executive SUV with that valuable Zuffenhausen driving DNA.
Pricing
The Porsche Macan lands in SA during the first quarter of 2019.
Porsche Macan - R845 000
Porsche Macan S - TBC
Related content
Facelifted Porsche Macan (2019) Revealed
Jaguar E-Pace (2018) Video Review