Porsche reveals its most basic version of the new 992-series.
The latest 911 Carrera is available as both a coupe and cabriolet, broadening Porsche's rear-engined vehicle range is an entry-level offering.
Distinguishing these Carrera models from other 911s are their exhausts. All other 911s feature a grouping of twin exhaust ends, whilst these baby Carreras only have two exhausts (instead of four).
Wheels and brakes are also slightly smaller in diameter, with the Carrera rolling 19-inch alloy rims. Beyond the abovementioned details, all other 911 styling and design features remain the same.
The most pronounced change is above the rear axle, where the Carrera variants are powered by a less potent version of Porsche's 3-litre, twin-turbocharged, flat-six engine. Boosting 283 kW and 450 Nm, these Carreras are 16% less powerful than Porsche's 911 'S' models.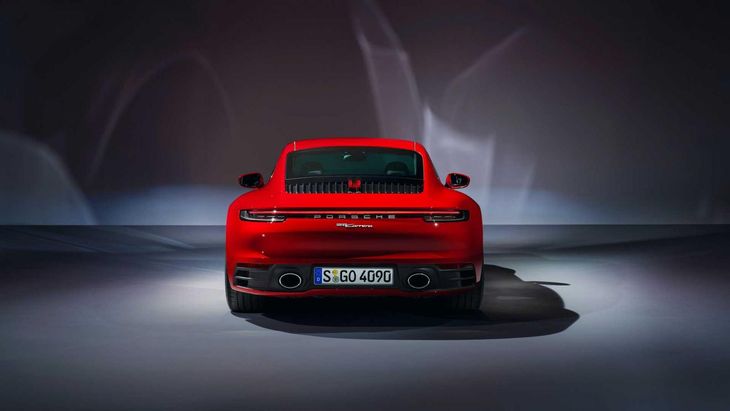 These entry models only get 2 individual exhaust outlets.
That does not mean they are slow. With Porsche's eight-speed dual-clutch transmission the new 911 Carrera runs 0-100 kph in 4 seconds, with that number becoming even swifter, at 3.8 seconds, if you option the Sport Chrono package.
Standard features include Porsche's active suspension management system with adaptive dampers and the company's ingenious 'wet-mode' brakes, which detect moist road conditions and accordingly adjust the ESP and ABS intervention parameters.
Although the Carrera will be Porsche's entry-point to the 911 range when it goes on sale, buyers can still option niceties such as larger wheels (20- or 21-inches), ceramic brakes and even twin-exhaust ends. These upgrades effectively make the Carrera more of an 'S' car in appearance, if not quite engine output and performance.