Our first-ever review of a Porsche 911 is also a fitting farewell to the 991.2-generation of the Stuttgart-based marque's iconic supercar. And what a farewell it is... for the Cars.co.za test team, the Porsche 911 GT3 RS PDK represents a new benchmark in driving enjoyment – it's a visceral performance machine that is near-perfectly made for purpose.
We like: Responsiveness, explosive performance, linear power delivery, sound
We don't like: Handing it back
Fast Facts:
Price: R4 200 000 before options (September 2020)
Engine: 4.0-litre horizontally-opposed 6-cylinder
Power/Torque: 383 kW/470 Nm
Transmission: 7-speed dual-clutch
Fuel consumption: 12.8 L/100 km (claimed)
Top speed: 311kph
Performance: 0-100 kph in 3.2 sec.
What is it?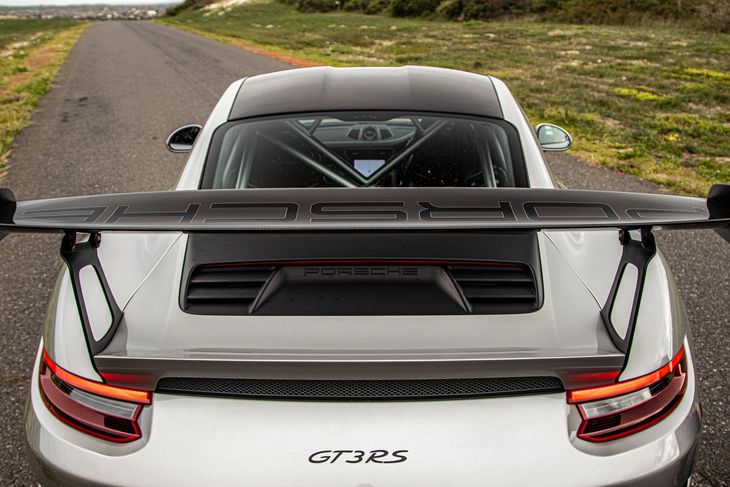 Massive carbon-fibre reinforced plastic rear wing generates nearly 150kg of downforce.
At the risk of gloating, some exceptional vehicles from the world's foremost supercar manufacturers (not all of them) have passed through the hands of the Cars.co.za test team, but in the days leading up to the arrival of what would be our first Porsche 911 test unit, the excitement in the office was palpable. It was, however, a nervous excitement... After all, the 911 GT3 RS nomenclature generates exceptionally high expectations. In my career, I've been sufficiently fortunate to have driven previous examples of Porsche's iconic "racecar for the road', and I hoped, quietly, that the latest incarcation would make as an indelible impression on my fellow testers, as the current car's predecesors had left on me many moons ago. Suffce to say, for most members of our test team, a first go in the Porsche 911 GT3 RS would definitely be a "meet your hero" kind of moment.
But where does the GT3 RS fit in, and why is it held in such high regard? Well, to put it simply... it exists to deliver the purest driving experience possible. There are faster, more powerful cars out there, as well as more beautiful, luxurious exotica that combine sizzling performance with great luxury. The GT3 RS is not for people who want to make a statement. It's not a car for the daily slog that happens to be fast. It's a car for the type of (capable) driving enthusiast who extracts the ultimate joy out of every single interaction with their machine; an owner who's willing to endure some physical discomfort to reach a great piece of road for the sake of having few minutes of unadulterated driving bliss. That's why the GT3 RS exists.
How it performs in terms of...
Performance and ride/handling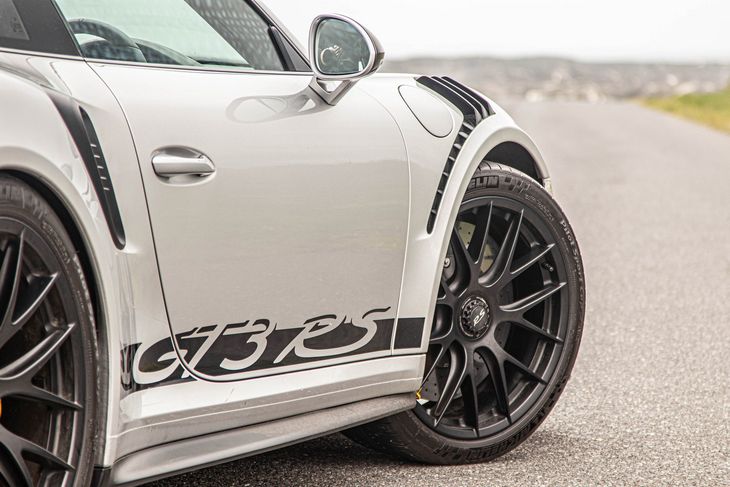 Our test unit featured the optional Weissach package, which further reduces weight. 20- and 21-inch wheels are fitted fore and aft.
In an age where turbocharging is the norm to achieve stonking power outputs, and all-wheel drive is employed to assist the pilots of these road missiles to stay on the road, the 911 GT3 RS recipe is refreshingly old-school. Propulsion comes courtesy of a rear-mounted, rev-hungry naturally-aspirated flat-6 motor that's happy to howl all the way to its 9 000 rpm redline and delivers its power in a linear, but rapidly escalating, manner. And you're encouraged to use those revs because the 383 kW of maximum power only comes fully on tap at a heady 8 250 rpm.
The engine is closely related to the one used in the 911 Cup racing car, by the way... Weighing in at just under 1 500 kg (with the optional weight-stripping Weissach package fitted), the 911 GT3 RS is claimed to blast from 0 to 100 kph in only 3.2 sec. That's sizzlingly fast, and largely enabled by the superb 7-speed dual-clutch (PDK) transmission. The instantaneousness of each shift, when your foot is flat on the throttle, is breathtaking. What's more, unlike some other fast cars, the 911 GT3 RS feels like it can do full-bore standing start blasts all day withouth breaking (a sweat).
While the GT3 RS is rear-wheel-driven with a definite weight bias to the rear, it is reassuringly modern in the safety and dynamic management departments. You can switch the assistance systems off if you like, but that's only advisable when in the relatively safe environment of a racing circuit. Left on, the stability control system does allow for more "play" than you might expect, and so it has to be said that this not a car to be pushed to the limit by inexperienced drivers... But in all honesty, most people will know within the first few metres of a test drive whether this is the car for them – or not. At low speeds, the ride is stiff, you can hear every little stone hit the underbody, the wind roars at highway speeds, and the diff clunks as it goes about its business. Plus, the nose is low... so seeing as South African roads are either poor or peppered with speed humps, you'll be crawling around (uncomfortably) and hitting the nose lift button very often... If that all sounds like too much of a faff, then this isn't the car for you.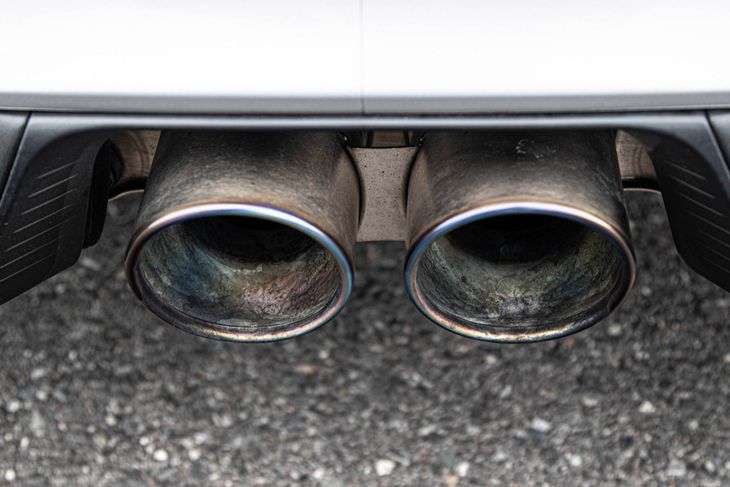 A lovely, urgent howl comes out of these lightweight stainless steel exhaust pipes.
If you drive it with purpose in the right environment, however, the GT3 RS will instantly come alive... as if everything about its stark purpose-built configuration just gels harmoniously. This should not come as a surprise, seeing as this car shares so much with the 911 Cup. The stiffness disappears and is replaced by surprising suppleness, allowing the Porsche to handle surface and camber changes at high speed with surprising aplomb. The steering, which is light and somewhat "disconnected" at low speeds, acquires razor-sharp precision and responsiveness.
For a rear-engined, rear-wheel drive car, the front-end bite is phenomenal, and the combination of all of these elements work together to urge the driver on... When buckled into that seriously bolstered driver's seat, you feel at one with the machine. Initially, in fact, the car's responsiveness can take some getting used to. But you learn quickly to be measured with your inputs, but it's not so much about thinking about them, as feeling... the car, the road, your own rhythm.
Exterior design & Packaging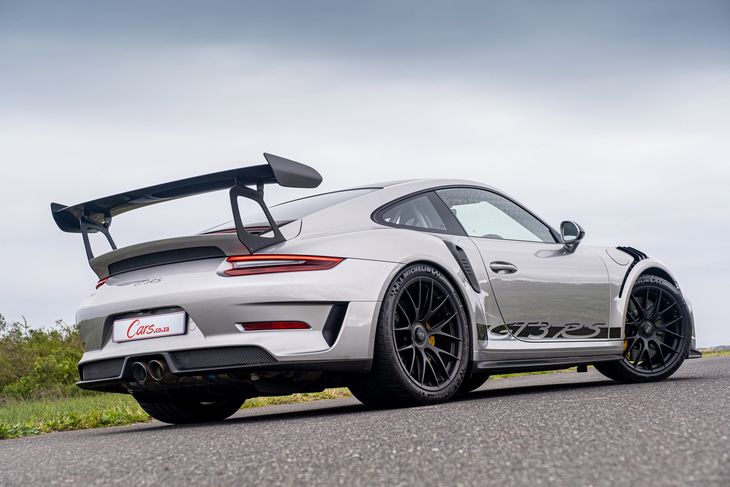 Not for the shy, that's for sure. But it's important to note that nothing here is for show... every duct, every wing has a purpose.
Even though we've seen several variants of the new 992-generation of Porsche's 911 released, the marque's careful design evolution of its iconic supercar means that this (outgoing) 991.2 generation GT3 RS does not look dated. It's also not subtle... And while many of its supposedly aero-enhancing bits may look superfluous, Porsche assures us that this is not the case. That massive rear wing? It adds a very welcome near-150 kg of downforce. The ducts on the lightweight CFRP (carbonfibre-reinforced plastic) bonnet and the rear haunches feed air to the brakes and engine. And those louvres on the front wings? Well, they aid downforce, too, Porsche says. Oh, and instead of a Porsche badge, the GT3 RS has a sticker... clearly, every gram saved heightens the driving experience.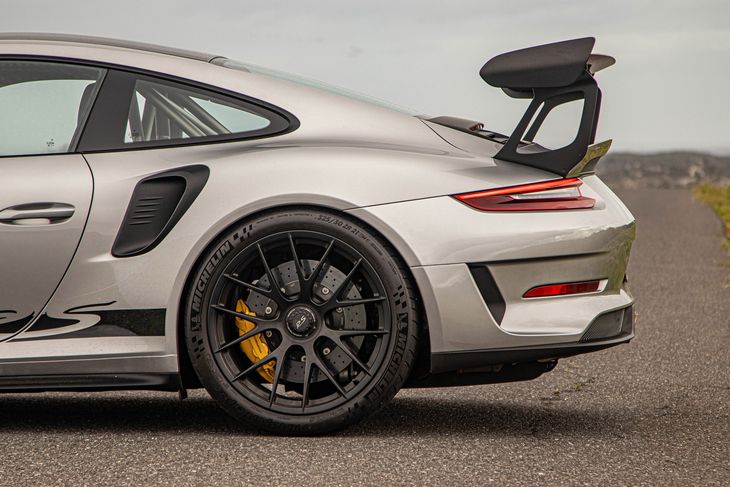 Sticky Michelin Pilot Sport Cup tyres need some heat in them, but once up to temperature, provide the driver with confidence to push harder.
One often sees GT3 RSs in more vibrant colours, but for most of our testers (and onlookers), the metallic grey and black combination of this particular car appeared to hit the speccing sweet spot. With its curves stretched tight over massive wheels (265/35 R20 in front and 325/35 R21 at the rear) with lightweight black, magnesium wheels, the Porsche gains an aggressive, menacing look, which entirely fits its character.
Interior execution and features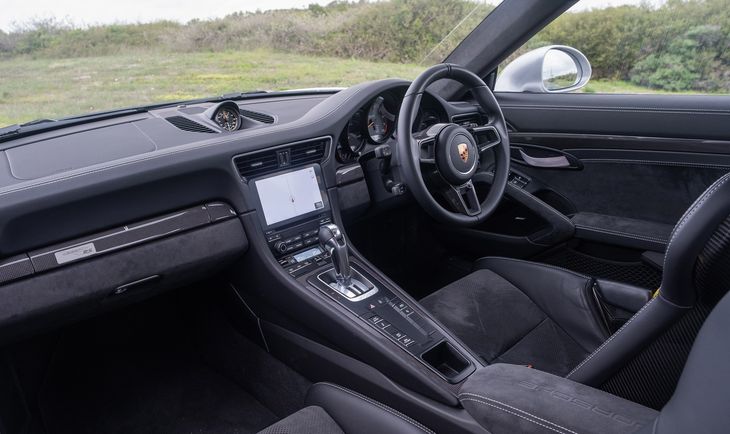 Inside, the 911 GT3 RS places the emphasis squarely on thrilling the driver, without frills... Note canvas doorpulls.
After opening the driver's door to the 911 GT3 RS and taking care to clear the bolstering of the lightweight carbonfibre bucket seats with your hips, you'll find yourself seated in what appears to be a pretty drama-free cabin. As is the case with all Porsches, the build quality is excellent, and this RS even has a comprehensive infotainment system, as well as dual-zone climate control. But that perception of "normality" is shattered as soon as you look behind you and find not the two "half-seats" common to the 911 line, but rather a serious-looking titanium roll cage. Look even closer and you'll notice that the inner door handles have been replaced with canvas pulls. And, when you start driving you'll realise that some of the weight-saving measures have resulted in increased levels of road- and wind noise. Side and rear windows are of thinner glass, for example.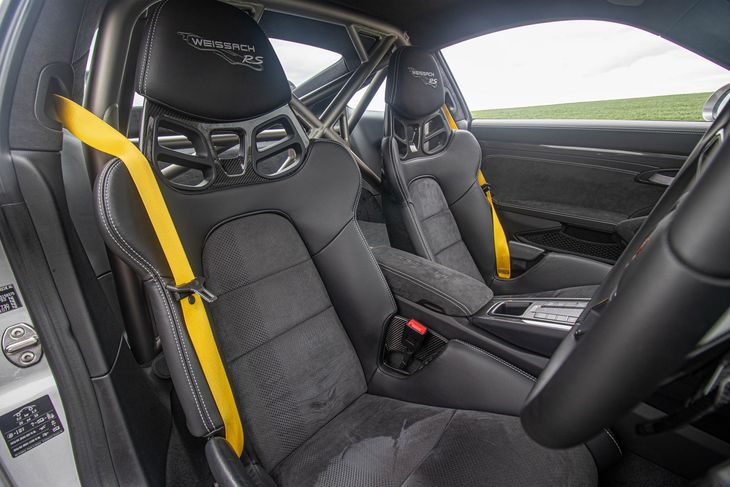 Seats are very, very grippy and aggressively bolstered. Note lightweight rollcage behind the seats.
But none of that detracts from the "GT3 RS experience" when the Zuffenhausen machine is driven in anger... You'll enjoy the solidity and precision of the car's controls, the tactility of the leather-wrapped steering wheel that feels just the right width and size, the clear simplicity of the analogue dials... and a superb driving position, even though the seats are only adjustable for height and position – the backrests are at a fixed angle.
Pricing and warranty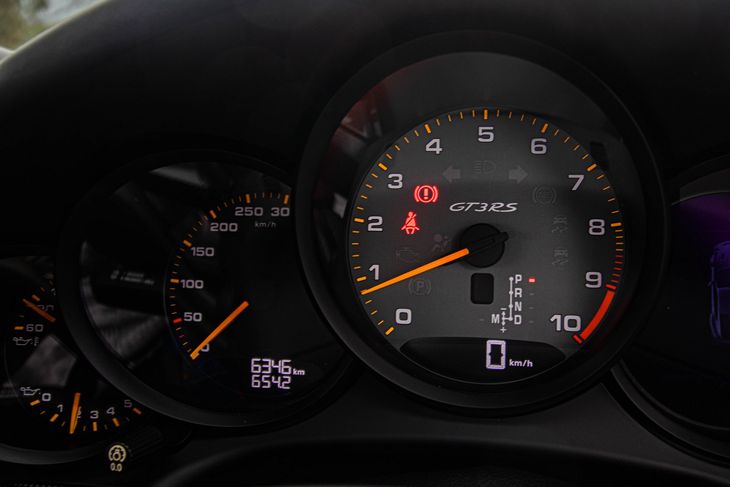 Driver's delight - analogue dials and a red line at 9 000 rpm!
Priced at around R4.2 million, you can still get a brand-new 911 GT3 RS from Porsche South Africa. But with a new-generation car expected to be released next year, you'll have to act fast to bag yourself one of these superb machines out of the proverbial box. A 3-year/90 000 km warranty is included, as is a 3-year/90 000 km maintenance plan.
Browse for a used or new Porsche 911 on Cars.co.za
Verdict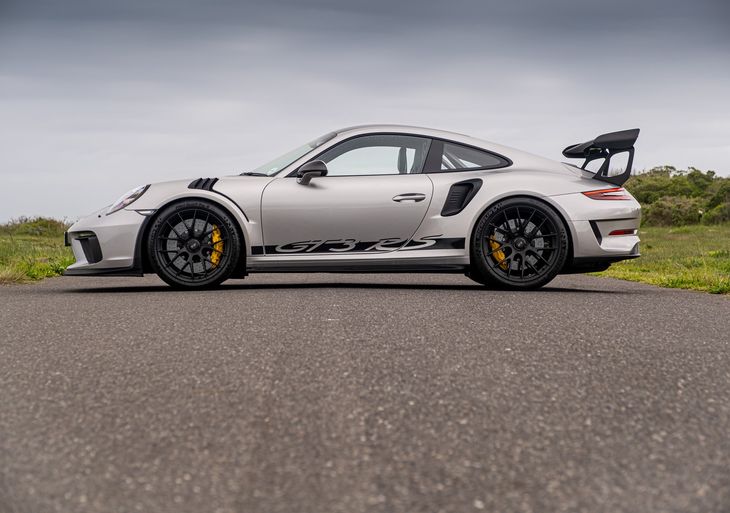 The best driver's car we've ever experienced on local soil. It's as simple as that.
As we mentioned earlier in this article, a quick test drive of the GT3 RS will immediately tell you whether this is the Porsche 911 derivative that you really want – or not. It's definitely not for everyone. But for those drivers (note, we specifically say "drivers" not "buyers", for a reason) out there with the means to afford this incredible car, our advice is simple. Get this into your garage before they're all snapped up.
So, has the 911 GT3 RS left an impression on the Cars.co.za test team? Not only that, it's recalibatred our expectations of pure driving joy.
Related content:
2021 Porsche 911 GT3 RS spy shots