Peugeot recently reintroduced the (revised) 308 premium hatchback to the South African market. Is this latest 308 good enough to compete with much-vaunted rivals in this segment? We spent some time with the 1.2T Allure automatic derivative to find out…
We Like: Styling, interior quality, perky performance, ride and handling, lots of standard features
We Don't Like: Temperamental infotainment system, cramped rear legroom, fuel consumption
Alternatives
German precision: The Volkswagen Golf 1.4TSI Comfortline R-Line, priced from R389 750, is a brilliant all-rounder and offers 92 kW and 200 Nm from its 1.4-litre turbopetrol engine. Standard spec is not as good as the 1.2T Allure and once you start ticking off the options, the Golf can become very pricey.
Solid performer: The Opel Astra 1.4T Enjoy, priced from R369 110, is powered by a 1.4-litre turbopetrol engine that produces peak outputs of 110 kW and 245 Nm of torque and comes equipped with a reasonable dollop of standard features. It's definitely worth consideration in this segment.
French flair: Consider the Renault Megane Dynamique EDC priced from R344 900. The updated Megane range (including the new RS model) will go on sale in mid-September. This derivative offers 97 kW and 205 Nm from its turbocharged 1.2-litre turbopetrol and it too will offer good standard specification.
Compare the Peugeot 308 1.2T Allure Auto with the VW Golf 1.4TSI Comfortline R-Line and Opel Astra 1.4T Enjoy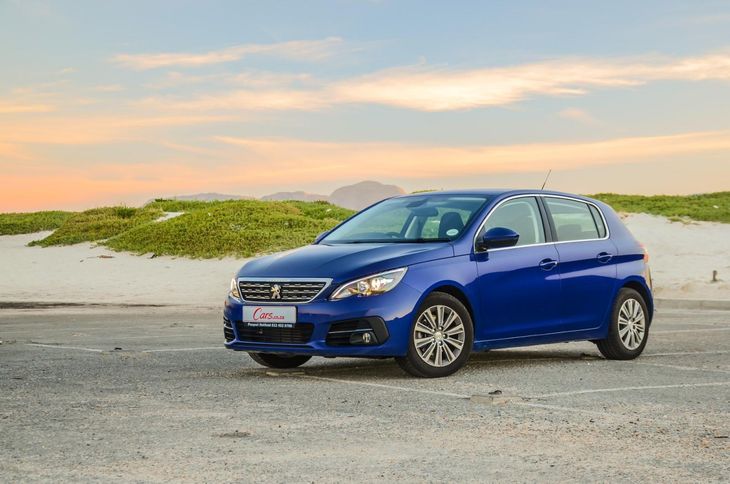 The updated Peugeot 308 is a striking package with a good level of standard specification.
Facts & Figures
Price: R369 900
Engine: 1.2-litre turbocharged petrol
Transmission: 6-speed automatic
Power: 96 kW
Torque: 230 Nm
Fuel Consumption (claimed): 5.2 L/100 km
0-100 kph: 9.8 sec
Top speed: n/a
Load bay capacity: 385 to 1 224 litres
What is it?
The current iteration of the award-winning 308 arrived on local soil back in 2015 and it represented an upward shift in perceived interior build quality for the Paris-based firm's products. Now, 3 years on, Peugeot has reintroduced (a mildly revised version of) its premium hatchback and the biggest changes pertain to improved safety specification and enhanced in-car connectivity. Are these changes enough to warrant a spot on your shortlist? Let's take a closer look…
What's good?
Perky performance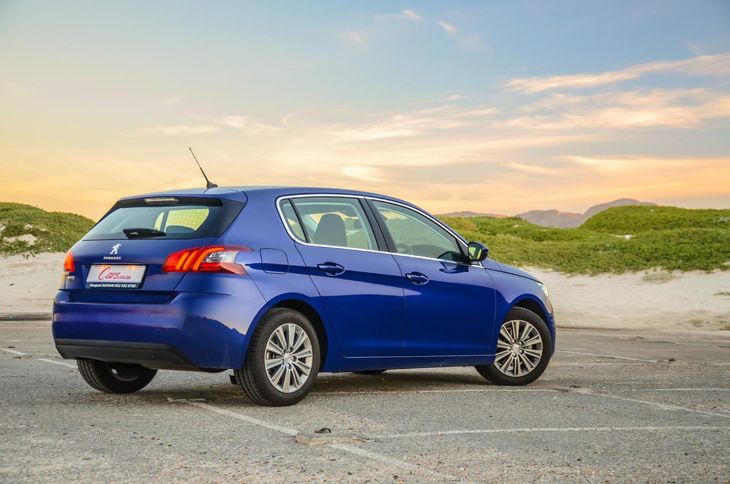 Punchy performance and a comfortable ride make the 308 a pleasure to drive in the city.
The 308 1.2T Allure automatic offers surprisingly sprightly performance and it actually feels a little bit quicker than its claimed 0 to 100 kph time (9.8 seconds) suggests. The 1.2-litre 3-cylinder turbopetrol engine under bonnet develops respectable outputs of 96 kW and 230 Nm of torque respectively. The engine is mated with a 6-speed automatic transmission and although it performs relatively smoothly and unobtrusively, we don't think it shifts quite as crisply as VW's DSG self-shifter, for example.
Despite initial turbo lag when you plant your foot flat, the 308 1.2T Allure automatic gains momentum rather quickly and overtaking manoeuvres are easily and effectively achievable on the highway. In terms of performance then, buyers should find the 308 adequately endowed to cope with the rigours of your daily commute.
Ride and handling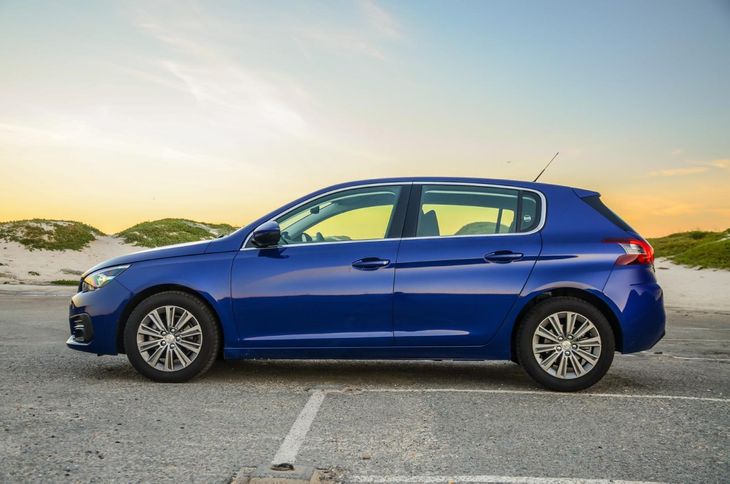 The 308's wide stance gives it a planted feel on the road, while the small steering wheel adds to the fun of driving.
Another highlight of this 308 is its ride and handling capability. Riding on 16-inch alloy wheels, the 308 feels solidly planted on the road and does a great job of absorbing bumps and imperfections, resulting in a supple and comfortable ride. It's one of the most pliantly riding products in its segment, which is quite an achievement.
The small, well-weighted steering wheel undoubtedly heightens the Peugeot's driving engagement and adds a measure of fun to the overall driving experience. Depending on your ideal seating and steering positions, the 'wheel can, however, partially block your view of the instrument cluster, which can be annoying.
Standard features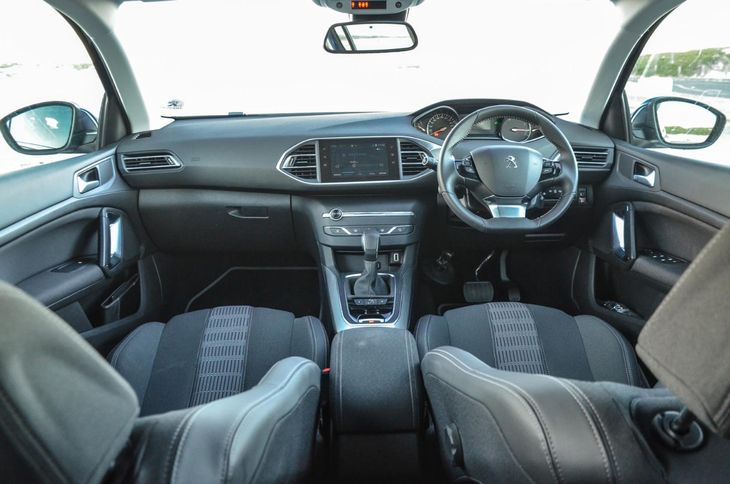 The 308's smart and modern cabin comes well equipped and those seats are well-bolstered and superbly comfortable.
The 1.2T Allure is solidly built with a premium feel and it comes well specced with standard features, which makes its price a bit easier to justify. Standout features include partial cloth/leather upholstery, front and rear park distance control, cruise control, rain-sensing wipers, auto aircon (climate control) and electric folding mirrors.
The steering column is adjustable for rake and reach and the front seats are height-adjustable too. The front seats are very comfortable, yet sufficiently supportive, replete with adequate bolstering that should prove invaluable on longer journeys or when you are stuck in traffic for protracted periods.
In-car connectivity has been improved with the inclusion of Mirrorlink, which means you can duplicate your smartphone view on the 9.7-inch touchscreen for functions such as navigation. The infotainment system is also compatible with Android Auto and Apple CarPlay.
Safety specification has been beefed up and now includes systems such as Attention Alert, ABS with EBD, emergency brake assist, Electronic Stability Program (ESP) and traction control, automatic drive-away locking and a total of 6 airbags
The not-so-good?
Fuel economy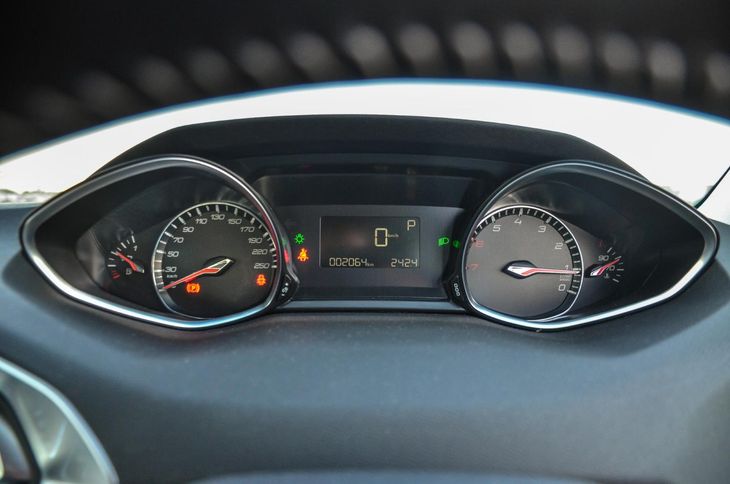 The sharp-looking instrument cluster adds to the cabin's appeal, but the steering wheel can partially obstruct the driver's view.
Although the 308 offers good performance, its fuel economy is middling and buyers will have to factor this into their purchasing decision. Peugeot claims an average figure of 5.2 L/100 km and during our test, the 308 returned an average of 8.6 L/100 km, which means you could squeeze about 600 km from its 53-litre fuel tank.

We tested the 308 in a predominantly urban environment, which means that lower figures should be easily achievable over longer distances, however.
Cramped rear legroom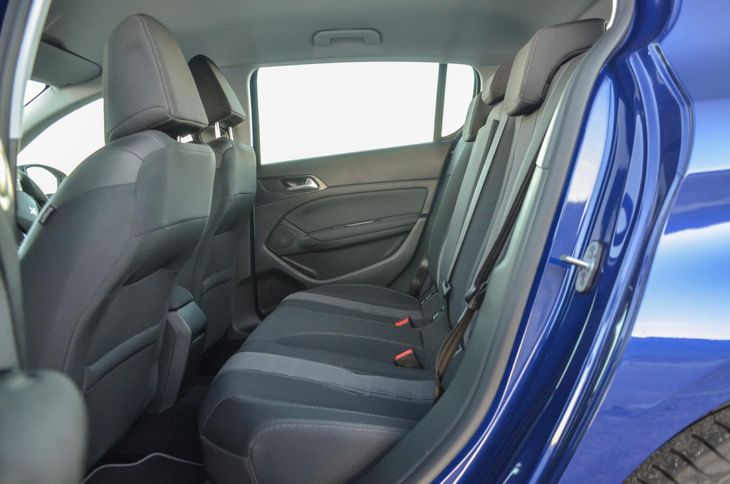 Although the seats are comfortable to sit in, rear passenger legroom is not very generous.
Although the 308 offers a decent sized loading bay (with a claimed capacity of 385 litres), which expands to 1 224 litres with the 60:40 split rear seats folded flat, taller rear passengers will find legroom to be quite cramped. Aft passengers do, however, have access to a central armrest equipped with 2 cupholders while a single cupholder and storage space for oddments is located ahead of the gear lever and in the small central bin, the latter of which doubles up as a driver's armrest.
Infotainment issues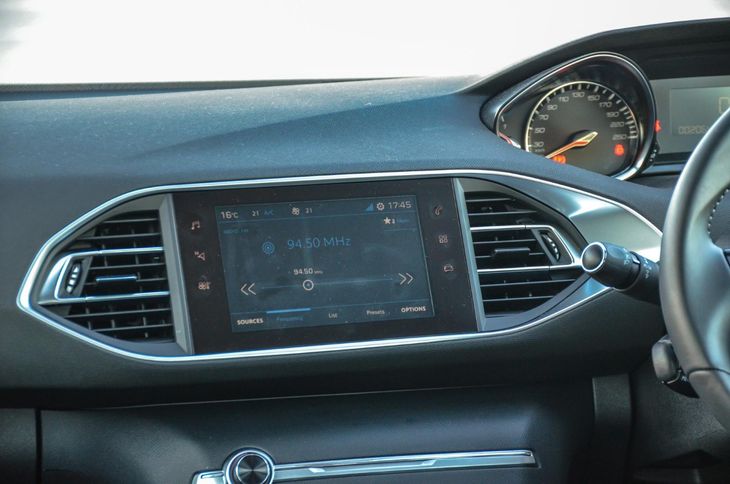 The infotainment system crashed on us several times. Perhaps it was a Bluetooth or device issue?
The infotainment system certainly looks slick (and lifts the cabin ambience appreciably), but although it worked seamlessly most of the time, it wasn't perfect. After connecting a smartphone device via Bluetooth and streaming music from it, the infotainment system would just shut down suddenly and reboot itself. This happened several times during the test. This may have been an issue with this test unit only or with the Android device we used, but it's best to sync your phone during a test drive.
Pricing and warranty
The Peugeot 308 1.2T Allure automatic is priced from R369 900 and is sold with a 3-year/100 000 km warranty and a 5-year/100 000 km maintenance plan.
SERIOUS ABOUT BUYING?
Verdict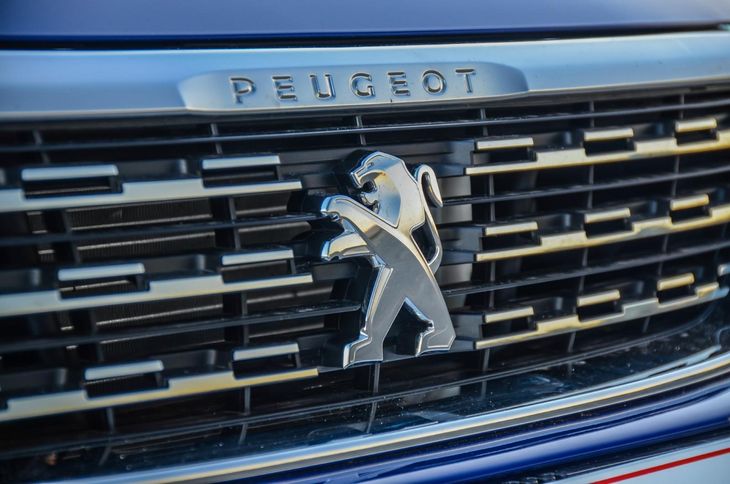 The Peugeot 308 is a good car, but lingering negative brand perception continues to thwart local sales in favour of more popular rivals.
The Peugeot 308 1.2T Allure automatic is a stylish and well-built hatchback that manages to stand out from the crowd with its distinctively modern cabin design. It's also well-equipped with standard features, offers punchy performance and exhibits nicely-balanced ride and handling characteristics. If you are looking for something refreshingly different and willing to accept the Peugeot's idiosyncrasies, then the 308 has much to offer.

Peugeot's poor history in terms of after-sales support and customer service might still negatively influence the purchasing decision, but it must be stated that with new management in place, Peugeot's brand cache is on the rise. However, Peugeot's support framework and dealer footprint remain relatively small in South Africa.
Related Content:
Peugeot 308 (2018) Specs & Price
Peugeot 308 1.6 GT (2015) Review
Peugeot 308 1.2T GT Line (2015) Review