Peugeot is preparing to launch its new 3008 SUV in South Africa in early August 2017. Take a look at specification and pricing for the new 3008 below as well as our international first drive report.
The new 3008 SUV is due to arrive in South Africa soon and will rival products such as the Volkswagen Tiguan, Nissan Qashqai, Mazda CX-5, Hyundai Tucson, Kia Sportage, to name a few. Based on our initial impressions of the 3008 at its international launch late last year, we came away suitably impressed by the 3008's styling and packaging. By all accounts, the new 3008 is squaring up to be a strong contender in the compact SUV segment.

For the local market, Peugeot is initially launching the 3008 with a 1.6-litre turbopetrol engine offering 121 kW and 240 Nm of torque. Fuel consumption is claimed at 7.0 L/100km. A 6-speed automatic transmission is standard and the 3008 will be available with 5 trim lines to choose from including Active, Allure, Allure+, GT-Line and the range topping GT-Line+.
Standard features
The entry-level 3008 Active rides on 17-inch alloy wheels and features colour-coded door mirrors and door handles, electric/heated side mirrors with LED indicators, roof rails, automatic headlights, front fog lights, automatic wipers and LED daytime running lights. Interior features include cloth seats, dual-zone climate control air conditioning, front and rear electric windows, rake/reach adjustable leather steering wheel and handbrake, height adjustable driver's seat and three 12V sockets. A Bluetooth and MP3 capable radio is fitted along with an 8-inch touchscreen. Comfort and convenience features include cruise control, hill assist and rear park assist.
The next trim offering is the 3008 Allure which rides on larger 18-inch wheels. This derivative adds features such as a courtesy LED downlight on the side mirror, lumbar support for the driver, i-Cockpit digital instrument cluster, start/stop button and a Bluetooth/MP3 radio with WiFi and Mirrorlink functionality. Added convenience features include keyless entry and front and rear park assist. The Allure+ derivative adds a black diamond roof.
Moving up the trim ladder is the 3008 GT-Line fitted with 19-inch alloy wheels. This derivative adds a lion projection LED courtesy light in the side mirror, full LED headlights and cornering LED fog lights. The interior adds a wireless charging pad, Claudia Mistral leather upholstery and a 180-degree parking camera. A high-end radio with voice recognition and navigation is fitted as standard.
The range-topping GT-Line+ derivative rides on 18-inch alloys wheels and adds features such as a panoramic sunroof and Nappa Mistral leather upholstery.
Safety features
Standard safety features across the 3008 range includes 6 airbags, ABS with EBD, emergency brake assist, road sign detection, driver attention alert, lane departure warning, electronic stability programme (ESP) and ISOFIX child seat mounts. The 3008 GT-Line+ derivative adds advanced emergency braking system with video camera and radar, front collision warning and active blind spot detection.

We will be attending the local launch of the new Peugeot 3008 early in August 2017, so stay tuned for more details coming your way soon.
New Peugeot 3008 - Price in South Africa
Peugeot 3008 1.6T Active - From R399 900
Peugeot 3008 1.6T Allure - From R444 900
Peugeot 3008 1.6T GT-Line - From R499 900
The Peugeot 3008 is sold with a 3-year/100 000 km warranty and a 4-year/60 000 km service plan.
Previously...
The 3008 has been transformed from an MPV-ish crossover to a fashionable SUV, and looks to take the global market by storm. We headed to Italy to sample this new model, which will arrive in South Africa during the third quarter of 2017.
The French are famous for many things. The French kiss, the Eiffel Tower, a celebratory fizzy alcoholic beverage produced in a region named Champagne and for a tumultuous decade back in 1789 when the French Revolution took place, to name just a few things. Talking about revolutions, there's currently much afoot in the French automotive sector where the Peugeot Citroen Group (PSA) has been hard at work – unleashing a flurry of new models and upping its image.
Peugeot has gone to considerable lengths to strengthen its reputation and improve its product line-up because the French marque recognised that in order to survive and prosper in the changeable automotive market, the company needed to do something dramatic. How'd you like a complete brand repositioning to go with your morning croissant? See, Peugeot wants to market itself as a premium brand.
Being a "French Volkswagen" has got the marque quite far, so with Audi now well and truly in the Parisian company's crosshairs, the brand has been revitalised and rejuvenated, and finally have some products that show premium intent. As a brand, Peugeot has a renewed vigour and energy and its forthcoming products exude determination and confidence.
At the forefront of this Peugeot assault is this new 3008. Remember the first 3008, that oddly-styled yet practical multi-purpose vehicle? It was launched in South Africa in 2010 and was facelifted once. This new car retains the name (and the Peugeot badges, of course), but that's where the similarities end. Peugeot is capitalising on the global demand for the crossover/SUV and the 3008 has duly transformed from functional to fashionable.
Head-turning style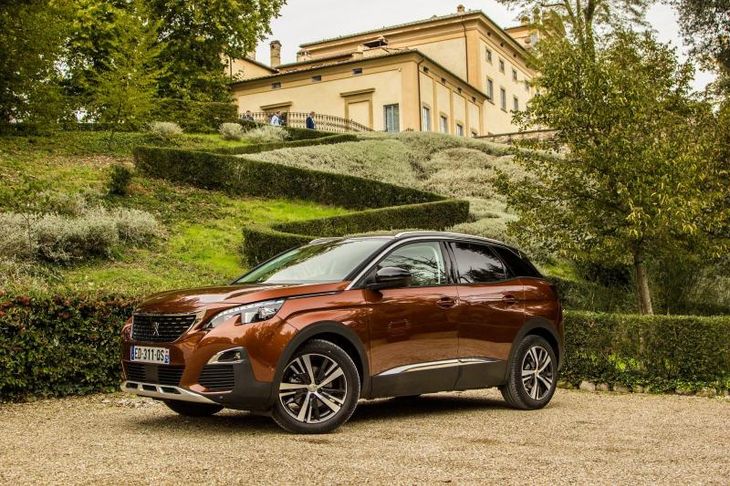 From MPV to SUV, the Peugeot 3008 has transformed into something fashionable. On location near Bologna, Italy.
The newcomer certainly looks the part. Replete with design elements that reference those of the Range Rover Evoque and the new Volkswagen Tiguan, the 3008 appears elegant and classy in the metal. The new Peugeot 3008 has some interesting touches in the form of smart daytime running lights, pulsing LED indicators and rear lights that look suspiciously like those of the Ford Mustang. The metallic copper paint finish looks particularly striking.
But the real ace up the new 3008's sleeve is its fashion-forward and smartly-rendered interior. There have been (and always will be) naysayers who claim that French carmakers will never be able to match the build quality of the German brands, however our initial impression is that Peugeot pulled it off with the 3008. The newcomer's interior combines a decidedly premium feel with exquisite French style. Watch the digital instrument cluster in action below.
When you enter the cabin for the first time, you'll notice two displays. One is located in the standard (middle-of-the-dashboard) position, while the other is positioned behind the steering wheel (analogue instrument dials have no place on the 3008, irrespective of derivative or spec).
Both feature high-quality resolution displays and the infotainment system is touchscreen-based. It's evident that there was a clear focus on user experience and clarity, the system is intuitive and easy to read. The graphics are excellent and the display is highly customisable. The materials used in the cabin are the real surprise, though; there are liberal amounts of well-thought-out soft-touch plastics, splashes of metal and some of the launch vehicles featured matte-finish wood.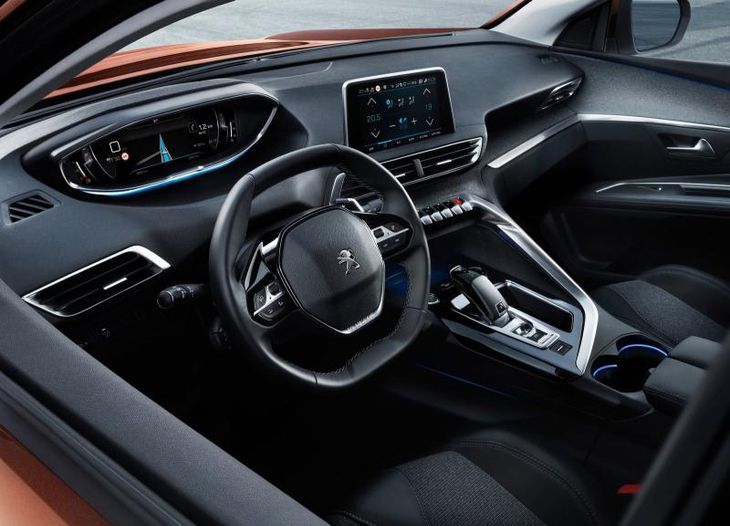 The cabin is wonderfully intricate, with flair and technology in abundance. Not bad for a Peugeot eh?
Engine line-up
At the launch there were 3 engines to sample. The 1.2-litre 3-cylinder turbopetrol is a motor we're familiar with, but we're unlikely to see a similarly engined 3008 in our market. The engines which are confirmed are a 1.6-litre 4-cylinder turbopetrol and a 2.0-litre 4-cylinder HDi turbodiesel. We won't be getting the ultra-green Euro6 BlueHDi motor as our diesel quality is not up to par, but we'll happily settle for a fractionally older Euro5 diesel instead.
The turbopetrol engine produces a healthy 121 kW and 240 Nm of torque, with power reaching the front wheels through a 6-speed automatic transmission. Peugeot claims the derivative will accelerate from 0 to 100 kph in around 9.0 seconds. The turbodiesel motor comes to the party with a bit more firepower as it has peak outputs of 133 kW and 400 Nm.
Our SA-spec turbodiesel derivative will have a little less power, but we'll wait for the local launch for confirmation. It too is front-wheel driven and has a 6-speed manual 'box. Both petrol and diesel auto's feature shift paddles for manual overrides.
The driving experience
Our launch route included stints on freeways, around towns and tight twisty mountain roads, which continental Europe is particularly famous for. The 3008's ride quality blends composure and softness – which is a boon on uneven cracked sections of tarmac. In fact, on-road refinement is exceptional and wind noise is minimal at highway speeds.
A comfortable driving position comes part and parcel with Peugeot's latest family car. The small-rimmed steering wheel does take some time to get used to, but you'll appreciate how it makes the job of piloting of the 3008 much easier and the issue of the Pug's tiller obscuring the instrumentation, which was levelled at the 208, less so in the 308, has been addressed.
Despite the vehicle being an SUV, it felt okay to press on into a few corners; the 3008 doesn't lean as badly as some of its rivals. While Peugeot is not making an all-wheel drive version of the 3008 right now, a hybrid model with an electrically-powered rear axle has been pencilled in. Nevertheless, the 220 mm ground clearance and Hill Assist Descent Control is enough to do some basic off-tar driving. We drove some gravel and rutted sandy sections and the car coped admirably.
Practicality and technology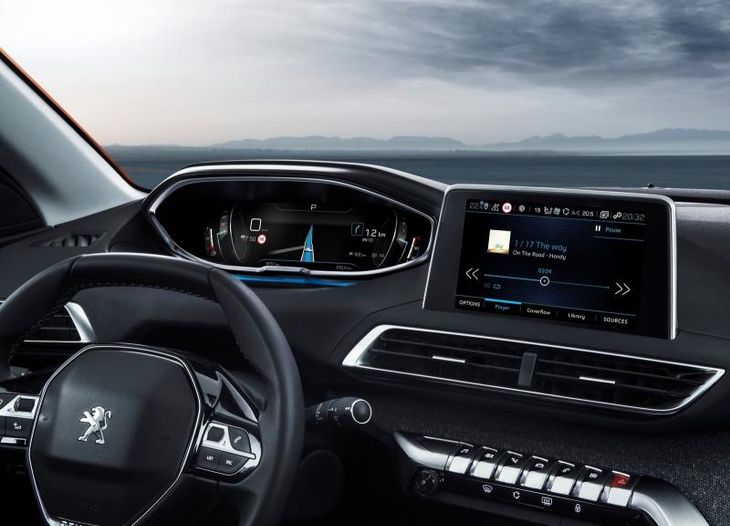 Digital dashboard in the middle and digital instrument cluster work well together.
The new 3008 comfortably surpasses its predecessor in terms of space and versatility. The cabin is spacious and the front-seat passengers have acres of space. The rear space is acceptable, but taller folk may find knee room tight if they're seated behind a tall driver.
The newcomer's dimensions (in comparison with the previous model) make for interesting reading and this line from the Peugeot marketing material is key: "It (the 3008) is 8 cm longer than the previous generation, this extra length can be found in the wheelbase – and thus in the passenger space – which at 2 675 mm, increases by 62 mm over the old 3008. This wheelbase is one of the longest on the market."
The luggage capacity has grown too; Peugeot claims it is almost 90 litres bigger at 591 litres. Fold the rear seatback down and you gain access to a purported 1 670 litres worth of cargo-carrying capacity. The 2-level boot floor can be dropped down to increase space, and the tailgate is electrically operated.
The standard features list is comprehensive: we'll see two trim levels (Allure and GT-Line) when the vehicles arrive in South Africa. There's satellite navigation, Apple CarPlay/Android Auto connectivity, USB connectivity, a wireless charging pad, heated massaging seats, fragrance dispenser, high-quality audio system by Focal as well as a reverse-view camera with parking sensors. There is an excellent array of safety features too: including autonomous emergency braking, pedestrian braking at up to 50 kph, speed limit recognition, lane departure warning, radar-guided cruise control and plenty airbags.
We'll have to wait for the South African launch to see how many of these features make it to our Peugeot 3008 units.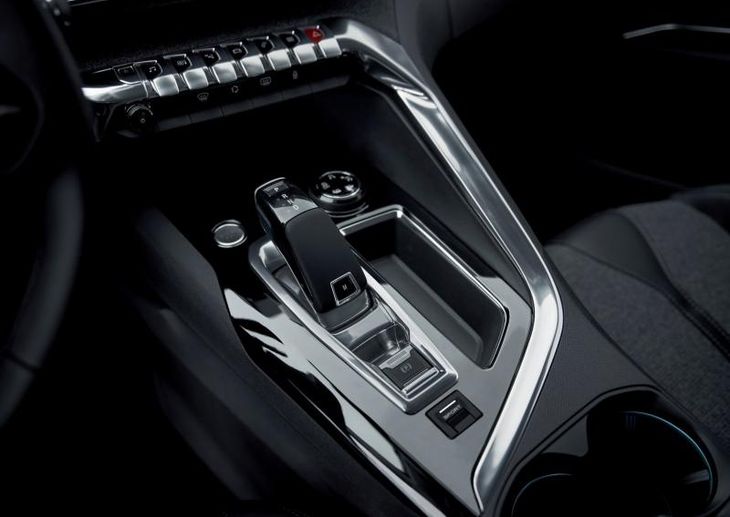 Beautifully crafted gear selector and aircraft style selection buttons add more pizzazz to an already modern and trendy cabin. Wireless mobile phone charging is a bonus.
Summary
The 3008 demonstrates that a compact SUV/crossover can be appreciably practical AND eminently stylish in equal measures. Historically, Peugeot favoured practicality in its family vehicles and it showed. The previous 3008 and 5008 were practical, but lacked ultimate desirability. This new model changes that. The French marque has produced a multifaceted product that offers virtually all the practicality you'd ever need, yet is stylish and modern enough to appeal to buyer's hearts.
Both engine/transmission combos facilitate fuss-free driving. The automatic makes the most of the engine's low-down shove, but, on some of the tighter roads,we did feel that we needed to force a gearshift every now and then.
Ultimately the 3008's classy, futuristic packaging shows just how far Peugeot has come and how earnest its premium ambitions are. The newcomer is a truly commendable effort and the finest Peugeot on the road right now.

Both the 3008 and the smaller, updated 2008 will be launched to the South African market in the first quarter of 2017 and we expect nothing short of a brand relaunch from Peugeot South Africa. There's very little to fault about the 3008, but product quality alone is not enough to sway the notoriously brand-biased public...
Dealership footprint, servicing costs and backup will be the key to the 3008's success in our market, and Peugeot SA is well aware of what still needs to be done to keep the fickle customers happy. The brand has done tremendous work in righting the wrongs, and the 3008 could be the vehicle which turns their local fortunes around. Allez Francais! as they say.

Further Reading
Keep up to date with all the latest Peugeot news
Read all the Cars.co.za Peugeot reviews
Interested in buying a Peugeot?