Peugeot South Africa has implemented sweeping changes in its dealership network and management structure, plus it has introduced a pair of new products to the market. The new budget-car offering – the 108 1.0 Active – includes a 5-year/100 000 km warranty AND a 5-year/100 000 km service plan with its keen launch price of R179 900.
The PSA Group, comprising Peugeot Citroen DS and Opel/Vauxhall, has made serious inroads into the European sales charts with its offerings in the past 2 years. It is, therefore, odd to see the brand's South African operation floundering; in fact, many have expected it to shut up shop. However, Peugeot South Africa has undergone a relaunch, with a catchy payoff line and extensive behind-the-scenes work done on the dealership network.
Let's be frank, Peugeot SA has a less-than-stellar reputation for consistency and reliability, and we all know someone who has had to wait uncomfortably long periods of time while waiting for replacement parts to arrive from Europe. Under new boss Xavier Gobille, Peugeot SA has gone on the charm offensive and this relaunch is a multi-pronged attack on the market.
Sister brand Citroen is following hard on Peugeot's footsteps and will be relaunched in October 2019. Gobille is a charismatic Frenchman and has gained quite the reputation for being incredibly passionate and determined. He turned Renault South Africa's fortunes around some time ago and with stints at Jaguar Land Rover and Nissan, it would be a surprise if he doesn't pull off a repeat performance.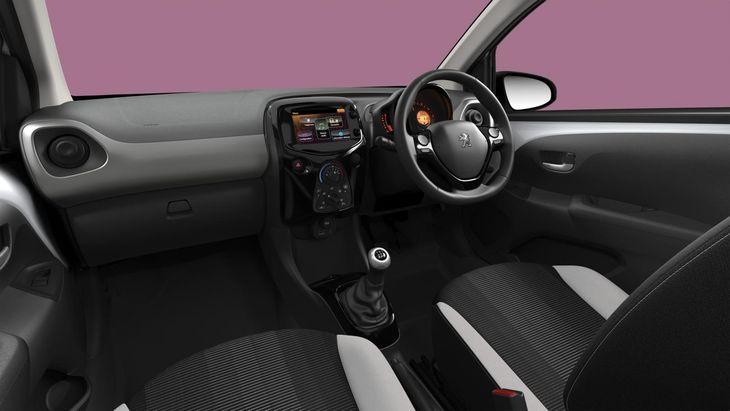 The Peugeot 108 cabin is simple, yet loaded with convenience and safety features
Peugeot 108
While the majority of Peugeot's product planning focuses on its SUV range (like the 2008, 3008 and just-arrived 5008), it'd be easy to overlook the 108 city car. Platform sharing is nothing new and the 108 is mechanically similar to the Toyota Aygo and Citroen C1. Powered by a 1.0-litre naturally-aspirated 3-cylinder petrol engine, the 1.0 Active is aimed at the city slickers who want optimal user-friendliness, connectivity and excellent fuel economy from their budget cars. From launch, there is a solitary derivative available, unlike its Aygo cousin, which is offered in varying trim levels
Features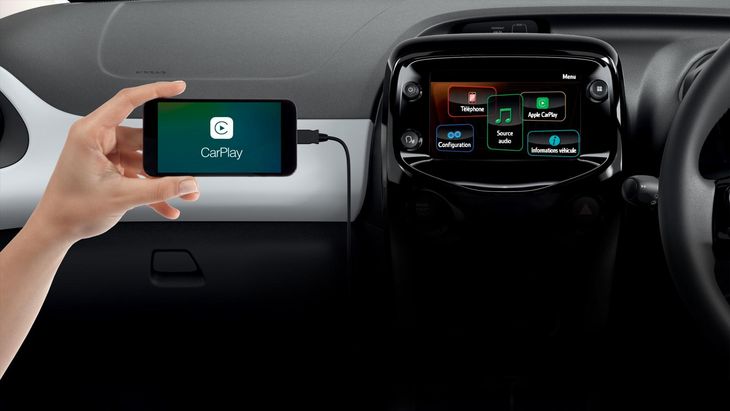 Apple CarPlay and Android Auto are available in the Peugeot 108
For a small city car costing this little, the Peugeot 108 1.0 Active comes loaded with an impressive level of kit. There are LED daytime running lights, a 7-inch touchscreen infotainment system with smartphone mirror-link functionality (Android Auto and Apple CarPlay compatibility), Bluetooth, a height-adjustable steering wheel, electric windows and height-adjustable driver's seat, to name but a few features. The safety specification is commendable too, with 6 airbags, stability control, anti-lock brakes, hill start assist and ISOfix child-seat mounting points. Despite its diminutive dimensions, it still boasts a useable load bay (a claimed capacity of 227 litres), which can be increased to 868 litres if you fold the rear seats down.
Engine
As mentioned, the Peugeot 108is powered by a 3-pot motor that produces peak outputs of 53 kW and 93 Nm. With power going to the front wheels via a 5-speed manual gearbox and a low mass of 840 kg, the 108 1.0 Active doesn't feel as underpowered as its on-paper outputs suggest. Fuel economy is claimed at 5.2 L/100 km and Peugeot says it's new 108 falls under the carbon tax threshold of 99 g/100 km.
How does it drive?

The 1.0-litre engine is eager to please and delivers 53 kW and 93 Nm
Our test route was extremely short, but fortunately, city cars like the 108 are wonderfully simple and you can quickly spot any glaring faults (of course, provided there are any). Three-cylinder engines tend to emit a distinct offbeat thrum and the lack of a 4th cylinder means the engine can produce some vibrations, something which has been reasonably well dialled out in the case of the little Peugeot. Despite driving at Gauteng altitude where there's around 17% power loss on a naturally-aspirated engine, the vehicle still felt eager and willing with 2 grown adults inside.
The engine is not shy to rev, which is just as well, because you'll need to work the little mill hard to execute brisk overtaking manoeuvres. The 1.0 litre will feel a bit more responsive at sea level, but don't expect much gusto if you're travelling up a steep hill with 3 passengers on board. What's more, at triple-digit speeds the engine is bit droney. If all else fails, drown it out with your favourite tunes, connected via Apple CarPlay or Android Auto.
Speaking of in-gear, the clutch is light and easy to use, and the same could be said for the clutch action. In an era where manual transmissions are being shunned for the convenience of an automatic, it's great to see there's still a manual 'box out there which won't irritate or frustrate in stop-start traffic. The real strength of the 108 1.0 Active is its inner-city drivability. The compact dimensions and the eager engine make it an excellent urban runaround if you're not doing massive miles on the open road, and it's wonderfully easy to drive in confined spaces. Parallel parking? Simple.
The vehicle rides on 165/65 14-inch tyres and Peugeot claims these have low rolling resistance, which contributes to the admirably low fuel economy. Ride quality is fair, but the car does get a bit unsettled if it traverses bumps or ruts in the road. Thankfully the steering is light and effortless, and you can easily keep things in check. There's a fair bit of feedback from the tiller and you do get the sense of being in control, but we would appreciate a touch more directness to the steering. Given the nature of the vehicle as a humble runabout and it's very keen price tag, we can't be too critical.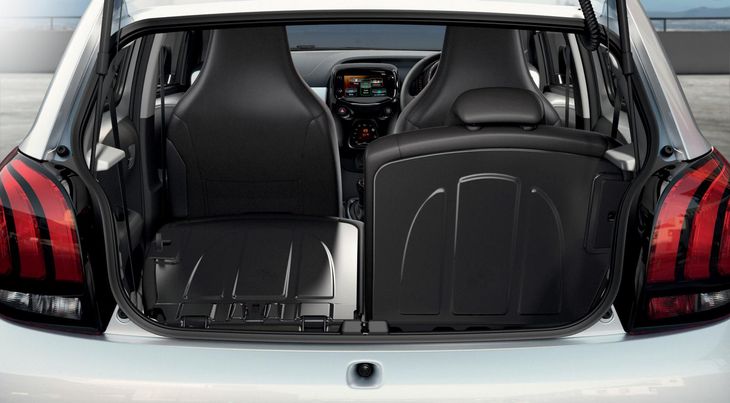 If you want more space, then simply fold down the rear seats of the Peugeot 108
Verdict
We drove the updated Toyota Aygo sibling almost a year ago (October 2018) and noted its revvy engine, funkiness and fair ride handling. Given the mechanical similarities, the 108 1.0 Active feels near identical. However, the differences lie in the specification where the Toyota can only muster 4 airbags and does away with the smartphone connectivity. The Peugeot boasts 6 airbags and has a few more features for similar money. The real cherry on the cake is the aftersales offering. Dubbed 'Peugeot Pride', every 108 comes with a 5-year/100 000 km comprehensive warranty, a 5-year/ 100 000 km comprehensive service plan, roadside assistance, 24-hour customer care contact centre, licence renewal reminder, as well as service plan and warranty expiry notifications. What this means is you're essentially only paying for fuel and tyres, making it cost-effective to own.
Peugeot also claims that any of the brand's customers who encounter a mechanical issue with their vehicle will be afforded the use of a courtesy car and that replacements parts will be made available swiftly (and it'll be competitively priced). It's a bold statement of intent by Peugeot South Africa and we can understand the brand is desperate to right wrongs, change preconceptions and restore some pride. Given its asking price, we'd be surprised Peugeot if made much of a profit on the 108 we suspect it's to pinch market share from the established players in the segment... How long will this keen price last? If this is what's on offer and Peugeot can fulfil its promises, then the 108 must be one of the new-car bargains of 2019.
Peugeot 108 Price in South Africa (September 2019)
Peugeot 108 1.0 Active R179 900
Further Reading
Peugeot 108 (2019) Specs & Price
Peugeot 5008 (2019) Specs & Price