The 6th-generation Corsa made its local debut early in 2021, but Opel recently bolstered its compact hatchback's lineup with 2 new derivatives, including this: the range-topping 1.2T Elegance. Cars.co.za journalist and photographer Gero Lilleike weighs up the merits of putting the Corsa on your new-car shortlist...
We Like: Great engine performance, economy, ride and handling
We Don't Like: Underwhelming exterior and interior design, some questionable plastic trim, tight rear legroom, pricey
Fast Facts
Model Tested: Opel Corsa 1.2T Elegance
Price: R386 900 (price accurate as of April 2021)
Engine: 1.2-litre, 3-cylinder turbopetrol
Power/Torque: 96 kW/230 Nm
Transmission: 6-speed automatic
Fuel efficiency: 6.3 L/100 km
Load space: 309–1 081 litres
Serious about buying?
Some Opel dealerships regularly offer great deals. See our Car Specials page here!
What is the Opel Corsa?

Perhaps not one of the most striking-looking contenders in this segment, but there's more depth to this new Corsa than you'd expect.
The previous generation Opel Corsa was a credible contender in the compact hatchback segment, so much so, in fact, that the Corsa 1.0T Enjoy was named the Compact Hatch category winner in the 2016/17 #CarsAwards. In 2019, an all-new Corsa was revealed to take on its rivals such as the Volkswagen Polo, Ford Fiesta, Hyundai i20, Kia Rio, Renault Clio, Mazda2 and Nissan Micra…
Opel is now part of Stellantis, which was formed following the recent merger of the PSA Group and Fiat Chrysler Automobiles and headed by former PSA CEO, Carlos Tavares and the new generation Corsa is now produced on PSA's EMP1 platform, the same one that underpins the new Mokka and cars such as the Peugeot 208 and 2008 and Citroen C4. On the home front, Opel is no longer under the custodianship of the Williams Hunt group (which came about as a result of General Motors' exit from South Africa); the German brand is now distributed by Stellantis representative Peugeot Citroen SA.
While Opel's middling naturally-aspirated 1.2-litre petrol engine has been available locally in the Corsa range since January 2021, the big news, apart from the addition of a 1.2 base derivative to the range, is the arrival of a 1.2-litre 3-cylinder turbopetrol-powered version, which is available exclusively with an automatic transmission and is only offered in range-topping Elegance guise.
Just how good is the new Opel Corsa 1.2T Elegance and should it be on your compact hatch shortlist? Let's take a closer look…
What's good about the new Opel Corsa 1.2T Elegance?
Performance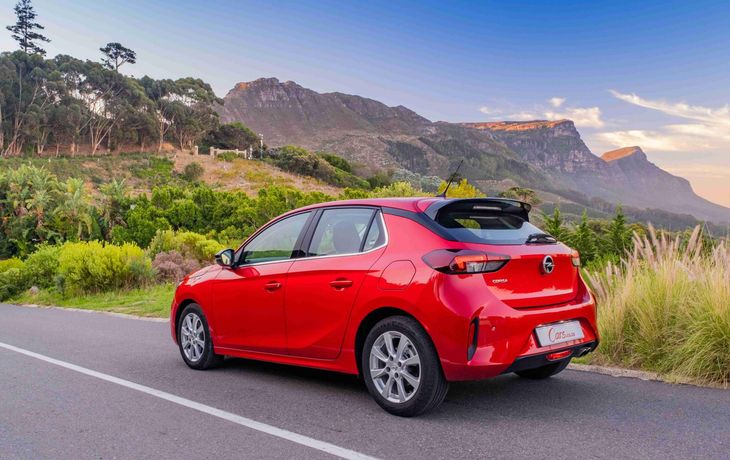 The Corsa 1.2T packs some punch with a peach of a 3-cylinder 1.2-litre turbocharged engine.
This Opel Corsa is perhaps the strongest performer in this segment thanks to its perky 3-cylinder, 1.2-litre turbocharged petrol engine that offers up generous outputs of 96 kW and 230 Nm. Those numbers trump the segment favourite Volkswagen Polo 1.0TSI Highline R-Line (85 kW/200 Nm) and the Ford Fiesta 1.0T Titanium (74 kW/170 Nm) by a fair margin. Good job, Opel!
The new Corsa has more than enough grunt to hustle between robots and it can execute quick and nimble overtaking manoeuvres on the highway too. While the 6-speed automatic does a good job of shifting cogs with little fuss, we don't think it's quite as responsive, snappy or refined as the DSG (direct-shift automatic gearbox) in the Polo, for example, but that's certainly not a dealbreaker.
There is some expected turbo lag under harder acceleration, but once the turbo has spooled up, the Corsa punches forward with vigour. This really is a peach of an engine to drive on a daily basis and combined with a sorted chassis, buyers should have little to complain about here.
In terms of efficiency, Opel claims a reasonable average consumption figure of 6.3 L/100 km and during our test, we saw returns of around 6.7 L/100 km, which is impressive in its own right and certainly on par with other offerings in this segment. We are also fairly certain that lower figures can be achieved if you drive the Corsa more conservatively.
Ride and Handling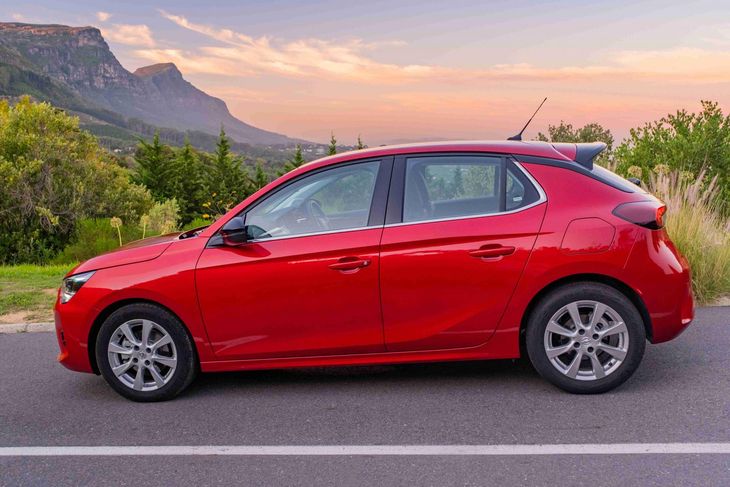 A sorted chassis and lower ride height enhance the new Corsa's handling ability appreciably.

It's worth bearing in mind that the new Corsa, at its lightest, weighs only 980 kg and sits some 48 mm lower than the previous-generation car. Moreover, the newcomer's mass has been reduced by some 15 kg thanks to its aluminium engine construction, plus the German hatchback slips more effortlessly through the air than its competitors by virtue of a drag coefficient of just 0.29.
As a result, the 1.2T Elegance delivers an admirable blend of efficiency, excellent road manners and agile handling. The Corsa is surefooted (16-inch alloy wheels are standard) and it can be hustled into bends (at enthusiastic speeds) with confidence, which adds a fun factor to the driving experience. Its steering provides notable positive feedback; we found it to be suitably responsive to inputs too.
In terms of ride quality, the Corsa prioritises comfort – which is a boon on the daily commute. Testers found the suspension pliant and generally forgiving on road surfaces of varying quality.
Lots of standard features

The Corsa 1.2T comes well-equipped with standard features.

Opel's mantra of democratising technology is carried over into the new Corsa and there are some noteworthy features included as standard in this Corsa 1.2T Elegance, particularly in terms of safety.
Key features include a 180-degree reverse-view camera, lane-keeping assist, traffic-sign recognition, forward-collision alert, front pedestrian detection and collision-mitigation braking. A total of 6 airbags is fitted along with ABS with EBD and electronic stability control with traction control.
The 7-inch touchscreen infotainment system is rather basic, but its menus are easy to navigate and Apple CarPlay and Android Auto are supported. The rim of the steering wheel is wrapped in leather and the tiller further features mounted controls for the audio system, Bluetooth telephony and cruise control. This flagship derivative is also fitted with heated front seats; they're a treat on crisp winter mornings!
Other standard features include front and rear park distance control, climate control air conditioning, rain-sensing wipers and partial cloth and leather upholstery.
What's not so good about the Opel Corsa 1.2T Elegance?
Bland interior design and some questionable plastic trim elements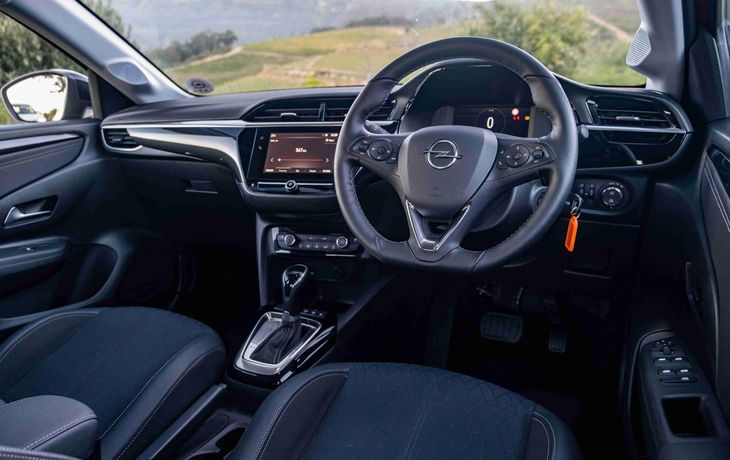 Perceived trim quality issues detract from the feature-laden cabin.
While the 1.2T Elegance is well specified, its interior is not particularly exciting or uplifting, perhaps because dark interior finishes dominate the cabin – there's very little in the way of colour contrast. The interior design is very much hit-or-miss, some detailing is swoopy and shiny, while the switchgear, by contrast, looks decidedly utilitarian. The range-topping Polo's interior feels more cohesively styled. The design of the digital instrument cluster is also somewhat strange: it looks like a bit of an afterthought; as if the display ought to be larger. The analogue dials in the base Corsa are arguably better looking!
Also, while there is little amiss with the overall fit and finish, Opel could have done better in terms of some of its material choices; budget-looking plastic (particularly the hard, scratchy type found on the doors and lower dashboard) abounds, which is a bit of a letdown at this price point. It must be said, however, that Opel is not the only brand guilty of "taking cost out of the interior" in this segment. Yes, I am looking at you Ford and Volkswagen...
More rear legroom would be nice...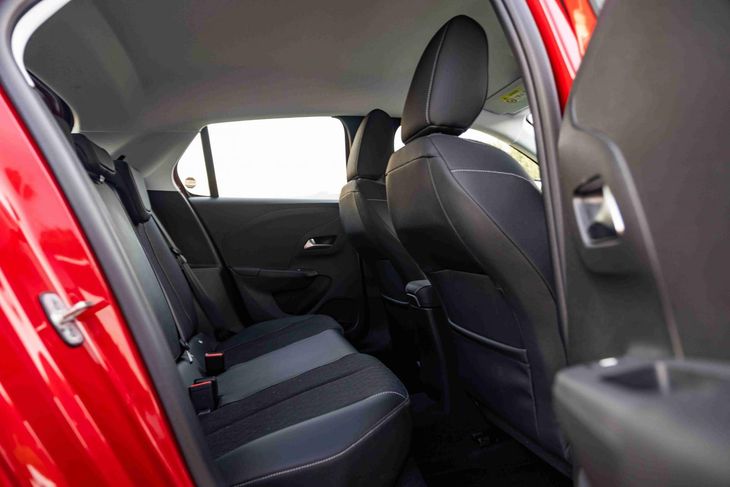 The rear legroom is adequate for children, but adults might feel squeezed in on the aft bench...
Even though the new Corsa is approximately 28 mm longer than the previous-generation model, the rear legroom is still on the tight side, especially for taller aft passengers. I'm of average height, but when I conducted the sit-behind-yourself test, my knees touched the back of the driver's seat, leaving little room to wangle more space. Children, however, should have more than enough legroom at the back.
As for loading capacity, the Corsa offers 309 litres of luggage space, which is less than the VW Polo's 350 litres, but slightly better than the Ford Fiesta's 303 litres. You can fold the seats down (in a 60:40 split) to open up 1 081 litres of utility space, but bear in mind that the seats don't fold completely flat.
What does the new Opel Corsa cost in South Africa?
Pricing for the new Opel Corsa starts from R274 900 for the base-spec, naturally aspirated Corsa 1.2 while the Corsa 1.2 Edition is priced from R294 900.
The top-of-the-range Corsa 1.2T Elegance tested here is priced at R386 900. It comes with a 3-year/120 000 km warranty and a 3-year/45 000 km service plan included.
Buy a new or used Opel Corsa on Cars.co.za
Verdict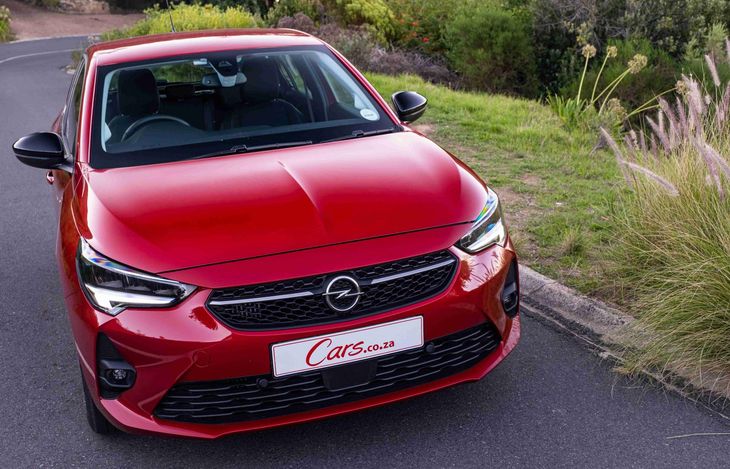 There's a lot to like about the new Opel Corsa 1.2T and we think it's the only Corsa you should consider...
Eager engine performance and engaging handling are the most attractive features of this new Corsa and they're characteristics that are regrettably becoming quite rare in this segment of feature-packed (but buttoned-up) "big little cars" with downsized engines. The 1.2T Elegance offers more power and torque than its major rivals (VW Polo and Ford Fiesta) and it really is fun to drive. Combine that with a comprehensive standard features list and you suddenly have a car that's difficult to ignore if you are shopping for a range-topping compact hatchback.
However, the Corsa is not perfect. In terms of exterior styling, a few of the Cars.co.za testers were left uninspired by the Opel's demure, underwhelming looks, but you can decide for yourself whether it tugs at your heartstrings. To reiterate, the quality of some of the interior finishes are marginal (especially in a derivative that costs about R390k), but at least the level of overall fit-and-finish is quite acceptable.
As an overall buying proposition, this Corsa 1.2T Elegance makes a very strong case for itself. It's competitively priced against its main rivals and offers good comparative value. We think the new Corsa is one of the best offerings currently in this segment and it's certainly a worthy alternative to the aforementioned Polo and Fiesta, but only if you can forgive its shortcomings. Can you?