Is the Adam S, the hottest Adam derivative in Opel's arsenal, hot and exclusive enough to justify its R330 000 asking price? Let's find out.
We like: Good fun at the price, quirky styling, great standard specification
We don't like: Some brash stylistic touches in the cabin that won't appeal to all tastes, only 50 units available
Alternatives
For a more mature, practical hot hatch: Peugeot 208 GTI - Peugeot's little GTI may not be the first choice when you're browsing this market, but this 3-door hatchback is the most powerful in its segment with 147 kW and 275 Nm from its turbocharged 1.6-litre 4-pot. It's priced below the Opel Adam S and boasts a more spacious cabin, plus a bigger boot as well as comprehensive specification.
For oodles of boutique appeal: Mini Cooper 3-door hatch - The original boutique fun car, now powered by a 1.5-litre three-cylinder turbo with 100 kW and 220 Nm. It may be down on power, but it's just as entertaining to drive. It's not as comprehensively equipped as the Adam S so to match the Opel's spec, you'll need to fork out a bit more.
For more outright thrills: Abarth 595 - The Abarth 595 is a riot to drive thanks to a race-tuned suspension and a reworked version of the Fiat 1.4-litre turbo motor that's more powerful than that of its German rival. It may cost a bit more than the Opel Adam S, but it feels more engaging and is a more unique, exclusive proposition.
What is it?
We've evaluated the entire lineup of Opel's boutique compact car range and suffice to say that we are impressed with the Adam. However, seeing that the asking price for a hot hatchback has inflated considerably (you'll find yourself forking out more than R400 000 to get into a new example), the "junior hatchback" segment deserves a closer look. If you're looking for small car offering zesty performance for less than "hot hatch" money, the Adam S appears to be a good example.
How does it fare in terms of…
... Kerb Appeal?
There's no mistaking the Opel Adam S for its lesser siblings. It's only available in three colour combinations; one of which is the gunmetal grey and red combo that you see here. Opel has added a more attention-grabbing body kit, bolted on some 18-inch alloy wheels (as well as a purposeful-looking roof spoiler) and made the Adam's oval exhaust end poke out the rear valance. It may scream boy racer, but we don't think it's that tacky.
A similar treatment has been applied to the cabin. The shapely Recaro sports seats grip front occupants with aplomb and there are splashes of red on the steering wheel, gearknob and handbrake lever. Drilled aluminium pedals and some liberal splashes of S badging around the cabin add to the appeal.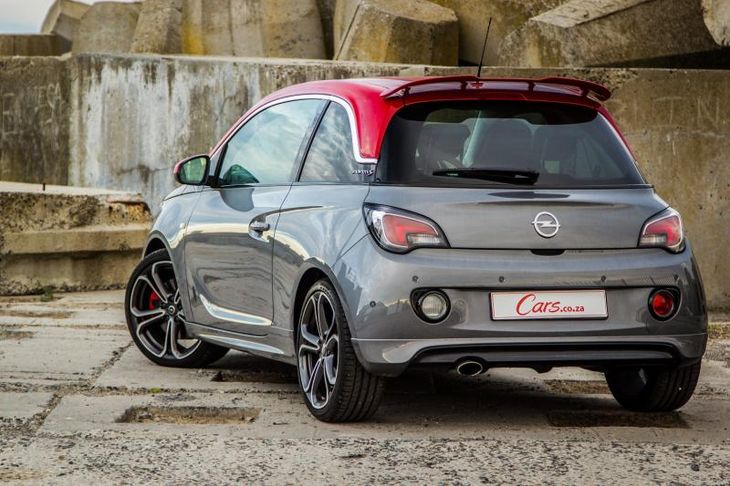 Two-tone paint with red accents and big wheels make the Opel Adam S stand out from lesser Adam models
... Driving Thrills?
So it has the show, but does it have the go? General Motors' parts bin has a vast array of engines in its arsenal and the 1.4-litre turbocharged four cylinder, which does duty in many GM products, takes pride of place under the Adam S's bonnet. In this application it produces 110 kW and 220 Nm. Those figures may not sound like much, but when you factor in the car's kerb weight of around 1 100 kg, the power-to-weight ratio is pretty good and conducive to an enthusiastic driving experience.
Zero to 100 kph comes up in about 8.5 seconds, but that only tells a small part of the Opel Adam S' story. Real fun is to be had when you coax the S into a series of demanding corners. Thanks to some big brakes from the previous generation Opel Corsa OPC and suspension trickery, the Opel Adam S is a hoot, yet not intimidating to drive fast. There's a stiffer anti-roll bar and firmer springs at the front, while the rear benefits from a more-rigid torsion beam rear axle.
What does this all mean in the real world? When you sit snugly in those Recaro seats, the driving position makes you feel as if you're part of the car. The engine loves being revved hard, but you'll find there's generally enough torque on tap to negate the need for constant downshifting. However, the buzzy noise emitted by the motor is so addictive that you'll probably find it irresistable to perform extra downshifts anyway and, if you listen carefully, you'll hear a soft sututu from the turbo wastegate as you come off the throttle.
The shift action is fairly slick, but the transmission is still afflicted by that "Opel curse" where the first to second shift during hard acceleration is notchy. This Adam offers so much more than just straight-line sprinting, however. You'll love how this derivative makes you feel as a driving enthusiast... the interactions between the car and the road are transmitted through the steering wheel and the bottom of the driver's seat. You can be doing 70 kph on a winding country road and it'll still be a thrilling, hands-on experience. If nothing else, the S proves you can enjoy yourself with a modest power output and without breaking the speed limit.
... Specification levels?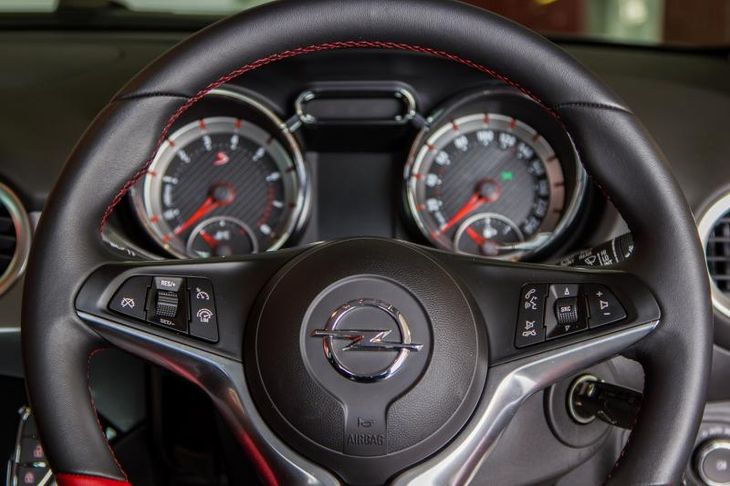 Opel Adam S steering wheel features hands-free communication buttons as well as cruise control with limiter
As the S sits atop of the Adam pile, its specification is generous. The donor car for the Adam S was the Adam Jam Xtreme. This means climate control, cruise control and the rather good Intellilink infotainment system come standard. There's Bluetooth, USB and auxiliary connectivity too. The Opel Adam S is not shy on safety features either and features blind spot alert, ABS and electronic stability control; the car can even park itself.
... Value for Money?
The Opel Adam S makes a good case for itself when you compare it against its rivals. If you want a faster and bigger car, then the Peugeot 208 GTI looks like a seriously good deal at just over R300 000. However it doesn't quite have the same "character" and boutique appeal as the Adam S. You can look to Fiat and its Abarth 595 which is more involving to drive, more exclusive, but more expensive.
Finally, there's the old favourite; the Mini Cooper. It's the first time a Cooper has been turbocharged and this new 1.5-litre 3-cylinder engine injects some enthusiasm into a model that's always been overshadowed by its brawnier, yet significantly more expensive, Cooper S sibling. The Cooper is a very desirable proposition, but its down on specification compared with the Opel Adam S.
At R330 000, the Opel Adam S looks like quite the toy, which, to be fair, is exactly what's it is menat to be and judging from the envious glances from 1.0-litre Adam owners, it should have a loyal following. Only 50 will be imported into South Africa, so if a fast little Opel is what you're looking for, this is it.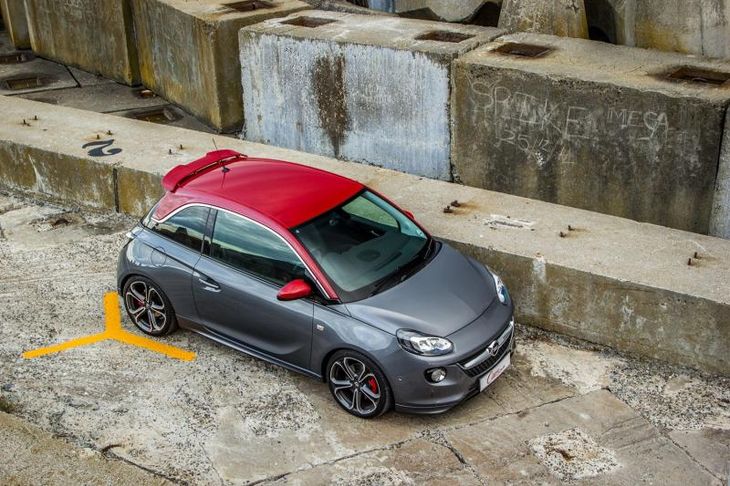 The Opel Adam S is a nifty little plaything. Its performance, packaging and character justify a R330 000 asking price.
Summary
The Adam S costs a not-insignificant R330 000, but it represents a comprehensively-equipped and potent little car for the money. It's great fun to drive, but its ride quality's not overly sporty, meaning you could easily use the Opel for daily commuting. If you want more exclusivity, then it would be advisable to head to your Abarth dealer and if you're wanting more performance from your boutique hot hatchback, then Peugeot should be your port of call.
Having said that the Opel has loads of character and certainly looks the part. You'll love how the seats wrap around you and how much fun the car is to drive, regardless of how fast you are travelling. As mentioned earlier, it's an exclusive package and only 50 will be available in South Africa. There's no word on when an Corsa OPC will reach our market, so, for the foreseeable future, this is the closest thing you'll get to a real hot hatch from Opel.
Quick facts about the Opel Adam S: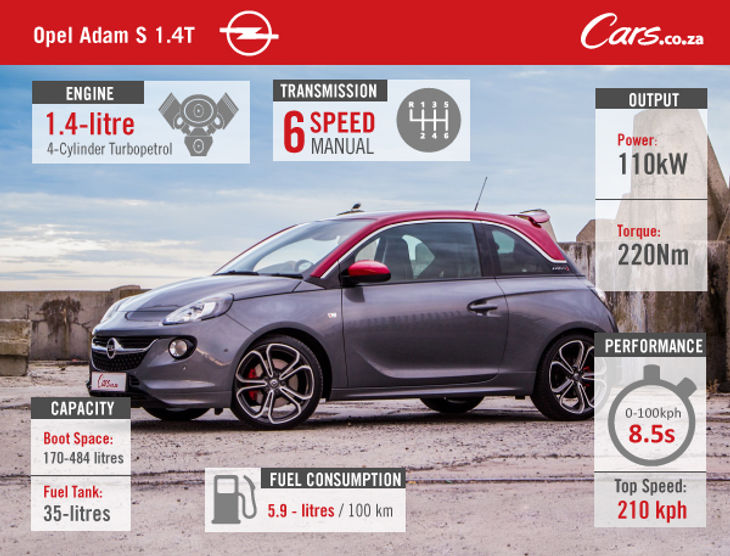 Watch the Opel Adam S on track:
Find more Opel Adam-related content here:
Read a review of the Opel Adam Jam
Read a review of the Opel Adam Rocks
Interested in buying a new/used Opel Adam?